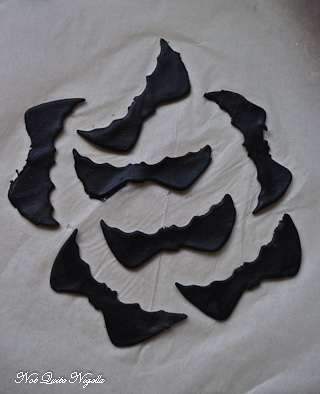 What is Halloween cheese plate without cheese, dip or crackers? And why serve regular crackers when you can serve black bat crackers! We're crackers for these crisp, delicious crackers that are naturally coloured black with squid ink and black sesame. They stay crisp for days so keep them in an airtight container and you'll always have something for your cheese and dip during Halloween season!
Did you make this recipe?
Share your creations by tagging @notquitenigella on Instagram with the hashtag #notquitenigella
Squid Ink and Black Sesame Bat Crackers
An Original Recipe by Lorraine Elliott
Preparation time: 20 minutes
Cooking time: 20 minutes
1.5 cups/225g/8ozs plain all purpose flour
1 teaspoon salt
1 teaspoon sugar
1/2 cup/125ml/4flozs warm water (approximately, you may need a bit more)
1/4 cup/60ml/2flozs oil
2 tablespoons black sesame paste
1 tablespoon squid ink
Note: you will need a bat cookie cutter for this recipe
Step 1 - Preheat oven to 175C/347F and line two trays with parchment. Place the flour, salt and sugar in a bowl and mix with a fork. In a jug measure the water, oil, black sesame paste and squid ink and whisk. Pour into the flour and mix with a fork.
Step 2 - Cut into half and then roll out the dough until very thin-it doesn't stick to surfaces much so you don't need to flour the surface (unless perhaps it is wooden). Cut out bats using the cookie cutter and place on the prepared trays. Bake for 20 minutes or until very crisp.