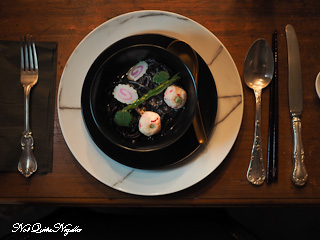 Come over to the dark side of Halloween with this home-made jet-black squid ink pasta made from scratch! Hand made pasta is given its dark colour via squid ink and the resulting pasta looks strikingly like witches hair but tastes delicious. Squid ink pasta is perfectly delicious for a spooktacular dining experience!
When I first made a practice run of this I put a picture up on Instagram prior to my Halloween Dinner Party everyone thought that it was my hair covered in a hair treatment! Although squid ink ramen has a fairly strong smell in its raw uncooked state, once it is cooked it is rather mild tasting and it serves more for a visual effect. Lye water is tricky to so I've given a recipe using eggs and bicarb instead of lye water. And this tastes utterly delicious despite its unique appearance.
Did you make this recipe?
Share your creations by tagging @notquitenigella on Instagram with the hashtag #notquitenigella
Squid Ink Ramen with Eyes
An Original Recipe by Lorraine Elliott
Preparation time: 20 minutes plus resting time
Cooking time: 15 minutes
Serves 4 or 8 as part of a degustation
2 cups bread flour
1 teaspoon fine salt
1 tablespoon squid ink
With
1/2 cup lukewarm water approximately, you may need more
1 teaspoon lye water
OR
2 eggs at room temperature, beaten well
5-6 tablespoons lukewarm water
1/2 teaspoon bi carb of soda
For soup
4 cups chicken stock
1/2 cup masterstock*
400g crab or fish balls (ones that look like they have red veins are best, I found ones with peas that resembled eyes!)
Salmon caviar roe
Japanese Narutomaki, sliced up thinly
Step 1 - Place everything in a mixer fitted with a dough attachment and knead until elastic-around 5 minutes. Wrap in cling wrap and if it is a hot day, allow to rest for 2-3 hours or if a cold day, 4-5 hours. You can also store it in the fridge overnight.
Step 2 - Have a tray ready for the ramen and dust it with flour. Take the dough and cut it in half. Take your pasta maker and lightly flour it and pass it through starting at 1 until you get to the size 3. Then cut it in half again to make it easier to handle). Take the noodle cutter and attach it to your pasta maker. Lightly flour the cutter (I use a brush to distribute the flour) and then flour the pasta (otherwise it will bunch up in the cutter) and pass it through the finest cutter. Place on the prepared tray ready to cook. This is best when cooked straight away. Boil for 1 minute and then drain and divide among bowls.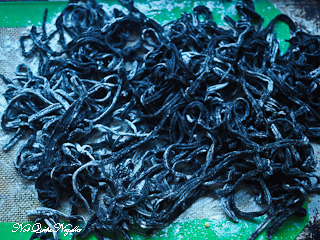 Step 3 - Simmer the chicken stock and masterstock and then cook the fish balls until they expand. Add the ramen back in for a minute. Then ladle into the bowls along with fish balls, caviar, Narutomaki slices and coriander.