There's a whole new world that you enter when you look after a dog. She's not ours yet but she's with us 6 days out of 7 a week and we had to look for a place that was dog friendly as well as human friendly. We had driven past Local Mbassy a couple of times. The signage is subtle but there were always crowds. Selfie taking crowds too. You see the food is an Instagrammer's dream. But how does it taste?
Local Mbassy's "thing" is red velvet-in almost every form: pancake, waffle, latte, frappe, you name it, they've made a version in red velvet. We've earmarked the pancakes for dessert but first it's savoury. They've run out of their signature dish, a taro osso bucco so we settle on a couple of other things instead.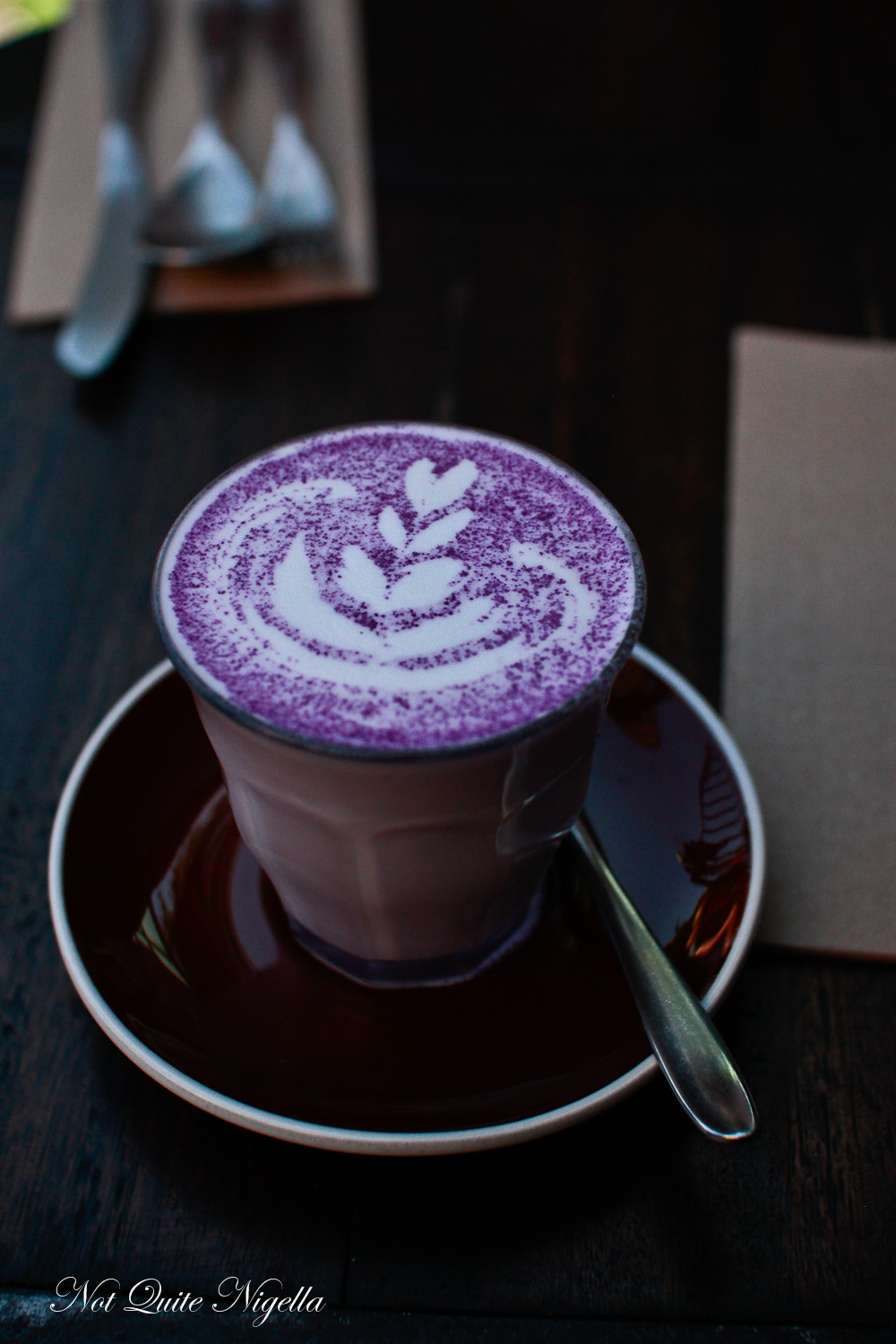 Hot Taro $4
The food arrives fairly quickly. The Hot Taro is a creamy hot milk flavoured with taro and a pretty purple pattern on top. It won't address any caffeine requirements but it's tasty albeit a bit grainy.
Shakshuka with meatballs $18
The Shakshuka comes out on an enormous wooden board shaped like a cleaver. There is a choice of a vegetarian version with mushrooms and cauliflower or meatball. The tomato could be a bit thicker and the meatballs have a pronounced lamb flavour to them but the serve is ginormous and comes with slices of toasted bread to dip into the runny centered eggs.
Crab Meat Benedict $19.50
I preferred the crab meat benedict. To get a bit of everything you'd probably have to put the top of the muffin on the bottom and make it a sandwich rather than eating it like a typical eggs benedict. There is a generous amount of crab and the hollandaise has some spice to it which is very nice.
Red Velvet Pancakes $18 and Red Velvet Frappe $8
Ahh the red velvet pancakes. They arrive as a stack of three graduating sized rounds topped with spiced mascarpone, white chocolate sauce and freshly sliced strawberries. The combination is nice but sweet. It really needs the strawberries to give it a boost of freshness and flavour.
The other table of three are taking turns with selfies with their red velvet waffles while another group takes one with each of their meals. We go to the park to take pictures of our sweet little charge.
So tell me Dear Reader, do you like red velvet flavour? Do you take pics with or of your food?
This meal was paid for independently.
Local Mbassy
310 Wattle St, Ultimo NSW 2007
Tel: +61 (02) 8084 3467
Monday to Friday 7am–3:30pm
Weekends 8am–4pm
Dog friendly area outside