Dear Reader have you ever heard of Soylent? If you move in certain circles you may have while others remain blissfully unaware of it. Soylent is a food obsession particularly among techies. Designed to be the solution to freeing up time, controlling calories and improving allover health it has a strong following. But what exactly is it and how does it taste?
DID YOU MAKE THIS RECIPE? Share your creations by tagging @notquitenigella on Instagram with the hashtag #notquitenigella
What is Soylent?
Soylent is a way of life for some. It is a nutritional supplement that purports to be a whole meal in one so that all they need to do is mix it up in a shake. It's also kind of the opposite way that most foodies want to eat. If you've ever felt like cooking and grocery shopping was a boring or onerous task then this may be your dream food.
It is also big business. It was first created by software engineer Rob Rhinehart in 2013. He made it as an experiment to find out if he could meet his own nutritional needs easily. His company Rosa Labs sells Soylent in various forms: powder, drink, coffee and up until recently bars (more on that later). It is designed to replace all food needs.
Soylent is named after a product made from soy and lentils in the science fiction novel Make Room! Make Room! by Harry Harrison. It does contain soy lecithin but there are no lentils.
The Soylent Appeal
Rosa Labs' Soylent website appeals to a certain type of consumers with phrases like "Eating isn't easy", "Food 2.0" and "Food that frees you". It has a big customer base with those that work in technology who have huge demands on their time due to the boom in areas like Silicon Valley. Any time away from their computer means lost time and if they can cut down on the time spent shopping, cooking and preparing meals, all the better for them.
Perhaps because of the Silicon Valley connection, Soylent has attracted large sums in funding. At first Rob tried crowdfunding the idea to supply friends and those interested and he attracted three million USD in 30 days. In 2015 it received an injection of VC funding of twenty million USD.
Nowadays Soylent has morphed into a concept rather than just a single product - while there is a Soylent branded product available it is also the term used for a range of open source recipes devised by the Soylent community to make their own complete nutritional supplement from scratch even commercially like Schmoylent or Schmilk. There is also an avid base of people coming up with ideas on how to make Soylent more palatable. Because the truth is that Soylent and any of its other names is not very exciting to eat.
Soylent tastes...well boring if you're a food lover. Like a slightly sweetened, grainy soy milk.
The Good and Bad of Soylent
Soylent is not without controversy and there have been a couple of recalls (the bars were recalled because of a problem with algae), other people write of effects like terrible flutulence and most just mention plain apathy at the mild flavoured, grainy powder.
On the flipside others find that it controls weight, clears their skin and improves their digestion, increased energy and small skin disorders quickly vanish. Soylent's marketing is specific, it isn't for foodies, it's for those that find the whole process of eating and cooking irritating or cumbersome.
In Australia there is Aussielent. The recipe for Aussielent is different from Rosa Labs' Soylent and it is created using Australian nutritional guidelines. One bag of Aussielent contains 8400 kilojoules or 4 servings which may or may not suit depending on your gender and height. It is priced at $14 a bag (or $12 a bag if you buy a week's supply) with a carbohydrate/fat/protein ratio of 52/24/24.
The Soylent Recipe Challenge
A while ago Viggo gave me two bags of Aussielent. Viggo is one of Soylent's biggest advocates. It sat next to my desk for ages. Months even. I wasn't tempted to even break it open. I'm not their market because the nightmarish scenarios that they speak of shopping for food and cooking are actually totally enjoyable for me.
But then I started watching a show called Silicon Valley and it jogged my memory. I had promised Viggo that I would make something fun out of Soylent. I couldn't do a week of a Soylent challenge because of my work but I could devise some recipes for it. Soylent does have the bland issue and people are always trying to come up with new things to do with it. But the blandness meant that it was a good base for recipe building.
But according to Viggo there were things that I had to stick to when developing Soylent recipes:
Point 1. Make it easy with accessible ingredients. Also Soylent fans don't necessarily want to spend time eating or preparing food, hence why they choose Soylent in the first place. It's the opposite of my approach to food where I think about food for every waking minute. But I love a challenge.
Point 2. Try to avoid changing the nutritional profile of Soylent as it will add calories. I knew that this would be my main issue.
I examined the bags of Aussielent. There are a few different versions: regular vanilla, regular chocolate and vegan (whey is the only difference that I could see between the vegan and regular ones). Alas there were no savoury versions which got me to thinking, 'how good would a cheese one be?'. I had to mask the vanilla and chocolate flavours for savoury recipes which wasn't actually too hard to do.
I mentioned Soylent to Nina and Garth. She loathes cooking and thought that the idea had some merit. So we decided that they could be my tasting panel along with Mr NQN, Louise and Viggo. Let's Soylent!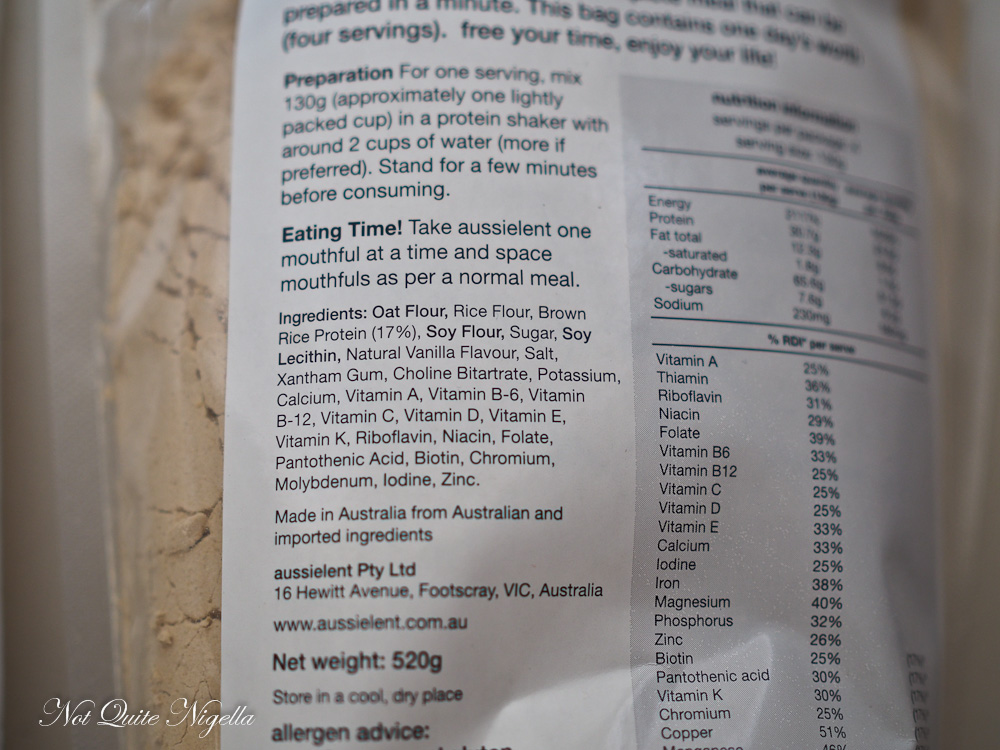 Recipe No 1. Soylent on its own.
1 cup Soylent
2 cups water
Step 1 - Blend together and drink.
We started our tasting panel with Soylent on its own. And scores ranged from Viggo a clear fan at 7 and said "Mmmm, chocolate malt" to 0 from Nina who blurted out "Wow that's terrible. It tastes like what I fed my baby birds." I rated it a 3 because I could not taste chocolate or malt or anything really.
Recipe No. 2 Soylent Cheesy Crackers
I then decided to start them on the most basic recipes first. I made some Soylent crackers with dip (the dip didn't have Soylent). This was a turnaround for Nina who gave them a 7 with the mysterious comment "crack'a lacking" (that was a compliment) to Garth who rated them a 5 and said "suitable for a survivalist" to Viggo who rated them an 8 and said, "texture was a little like a gingerbread cookie, nice! the dip was delicious, and made it a nice dish." Mr NQN left at it one word: nice.
Savoury base #1
1/2 cup Soylent
1/2 cup nutritional yeast (from health food store)
1.5 cups chicken stock
1 tablespoon oil
1 teaspoons salt
Step 1 - Preheat oven to 190C/380F. Spray two baking trays with oil. Mix all ingredients together in a bowl. Add spoonfuls of the mixture with a 1 inch gap between them. Tap trays against kitchen counter so that they spread (you want them thin and crisp, like a cracker).
Step 2 - Bake for 15 minutes, then turn over and bake for another 5 minutes until crisp.
Recipe No. 3 Simple Savoury Soylent Bread or Pizza
The next step was to try and make a pizza base or bread with Soylent. I had a bit of an exchange over messenger with Viggo who kept telling me not to change the nutritional content of it too much. I got a bit terse about this because it is literally not that exciting by itself but then I decided to devise a simple way of making it savoury using regular items.
I added garlic, dried onions, chicken stock and salt. And it masked the flavour of the vanilla well. It's an alternative to the cheesy Soylent above but with less changes to the calories and nutrients although taste wise both are similar. And the pizza? It was really good!
Savoury base #2
1 cup vanilla Soylent
2 tablespoons dried onion flakes
2/3 cup lukewarm chicken stock
1.2 teaspoon chopped garlic
Pinch salt
4 tablespoons pizza sauce
5 slices mozzarella
Fresh basil
Step 1 - Mix all of the ingredients in a mixing bowl. Spread out onto a baking tray and bake at 180C/350F for 12-15 minutes or until as crispy as you want it.
Step 2 - Top with pizza sauce, slices of mozzarella and bake at 200C/400F for 10 minutes and then top with basil.
The Soylent pizza got scores from 8, 8.5 and 9 plus comments like "Better than anything I've ever made" from Nina to "lovely texture on the base, just crispy enough, delicious with cheese and sauce. Could use a little more ingredients perhaps" from Viggo. But of course the whole idea is not to add too much to the Soylent!
Recipe No. 4 Soylent Lasagna
I really liked the savoury Soylent bases and decided to spread out some to make pasta sheets to make a lasagna. The other ingredients were easy to find: a tub of ricotta, a jar of pasta sauce and some mozzarella cheese but of course this would really change the nutritional profile.
When tasting the Soylent lasagna Viggo was suspicious. "Are you sure there is Soylent in this?" which prompted me to mentally say, "No I set all of this up to not put Soylent in anything! JOKES!". But the point was this was almost as popular as the pizza, mainly because you couldn't tell that it had Soylent in it. Mr NQN said, "Perfectly happy to eat this lasagne," which is funny because he is pretty much Garfield with lasagna so he isn't knocking any of them back. I think that was an endorsement. Garth rated it 9 and said, "Lasagna + soylent = delicious". But yes the nutritional profile was drastically altered in this.
1/2 serve savoury Soylent above
375g/13.3ozs. tub ricotta
80g/2.82ozs. parmesan cheese
400g/14.1ozs. jar pasta sauce
1/2 cup mozzarella cheese, grated
Step 1 - Preheat oven to 180C/350 and spray a 20x30cm tray with non stick spray. Spread out the Soylent on the tray and smooth over and bake for 12-15 minutes or until cooked. Remove from the tray and cut into thirds (three rectangles).
Step 2 - Mix the ricotta and parmesan together. Take a 20x11cm loaf tray and spray with oil or line with parchment so that they lasagna doesn't stick. Spread some pasta sauce on the bottom and then some of the ricotta mix and a layer of the Soylent "pasta sheet". Repeat until you've used all the ricotta and pasta sauce and top with the grated mozzarella. Bake for 20-25 minutes. Cool in the tin (it makes it easier to slice that way). I topped each piece with half a cherry tomato and a basil leaf just for decoration.
Soylent "Focaccia"
P.S. I also tried to make this into a "focaccia" style of thicker bread but this was less successful and I only really liked the bits with the olives. If I were to do it again I'd just completely cover this with olives and it would really help.
Recipe No. 5: The Most Basic Soylent Bars
It was dessert time. And I was starting on the most basic sweet recipe I could think of. Some recipes just have Soylent, spices and water and bake that as a muffin. I couldn't bring myself to do because it felt wrong so I tried to do a Soylent bar, sort of like the concept of what they tried to do a while back in America (except it resulted in vomiting and diarrhea because of some algal issue).
Honestly I did not like these bars at all. I subtly spat them out but luckily everyone else was much more polite. Nina told it like it was and gave them a "3 for usage as food. 7 for construction purposes," because it turns out Soylent can be shaped into a brick and it can be considered a weapon. She prompted calls for it to be sent to countries to build homes. People liked the spices (cinnamon, nutmeg and cardamom) but not the thick texture. I don't blame them. This was awful. Guys you didn't have to spare my feelings.
1 cup vanilla or chocolate Soylent
1/2 cup water
1 teaspoon vanilla bean paste
1/4 teaspoon each ground cinnamon, nutmeg and cardamom
Step 1 - Mix all ingredients together and shape into a bar (I happened to have a small loaf tin so I baked it in this). Bake at 180C/350F for 15 minutes. Keep it as one large bar or slice it up.
Recipe No. 6: Soylent Shortbread
Frustrated and unimpressed with basic recipes I decided to ignore Viggo's advice and treat it like a food and add things to it because there were recipes that did add butter, sugar and eggs. And then came my personal favourite of the sweets, the shortbread because the texture of Soylent is sandy or grainy and I figured that it would take to shortbread well. Now to make cookies you do add to the calorie count and here I treated Soylent like a gluten free flour-wild and unpredictable ;). What I ended up with was a delicious shortbread though! It imitated the "short" texture of shortbread perfectly. I would make this again.
"Wow" said Louise taking a bit before adding, "yay it tastes great." This tasted pretty much like shortbread but of course when you make shortbread, there's butter and sugar added which tips out the nutritional panel!
90g/3ozs. butter, softened
25g/1oz icing or powdered sugar
125g/4ozs. Soylent (vanilla or chocolate)
1/2 teaspoon baking powder
Step 1 - Preheat oven to 170C/340F and line a baking tray with parchment. Beat the butter and sugar together for a few minutes until pale and fluffy. Add in the Soylent and baking powder on low speed until jsut combined.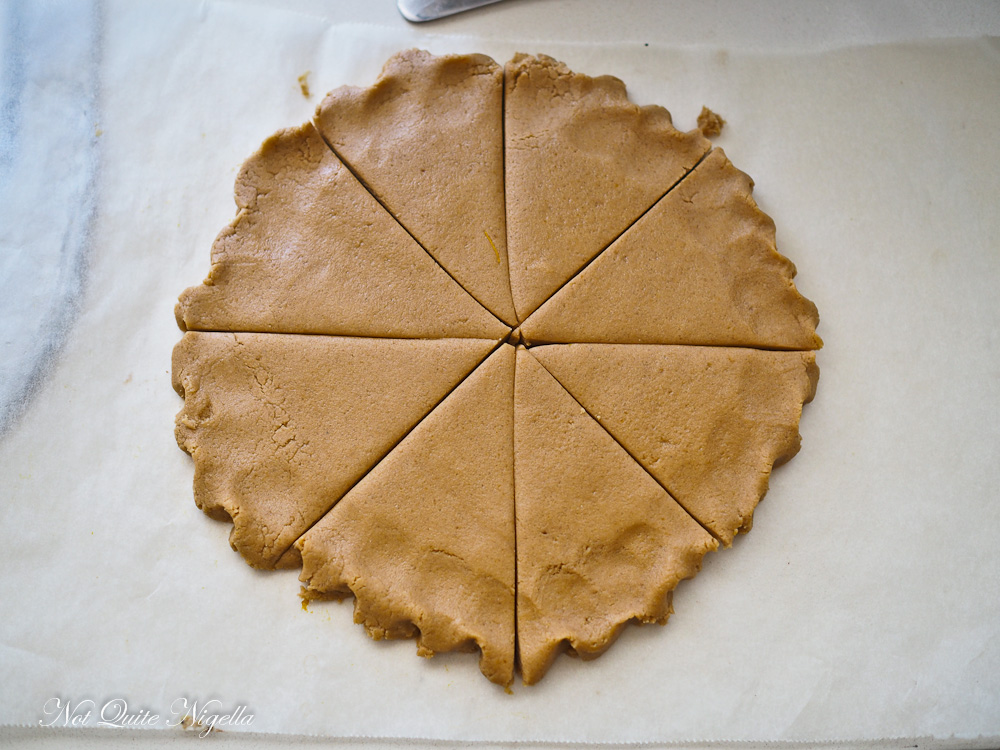 Step 2 - Shape into a ball and flatten with hands or a rolling pin. You can also flute the edges (or not). Using a butter knife, cut through the dough into slices but do not pull apart (this just makes it easier to cut once it is baked). Bake for 20 minutes. Slice through with a sharp knife where you make the cuts previously just to separate them further. Cool completely.
Recipe No. 7 Chocolate Chip Soylent Muffins
And then I decided to break open the chocolate Soylent bag because it's party time and I'm all like "I can Soylent!!". I decided to make muffins. I wanted to make muffins over a cake because they are single portion sized and could be frozen for people to have a snack if needed which is apparently what Soylent users want. I made chocolate chip muffins actually. And although a lot of people just do away with the egg in theirs I added some. I also made these lower in sugar. They ended up with a rather glossy top (not a good or bad thing, just different from regular muffins) but these were really good.
Adding chocolate to sweets or cheese to savouries is always a good idea. These were rich and fudgey but the texture did stick to the roof of your mouth. Maybe I should have made these peanut butter flavoured and people wouldn't have seen that anything was amiss. Viggo was a fan and said, "Tastes like a normal chocolate muffin, with a slightly sticky texture, more like a mud cake. Lovely." while Louise said, "These taste like fudgy muffins, crumbly but good.."
Makes 7 muffins
1.5 cups chocolate Soylent
1/3 cup caster or superfine sugar
1/4 cup cocoa, sifted
Pinch salt
1/4 cup vegetable oil
1 egg
1/2 cup chocolate chips
Step 1 - Preheat oven to 160C/320F and line a cupcake tray with 7 liners. Whisk the Soylent with the sugar, cocoa and salt in a bowl. Measure the oil in a jug and break the egg in it and then whisk and add this to the dry mix with the chocolate chips.
Step 2 - Place in a jug and pour into the cupcake liners filling them 3/4 of the way up. Bake for 20-25 minutes.
Our Conclusion
We came, we ate and we Soylented! And the most popular savoury recipes were Soylent Lasagne and Soylent Pizza and for sweets it was the Soylent shortbread!! Because covering anything with cheese and or adding butter and sugar is a good idea. But these were also the dishes whose nutritional profile was the most altered. Damn, you just can't win...
The average scores were:
**Soylent Shake: 4.3/10
Soylent Cracker: 5.8/10
Soylent Pizza: 8.3/10
Soylent Lasagna: 8.7/10
Soylent Bars: 6.5/10
Soylent Shortbread: 7.8/10
Soylent Chocolate Chip Muffins: 7/10**
We even bought some extra bags of the Aussielent just to put in our cupboard for when I go overseas and Mr NQN is home alone as he likes the idea of feeding himself with minimal effort. And yep he's a technie so he's definitely their market.
I'm glad that I tried making things with Soylent but I don't see myself doing a Soylent only challenge. A writer Josh Helton who undertook a 30 day Soylent challenge found himself relating to an book called "Regrets of the dying" where a palliative nurse Bonnie Ware wrote, 'All of the men I nursed deeply regretted spending so much of their lives on the treadmill of a work existence.'
Josh said on day 15 of a 30 day challenge "For me, maybe for most, the implementation of Soylent most likely hints at a lifestyle of overwhelming work…whether we realize it or not. The process of eating solid food creates space, breathing, and slowness. It creates perspective."
So tell me Dear Reader, have you ever tried Soylent? Would you try it? And would you eat it as it is or make something with it?
This post was not sponsored by Soylent or Aussielent. We bought all of this and experimented because we were curious.
Soylent wrap fail...