A delightful classic vanilla cheesecake made in of all things, a pressure cooker! This cheesecake has a dreamy, creamy texture and a delicious Kingston biscuit base. It is topped with a thick blanket of dark chocolate ganache and chocolate dipped cherries! I named her Barbara, after my adopted mum whose recipe I used!
If you've got a pressure cooker or instant pot and love cheesecake, I urge you to give the pressure cooker method a try. The cheesecake that results is honestly one of the most delicious ever with a heavenly creamy, velvety texture that you don't get with oven baked ones. It's also the only cheesecake that Mr NQN will eagerly eat-he avoids eating cheesecake if he can (I know, who is this guy and how did I end up married to a cake hater?).
There are some tricks to using the pressure cooker-make sure to use a natural release of pressure (aka don't push down the button to release the pressure) and depending on the size of your pressure cooker, you may have to use a smaller 17.5cm/7inch tin so that it fits in your pressure cooker better but other than that, it's easy and takes only about 30 minutes to cook (the pressure cooker takes about 10 minutes to get to temperature).
The recipe was from Barbara's book "The Electric Pressure Cooker Cookbook" which is full of wonderful recipes both sweet and savoury. I also have the Melt in your Mouth Baby Back Ribs, Game Day Potatoes and White Chicken Chilli earmarked. I used my Breville Fast Slow Pressure Cooker which is a pressure cooker and slow cooker in one.
Sometimes pressure is good. Sometimes it is bad. I was traveling a lot recently and you know me, I seem to thrive on a frantic pace of life. I guess I love to experience and do things. But I may have cut things too fine to the line lately.
One night I was unpacking, packing and repacking things and trying to get into bed as early as I could for an early flight. I'm not like Mr NQN who rolls out of bed, packs a toothbrush (or not, he borrows mine!) and deodorant and his clothes and he is packed. I have a list of things I need.
I was looking at my "to pack" list and was brushing my teeth. I was stuffing make up brushes into a bag while simultaneously trying to gargle with mouthwash.
Except I completely forgot what I was doing and forgot how to gargle. And then the mouthwash completely fell (for lack of a better word) out of my mouth as I looked at my confused expression in the mirror and wondered why there was green liquid dripping onto my clothes and why I was simply frozen watching it happen wondering who that was that was struggling so clearly with a simple life task.
I took it as a sign. One where I had to do one thing at a time! Bed would have to wait and I would definitely have to do one thing at a time. Any more was clearly perilous. And the first thing was having another shower where I didn't smell of mint afterwards!
So tell me Dear Reader, do you find yourself juggling lots of things at once? Do you perform well under pressure? And have you got a pressure cooker or instant pot?
DID YOU MAKE THIS RECIPE? Share your creations by tagging @notquitenigella on Instagram with the hashtag #notquitenigella
Pressure Cooker Cherry Chocolate Cheesecake
An Original Recipe by Lorraine Elliott
Preparation time: 30 minutes
Cooking time: 30 minutes
175g/6ozs. Kingston biscuits (or use Oreos)
40g/1.4ozs. butter, melted
500g/1.1lbs. cream cheese, at room temperature
3/4 cup/150g caster or superfine sugar
1 tablespoon plain all purpose flour
2 teaspoons vanilla extract
Pinch salt
2 large eggs, at room temperature
To decorate
1/2 cup vanilla buttercream
75g/2.7ozs. dark chocolate
50ml/1.7ozs. cream
7 cherries, with stems
Note: it's very important that the ingredients, namely the cream cheese and eggs are at room temperature for pressure cooker cheesecakes.
Step 1 - Line a 17cm/7inch springform pan (I used this slightly smaller size so that it would be easier to get out of the pressure cooker) on the base and sides. Add the cookie crumbs and butter to a bowl and stir to combine. Then press into the base of a tin and freeze for 10 minutes while you make the filling.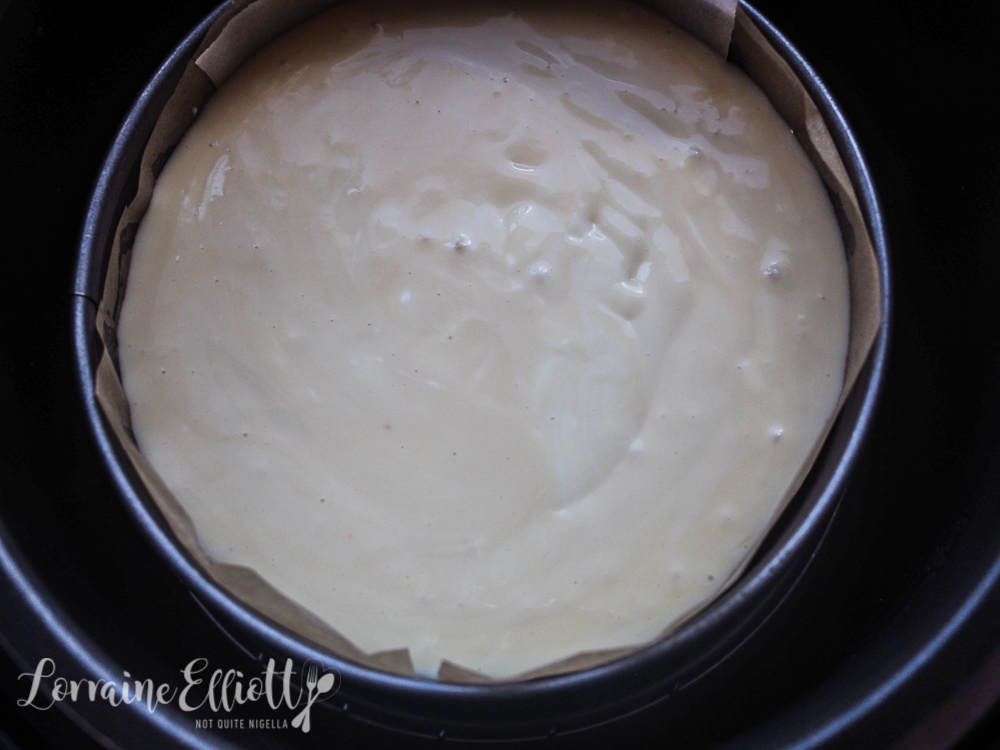 Step 2 - Beat the cream cheese and sugar until smooth. Mix in the flour, vanilla and salt. Then add the eggs and mix until just blended (be careful not to overmix, this can result in cracks).
There was a little water in the centre but I scooped this out with a tablespoon. You can avoid it by using a natural pressure release.
Step 3 - Pour 1 cup of water into the pressure cooker pot and place a trivet in the bottom. Gently place the cheesecake tin on top and pour in the filling. Lock the lid in place and select high pressure and 25 minutes cooking time.
Step 4 - When the time is up, make sure release the pressure naturally (i.e. don't press down the pressure button to release the steam) check for doneness in the centre-it should read 65C/150F. If not, just put it back on high for 5 minutes. Cool to room temperature and then refrigerate for 4 hours or overnight.
Step 5 - Line a small tray with parchment. Melt the dark chocolate and dip the bottom of the cherries in the chocolate and place in the fridge to set. Then heat the cream and mix it with the chocolate and spread it over the top of the cooled cheesecake dripping it down the sides. Pipe the buttercream on top and then top with chocolate dipped cherries.
This post contains affiliate links. These allow me to earn a small commission but at no extra cost to you x.