This version of potato and leek soup uses sweet potatoes and more leeks, ginger and plenty of garlic to help ward off colds as well as coconut cream instead of cream. Served with garlic rubbed cheese toasties it makes for a warming dinner or lunch.
Potato and leek soup is a classic soup that is wonderfully creamy although I can never bring myself to add the requisite amount of cream and usually stop once it starts to get velvety. I decided to make this version with sweet potato as I haven't had a great run of potatoes lately (they've all gone spectacularly bad in the cupboard-have you ever smelled rotten potatoes? UGH!) and now mostly keep sweet potatoes. And I make soup quite often too which may mark me as getting older but I can't argue with that lol.
In the last few years I've become obsessed with soup. I didn't eat it a lot growing up-maybe a wonton soup or a chicken and corn soup but it was never my first choice. I think I found that soup wasn't filling enough for dinner but ever since I started to travel a lot over the past few years I have really grown to appreciate the warming effects of soup and the restorative qualities of it. Or maybe I'm just getting older.
Speaking of getting older Francesca recently wrote about a height wall at her house and it got me to thinking about the height wall and growing up. We had a neighbour, a nice elderly man called Uncle Patterson. In today's stories, he would probably be some pervert or child molester.
But really Uncle Patterson was a lovely older man who just missed his grandkids and so whenever my mum, sister and I would walk past after school and he was in his garden he'd invite us into his house. He had a tin of biscuits, always Scotch fingers and I remember seeing lots of tins of soup. And every now and again he'd mark our heights on his doorframe. My parents didn't mark doorframes ("resale value of the house!" they'd say) but it was lovely of him to include us in his family.
So tell me Dear Reader, did you ever have a height chart? Are you a soup fan? And have you ever smelled rotten potatoes?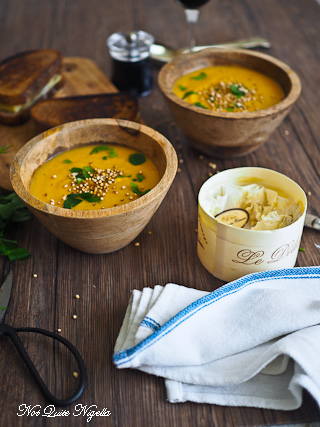 Did you make this recipe?
Share your creations by tagging @notquitenigella on Instagram with the hashtag #notquitenigella
Sweet Potato, Leek & Coconut Soup With Puffed Quinoa Croutons
An Original Recipe by Lorraine Elliott
Preparation time: 10 minutes
Cooking time: 30 minutes
2 tablespoons oil
3 leeks, white part only
1 inch ginger, peeled and grated
3 cloves garlic, peeled and roughly chopped
500g/1.1lbs. sweet potatoes, peeled and cut into pieces
1 litre/2.1pints vegetable or chicken stock
50ml/1.7flozs. coconut cream
4 tablespoons puffed quinoa
3 tablespoons chopped parsley
Step 1 - Cut the leeks in half lengthways and wash the leeks well making sure to rinse out any dirt from between the leaves. Cut into half moons. Heat a large cast iron pot on medium heat and add oil and add the leeks. Put the lid on and allow to soften stirring occasionally, around 10 minutes. Add the ginger and garlic and cook for 3 minutes or so until soft. Then add the sweet potatoes and stock. Cover and simmer for 25 minutes (how long exactly will depend on how small the pieces of sweet potato are).
Step 2 - Take an immersion blender and puree the mixture until smooth. Add the coconut cream and stir again. Serve with garlic rubbed cheese toasties and top the soup with chopped parsley and puffed quinoa (add the latter just before serving).