My recent travels to North America has left a lasting impression on me (not to mention my waistline!). Because I was away for an entire month, I didn't have a lot of extra room in my suitcase but I managed to stash little bits of things in amongst the clothes, shoes and camera/computer equipment. So here is a little look into my In My Kitchen this month hosted by my friend Celia from Figjamandlimecordial!
These were a gift from my "mum" Barbara from Barbara Bakes. She actually flew from Utah to meet up with us in Dallas and I was so delighted to be able to finally meet her! She gave me a delicious range of food including my favourite cinnamon chips, some Halloween goodies, a Halloween apron and chocolates. And yes some of the chocolates are missing from the picture because I ate them. Oops...
Do you see a resemblance? Not Quite Lorraine
In my kitchen, there was a bounty from Celia and Pete's garden. I went over to visit them shortly after I returned home. They have a new lot of chickens and one was named one after me-can you believe that? What an honour! I kept texting Celia from overseas to see how NQL was settling in. NQL or Lorraine as Celia calls her is a fluffy bottomed and slightly bonkers chicken I am told who believes that she can catch flies much in the same way that I believe in magic. When we were looking at her, Celia mused aloud "She likes her food. I think she's going to be fat" and well of course I just looked up at the sky and pretended that there were no similarities to be had...
Celia then asked me if there was anything that I needed and I mentioned leeks and off Pete went to the garden. He pulled out beautiful rainbow chard, a baby fennel bulb, parsley, coriander and broccoli. Vegetables do not get any fresher than this and if you are similarly black thumbed as I am, make friends with talented gardeners!
These cow chips were from Canada, Prince Edward Island where I was attending a Go Media Conference. They're chocolate coated salted potato chips that are so moreish with their crispy texture and salty and sweet combination. Never look at the calorie counts. Ever.
Do you ever buy gifts for people and then just adore them so much that you keep them? I bought these marionette puppets for friends and I showed them to Mr NQN. He looked so delighted playing with these that I'm afraid that we kept them. They live not in the kitchen but in the study. That's probably a technical foul for In My Kitchen but hopefully Celia forgives me.
One thing that I got from my travels through LA and Texas was a love for tortilla soup. I managed to get a sore throat while away and the tortilla soup was a common menu choice for me. It's a chicken soup and tomato based soup that has pieces of shredded chicken, cubes of avocado and beans or corn in it. Deep fried tortillas top the soup and there are strands of cheese in the soup too. It's hearty and texturally interesting and the closest thing I could come to chicken soup during my travels through Tex Mex land.
My version is a quick one that doesn't involve deep frying the tortillas. Instead you bake the tortillas after topping them with cheese so that they're crispy and this all happens in the background while your soup is simmering away. You typically use corn tortillas for the soup but I had some flour tortillas in the fridge so who am I to stand in the way of laziness? Especially since the whole soup is done in under 30 minutes!
So tell me Dear Reader, do you ever buy something for someone and then end up keeping it? And have you ever tried chocolate coated potato chips?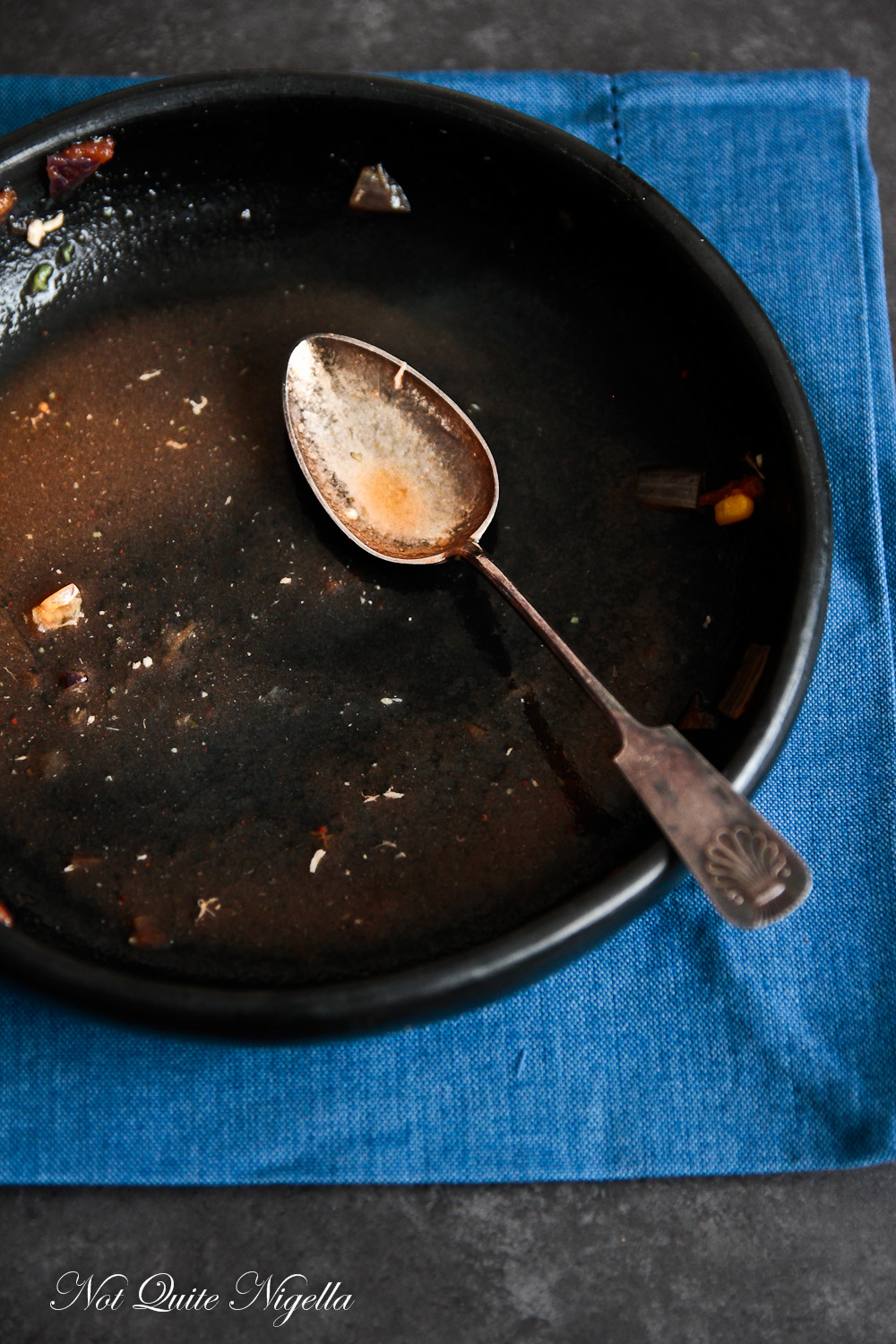 DID YOU MAKE THIS RECIPE? Share your creations by tagging @notquitenigella on Instagram with the hashtag #notquitenigella
30 Minute Tortilla Soup
Rated 5.0 out of 5 by 1 readers
An Original Recipe by Not Quite Nigella
Serves 4
Preparation time: 10 minutes
Cooking time: 15 minutes
2 flour tortillas
1/2 cup grated cheese
1 onion, diced
2 cloves garlic, peeled and sliced
oil for frying
1x 400g/14ozs chopped tomatoes
1-2 jalapeno chillies, sliced (depending on how hot you want it, you can omit)
3 cups chicken stock
1 cup corn kernels
350g/12.36oz cooked chicken breast, shredded
1 avocado, the flesh cut into bite sized chunks
2 tablespoons lime juice
4 tablespoons natural yogurt or sour cream
A few sprigs of coriander/cilantro
Step 1: Preheat oven to 200c/400F. Sprinkle cheese over the tortillas while waiting for the oven to heat. Heat a cast iron pot on medium to high heat and cook the onion in a couple of tablespoons of oil until golden and caramelised. Add the garlic and cook for a minute.
Step 2: Place the cheese topped tortillas in the oven and bake for 10-15 minutes until the cheese has melted and the tortilla is crisp on the edges.
Step 3: To the onion and garlic, add the tomatoes, jalapeno chilli, stock and corn and simmer for 10 minutes. Add the chicken and avocado to warm it up and the lime juice and test seasoning-add a little salt if you need it.
Step 4: Ladle the soup into four bowls. Slice the toasted tortillas into strips and top with the strips, some coriander/cilantro and a tablespoon of natural yogurt or sour cream in each bowl.