Open for just a month, Sydney's newest burger place is called Concept Burger. The idea is simple: burgers from different countries represented with key ingredients and flavours in an upmarket looking burger joint put together by chef Tomislav Martinovic.
You may know Tomislav from his eponymous restaurant in Kings Cross from a few years ago. He grew up in Sydney's Burwood and started cooking at 17 years of age. He worked at Aria and Moran's before flying to London and working for Heston Blumenthal at the tender age 22. After his restaurant called Tomislav gained attention and numerous awards it closed after a few years and he was all set to open up a new venture when he was diagnosed with cancer. He took time off to deal with that and after he bounced back he helped set up Five Points burgers in North Sydney and now he is helping Concept Burger's owners Sergio Spagnuoli and Coco Liang on their first food venture.
Originally Sergio and Coco's idea was for 15 burgers and 11 types of buns all made in house. "I told them, 'This is your romantic notion, I am your reality check'," says Tomislav. He asked them to come back with their seven favourite cuisines in the world and he wanted to make sure that the burgers tasted like burgers rather than sandwiches. In the case of a Vietnamese burger, it was replaced with a Portuguese one. He also gets people coming in with burger suggestions from their own country written on scraps of paper. "They're also cut that their nation didn't make the cut," he says (and don't mention the map on the wall with some pretty notable countries missing ;) )
Tempura Onion Rings $6.90 plus truffle pecorino mayo $3
So we've been talking about burgers but did I mention the fries and onion rings? The tempura onion rings come out first with an order of truffle porcini mayonnaise that we've ordered. The onion rings are super light and very moreish with a hit of celery salt. They go really well with the truffle pecorino mayonnaise that has a hint of sweetness.
Diamond Cut Beer Battered Fries $4.50 (small)
The diamond cut beer battered fries are next (diamond cut meaning that they're 8mm thick) and they're very good, perfectly seasoned and moreish although between the four of us I think you don't necessarily need both the onion rings and the fries. Did I really say that?
Juniper Star $6.90 and Coco Loco $6.90
There is wine, cider and beer on the menu but no cocktails, only mocktails. And the drinks end up arriving after the food. The Juniper Star has cranberry juice, Szechuan pepper, star anise, bay leaf, dried juniper berries, cinnamon, cucumber and lime. The cranberry and cucumber are the dominant flavours making this refreshing among the background of spices. The Coco Loco with coconut water, pineapple juice, grapefruit juice, coconut syrup, Angostura bitters, mint and kiwi fruit is just divinely tropical. I don't really get the bitters and kiwifruit, just the coconut and pineapple.
Raw Cocoa $7.90
Mr NQN's smoothie is super rich and quite sweet with banana, yogurt, sea salt, honey and milk. Usually they make raw cacao smoothies a bit less sweet but not this one which is why I think I prefer it to the healthy ones ;)
Chinese $14.50
I'm a sucker for a fried chicken burger and the Chinese burger has five spice fried chicken, Szechuan pepper, celeriac slaw, baby cos lettuce and fermented chilli paste. I love the spiciness of this both the aromatic and the heat packing kind. Louise finds this too saucy but for me, there's almost no such thing. The buns on all of these burgers are soft milk buns that are lightly toasted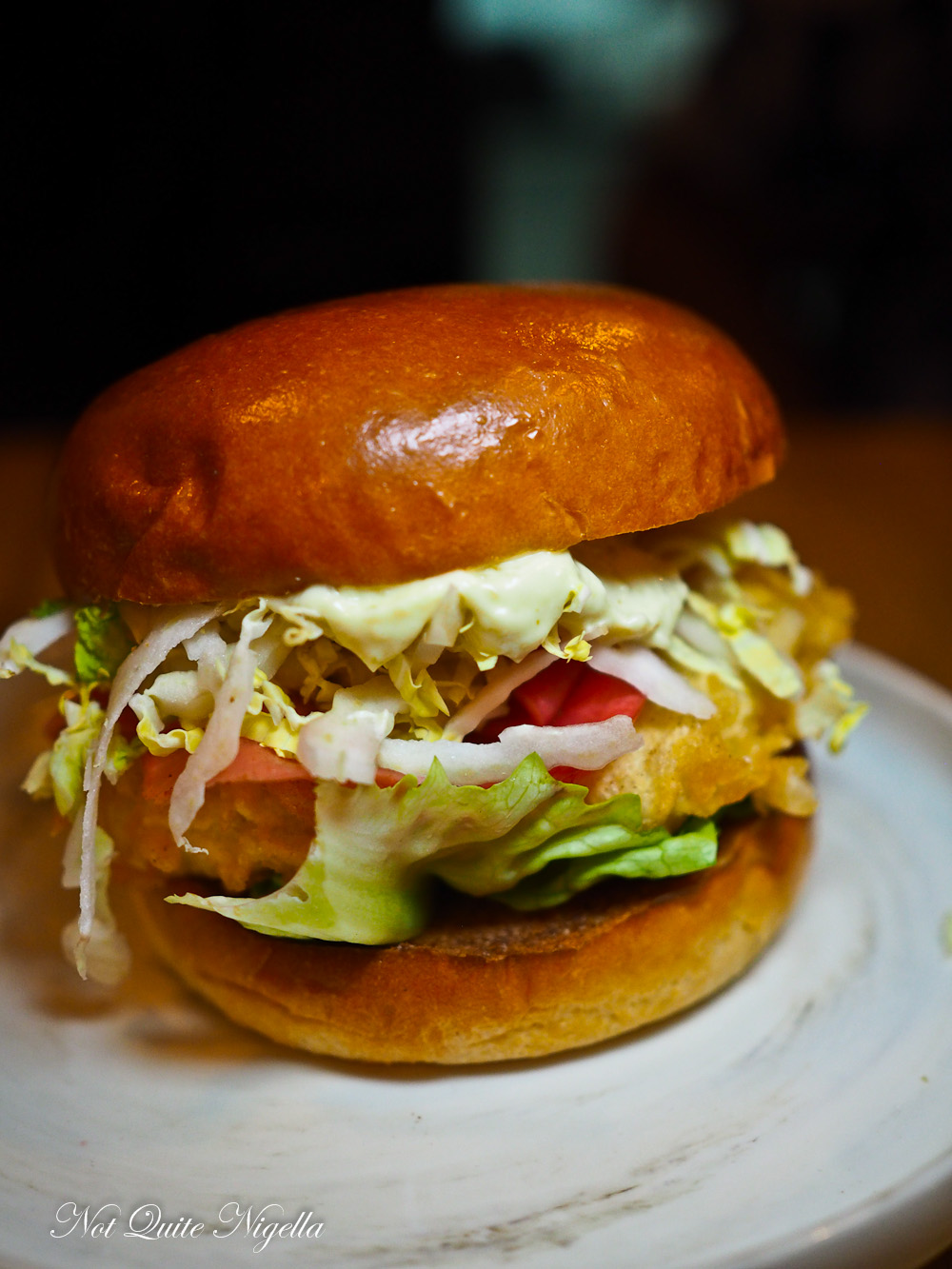 Japanese $16.50
The Japanese burger is a tempura fish fillet with karashi mustard, pickled radishes, baby cos lettuce and yuzu kosho paste. The fish fillet is the predominant flavour even with these two sauces and there's a very light tempura batter on the fish fillet. The radishes are perhaps cut a bit too thick for the burger bite.
Canadian $15.90
The Canadian is the bestselling burger on the menu. It's really like a bacon cheeseburger on a milk bun with a Black Angus beef patty, American cheese, maple glazed streaky bacon, oak lettuce and Dijon mustard. It's a classic burger with a hint more sweetness than perhaps a regular bacon cheeseburger due to the maple. The beef used in all the burgers is by Jack's Creek and it is a grain fed beef with a marble score of 3+ which makes it quite juicy.
French with beef $13.90+$6
This vegetarian French burgers ends up being one of my favourite burgers with the addition of the Black Angus patty. It's a large roasted field mushroom, beef patty extra, truffle paste, Gruyère cheese, oak lettuce and red cabbage slaw. It's saucy, rich and flavour forward.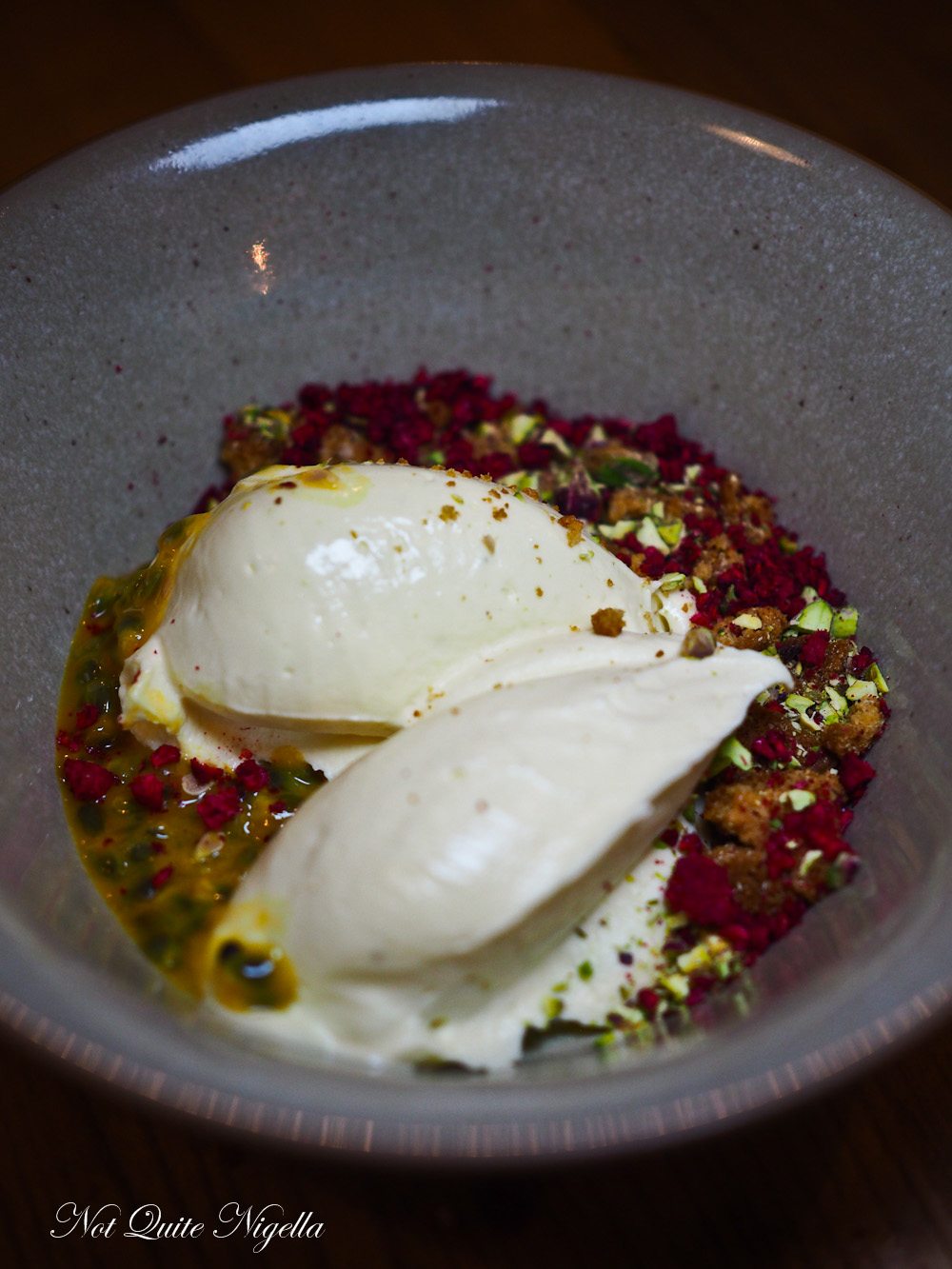 White Chocolate Mousse $11.90
There's only one dessert on the menu: a white chocolate mousse with passionfruit, freeze dried berries, pistachio and chocolate cookies. It's entirely unexpected and not what you'd expect to be served in a burger joint. The creamy white chocolate mousse is light as air and the tangy passionfruit and berries and crumbs go wonderfully with the two fat quennelles of mousse.
And we're in and out within an hour! Win win for a cold winter's night.
So tell me Dear Reader, which burger did you like the sound of the best? What would you put on an Australian burger or if you're from another country what would you put on your country's burger?
This meal was independently paid for.
Concept Burger
9-11 Arncliffe St, Wolli Creek NSW 2205
Open Tuesday to Friday 5–9pm Saturday 11am–9pm
Sunday 11am–8pm
Closed Mondays
Phone: (02) 9597 4184
www.conceptburger.com.au/