Take a peek into the beautiful world of the Four Seasons Sydney featuring exemplary service and suites with expansive views of Sydney harbour. It's a very special milestone birthday surprise for Mr NQN with a stay in the deluxe royal suite at the Four Seasons!
"It's my birthday, you can't be mean to me," says Mr NQN poking his tongue out. You wouldn't know that he was over 10 years old.
"You have no idea how un-mean I'm going to be," I say to him before instructing him to pack his bag.
When we turn into the Four Seasons driveway he still has no idea what is in store. The doorman is very friendly introducing himself and walking us to the reception desk. "I understand that someone is having a birthday," they say. "Is the room a surprise?" they ask and I nod conspiratorially. It's something that I've been cooking up in the background. After all it isn't every day that someone has a milestone birthday.
The first indication that we're off somewhere special is when they press "34" for the top floor. "Ooh" Mr NQN says, his eyes widening. As we alight we notice there are only seven suites on this entire level. Level 34 is home to the Presidential Suite as well as deluxe Royal Suites, one of which we're destined for.
The deluxe royal suite spans an enormous 107 m2 (1,152 sq.ft.). I'm embarrassed to say that it's bigger than our apartment. There's a guest powder room in case we have guests (our friends Viggo and Louise come up to have a look as they're joining us for dinner).
The living room is enormous with clever hidden areas like a work desk and a mini bar that I don't even see the first time round. There are freesias and roses perfuming the airand on the table there is birthday cake for Mr NQN - not just one but three.
But what grabs the attention is the view. It's surreally beautiful. You can literally sit at any of the perches all day long and watch the city work below your feet. Life goes on, people parade in miniature and there is the steady water traffic from ferries that look as small as toy cars. You almost want to reach down and move them along.
The bedroom features a king bed with two good sized bedside tables, one with a sound system. There's another lounge to lie on there and I happily oblige later.
The bathroom is spectacular with an enormous bath and that view again. It's really one of the most spectacular suites to see Sydney from. There are separate sinks and a very comprehensive set of Appelles Apothecary toiletries with a focus on bath products in deluxe sizing.
Apart from shampoo, conditioner, body wash, body lotion and soap there's also bath salts, bath pearls and a body scrub, shaving kit and toothbrushes. The shower is one of those roomy dream two person showers with side by side shower heads. The toilet, well it's also behind glass which may reveal more than you want. The only thing missing is blinds.
There's plenty of closet space plus all the things that you'd expect: thick robes, slippers, safe, laundry but they also include premium wifi (for streaming), valet pressing (minimum 4 hour wait), newspapers and magazines.
Club floor rooms also get access to level 32 for breakfast as well as afternoon and morning tea. From 5pm-8pm each night there is a good amount of canapes and snacks and one could conceivably eat dinner here.
We have a glass of Tasmania sparkling wine and some prawns, sushi and dumplings sadly forgoing the cheeses and salads because of course we have dinner later downstairs at Mode Kitchen, the new restaurant headed up by chef Francesco Mannelli.
The bath beckons me all night but as we collapse in bed to sleep I reach over and set the alarm. A bath like that just needs to be used. I set the alarm early so I can sit and luxuriate in the bath before heading down for breakfast.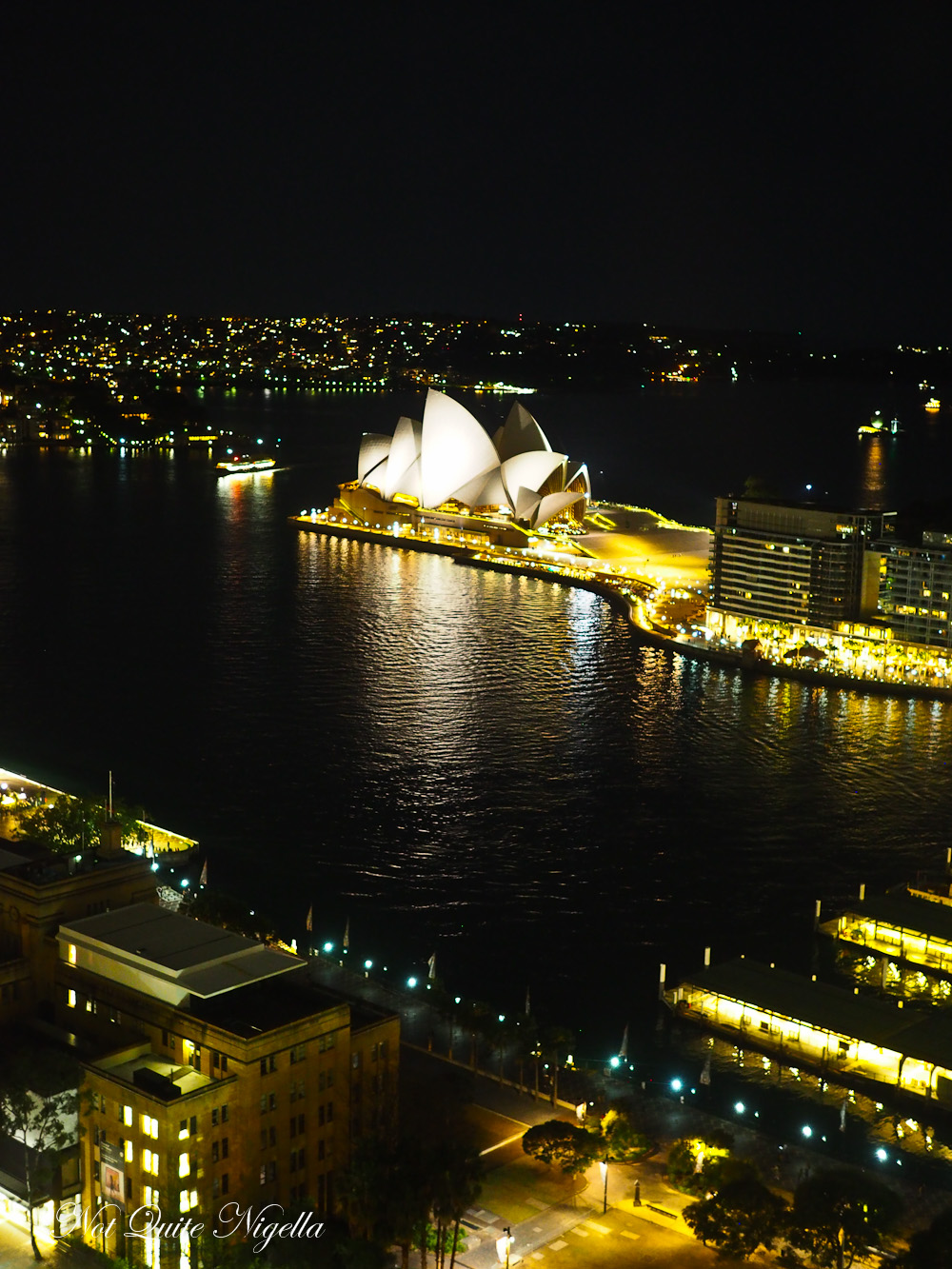 I add all the salts, pearls and the bubbles into the bath (tip: leave 30 minutes for it to fill). Mr NQN has gone off to a conference leaving me time to sit in the bath and watch the view alone.
The breakfast spread is comprehensive with a particularly large bakery section of at least a dozen items. The croissants aren't very buttery or layered but the danishes and muffins are very good. And I order a freshly made egg white omelette that comes perfectly cooked. The orange, pineapple and turmeric juice is fantastic and I enjoy the fruit too. I only wish that the stay didn't have to end.
So tell me Dear Reader, are you a hotel lover? And would you take a look at a friend's hotel room? Do you always use a bath in a hotel room if it is there?
NQN stayed as a guest of the Four Seasons but all opinions remain her own.
Four Seasons Sydney
199 George Street, Sydney NSW 2000
www.fourseasons.com/sydney/