Parramatta gets their first "five star hotel" with SKYE Hotel on Hunter Street. It is Crown Group's first foray into hotels as they are primarily residential property developers. Take a look inside the hotel that only opened on August 1 this year!
So let's start with the details: SKYE hotel occupies levels 2 to 9 of the 29 story V by Crown building with 72 rooms and suites. Because of the location, the busiest time is Monday-Thursday because of the corporate travellers.
The hotel is less than 2 weeks old so there are things to come and at first glance the gold themed lobby is a bit sparse but we are told that it will fill out with more centrepieces and lighting.
While checking in the staff are very friendly and welcoming and seem genuinely excited and eager to help. My room is #208 and it is a pool facing two bedroom king suite. There are two sides to the hotel, one facing the pool and one facing a building/car park. Obviously the pool view is the preferred vista and the other one can be a bit drab.
Something to note: while all rooms are called suites, the entry level studio suite is a slightly confusing name because a studio can't really be a suite (where the bedroom and lounge room are separated). The best pick are the Premier King 1 or 2 bedroom suites facing the pool. These are a good size and you can really see how the residential development expertise comes into play. It flows well and with good sized rooms.
There are modern touches befitting a new development. A tablet replaces the compendium and concierge, music plays in the hallways, there are plenty of plugs by the bed, there is free wifi and a minimalist sound dock but do you think I can get the bluetooth to work? Alas, no.
The bathroom is on the smaller side and I'm surprised to see only showers as there are no baths in any rooms in the hotel. There are L'Occitane products with shampoo, conditioner, body gel and an amenity kit. The towels are thick although the water from the shower does splash out quite a bit. But points for a thoughtful placement and easy to use shower tap.
The bedrooms are nicely outfitted. One bedroom has a double bed while the other has a king bed so it's a suite designed for 3 people. There are slippers, robes and a safe in the built in wardrobes. A nice surprise is the enclosed balcony that looks out onto the pool that gives the suite more places to hide and retreat in. The pool is a heated lap pool that sits at 23°C.
The overall feeling is less a hotel but more a serviced apartment and this is primarily seen in the kitchenette with oven, cooktop, full sized fridge, washer and a dryer. In the kitchen there's Dilmah silver jubilee tea, a coffee machine and milk in the fridge. The mini bar is on demand and people can specify their preferences before they visit via an email so that it is there waiting.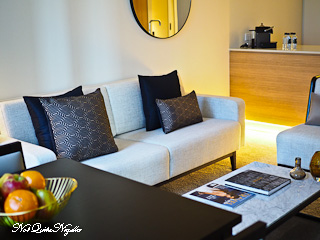 Room service is from 6:30am-10pm and it can be ordered from the tablet. There's a good range of food from the kitchen with the hotel's ground floor restaurant Husk and Vine by former Flying Fish and Salaryman chef Steve Seckold. Normally hotels don't have stellar food offerings but Husk & Vine is exceptional (review to come).
So is it a 5 star hotel? Perhaps not quite as there are certain things that people expect from a 5 star hotel. These are things such as valet parking, grand entrance, high thread count sheets, rooms with baths and a day spa which are missing here. But there are pluses like Husk & Vine and their in room dining menu and well designed 2 bedroom and 1 bedroom serviced apartment style suites.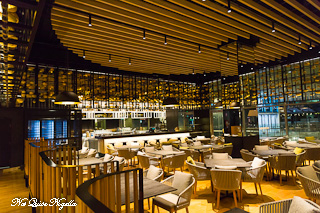 Husk & Vine
But of course the most important thing is sleep quality. To test it out I slept in the larger room during my stay. The bed is a Sleeping Duck bed which you may remember from Shark Tank. Before you check in they ask if you want a soft, medium or hard mattress. I chose medium just because I didn't know what else to pick. The mattress is very comfortable although the 300 thread count sheets have that new, slightly starched quality that will hopefully soften over time.
In the morning I set the alarm early because I wanted to have breakfast in bed. The night before I had ordered food via the tablet and exactly on the minute there's a knock at the door. They bring my tray into the bedroom and I sip on the freshly squeezed blood orange and grapefruit juice and chai latte while deciding what to eat first.
Biodynamic brown rice bowl, fried eggs, mushrooms, soy, chilli, greens $14.50
I start with the savoury dish (and yes this is too much food for one person but I honestly couldn't decide what to order). I have to say that a brown rice bowl has never tasted this good before. I was a bit hesitant to order it as they can sometimes be a bit bland and feel a bit like a punish but this one has a fantastic full flavoured soy, garlic and chilli sauce. It's served hot with a fried egg on top and plenty of wilted Chinese greens and whole button mushrooms. Honestly I'd order this again in a heartbeat.
Fig & raisin sourdough toast, torn burrata, pickled baby figs $15
But the fig and raisin sourdough toast isn't a runner up by any means. The bread is from The Bread and Butter Project which is a program run through Bourke Street Bakery that gives training and employment opportunities for refugees and asylum seekers. The fresh bread is lightly toasted and topped with torn burrata cheese and sliced sweet pickled baby figs. I may have eaten more than I intended, I can't confirm or deny ;)
So tell me Dear Reader, what features are essential for you in a hotel? And do you tend to prefer hotels or serviced apartments?
NQN stayed as a guest of SKYE hotels but all opinions remain her own.
SKYE Hotel Parramatta
30 Hunter Street Parramatta, NSW 2150 T: +61 2 7803 2388 www.skyehotels.com.au/parramatta/en/skye-hotel-parramatta.html