Want a bit more to your Fiji holiday than lying by the pool or on an island? Want to see how Fijian villagers live and learn more about their traditional customs or visit a local farm or market? You can do just that!
Our immersive Fijian day trip starts with a farm tour with The Outrigger Fiji's Executive Chef Shailesh Naidu. We make our way to nearby Indo-Fijian farmer Ravi's 5 acre farm. He is one of the 3-4 local suppliers that the Outrigger uses and he farms a range of fruits and vegetables. Traditionally Fijians were good at cultivating root vegetables but after the Chinese and Taiwanese came over to build the roads, they started introducing new agricultural methods and crops to the Fijians.
A third generation farmer Ravi has a wide variety of crops all hand tended to without any machinery. The soil is turned by a man being pulled by an oxen. We pass rows of tomatoes, cucumber, cabbage, coriander and cassava as well as local spinach called "Bele".
We finish our stroll through his neatly ploughed and maintained fields with morning tea in the family home. It's a bounteous spread with enormous cinnamon buns, sugar buns, nostalgic mock cream buns, jaffle sandwiches, egg sandwiches and of course fresh fruit from the garden.
Everything is generously portioned and we help ourselves to the food. The cream bun brings back childhood memories while the paw paw is wonderfully sweet and juicy while the pineapple is candy sweet.
When Fijians travel overseas there are two things that they always take with them: Daruka is wild asparagus that is unlike anything else. Along with this are local clams called Kai. These can be found at the Sigatoka produce markets. The biggest day for the market is Saturday and we walk past enormous displays of piled up eggplant and tomatoes. 70% of fruit and vegetables in Fiji are grown in Sigatoka and it is known as the fruit bowl of Fiji, not just for its cavernous bowl-like shape.
The Bongo chillies look like habanero or scotch bonnet chillies. There are ota ferns and kava roots-these will be used in our later activity. Tiny green chillies are called Junglee chillies or junglee mircha- these ferociously hot chillies grow wild.
After that we join the Sigatoka River Safari which combines the thrills of a jetboat with a visit to a local village located along the Sigatoka River, the longest in Fiji. We strap on life vests and cruise along the shallow river. We watch oxen grazing, wave at kids swimming and there is plenty of life in the 69 villages that are located along the banks of the river.
We are headed to Natawatawadi village, population 150. Our jet boat driver Lep explains how Fijian life works in the villages and how children cross the river to school. If the village doesn't have a boat, children use novel ways to cross the river if the tide if high. Boys use tyre tubes with one boy sitting in the centre of the tyre tube carrying his and his friends' books while the other boys push him along. Girls place their books in buckets and swim pushing these. Alcohol is forbidden in the village and traditionally anyone found smuggling it in would be instructed to lean against the village chief's pole and given lashings with a stingray tail. Nowadays, they call the police.
The villages are made up of 5 tribes that until 1867 used to practice cannibalism. The last man to be eaten was Reverend Thomas Baker who was killed at the order of a Navatusila Village chief. He had attempted to take back a comb that he had given the chief touching his head. He was eaten and his bones were scattered along the banks. Cannibalism was a practise that only stopped when the Fijians embraced Christianity. Now a common joke is that the most common religions in Fiji are Christianity, Hindu, Muslim and ...Rugby.
Marriage matches in a village were usually made by the rolling of an orange. A woman had to marry the man who rolled an orange at her and care had to be taken whom they rolled the orange to. With the arrival of Indo Fijians, came arrange marriages but many now go for "love marriages". In a typical village they practice the barter system but if someone hasn't got something to give in return the other part practices KereKere or to "Give with a kind heart".
Women guests to villages must cover their legs with sarongs. We are all given flower garlands and they smear baby powder on our cheeks.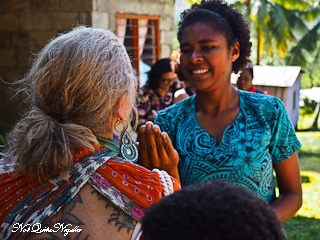 Life in the villages and Fijian society is patriarchal so men have a higher status and this is readily apparent in the kava ceremony, that most uniquely Fijian ceremonial drink. The kava ceremony starts with the men filing in first and sitting in the front row. Women follow in after. The ceremony is conducted in Fijian language and the predominant sound is of deep clapping - this is a sign of respect. They make kava from the root of a tree and they grind it up into a powder and mix it with water.
Kava is usually brought by a visiting chief. The first person to try it is the visiting village chief (in our case the oldest male in the group) and then the elders of the village being visited. Everyone else gets to try it finishing with the women and you have to clap and say "Bula!" before downing the whole cup. It's not unpleasant and has a medicinal quality not unlike ginseng with a slightly powdery texture. To get the full effect of kava you would perhaps need 5-6 serves. 300 grams of the kava powder can be mixed with around 1.5 litres of water to make kava. The effect of kava is like the opposite to alcohol. While your brain remains sharp, your muscles loosen and most kava parties appear as though all participants are napping or falling asleep. There is also no hangover after consuming it.
After this they serve us a late lunch made up of traditional foods like taro leaf patties, spinach cooked in coconut milk and deep fried banana pancakes which are all utterly delicious and eaten with our hands. There's even choy suey brought from the Chinese migrants as well as tasty roti filled with curry potatoes. It is all washed down with orange cordial.
Once this is finished, it's a round of dancing. As guests we stand around and hope for an invitation for a dance by the Fijian villagers. First a man grabs me and another writer for a short dance, then a young boy grabs me and lastly a little girl grabs me her inviting smile shining as wide as mine in return.
So tell me Dear Reader, have you or would you ever try kava? Do you like to get to know a culture when you are on holidays? And what do you think of the idea of rolling oranges to determine who you marry?
Outrigger Fiji
Sydney Drive, Off The Queens Highway, Sigatoka, Fiji
www.outrigger.com/Fiji/Resort‎