Fiji's Turtle Island is more than a resort. A concept far ahead of its time Turtle Island is a 500 acre private island that combines all inclusive luxury (think unlimited Taittinger champagne and enormous beachfront bures), warm service as well as sustainability and community. And learn why around half of Turtle Island's guests return to its beautiful white sand shores.
"Whatever you want to do, you can do it at Turtle!" says one of the outgoing group of Americans that we meet before boarding the seaplane to Turtle Island. "Get used to hugging!" the patriach of the family laughs.
I puzzle over the comment about the hugs but am distracted by the aquamarine seas and coral reefs below. As we approach Turtle Island we see a large contingent of Turtle Island's staff assembled on the beach singing and playing guitar and waving at our plane.
The seaplane slowly drifts towards the shore and two strapping Fiji men in traditional tribal chief outfits open the door. They form a cat's cradle with their arms and instruct me to relax and fall back into their arms where they will carry me to shore. The welcome sun beats down on me and the ocean's salty water laps at my feet.
As my feet touch the ground one gentleman says to me, "I'm sorry we couldn't give your husband the same welcome."
"Whaa?" I say but I don't even have a chance to look back before someone envelops me in a hug and before long I've received a warm embrace and a ebullient "Welcome Home!" from everyone on the shore. It is at the same time overwhelming but also truly heartwarming. I finally get the chance to look back at Mr NQN.
He is getting a piggy back onto shore from another man, a huge smile stretched across his face.
The history of Turtle Island or Nanuya Levu is fascinating. It was bought by Richard Evanson Sr in 1972. It is part of the Yasawa islands originally owned by the Natukani people of Nacula. Richard was a burnt out, divorced alcoholic from America who had been a slave to his job. He had worked on the minute man missile project and married the bosses daughter but did not take to being in a wealthy family and always felt the need to prove himself and wanted to own his own business.
Richard moved into the cable TV business and then sold out for a pretty profit. He then divorced and moved into an apartment in San Francisco with $4 million USD in the bank. He headed towards Australia to invest his money but stopped for four days in Fiji. It was in Nadi that Richard met Bob Hunter who had put down US$50,000 option on the 500 acre Nanuya Levu and Bob showed Richard the island from a helicopter. Even though they didn't land Richard was sold and paid Bob US$300,000 for the island which was overrun with wild goats. This purchase fulfilled a childhood dream of owning an island. He asked his friend actor Raymond Burr how to manage living on an island as the actor had also done the same. Richard proved somewhat of a natural as he already loved fishing, gardening, greenhouses and aquariums.
An hour after Richard set up his tent on the island, a visitor arrived from across the lagoon. It was 17 year old Joe Naisali from Matacawevu village. He asked Richard if he needed any help and Richard told him that he needed a boat and people to help him work on the island as well as cook and take care of his clothes. Joe returned to the island with 10 men. While each man returned to the island at night Joe stayed on the island with Richard. Joe proved invaluable and helped Richard through hurricanes and re-vegetating the island. Today a bronze bust of Joe sits under the enormous banyan tree at the centre of the resort.
As the island healed so did Richard. His supplies of whiskey and beer depleted and were replaced with Kava made from the root of the pepper shrub. It's a non-alcoholic drink but unlike alcohol the more you drink the more tired you get. Kava is an important part of Fijian culture and visitors to villages present Kava to the chief. Richard became fitter, used Fijian bush medicine and gave up smoking. He invited his parents and children from the US for vacation. They brought with them books about horticulture, carpentry and fishing.
If Turtle Island looks familiar, it's perhaps from watching the 1949 or 1980 Blue Lagoon movies. When Richard was approached by filmmakers wanting to use the island for the 1980 remake of the film he used the US$65,000 paid for filming on improvements and building accommodation. They filmed there for months although the Fijian staff found it difficult to adhere to the 5:30 am call time. To work around this they scheduled everything one hour earlier and that little quirk called "Turtle Time" still remains from filming days. Richard felt that having an extra hour allowed guests more time for daylight activities.
Richard started with just a few huts for the film cast and crew and over the years it has expanded to what it is today with 14 bures. When he first opened up the accommodation he wanted to call the accommodation Blue Lagoon Lodge after the movie but Blue Lagoon Cruises objected so it was called Turtle Island instead.
The turtles after which the island are named were historically consumed by sailors while the shells kept as trophies. Nowadays turtles are protected and the local fishermen sell them to the island who then auction them to guests. The highest bidder has their name painted on the shell to render the shell's value worthless and then the turtle is re-released back into the lagoon. The money from this turtle auction goes towards the Turtle Island Staff fund. These turtles have been known to travel as far as Queensland.
Richard Evanson Snr passed away in June 2021 leaving behind a perpetual trust that protects Turtle Island and specifies that no further develop will take place. That means that only 14 bures will ever be on the island serving a maximum of 28 guests by 90 staff members. Everything is included in the tariff - that means all alcohol, food, drinks, activities as well as a 30 minute massage.
We are shown to our grand bure. It's so large that I almost mistake it for a shop. Privacy is from the canopy of tropical foliage and there's a path that leads up to the bure. Each bure has its own personalised wooden tile with your name and month of the visit above the entrance way, a souvenir to take home. There's a day bed and some chairs angled to make the most of the view as well as your own dedicated hammock and deck chairs on the beach. There's no fighting for seats or views here with such a small number of guests.
Inside there is a sitting room and work desk and then connected to this is the large bedroom and bathroom in an open plan design. There is a spa jacuzzi already bubbling and a bottle of Taittinger champagne already chilling in an ice bucket. There's also his and her showers each with two heads, sinks and even toilets (yes). There are multiple fans and an air conditioning unit above the bed.
I open the fridge and the bar ia stocked according to our requests. Prior to our visit we filled out a questionnaire listing our preferences even down to the welcome drink that we received and everything is in there. There is plunger coffee, tea and freshly baked cookies and brownies too.
And that's where we meet Mama. Each bure has a bure mama, a wonderful woman that takes care of you. At a pinch you'd call her your own personal concierge but how many concierges give you a warm embrace, a peck on the cheek and say "Come to Mama" every morning. Our bure mama is Mama Laite who is as sweet as sugar. Nothing fazes Mama Laite although I will advise that when she asks you what you want from the daily menu nothing pleases her more than when you say, "One of everything please." We sit down with Mama and let her know the activities that we'd like to do during our stay. Mama also helps to tidy the rooms and takes care of laundering your clothes during your stay.
While Mama is the person you'll see the most, the rest of the staff are without exception, well exceptional. You get the sense that they love their jobs-most have been with the island for a long time, some for over 30 years. Turtle Island (or "Turtle") take care of their staff with medical and dental clinics set up throughout the year and when the island's school had to close down they paid for their children to go to school on the mainland. Every single staff member that you meet knows your name and you truly feel like you are part of the family.
It is Turtle's staff that helped Londoner James live out his fantasy of throwing custard tarts at random people. The chefs baked custard tarts and he threw them at consenting staff members. Each staff member has their own personality from the caring Mama Laite, paternal Bill, sassy Moni, happy Oscar, jovial Jerry, friendly Elle, smiling but serious Eramis, lovely Mere to stoic Joe the dockman who has the most serious job on the island, mannning the dock and responding to guests' radio requests for champagne. South African General Manager team Rob and Landi Burns are there for support but let the Fijian staff shine.
Apart from the accommodation and staff, the food is also a key part of Turtle's appeal and is one of the reasons why they have such a high guest return rate (currently 50% of guests book a return package with the 30% discount an added sweetener). Much of the produce is grown on Turtle Island. The staff take guests on a tour where they show you everything from the piggery to the lush gardens that supply the resort and the entire community with produce from dairy cows, pigs, ducks, chickens, eggs, fruit, vegetables and honey from 120,000 bees. The only imported produce is onions, potatoes, oranges and apples as they can't grow these on the island. All of the milk, cream, yogurt and butter is made in the kitchens. The expanded farms were an idea of Richard Evanson Jr who wanted to keep the resort staff employed during the pandemic.
Seafood like giant trevally, dogtooth tuna, walu, Spanish mackerel, crab, lobster and prawns are caught locally. Mud and land crabs are easily found on the island as are lobster and fish from the oceans. We embark on a crab hunting journey one evening in the back of a pick up with Jerry, Turtle's best crab expert guiding us. Land crabs come out during the rain when their sandy homes are flooded and during rainy days they can simply be picked up off the ground. As it has been dry it's a bit more of a challenge to find them but Jerry nabs three land crabs in the first 10 minutes while Mr NQN holds the bag.
"Tell them we caught 15 but released 12!!" says Jerry conspiratorially. We hand them to Mama when we return and the kitchen prepares the crab picking out all the meat and cooking it in coconut milk for a delicious lunch.
Just before 6pm every evening the staff come around to each bure playing music and singing to let guests know it's almost time for cocktail hour. Cocktail and canape hour is a social event at the island where guests meet each other before heading off to dinner in various locations. It's nice to have a bit of interaction with other couples and even shy Mr NQN enjoys chatting to the other guests who are all very friendly. 75% of Turtle Island's guests are American while the remaining guests are mostly Australian with some British.
Breakfast is also when you're likely to meet your fellow guests and is a communal affair on a shared table with an a la carte selection that comes with pastries, fruit, juice and coffee or tea. Dockman Joe radios ahead when he sees us leaving our bure and smiling Sera greets us with fresh soursop (custard apple) juice.
There are a couple of social dinners too; there's the Grill that seats 8 people where all of the food is prepared in front of you on a Hibachi grill. There's also a Mongolian barbecue which is where you choose what you want cooked from vegetables, meats to spices and sauces and they cook it for you and serve it on a long communal table on the beach. There's also a sunset cruise which is really fun but be prepared to dance (a little). On Wednesday nights they do a lovo dinner where the food is cooked using hot stones underground. The Blue Lagoon movie is also screened for guests every Sunday evening. And at the end of most nights (except Sunday) the staff host a Kava ceremony where your Mama hands you a cup with your name and you can drink kava. Kava is a mild tasting drink made from fresh or powdered root of the Piper methysticum plant and Mr NQN was a huge fan of kava as it really helped him sleep.
It's also fine if you don't want to be social - another couple proved elusive and were not seen by any other guests. This couple mostly stayed in their bure only ordering dinner and snacks. Perhaps they were inspired by Britney Spears and Kevin Federline who honeymooned at Turtle Island in 2004 and stayed in bure #15 and did not leave their bure during their stay.
Private dinners are also encouraged and are situated at scenic locations on the island. For a truly private experience book one of the two floating pontoons. They bring you across by boat and lay out your entrée, main and drinks and then leave you alone. You radio them when you are ready to be picked up (tip: choose a calm day for this).
You can also dine at the spa deck, on the wharf, cliff point, main beach or in your room. The food is superb and they mix it up every night whether it be lobster salad, steak and potatoes dauphinoise to lobster bisque and grilled fish all accompanied by their delicious home baked bread.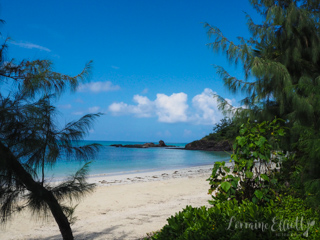 Having said that my favourite meal of the day was the picnic lunch. While other resorts treat beach picnics as an extra or separate tariff a picnic lunch is the norm here at Turtle Island. I had assumed we would be unfurling a rug on the beach but here they've made picnics an art. Every morning your Mama tells you the day's menu - we always ordered one of everything plus a green salad and iced coffee.
Lunch, like breakfast and dinner changes daily and one day it can be lobster tails with home baked bread, pearl couscous and fish tacos while another day it can be garlic prawns and rice, devilled eggs, BLTs and fruit salad while our final day was a range of Fijian curries (chicken, seafood and vegetable) with flatbreads and coleslaw with frangipane tart for dessert.
Each beach is slightly different in its set up although there is always a bure, lounge and table as well as a hammock. Long Beach is on the opposite side of the island from the resort. As the name suggests a long stretch of white sand beach. A bit closer to the resort is Shell Beach which is perfect for privacy as the brewery is hidden away with foliage. Each picnic spot has it covered bure, lounge and table and all we need to do is take our walkie-talkie to let them know when we want to be picked up (or need more champagne). Mr NQN does some stand up paddle boarding while I read and lie on the hammock.
My favourite spot on all of Turtle Island is the Cliff Point. It is also the most hotly contested spot and some miss out on this during their stay especially if they are only staying for 5 nights and its a full house or the weather is inclement. The Cliff Point bure also has a saltwater pool just below it that is perfect to cool off before or after eating. We couldn't book it for dinner which is what most people want it for but I'd actually recommend it for lunch so that you can use the pool.
And if the multi-course breakfasts, lunches and dinners aren't enough, snacks are also available all throughout the day. There's fresh mango juice, house made lemonade, local potato chips, fruit platters plus a selection of afternoon snacks that change daily.
Activities wise, on Turtle Island there's a little or as much as you want to do and it all depends on you. Guests stop by the Bula board which lists the days activities for each couple as well as the snacks. There are seven beaches and 14 bures and each bure is assigned their own private beach every second day. You can also try your luck and nab a beach on other days as not everyone takes their assigned beach in lieu of fishing expeditions or cave diving.
We kept activities low preferring to beach picnic every day although we also did a spot of horse riding too. Mr NQN loved snorkelling and windsurfing on the main beach which was watched by interest by other guests including Mama Laite who watched carefully over her charge making sure that he was safe. While he enjoyed the water I loved the spa with incredible massages. They use Pure Fiji products that smell wonderful - I had a kink in my shoulder from the flight that they worked out perfectly.
Turtle is also an island where celebrations take place. Anniversaries, birthdays and special occasions are made even more special here. We booked our stay for my birthday and on the day they brought a beautiful breakfast in bed. I thought that was the celebration but during our beach picnic the staff surprised me by arriving by boat singing Happy Birthday carrying a chocolate cake. When we came back from our picnic Mama Laite had decorated the bed beautifully.
The clever staff even have an idea for those repeat guests that come for celebrations. These loyal guests may get a cheeky wooden cake, trick candles or sides that pop out. Because that's what family does.
There are only two rules on Turtle Island. The first is rule is Keep Smiling. And the second rule? Please refer to the first rule.
So tell me Dear Reader, have you ever been to Turtle Island? Is there a place that feels like home to you?
What else do I need to know about Turtle Island?
Turtle Island is $2800USD a night for two people. that includes all food, drink and activities. The only extra is the spa (although a 30 minute massage per person is included) and gift shop purchases.
The peak time to travel to Turtle Island is from May to October and it is less hot, wet and humid then.
Packing: don't waste luggage space packing heels for Turtle Island. Most people either go barefoot or wear thongs or flip flops.
Seaplane is the best way to arrive at Turtle Island and will cost about the same as your other airfare at $2000USD per round trip and takes around 40 minutes. The other way is by speedboat that takes 2 hours or helicopter.
There is internet at the gift shop only.
Tipping is encouraged and they suggest tipping 10% per day of stay.
Return packages are popular but can only be redeemed during your stay. They give you 30% off the rate and are valid for 10 years. Please mention my name if you book and let me know! :)
This is a couples only resort. Richard found that singles, especially attractive ones would often upset the balance and cause issues with some couples. Families are welcomed twice a year.
Mosquitoes were the only thing that bothered me. They have a really lovely lemongrass scented insect repellent. Tip: use a lot of it!
Check out time is usually 11am but is subject to the seaplane schedule. All guests are advised the day prior as to what their check out time will be subject to their mode of transport and their schedules.
NQN and Mr NQN stayed as guests of Turtle Island but all opinions remain her own. They flew to Fiji as a guest of Fiji Airways.