Everyone knows that Fiji is a great destination for family or honeymoon holidays and The Outrigger Fiji is one of the Viti Levu's most popular resorts. We spend a couple of nights there to see what is on offer from aged Fijian rum and coconut vodka to fine dining!
There's this thing when you walk around the Outrigger, or actually Fiji. It's the soulful, gutsy BULA! welcome you get when you step off the bus (which makes you think for a minute that they've mistaken you for a celebrity). For Fijians the word Bula is an ever present word coming from their lips and for them Bula is life.
Fiji is an easy holiday destination for Australians - some consider it as a domestic destination from Australia. At only 4 hours away from Sydney, it is closer than flying across Australia. We are greeted with glasses of sweet iced tea after the 1.5 hour drive from the new airport. It has been over 10 years since my last visit to Fiji but it feels much shorter.
I check into my room, an ocean view deluxe room. It is around 45 square metres and simple in decor. There's a king bed and a balcony overlooking the ocean and the thatched bures below. The percentage of Australians staying at The Outrigger is high - around 82% which is above the island's average. The resort incorporates elements of cruising too from the daily event planner that comes around to the messages for upcoming appointments that are left outside your door.
The room itself is fine although it could do with a bit of a refresh. They are perhaps aware of this and at the end of the year they will be starting an overhaul to all of the rooms. It is comfortable though and while the room is simple there are touches of luxury.
Ocean Front rooms and bures get their own talais or butlers which is a very nice perk. My talai shows me around my room and then offers to help me unpack my luggage. And around 5pm every afternoon he brings me some sparkling wine and canapes.
There are two types of travellers here: families and honeymooners or couples on romantic holidays. For the families there is a staff of 49 Meimeis or nannies that look after the children and for the couples there are certain "Adults Only" areas of the resort like an Adults Only pool, restaurant and spa.
I mentioned Fijian rum and vodka didn't I? Down by the beach they hold two types of classes: a mixology class where for just $15 a person, people can try four of their cocktails. The enormous coconut cocktail is delicious and very drinkable with pineapple juice, coconut water, coconut cream, sugar and coconut vodka.
On other nights there are rum tasting classes where you get to try the locally made rum liqueur. These are smooth and sweet and ideally sipped slowly (or quickly!) perhaps after dinner. The coffee one is made with coffee, rum and chocolate and is fantastic mixed with the coconut vodka.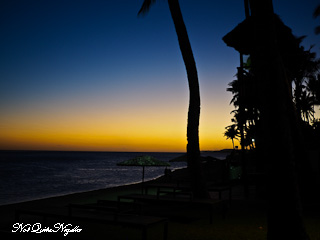 Our first dinner is at the Sundowner Bar and Grill. Music plays a big part at the resort and Fijian culture (they love their music, rugby and religion) and there are musicians playing throughout the resort.
Much of the meat is imported from Australia and New Zealand but much of the seafood is locally caught from lobster, bugs to fish. I order the grilled Nadi Bay Bugs and these are served with a garlic butter with lime and a side summer salad. The salad isn't the most exciting salad but the bugs are succulent and full of flavour. The entree size has three bug halves.
For my main I decide to go with the pork ribs. It arrives as two large racks with four ribs each. It's sweet and saucy and like the best pork ribs, the meat falls off the bone. They come with some moreish seasoned chips on the side and I can barely make a dent in the ribs as they are quite large.
Dessert is a simple vanilla cheesecake with a tuile cup of vanilla ice cream on the side.
The Outrigger's fine dining restaurant Ivi (named after the 95 year old Ivi tree nearby) is still relatively casual in nature but reserved for adults only. There are white tablecloths but the service has that Fijian sense of warmth and hospitality. Women are asked on arrival if we are "looking or cooking". This means that you can advertise your single status simply by the placement of the flower behind your ear. If you wear the flower tucked behind your left ear, you are single and looking, and behind the right ear means that you are married and cooking!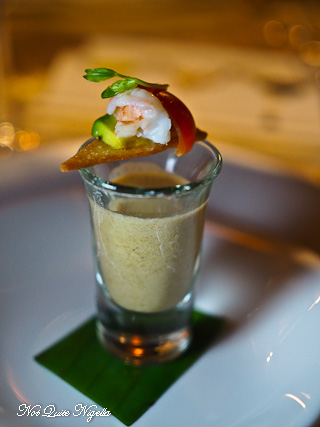 We start with the amuse bouche of prawn bisque with a crispy wafer topped with tomato. I could have a whole bowl of this intensely delicious bisque.
Fijian Ika Kokoda $20.80AUD
The service level here is high with many dishes being made at the table. All staff that work here at Ivi have to go through training at the Sydney Butler School before they can serve here. The Caesar salad (which is really good and I would have never thought to have ordered it) is made at the table as is the Kokoda (pronounced kokonda), the Fijian national dish made with lime juice, marinated island fish, coconut cream and a bit of chilli. It's good but perhaps needs a bit more of a kick of chilli and more onion.
Fijian tasting Trio $22.60AUD
I couldn't resist trying the lobster cheesecake, something like a creamy quiche like slice that is very moreish. This comes with a coconut prawn on a sweet lettuce salad and a heart of palm salad but the star definitely is the lobster cheesecake.
Coconut Lime and Chilli Infused Lobster $51AUD
They have to clear some space for my main as it comes out on a large lacquered tray. There's a little cast iron pot of lobster coconut curry with Ota bush ferns and a kumara or sweet potato cake on the side. The idea behind the bowl in the centre is to add as much lobster, sauce or rice to your liking in the bowl. I add some hot, thinly sliced bongo chillies-they are fiery but delicious and I add a few more just for good measure. The lobster is served in bite sized chunks and it's a delicious main meal. And an interesting fact that they tell us: the price of lobster is higher in Winter as the Fijian fishermen dislike getting in cold water to catch them so they add an extra tariff for it.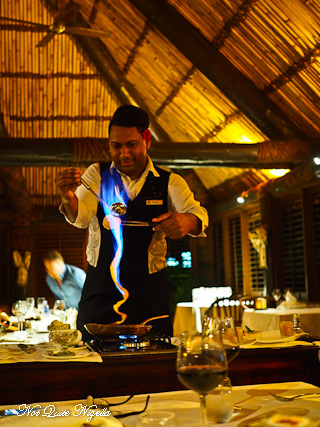 In the tropics $11.80AUD
Dessert too is interactive. Our waiter Moses fires up the gas stove and makes the caramel sauce for our crepes. They are served with chocolate Crepes Suzette with a pineapple mint compote and vanilla ice cream. He makes a show out of peeling an orange with a knife while twirling a carving fork and then he sets it aflame with Cointreau.
The next morning I get up early to explore the breakfast areas. There are two: the main one in the Vale Ni Kana restaurant which is a buffet restaurant with an egg station. I preferred the atmosphere and the a la carte menu at the adults only Vahavu as I am not a morning person and need peace and quiet in the morning.
I order a mushroom strudel and some donuts as well as a freshly squeezed pineapple and ginger juice. The strudel is quite good and I enjoy the juice and donuts while I wake up. One day I hope to be a morning person.
The resort's Bebe spa is worth visiting for a treatment or to partake in one of their complimentary yoga classes every morning. Perched high on top of the hill it is accessible by car or golf buggy from the main resort. The view from Bebe (pronounced benbe meaning butterfly) is stunning and it is also next to the resort's wedding chapel. We change into robes, fill in our forms and choose our treatments. Mine is a seashell massage and a Myoxy caviar facial using Pevonia Botanica products.
My therapist takes me and another writer into a treatment room and we start with a foot bath using Pure Fiji products. We start with the massage. It feels more like hot stones than shells but it is relaxing although my notes about concentrating on my head and hands aren't really taken into account.
We move onto the facial. My therapist is a bit of a salesperson so she keeps whispering to me about the products that she is using. She applies the mask and it sets hard and then lifts it off. My skin feels glowing and as I sit up I watch the rain that is falling outside.
Our final meal at the Outrigger is at the seafood buffet. I'm not a huge buffet person-I get overwhelmed by choice and I can never get my money's worth. I help myself to the sushi and sashimi of local tuna.
There is a cooking station with truffle mussels, a divine grilled octopus and a mahi mahi fish. Dessert is most unlike me, I bypass the cakes and head straight from the paw paw that is so deliciously sweet and fragrant.
And then it's our last encounter with the gentle, thoughtful staff. At the end of every guest's stay some of the staff farewell them at their final dinner. The farewell song "Isa lei" which is a Fijian farewell song that expresses sorrow, joy, happiness and precious memories.
They come over and sing to us while one steps forward and explains that we are now part of the family. Tears are shed from many and hugs exchanged.
So tell me Dear Reader, are you looking or cooking? Are you a morning person or a night person? And do you go more for single, couple or family style holidays?
NQN stayed as a guest of the Outrigger Resort but all opinions remain her own.
Outrigger Fiji
Sydney Drive, Off The Queens Highway, Sigatoka, Fiji
www.outrigger.com/Fiji/Resort‎