Ginkgo Bar and Dining is a brand new dumpling eatery in Darlinghurst that serves up novel twists on dumplings and dishes. At times they also use Harbin Chinese flavours based on this North East area of China with items like sea urchin and baby spinach dumplings or unagi thread roll. And if you're looking for a place that is open late then they close at 3am on Fridays and Saturdays!
The good thing about turning up at a place 15 minutes early is that you'll have time to check your phone and social media feeds as well as peruse the menu. And if your dining companion is 15 minutes late on top of that, you'll have practically memorised the menu so ordering is easy. Poor Lena, she has been rushing from the North side and being German, I know that she is horrified to be late.
There is a tempting list of cocktails but having already been out late the two nights before I beg off. The food menu has a mix of dumplings and main dishes but if you take a closer look the food has a Harbin bent to it. Owner Carly Jin is very friendly and talkative. She's originally Korean but grew up in Harbin on the North East border of China close to Russia and Korea. She explains that as much of the city was built by the Russians, the architecture is Westernised with plenty of pubs and churches.
Harbin was also considered a fashion capital as it is the first stop on the Silk Road and is dubbed the Oriental Paris. Carly grew up eating sourdough, butter and cheese and dancing the Bossonova. After the war the Japanese took over and Japanese language and food became the enforced custom. And that this influence prompted her to create dishes like the unagi (eel) dumplings fusing Japanese ingredients and Chinese technique.
Lena lets me order for the two of us. All of the dumplings come in serves of two and one of my favourites is the ginkgo sausage puff served warm with a flakey, sesame seed coated dough and a filling of Chinese wine sausage with mushrooms and shallots. To the side is some wasabi mayonnaise but I prefer this with the chilli sauce on the table. I immediately wanted another once I was finished.
The unagi thread roll is surrounded by crispy shards of pastry encasing teriyaki eel with sweet ginger. I'm also pretty sure I got some of the pastry threads down my top as well as all over the table.
The sea urchin dumpling comes with a sticky rice flour outer filled with wilted baby spinach and topped with sea urchin. It has a good balance of textures and flavours and is very moreish.
The bao is a large, soft bao filled with cucumber and soft, jellied soy, vinegar pork knuckle off the bone. The pork knuckle has a unique gelatinous texture.
Carly explains that the pork belly and the pork knuckle above are very much Harbin dishes and that Harbin food tends to have punchy flavours. "This is my grandma's recipe," she says of the pork belly. It's the sort of dish that really needs a side of steamed rice to absorb the sauce. The flavours are sweet, soy and vinegar and there are slices of melting pork belly interleaved with slices of tender taro.
But of the two mains I really liked the spaghetti with chunks of tender stir fried beef and a black pepper sauce that doesn't shy away from peppery heat. It's makes my mouth tingle but it's so good that I can't stop eating it taking three serves.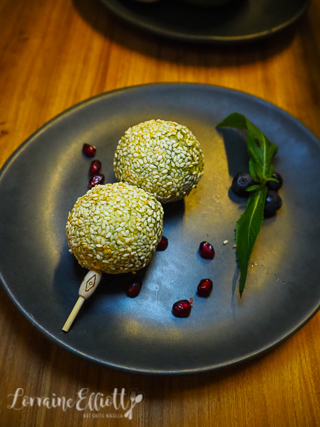 This dessert sits on the same page as the yum cha dumplings. It's a fried sesame seed coated ball with matcha cake on the outside and a filling of chocolate. They did warn us that the chocolate was liquid inside so to be careful. It isn't quite liquid inside though although it is crispy, chocolatey good.
The crème brûlée has a slightly different texture to other crème brûlées as it is steamed. In fact Lena finds it almost tofu like. It's not overly sweet and comes with half a blanket of matcha powder on top.
So tell me Dear Reader, have you ever tried Harbin food or been to Harbin? How do you pass the time if you get to a restaurant before everyone else? And do you like to be in charge of ordering?
This meal was independently paid for
Ginkgo Bar & Dining
231A Victoria St, Darlinghurst NSW 2010
Monday to Thursday 5pm–12am
Friday and Saturday 5pm–3am
Sunday 5pm–1am
Phone: (02) 9380 5556
www.ginkgobardining.com.au/