The starlet's experience of Beverly Hills can be achieved with the following accessories:
A bag from a store like Kitson.
A frozen coffee drink from a place like Urth Cafe.
Both of these places can be found on Melrose Avenue in West Hollywood. It's unseasonably hot in LA this weekend and so the streets which you'd assume would be busy are mostly deserted. Boutiques remain quiet with one or two customers but not Urth Cafe. It is packed with people and a wrangler standing at the entrance coaxes customers into forming a queue. The parking lot sign shows that it is full and there's barely a table either inside or outside free.
Urth Cafe's focus is on organic coffee and teas as well as regular cafe fare, some of it vegan. In the queue we pass displays of cakes-some with a "Bake sale" sign showing them on special.
I decide to order a Spanish latte-it's a coffee made with sweetened condensed milk. The very friendly girl behind the counter smiles widely before launching into a series of questions.
"What size would you like?"
"Would you like that weak or strong?"
"Would you like that creamy?"
"Would you like that over ice or blended?"
The possibilities are endless and so is the wait. It's a great place for celebrity spotting-Andrea notices a couple of television actresses and after about twenty minutes waiting, our drinks arrive.
Spanish Latte $4.76
The Spanish latte was strong, milky and sweet and just about how I like it. It is nice but not that different from other iced coffees and I'm still a little perplexed as to why the cafe is so popular.
We stop by Kitson which is a lifestyle store that stocks clothing including tees with a range of irreverent slogans that are seen on many a celeb. Next to each item is a picture of the celeb wearing the item. I must say that I loved their book collection the best. There's a Vegan stoner cookbook and a Hip Hop cookbook.
Down the street is the famous Dash store, part of the Kardashian empire and it's great to see Australian brands stocked there. Service is friendly and the clothing is gorgeous - and I don't even watch the show. I spy several things that I'd like to buy.
Nearby is Skin Laundry, one of the latest trends in LA. Here doctor Elson Lai has trademarked his signature facial which involves a combination of laser and light therapy in a 10 minute facial. Patrons are reportedly obsessed with this quick beauty fix and buy up packages of these treatments.
I remove my makeup and go into the treatment rooms. They warn me that my single treatment is only going to clean and tone my face and significant results are apparently only seen after a series of treatments.
I've never had laser so the flicking band motion on my skin and the burning smell causes me to panic a little - they did explain that it would happen and that the burning is all the dead cells and gunk vaporising. Nevertheless, I ask them to stop after a little bit and they do. After that, a cooling gel is applied and then IPL light flashes. I walk out feeling deeply cleansed and the treatment itself took about eight minutes (although there was a ten minute wait on the registered nurse to come to treat me).
What's the best accessory for a starlet? A celebrity boyfriend of course. Gals, why not aim high and go for the entire internet's boyfriend, Ryan Gosling? One time Belinda told me that every night, she prays that she'll dream about Mr Gosling so we decided to give his restaurant in Beverly Hills a try.
Chef Abdessamad "Ben" Benameur
Gosling co-owns the restaurant with chef Ben Benameur -the two met when Gosling hosted a dinner with friends at Water Grill where Benameur was chef. Nine years ago, the two decided to pair up and create cuisine that they were unable to find elsewhere. Tagine is a small, intimate Moroccan restaurant located on Robertson Boulevard between a liquor store and a massage parlour. The sign is discreet and the giveaway is the green wooden door.
Opening the door we are greeted with the sight of a typewriter and a wine rack and we are welcomed into the room. As the first diners this evening, it's empty but shortly after there is a large table and by 7pm the restaurant is mostly full. We slide into a corner table and watch as patrons enter and take a seat at their inlaid Moroccan tables decorated with pretty Moroccan glasses and candles.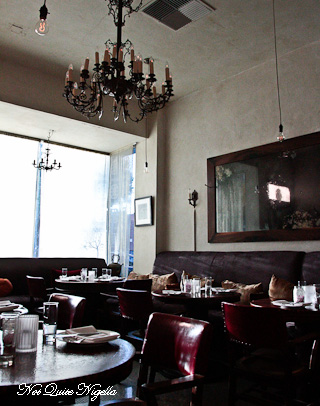 Because of the Ryan Gosling connection, there is a camera crew from a German television show filming a segment and they interview all of us about our meals. Although Gosling no longer lives in Los Angeles (oh poor Belinda, how she looked disappointed!) when he did live here, he was often in the restaurant and was even said to be washing dishes at one stage.
Amuse bouche
The amuse comes out quickly and it's a generous tasting. We start with spoons topped with herb goat's cheese and a sliver of date. Then there was a buttery crisp filo pastry roll filled with sauteed mixed baby vegetables. Lastly was a creamy soup with asparagus, baby zucchini and cheese with slivered almonds on top to give it crunch. It's a tasty start to the meal.
Mezze platter
The mezze platter is a little bit of everything on one plate. Sadly we only had a bit of time to visit so they put together a mezze platter with several tastes on it. The hummus is chef Ben's mother's recipe and it is beautifully smooth and spicy. It is served with long sticks of Berber bread.
Next is an eggplant puree which is creamy with a herby hit of cumin. After this are tiger prawns on a bed of sauteed spinach flavoured with preserved lemon-the prawns are flavoured with spices and the spinach is delicious underneath.
Working our way around the platter there was a diced beetroot, Israeli cucumber, tomato and shallot salad marinated in house vinaigrette finished with a scoop of lemon sorbet and fresh raspberries and blackberries. This is a zingy mouthful of pure freshness.
The last taste which our waiter recommended that we finish with was a shot glass of orange blossom, mint and finely grated carrot salad which was refreshing, fragrant and lightly sweet but not overpoweringly so.
Scallop bastilla $23
There's certainly a decorative theme of fresh herbs and raspberries. Having never tried a scallop bastilla we were tossing up between this or the more popular regular bastilla.
This is quite different with different herbs and flavours-this is a fresh, light version and less sweet than the Cornish hen bastilla below but still very enjoyable. There are four large scallops, caramelised shallots and brussel sprouts topped with a disc of phyllo dough and a honey sauce. The scallops are perfectly cooked and the phyllo crunchy and buttery.
Bastilla $15
Looking like a pretty mille feuille, the bastilla is filled with Cornish hen and scrambled eggs giving this a comforting, soft texture. It is sprinkled with saffron, almonds, powdered sugar and layered between rectangles of the same house made phyllo dough.
*Chocolate Soup *
I know that starlets don't really eat dessert-they're too busy being thin but they'd be missing out on a fabulous ending. There are diamonds of honey scented baklava but the piece de resistance is the chocolate soup which is heaven in a cup. Poured at the table it's a sweet milk chocolate soup with a chocolate coated nuts and a square of filo pastry to give it texture. It's the kind of chocolate soup or chocolate drink that is better than a hug from Ryan Gosling himself.
I think even Belinda would agree.
So tell me Dear Reader, who do you wish you could dream about at night? For me, it's Chris Isaak! And a BIG Happy Thanksgiving to all of my American readers!! :)
NQN visited LA as a guest of the Los Angeles Tourism and Convention Board
SLS Hotel
465 S La Cienega Blvd, Los Angeles, CA 90048, United States
Phone:+1 310-247-0400
Urth Cafe
8565 Melrose Ave, West Hollywood, CA 90069, United States
Phone:+1 310-659-0628
Kitson
8590 Melrose Ave, West Hollywood, CA 90069, United States
Phone:+1 310-855-9635
Dash
8420 Melrose Ave, West Hollywood, CA 90069, United States
Phone:+1 323-782-6822
Skin Laundry
8789 Beverly Blvd, Los Angeles, CA 90048, United States
Phone:+1 310-360-0791
Tagine
132 N Robertson Blvd, Beverly Hills, CA 90211, United States
Phone:+1 310-360-7535