"I used to cook omelettes in a miniskirt and high heels" Joan McNamara says her eyes shining at the memory. Joan is the eponymous Joan from Joan's On Third, a woman thought of as the West Coast Ina Garten.
Joan's on 3rd street is an institution. Even early this Saturday morning it is busy with people sitting at the cafe, devouring Joan's light as air omelettes, eggs benedict or procuring pastries or goodies to eat at home later. The first thing that greets you as you walk into the store is a heart stopping cheese counter and tantalising displays of salads, charcuterie and fresh breads. It's no wonder that the movie "It's Complicated" wanted to shoot scenes here - nixed last minute because star Meryl Streep preferred to stay in New York to shoot.
Joan McNamara
Joan herself is a wonderfully warm figure-the kind of person that you can imagine staying and chatting with for hours. She grew up as the daughter of Czech parents and food came naturally to her. "It was just expected that I do things like walk, talk and dance and I was waltzing when I was 10 years old...It feels like I've been cooking forever."
She ended up working for chef Dione Lucas in New York and designing her kitchen. One day the eccentric Lucas went away for a trip with the instructions "You'll figure it out!". Joan did and she recalls "There are things that you just know with your hands. I know I can't ice skate but I know that I can make a pie crust."
Not everything was a success, aged in her 20s she bought a restaurant but wasn't ready for it and it "fell apart." She considered opening up a cosmetics store and then contemplated several other store ideas before going with the most natural idea for her, a food store.
Joan's on Third has now been open since 1995, now with two locations and has a successful catering, marketplace and cafe business. Her two daughters Carole and Susie work with her in the business. Her steak and potato sandwich has featured on the cover of Bon Appetit and Joan herself remains refreshingly down to earth. When she saw the cover she had to excuse herself and she cried.
"Let me make you an omelette!" Joan says brightly and we are more than happy to try one. The omelettes are legendary and we watch as Joan removes all of her jewellery and places it in a bowl. "It's so simple, three eggs, a little water and salt" she says but then explains the technique.
The secret is to use a low to medium heat so that the eggs never brown and to swirl around the egg with a fork to create feathery strands. She adds ingredients like fried potato and cheese to one and asparagus and crumbled goat's cheese to another and herb omelette for the third one and holds the pan off the heat to cook it through without browning it. It all happens within a couple of minutes.
Dolloping some sour cream on the side, we try her omelette. It's gorgeously light and creamy-the kind of omelette that you dream of making. The coffee is also excellent. It is with some reluctance that we tear ourselves away from Joan. We make our way to our food tour with Lisa from Melting Pot Tours where we will meet at the Original LA Farmers Market.
Lisa was a former real estate executive who was fed up with her job and decided to change her life. She holds three types of tours including a fascinating East LA tour which we bookmark for another visit. The farmers markets are located right next to the Grove shopping centre, an enormous sprawling shopping centre that features regularly on television shows.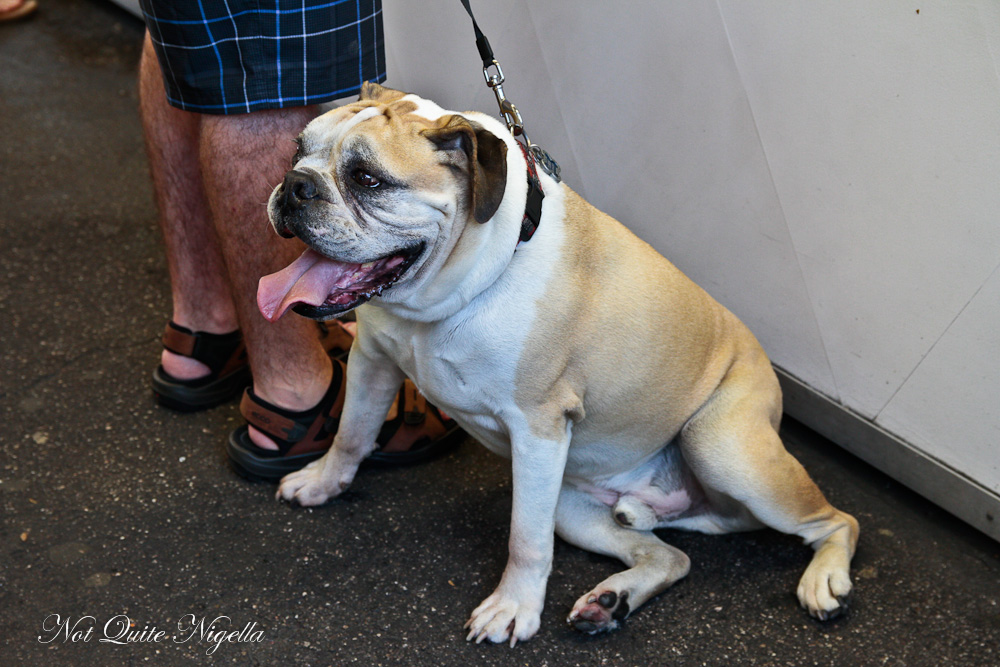 The actual farmers markets property is owned by the Gilmore family who purchased the site in 1870 with the intention of dairy farming. While drilling for water, they struck oil elsewhere and sold that property to Mobil in 1940 and turned their attention to this site.
Although it was during the Great Depression in 1934, they decided to hold a farmers market on this site and charged each vendor 50 cents a day. It was a success and the markets have grown and flourished ever since. Interestingly, the vendors are still on a month to month lease, even the long standing ones. The tables throughout the undercover markets are delightfully retro and hark back to an earlier time.
We meet Lisa at Bob's Donuts. She gives us a sample of their latest donut - a buttermilk donut which is a cake type donut topped with mini m&ms and a sample of their light-as-air beignets made using the Cafe du Monde recipe. Open since 1964, they make all donuts from scratch and from start to finish the donuts take three hours to make. 1,000 donuts are made daily.
Just two doors down is Huntington Meats, one of the two butchers on site. Lisa tells us that most people buy meat from the supermarket and there are three levels of meat. The top 1% are prime cuts of meat, then choice meat and than select meat which is the type that is sold in supermarket. Prime cuts are designated so in the displays.
Huntington meats are a favourite vendor of celebrity cooks like Giada de Laurentis and Gordon Ramsay - paparazzi are not permitted on the site so it's a safe haven for celebrities to visit. They are known for their chicken and apple sausages as well as their bratwurst and Lisa tells us the key is to poach the sausages in water before frying them to keep them juicy on the inside.
We take a seat at Pampas, which Lisa tells us the most popular stand at the market. Pampas specialises in Brazilian churrasco where they charge per weight rather than per person. She sets down a platter of meat including bacon wrapped chicken, delicious yuca chips, sirloin cap, pan de queso cheese rolls and linguiso pork sausage which is my favourite item along with the cheese bread and yuca chips.
Our next taste is at Loteria Grill which is owned by Jimmy Shaw who despite his blonde hair and blue eyes is half Mexican. He was a former advertising executive who decided to trade it in and cook his mother's recipes. We try some horchata, a delicious sweetened rice milk drink with cinnamon and a refreshing sweet lime drink.
They bring out a plate of the softest shredded beef filling on a corn tortillas with guacamole. It disappears in two delicious bites.
The longest standing tenant at the market is Magee's who is known for making churned peanut butter with peanuts as the only ingredient. They do variations including a fruit and nut version and today we get to try a spoonful of their creamy peanut butter which is beautifully smooth and remains unsweetened.
And praise comes from an unlikely source-the Beatles visited here!
We pass by Marconda's, the other premium butcher with displays of sausages and meats-some in adorable pig shapes! This is the only place at the market where you can have a steak dinner. To do this, you buy a steak and then take it to the Korean bbq stall next to it and they'll cook it for you for $4 and you can choose Korean sides to accompany your steak.
We stop by and try some jamabalaya at The Gumbo Pot, an authentic New Orleans stand that sells gumbo, blackened fish and an enormous range of po boys. The jambalaya is thick and slightly spicy with chunks of sausage, tomato and chicken in it.
I stop by Du Par's, the only stand that is open 24 hours where I buy an enormous bear claw. It's a danish filled with an almond and hazelnut filling, drizzled with icing and topped with nuts.
The chilli store has an amusing range of chilli sauce names ranging from "Buttplug Relief" to "Anal-ise this" and there are sauces featuring the ghost chilli - the hottest chilli in the world.
Our second last stop is for cheese at Monsieur Marcel, a treasure trove of gourmet goodies and general food heaven store. Here is a great selection of the best local and imported goodies from chocolates, preserves, mustards, cheeses to...designer water?
Yes Beverly hills 90H20 is a sommelier crafted water which comes in a glass bottle for $12USD a litre. We ask a helpful staff member if they've tried it and he offers us a taste. Credit where it is due, even though it sounds absolutely mad, the water is very clean and pure with a noticeable lack of impurities. It also has a the slightest lemony flavour at the end.
We try the caviar cheese which is one of their staple products. The story behind this recipe is that they were excavating the site and found a safe that contained several papers including a handwritten recipe for caviar cheese. It's one of their most popular items-there isn't any caviar in this but rather it is considered the "caviar of cheeses." It's quite good, like a spiced cream cheese. It sells for $4.25 a tub and Lisa tells us that it sells out early on weekends. We also try some Cantelet cheese and a range of delicious olives.
Our very last stop, and by now we are very full, is dessert at Bennett's ice cream where they make all of their ice cream in house. They come in flavours like "Fancy Nancy", named after the owner's wife which is a coffee ice cream with banana and caramel swirl. We also try cherry vanilla and butter pecan. But my favourite flavour is the Cabernet Sauvignon sorbet which is a gold medal award winning flavour of a divinely intense Cab Sav wine sorbet made from wine from the Robert Mondavie winery.
It's a short rest back at the hotel before we go back out for some dinner that evening. Often good food and restaurants signal that an area is up and coming. Culver City has become a hub for foodies in part due to the presence of Lukshon and Father's Office, two thriving eateries within doors of each other. Lukshon is the pan Asian restaurant while Father's Office is one of LA's wave of gastropubs.
We are having dinner with our dear Andrea and lovely professional eater Stacey Sun from Dine LA. The owner and chef Sang Yoon is there that evening, he's fresh from an elimination on Top Chef Masters and Andrea is star struck. The menu starts with a selection of single origin teas and they also focus on wine, beer and cocktails.
Hawaiian butterfish pickled watermelon radish, daikon, nahm jim, rau ram $10USD
Their Hawaiian butterfish is something of a signature item. The butterfish is served sashimi style with watermelon radish, daikon, nahm jim and rau ram or Vietnamese coriander which makes each buttery soft piece a spicy sensation.
Pig ear terrine, edamame, pickles, ma-la vinaigrette $9
I loved trying the pig's ear terrine, with a ma-la vinagigrette made with Szechuan peppercorns to give it that spicy numbing or "ma-la" sensation.
Tea leaf salad cabbage, crispy chana dal, marcona almonds, peanuts, sesame, blue prawn $11USD
The tea leaf salad is similar to a coleslaw with cabbage but given crunch by marcona almonds, peanuts and crunchy yellow lentils. On top are split blue prawns.
Maryland soft shell crab coconut "creamed corn", shishito peppers, pickled okra, spring onion, peanuts $13USD
The Maryland soft shell crab is served as a single battered soft shell crab atop a spicy mixture of shishito peppers, pickled okra, spring onion and peanuts and a bed of coconut creamed corn.
Planning your next trip? Ensure you have the right coverage with HeyMondo travel insurance that includes COVID-19 protection. Plus, if you use our link, you'll receive 5% off the price. Find the best deals on flights from all airlines in various currencies with SkyScanner and set up alerts to get notified when prices drop. For reliable transportation options, look no further than 12Go Asia, offering train, bus, ferry, and flight transfers worldwide. Book your transportation now and enjoy a stress-free journey.
When you purchase through these links I will get a small commission at no cost to you. Thank you for supporting me! :)
Spicy chicken pops shelton farms' drumettes, garlic, kecap manis, spicy sichuan salt $12USD
One of the most popular items are the spicy chicken pops that features chicken ribs from Shelton Farms. They have a sticky sweet kecap manis flavour to them and are moreishly good - a stronger person would stop at one.
Crispy whole fish wok charred cucumbers, pickled onions, pecel sauce
We saw plenty of the crispy whole fish being brought to tables. It's a whole fish curved around and deep fried. It is served with pecel sauce, an Indonesian spicy sauce and pickled onion slices.
Crab fried rice blue crab, jasmine rice, egg, pea tendrils, serrano chile $12USD
Do you know how you are always told to not fill up on rice? Well it's hard when it's a crab fried rice with plenty of soft crab meat interspersed throughout the rice giving the fragrant jasmine fried rice a richness.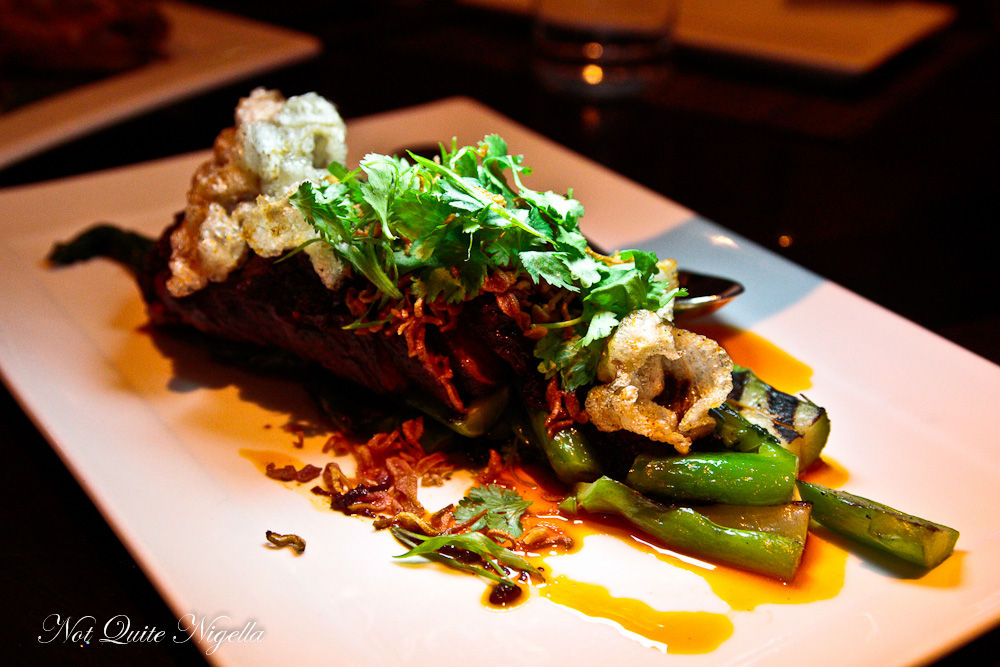 Beef and broccoli prime hanger steak, grilled gai lan, black bean ghee, puffed tendon $28USD
Our main meat dish is the prime hanger steak, a sizable steak served medium rare as ordered with grilled gai larn, black bean ghee which gives it a direct intensity and puffed tendon which melts in the mouth like a pork crackling.
Dandan noodles kurobuta pork, sesame, preserved mustard greens, sichuan peppercorns, peanuts $7USD
To finish off, we have a serve of Dandan noodles, all toothsome and moreish which we stir around to disperse the cubes of kurobuta pork, sesame, preserved mustard greens, peanuts and hot and numbing Sichuan peppercorns.
Chicory chocolate cake $7USD
There were three desserts on the menu so we had one of each to share. The chicory chocolate cake comes as rich, moist squares of chicory scented chocolate cake with dabs of chocolate pudding and a Thai chilli caramel sauce. For crunch there are squares of sesame brittle and an intense sesame ice cream.
Barley pudding $7USD
I loved the earthiness of the barley pudding which features a fine and crunchy coffee streusel, batons of caramelised banana a refreshing mandarin banana sorbet which tastes like pure banana and puffed barley.
PYP $7USD
After a rich meal I tend to enjoy fruit desserts and I liked how each dessert was so different with one for chocolate lovers, one more unusual and one for those who like things a little light. The PYP dessert has compressed peach slices, frozen Beijing yogurt, a heady ginger streusel, passionfruit and pop rocks although most of us don't really get the pop rocks.
It's only a group of foolhardy foodies that think it prudent to try the gastropub after a meal like this but it's all in the name of research right? We traipse down to Father's Office, a busy location next door and take a seat.
We're lucky to score a table as it's first come first seated or whomever is at the right place at the right time. We're here to try two things: the burger that made them famous and the sweet potato fries. They're also famous for their "no modifications" rule including no ketchup on your burger.
Sweet potato fries in a basket $7.50USD
The sweet potato fries are incredibly crunchy and good. They come with a little pot of blue cheese aioli. It's hard to stop at one but then the burger arrives.
The Office Burger $12.50USD
The Office Burger is a large burger on a soft bun made with caramelized onion, applewood bacon, gruyere, maytag blue cheese and arugula or rocket. It's succulent and juicy, the beef tasty and aged. Chef Ted Hopson he tells us that it is dry aged beef from a single chuck muscle that they can trace back to the original cow. It is dry aged for about 27 days and then ground. It's served with two cheeses -a gruyere and a blue cheese melted on top and a bacon onion compote.
"We use chuck because the whole muscle once you grind it has the almost perfect fat to meat ratio. Normally if you are using lean cuts you have to add fat but with chuck and the way it is muscled it is between 17-23% fat which when you're doing a burger like this is the magic ratio" says Ted. It is served with a generous helping of crispy, shoestring fries. The bun is an oval bun, a deliberate departure from the round hamburger bun and it is brushed with garlic butter with roasted garlic aioli on the side.
Warm sticky toffee pudding $3USD
They're also trialing desserts and pastries at this location for their new Helms bakery location which will be closeby. The warm sticky toffee pudding is all soft comfort blanketed with a river of butterscotch sauce. And yes those prices are amazing!
Helms OMG cookie $1USD
I was smitten with this softest of soft cookie. It's shaped like a soft cookie but tastes like chocolate cake. Yes really!
That's It Ice Cream sandwich $4USD and Strawberry cheesecake ice cream bar $3USD (back)
The ice cream sandwich is two oatmeal cookies filled with marshmallow and vanilla ice cream. The strawberry cheesecake ice cream bar is an ice cream filled with frozen cheesecake tasting of fresh strawberries and coated in white chocolate.
And the end of the Tinseltown fairy tale goes, they ate happily ever after.
So tell me Dear Reader, do you cook wearing heels (ladies or gents!)? And I'm curious, do you cook wearing an apron? I often forget to!
NQN visited LA as a guest of the Los Angeles Tourism and Convention Board
SLS Hotel
465 S La Cienega Blvd, Los Angeles, CA 90048, United States
Phone:+1 310-247-0400
Joan's On Third
8350 W 3rd St, Los Angeles, CA 90048 (323) 655-2285
Melting Pot Tours
www.meltingpottours.com/‎
Lukshon
3239 Helms Ave, Culver City, CA 90232, United States Phone:+1 310-202-6808
Father's Office
3229 Helms Ave, Culver City, CA 90232, United States Phone:+1 (310) 736-2224