Sometimes, when you land in a new country, the best thing is to adjust to the time as quickly as possible. To do this you set your watch and phone to the new time and take your cues from the surroundings once you land.
And never, ever look at the time zone from which you came. That's about as dangerous as feeding Gremlins after midnight...
I arrive in Los Angeles from Sydney at 9:25am and by the time I check into my hotel, the JW Marriott Downtown, it's almost midday. The ride from the airport is pure LA-in the back of a limo reading a copy of Variety magazine. The sun is streaming through the blinds and it's a scorching hot day. Even though it's about 2am in the morning Sydney time, I'm not in the slightest bit tired because I've found something fascinating to do - that is, explore downtown LA.
I'm at G&B coffee in Grand Central Market in Los Angeles finding myself exclaiming "That's so LA!" over and over as if I were an LA local. The Grand Central Market, open since 1917 occupies the ground floor space of the Homer Laughlin Building, at 317 South Broadway in Downtown.
"This is hipster coffee" LA local Andrea whispers to me. "Pardon?" I inquire, not sure if I've heard the right thing but then I look around and realise that she does mean hipster as in the trendy beard or tattoo bearing Gen Y person. Downtown LA is the city's newest hub attracting hipsters and foodies and part of the vibrant scene's attractiveness is the fact that it can easily be covered by foot.
G&B Shake $7.50USD (left) and Golden Needles $5USD*
Andrea warns me that the coffee here is strooong - emphasis her's. She's a regular and recommends a few things including the G&B shake. This is a thick, creamy shake made with good quality ice cream and the coffee. It is indeed strong-a nice change from drip filter coffee.
The golden needle tea is a white tea that is served unsweetened in capped beer bottles. It comes out in a light golden shade and there's also a version made with hops although this isn't available at this time.
Almond Cappucino $5.75USD
The coffee made with almond milk is also rich and strong. Apparently it's very LA to make your own almond milk which they do here.
"Do you want to try Salvadoran food?" Andrea asks. Only having heard of pupusas by name but not by tastebud, I eagerly nod yes. Pupusas are corn based flat breads stuffed with filling.
Actually bread is a misnomer, they're more like a pancake which is lightly crispy on the outside with a melting core of filling. We wait in line at "Sarita's Pupuseria" where Sarita herself has been serving customers since 1990. She has appeared on the Food Network several times.
Plantains
We eye a place on the side counter which is full of people eating plates of steak, pupusas and stews. There are a range of drinks from lemonade, horchata and Jamaican Chia and we try a couple of pupusas and a watermelon drink.
I watch as our pupusas are made to order. From a large stainless steel bowl, they pinch off a small handful of dough and flatten it, fill it with the ingredients and fry it on the griddle.
Pupusa with pork, cheese and beans Pupusa with cheese and spinach $2.55 each and Plantanos Solos $2.25
The pupusas arrive still very hot and I take a fork and knife and cut into one. The cheesy filling oozes out and it's comfortingly delicious. But out of the two the pork, cheese and bean pupusa is the pick with a flavoursome, soft mix of filling and the outside is just thin enough to contain the filling but not thick enough to be stodgy.
The little side salad is cabbage in chicken broth which is a crunchy answer to the soft pupusa. The plantanos solos are grilled plantains and they take on a slightly sweet, custardy texture once cooked with an ever so slightly caramelised crust. The watermelon sangria at $2 comes in a tall cup and tastes of fresh watermelon but it is on the sweet side with syrup added.
We walk past stands of fruit and vegetables including tomatillo and cactus. Plantains are sold with their skins mostly black, the darker the skin the riper and sweeter they are. One vendor shows us the inside of some small cucumber which he tells us are good in salads as they don't have any seeds.
Chillies, corn and sugars are sold in myriad varieties and I'm tempted to open my already bulging suitcase and add these to my load.
Next to G&B Coffee is a place that has proven incredibly popular with locals come lunchtime. The Horse Thief, open since the 4th of July that year is the idea of two Texans Wade McElroy and Russell Malixi and Andrew Chin, an LA local who wanted to bring real Texas BBQ to LA. BBQ to Texans is almost a religion and not to be trifled with.
And as if by cue, a Texan local chimes in and affirms that it really is Texan style although at times, there is a slight local influence. "But you know that it's real Texan because it's served with white sliced bread" he adds.
The beef brisket is the star item and they use hormone and antibiotic free beef smoked for 12-15 hours over oak wood. There are three smokers here for the meat and a popular order is a combination plate that allows you to try a mix of their barbecue.
We start with the beef brisket and it is wonderfully soft in texture. You don't even need a knife for this fall-apart soft meat with a gentle smoke flavour. The free range chicken is juicy and smoky but the pick for me was the pulled pork, all flavoursome sweet and smoky goodness.
Anthony Chin
Oh I didn't mention the sides did I? The mac and cheese is rich with thick macaroni noodles and the jicama slaw is fantastic. And fans of potato salad with a twist might go for the blue cheese and bacon potato salad which has just the right hit of blue cheese. The whole tray comes with home made barbecue sauce is home made and we get three slices of white bread. "About half our customers are return customers" Andrew says and he sums it up as "Old skool meats with new school sides."
I'm keen to explore a bit more of the downtown area so we take the bus through Chinatown to Olvera Street firstly using the Angel Flight a short funicular railway that connects South Broadway to the upper streets saving an uphill walk. Tickets are 50c per trip and paid for at the top of the trip. We arrive at Olvera street, one of the most popular areas for Mexican immigrants.
Today it retains its Mexican influence with colourful street and food stalls. The key however is that the Mexican community are well represented not just as stall holders but also as customers.
Alongside the street stalls selling leather sandals, Mexican sweets, Mexican wrestling masks and food are other boutiques with cute jewellery, Day of the Dead trinkets and marionette dolls.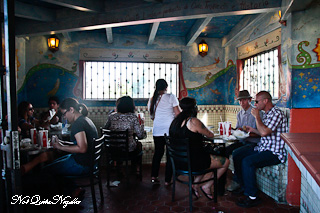 Andrea leads me to "Olvera Street Taquitos" towards the bottom end of the street, trading since 1934. There's a queue outside and there is a small section inside where you sit on the tiled benches.
2 taquitos and 1 chilli relleno $6.75USD
Service is quick and before I know it, our lunch is ready. On the one plate are two taquitos, a corn based roll filled with soft beef and cheese and deep fried. Even though there is gaucamole on top, I'm amazed that they're still so crunchy to the bite. The chilli relleno is coated in a spongey soft cornmeal based batter and contains a whole green chilli inside. It's covered with a tomato chilli sauce and cheese.
We weave through the crowds and into an arcade where Mr Churro's queue wait patiently for freshly fried churros. These are available two ways: plain churros or as stuffed churros. Yep, you read right, here they stuff them with a range of fillings from fruit (guava, apple), cajeta caramel to the one that caught my eye: cheesecake.
We take a number while they fry these and watch a woman buy a large bag of wheel shaped chips. She adds lime juice and chilli sauce from the bottles on the bench and shakes the bag around to distribute the seasonings. We ask her about it and she says that it adds a lot of flavour to the chips.
For good measure, I also try a Mexican bread roll or "conchas" which is soft and slightly sweet with a slightly crumbly coating which is dry, sweet and made out of sugar, butter and flour.
Our churros arrive and they're hot to the touch. We take a bite while they're fresh and they're so very crunchy and moreish. And while the regular was good, I have to admit that stuffing churros is genius and having the creamy cheesecake is like serving them with ice cream.
"Have you ever tried tortilla soup?" Andrea asks me tempting me further into gluttony (and did I resist? Absolutely not ;) ) and I admit that I haven't. We find some along with some intriguing Mexican desserts at El Paseo Inn.
It's an enormous restaurant with the non Mexicans sitting outside people-watching while inside the restaurant is full of Mexican customers. They make their tortillas fresh and our friendly waitress offers to take me to see them doing this. There's a large bowl of tortilla dough and a dough press and I watch as a woman prepares each to order.
A plate of warm freshly fried tortilla chips and salsa hits the table, the salsa fabulously spicy and the chips so crisp.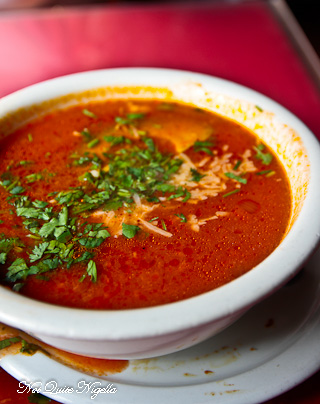 Chicken Tortilla soup $7.95USD
We watch the stalls opposite the restaurants as tattooed dads and high heel wearing mums sate young children's appetite for toys, trinkets, accordions and dolls. Shortly after our soup arrives and it's served in a cavernous bowl with a slice of avocado and plenty of coriander on top. It's filled with tender chunks of chicken breast and is spicy and strong with Mexican spices. Fishing deep with a spoon, I find the strips of tortilla at the bottom of the bowl while melted Monterey Jack cheese creates ribbons of cheese with each spoonful.
Mexican rice $1.50USD
For good measure, we get a small side of Mexican rice which is flavoured with tomato and has small pieces of sauteed white onion.
A plate of tortillas comes out and there are corn and flour tortillas. The corn tortillas are soft, slightly spongy and a bit thicker than the flour tortillas which are fantastically soft and light.
Sopapillas $4.95USD
It's dessert time (although can you have three desserts in one day if you're counting the churros?). The sopapillas are crunchy deep fried dough coated in cinnamon sugar and drizzled with caramel and chocolate sauce.
Deep fried ice cream $6.95USD
The deep fried ice cream is scoop of vanilla ice cream coated in a cinnamon scented crispy cereal crumb. It's smothered in an expanse of whipped cream and caramel sauce. It's not bad although I do find that the cream makes the cereal crumb a bit wet and it loses its crunch.
Polvarones
Oh how I love thee Mexican cookies! These were from our lovely waitress who wanted us to try these. They're crunchy, fresh cookies filled with small pieces of walnut and blanketed with a thick cover of icing or powdered sugar.
It's a short taxi ride back to the hotel which is in a great location. Its location caters for the sizeable crowds from LA Live which includes the Staples Centre where the LA Lakers play.
The JW Marriott shares its lobby and building with the Ritz Carlton hotel. The rooms are a fairly good size with a golden yellow colour scheme. The king bed is comfortable and there's an iPod dock next to the bed. The writing desk is large and there's a large flatscreen television with a good range of channels.
The bathroom has a large shower and a good range of amenities including self branded shampoo, conditioner, body lotion and body wash. There are also cotton tips and balls but interestingly no shower cap (which I find is a somewhat bewildering trend in American hotels).
The building also shares some restaurant spaces with the Ritz Carlton including Wolfgang Puck's WP24 restaurant so named because it is located on the 24th floor of the building.
We get there just in time to watch the view turn from its pretty blush pink hue to dark light speckled night.
Kalamansi lemonade $16USD
The kalamansi lemonade cocktail is one of the bar's signature cocktails and it is a tangy mix of kalamansi juice, lemongrass and vodka. The kalamansi and lemongrass lend the drink a south east Asian feel.
Chinese Crystal Dumplings $12USD
The Chinese Crystal dumplings come three to a serve and are filled with king crab, shrimp and pork belly which give the filling a flavoursome mix. There is a pronounced mustard and chilli to these which is quite hot.
Tiny dumplings $12USD
The "tiny dumplings" are actually not that tiny (everything's bigger in America!) but they're pan fried with a crispy edge from the pan with a lot of flavour from the black vinegar and pork belly filling.
Chicken Dan Dan Dumplings $12USD
The chicken dan dan dumplings are little fried numbers that are crunchy with a filling rich in chicken, ground peanuts and chilli. I particularly liked the chilli in these.
Whilst it is a great space with a great view, after our food was delivered, service was largely absent and we were unable to flag down staff. But by the time that it hits 10pm I think I'm already getting accustomed to LA time.
So tell me Dear Reader, do you suffer from jetlag? Do you have any tips for beating it? And have you ever tried a pupusa?
NQN explored Los Angeles as a guest of the Los Angeles Tourism & Convention Board and www.DiscoverLosAngeles.com
Grand Central Market
317 S. Broadway, Los Angeles, CA 90013 Open 8am-6pm daily http://www.grandcentralmarket.com/
Olvera Street
125 Paseo De La Plaza, Los Angeles, CA 90012, United States Open 10am-7pm daily
JW Marriott Hotel
900 W Olympic Blvd, Los Angeles, CA 90015, United States Phone:+1 213-765-8600 www.marriott.com/hotels/travel/laxjw-jw-marriott-los-angeles-la-live/‎
WP24
900 W Olympic Blvd, Los Angeles, CA 90015, United States Phone:+1 213-743-8824