Napa is a city that dates back to 1847 and is renowned for its connection to the wine industry. Before wine it was originally known for its thriving leather industry and for the 49ers bound for the gold rush. Over time people like George Calvert Yount and Charles Krug shaped the region's viticulture, eventually making it into a world-class wine destination. Now Napa Valley is known for its Cabernet Sauvignon, Chardonnay, Merlot and Pinot Noir. Downtown Napa has emerged as a hub for visitors offering restaurants, wine tastings, art galleries and more.
Despite all of this and being a major tourist destination, Napa Valley is a relatively small region at just 4-5 miles wide and 30 miles long. Downtown Napa as a destination for travellers is a relatively recent phenomenon. Even as recent as 25 years ago it was a blue collar town. Prior to Downtown Napa being a draw in itself, most visitors to Napa Valley would go stay in three neighbouring towns of Calistoga, Sonoma and St Helena.
Downtown Napa is divided by the Oxbow River, given its name because of its shape with a U in the centre. It is named after the shape of the U-shaped collar or yoke placed around an ox's neck to which a plow is attached. The Oxbow river is a mixture of tidal and brackish water and is where otters and beavers can sometimes be spotted. Downtown Napa is easy to walk and laid out in a grid pattern with names like Main Street or 1st, 2nd and 3rd streets.
Oxbow Market
For breakfast or lunch head to Oxbow Market on Main Street, home to many artisan producers. Open since December 2007 the market is spread out over an acre and a half and was founded by Steve Carlin who was also involved in the Ferry Building Marketplace in San Francisco. The main market hall is a purpose built structure holding around 20 food tenancies. You can find anything from great coffee, artisan chocolates, fruit, vegetables, olives, cheese, wine, baked goods and spirits. It's a popular place for both locals and visitors.
Along the outside of this market start your day at Model Bakery. This bakery run by mother-daughter duo Karen Mitchell and Sarah Mitchell Hansen is known for its English muffins - apparently Oprah is such a big fan she has these flown out to her and calls it her "greatest extravagance".
"How good can an English muffin be?" I say to myself as I see people exiting the bakery with a bag of 6 muffins. They're $3.50 each or $19.99 for a 6 pack but I go for a single, toasted muffin with jam for $4USD. They bring it out with the butter and blackberry jam requested and I sink my teeth in. Holy heavens, it's about the damn best English muffin I've ever eaten.
C Casa
I head inside to C Casa, a Mexican restaurant that originally started as one of the vendors inside the market. There's a large outdoor dog friendly section with "fire tables" to keep diners warm as well as indoor section. I'm having lunch with Catherine Bergen the owner of C Casa. Catherine was inspired to open this Mexican reimagined restaurant as she grew up in San Diego, 17 miles from the border. She has been part of the Napa Valley food scene for 13 years.
C Casa, named after Catherine, is a gluten free restaurant but didn't consciously start off that way. Catherine made a decision early on to only serve corn tortillas (which they make in-house). After a while someone mentioned that she has an entirely gluten free menu and she has since leaned in to this.
Mesquite Grilled Street Corn $10
Start your meal off with their Mesquite grilled street corn - this Mexican corn cob is covered with mayonnaise, lime, pico de Gallo, cotija cheese and a furikake flavour bomb.
Frito Mixto $22
The frito mixto is a mix of vegetables and seafood deep fried in a crispy rice flour batter with lemon aioli. The surprise favourites are not the prawns or squid but the battered lemon slice (so fresh!) and the resoundingly crunchy curly kale florets.
Street Style Baja Fish Tacos $18
We segue onto the tacos because I want to try the house made corn tortillas (which are excellent - soft and pliable). The fish taco made with cod are full of salad and avocado and a crispy battered fish fillet.
Spring Lamb Street Tacos $17
A new seasonal item is the Superior Farms roasted lamb, garlic aioli, fresh asparagus, charred corn salsa, house-made mint chimichurri, sliced radish, avocado-serrano crema, fresh cilantro (coriander) and Fresno peppers dressed with pea shoots with a champagne vinaigrette. They're also wonderful and rich. And leave room for dessert, a coffee flavoured rich and creamy milky panna cotta with a foamy milk cap.
Aerena Gallery
Walking around downtown Napa is It's hard to imagine that this town was a blue collar town 25 years ago when you see the art galleries, wine tasting rooms and restaurants available. After the market head along Main Street where art lovers make a beeline to Aerena gallery to find a range of Californian artists.
Artist Kate Paulson Salenfriend (right) with gallery manager Michael in front of her paintings
Their best selling and most in demand artist is Kate Paulson Salenfriend whose oil paintings depicting the views of Napa's Carmeras grapevines, birch trees and birds accented with 22 karat gold produce bidding wars. Covid was a particularly busy time for her and the gallery as customers were at home and needed something to hang behind them during zoom calls. Nowadays she cannot keep up with demand of her beautiful paintings.
Walk further down Main Street to see what was originally the Opera house but in fact held vaudeville acts. Just beyond this is Napa Creek a favourite home for otters and beavers.
Brown Downtown Napa
My next stop can be a little bit hard to find which only deepens the intrigue (look for the entrance on Coombs Street). While there are 40 tasting rooms in Downtown Napa, Brown's is Napa Valley's only Black owned estate vineyard. Less than 1 percent of wineries are Black-owned or have a Black winemaker.
The tasting room is tastefully decorated with exposed brick and helpful staff that can offer you a tasting of their wines and that includes their premier wine, the Zinfandel. The story starts with Dr Bassett Brown, a general practitioner who lived in Pasadena with this family. He and his wife Marcela (also a doctor) looked to find a place to move with their three young teenagers. In 1980 they purchased 400 acres of abandoned land. With his Jamaican heritage and her Panamanian they had a strong agricultural background and they set about transforming their land.
Their neighbours asked what they planned to do with their land and gave them some cuttings of Zinfandel grapes that grew well in the volcanic soil. They started selling the grapes to wineries but it was in 1995 that the three children Deneen, David and Coral Brown suggested that they make their own wine.
Dr Brown was the wine maker for the first year and by this time 23 year old David was reconsidering his path to medical school. Now all three Brown siblings work in the business; Deneen is the company president, David is the wine maker and Coral is the director of brand management. Most of their grapes are grown on the 650 acre estate where 60 acres are devoted to viticulture.
We start our four wine tasting with the Betelgeuse rose fermented for 3 months. While Dr Brown was a general practitioner he always had a keen love of astrology and astronomy and Betelgeuse was the first star that he taught his son David to find. Their Zinfandel is wonderfully elegant. Zinfandel is a food friendly wine and they recommend pairing it with food especially lighter Italian fare like Margarita pizza or Spanish tapas.
ArBARetum
Across the road from Brown is ArBARetum. While Brown is all about restrained, dark colour palettes and exposed brickwork ArBARetum takes its design cues from an arboretum with a custom made mural of an arboretum crossed with a riotous splash of colour. Everywhere you turn there's something to look at from the vintage jungle themed tiles to the pink couches to neon pink signs.
ArBARetum started with Arthur Hartunian who made a bet during a poker game that he could make better spirits than the ones available. Napa has never permitted a distillery to sell its spirits downtown but he and fellow craft distillers banded together and lobbied for it and had the laws changed. Tastings can be done at their distillery located 2 miles away although the downtown bar is more of a fun place to have a drink.
Each season the menu changes and Arthur loves matching two opposing flavours that you wouldn't often find. We snack on devilled eggs with jalapenos and sip on cocktails. My cocktail is the Sam Remo, a gorgeous concoction with Distillers Blend Gin, Cointreau, blueberry, lime, demerara and sparkling elderflower with edible rice paper butterflies on top.
Arthur also shows me how to taste spirits using his winter and summer gin. There's definitely no swirling around a spirit in the glass as this can release the volatile alcohol compounds. Instead hold the glass at an angle tilted to maximise the surface area of the spirit. Take a sniff from the top of the glass and this reveals the true notes of what the distiller is trying to show you.
Tilting the glass to increase the surface area
And to taste you sip your spirit and swallow but then blow out of your mouth afterwards and then you'll get the full spectrum of flavours. It's incredible what a difference this makes rather than just sipping your gin.
Chateau Buena Vista Winery, Earth & Sky Chocolates
A few doors up from ArBARetum is the Chateau Buena Vista & Earth & Sky Chocolate shop. Like ArBARetum you will need a minute when you first walk in because you won't know where to look and you need to drink it all in (no pun intended). The last time I went to Sonoma I visited the Buena Vista Winery with its Hollywood-esque back story that ended in the founder self proclaimed Count Buena Vista or Agoston Haraszthy being (presumably) eaten by a crocodile.
The current owner is Jean-Charles Boisset who leaned into the original 1929 building' Art Deco architecture and created a Gatsby era glamorous champagne bar with pink marabou feathers, an incredible Baccarat chandelier (apparently the only in the US in those colours) and of course crocodile motifs. Guests can pick from a champagne tasting with or without caviar that ranges from $40-$200 or their champagne. This drop is made in Epernay for them in a bottle shaped like a Cognac bottle that has a beautifully crisp and fresh finish.
Or if you need a sweet pick me up, they can also do a champagne and chocolate pairing with Earth & Sky, with whom they share the space. Robbie Schmidt came from a visual book and cookbook publishing background. She was originally brought on board to help sell the Earth & Sky chocolate business as she had a rolodex full of chefs. It was during her due diligence of examining the business that she fell in love with it and ended up buying the chocolate business.
That was in January 2020.
For the next few years she honed her chocolate making skills "There was a lot of burnt caramel!" she says. It was at her chocolate studio at Calistoga Depot that she met Jean-Charles Boisset of Buena Vista wines. She likens the synergies between processing cacao and grapes and the fermentation process.
I try a pineapple caramel bonbon-the idea is to take a bite of the chocolate, then a sip of champagne and then a bite of the chocolate. As Robbie is vegan she had created 14 types of chocolates using coconut butter as a substitute in her caramels. They trick is to balance the flavours so that you don't just taste coconut. For me, it's the habanero caramel with pecan that I love along with the passion fruit marshmallows and double layered chocolate marshmallow cubes with a dark chocolate coating and a bottom layer of nuts.
Scala Osteria
Located just opposite is Chateau Buena Vista is Scala, a Southern Italian seafood focused restaurant that opened in early 2023. The restaurant is from the team at Don Giovanni and is already a very popular spot to eat at. It was inspired by owner Giovanni Scala's upbringing in Torre del Greco, a commune in Naples. The enormous restaurant has an enormous hand painted mural by artist Jayde Cardinalli that depicts a map of Italy with la Pucinella the clown along with their logo as well as the owners' dogs and cats.
Oysters $4.50 each
I start my meal with a sampler of their oysters, displayed on ice at the bar. They always try to feature 2 selections from the east and west coast and tonight it is Point Reyes (west), Chelsea Jam (west), Sweet Petite (east) and Vue Soleil (east). They're perfect with a squeeze of lemon and perhaps a hit of Tabasco.
Cioppino $45
One of my favourite food memories is eating Cioppino in San Francisco so when I see it on the menu here I have to try it as you don't tend to see it outside of Northern California. Cioppino is an Italian seafood stew with a tomato base and a mix of seafood. The seafood in this version is so tender and perfectly cooked, especially the fish, clams and mussels and it comes with two pieces of toast that are perfect for soaking up the delectable soup.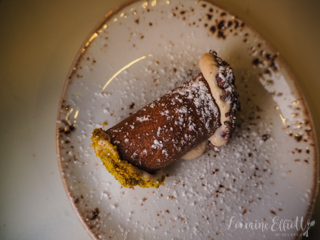 Zeppole and Cannoli
When I dither between the zeppole and the cannoli they say that they can do a serve of a single one of each (don't you just love American service!). The zeppole come as donut twists covered in sugar with a pot of dark chocolate ganache and crème anglaise. These are amazingly good and I want to devour the whole thing although I leave room for their wonderful cannoli. The shell is perfectly thin and crisp and filled with ricotta and candied orange with finely chopped pistachios at each end.
Napa Stam
If you're looking for gifts, head to Napa Stam. The name is Armenian for "rabbit" and owner Lulu Hartunian is married to Arthur from ArBARetrum. There are lots of edible gifts available, most available to taste prior to buying.
Kitchen Door
My last meal before I headed back to San Francisco was at Kitchen Door Napa for an eclectic menu with Italian and Asian influences. The chef here is Michelin-awarded Chef Todd Humphries who was also the executive chef of the Culinary Institute of America's Wine Spectator Greystone Restaurant. The restaurant has an indoor and outdoor area although it's a bit chilly on the day so we head inside. To warm up we try his rich and creamy cream of mushroom soup.
Beef Carpaccio, crushed Himalayan truffle, arugula, crispy potato truffle aioli $19USD
The lunch and dinner menus are quite different but if you're looking for something lighter for lunch the beef carpaccio is superb. Thinly sliced beef is paired with crushed Himalayan truffle salt, rocket, crispy potatoes and drizzles of truffle aioli. It is absolute perfection and one of the best carpaccios I've eaten.
Banh Mi Sandwich $21USD and duck jus $1.50USD
The banh mi game here is elevated with Liberty duck confit, bean sprouts, pickled vegetables, spicy mayo, jalapenos, cucumbers, radish, duck liver mousse on a soft, fresh and crispy edged Acme baguette with sweet potato fries. And you know I'm definitely going to recommend getting the duck jus to dip it in. Heaven.
French Onion Dip Sandwich $21.95
I was in a bit of a sandwich mood so I also tried the French Onion dip sandwich with shaved beef, melted Gruyere cheese, French fries on the side and a pot of French Onion jus also on Acme bread. It's so comforting and delicious especially dipped into that darkly rich soup.
Where I Stayed: Napa River Inn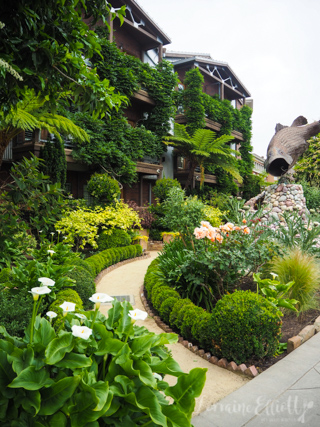 For my time in downtown Napa I stayed at the Napa River Inn, a historic, locally owned hotel that opened in June 2000 and the only Michelin rated luxury hotel in downtown Napa. The Napa River Inn has 66 rooms is split up across 3 buildings: Plaza, Embarcadero and Historical.
Mosaic showing Oxbow River pattern
The historical wing is part of the main lobby building while the Plaza wing building faces the river with balcony rooms facing the lush rose garden below. The Embarcadero wing is also located along the river. Towards the back of the main building is the general store and silos where the grain was stored. A mural depicts the history of Napa Valley and if you look to the ground a mosaic shows you the Napa river and the Oxbow formation just outside. The bricks in the Napa River Inn building are made from the mud from that very river below.
The roller rink floor
History buffs will love the location next to the Mill, the oldest industrial structure in downtown Napa. In 1884, Captain Alfred Hatt constructed the Napa Mill Building, where remnants of his name can still be seen etched into the red brick near the building's pinnacle. Initially, the Napa Mill Building served as a marketplace for coal, grain, and vegetables. At the time in history so called "reputable women" did not have a lot to do so and Captain Hatt constructed a roller rink for his wife and her friends. If you go to the second floor of the historical wing you will see what remains of the original roller rink floor.
However amidst his achievements, Captain Hatt's personal life was beset by tragedy and misfortune. Local legends speak of his eldest son's lingering ghostly presence haunting the Napa Mill, particularly around Sweetie Pies Bakery, where numerous individuals have reported spine-chilling sightings.
Sweetie Pies Bakery is also where you'll get your breakfast delivered from in a pink box every morning. Be sure to ask for your voucher when you check in and hang it on your door before midnight the night before. Since the selection was all sweet and I'm a savoury eater I went in to choose my items on the second day. You can order whatever you like up to $10USD worth but get in early for a ham and cheese croissant as they disappear fast and most of the offerings are sweet.
My room in the Plaza wing was very comfortable and spacious with everything that I could want including a little sitting area and desk as well as a fireplace that I could turn on with one dial and a cute balcony facing the river.
The bathroom had a bath shower combination and a good sized marble sink. The amenities included a range of Napa Vinotherapy products which were excellent.
The spa at The Napa River Inn (formerly the police station) is wonderful and perfect for unknotting any kinks from travel. My therapist Cori was very skilled and thoughtful. And while in California, try one of their CBD massages that uses CBD oils and concentrated CBD pain cream (because it's legal here!). While in Napa as they say.
So tell me Dear Reader, have you ever been to Napa and what did you think of it? Which stop did you like the look of the most?
NQN visited Napa Valley as a guest of Qantas, SFO and Downtown Napa but all opinions remain her own.
Qantas
Qantas now flies three times a week from Sydney (SYD) to San Francisco (SFO).
https://www.qantas.com/au/en.html
SFO
https://www.flysfo.com/
Downtown Napa
https://donapa.com/