At a dinner party, a woman from Georgia gave me some advice prior to our road trip across America. She told me "You'll be fine in Texas, but New Orleans, well you'd better have your wits about you there!" So it's with a certain amount of caution that we approach New Orleans.
The humidity is thick in September - it's so sticky that you feel as if you're swimming through a bowl of gumbo, the thick creole soup that is so germane to the New Orleans area. But even this and the warning echoing through my mind does nothing to dampen my appetite for one of America's most unique cities and its food.
A man exits from a building carrying an enormous saxaphone. He plays a jazz melody for about ten seconds and then stops and continues on walking stopping every 60 feet or so to play a short burst of music.
Fortuitously for the visitor, many things are located within the grid layout of the French quarter. If like us, you are looking to sample the best of New Orleans cuisine, the offerings are aplenty.
Our first stop is Deanie's, mainly because it was the first place on our eating hit list that we came across while wandering around. It is a seafood restaurant that is well known for their barbecued prawns. We watch as a nearby table receives their order. It's enormous so in an effort to preserve our stomach space we share a small appetiser of barbecued prawns and a cup of gumbo.
The first thing that arrives is a complimentary dish of three boiled potatoes, given an extra injection of seasoning using the shrimp and crab boil, a flavoured liquid used to add seasoning and flavour.
Seafood and okra gumbo $5.50USD
The gumbo is a thick, rich, rice based soup with plenty of seafood in it as well as shreds of chicken. Apparently no two gumbos are the same as everyone has a different recipe but this one is full of flavour. It comes with a packet of Saltine crackers which you are meant to crumble into the soup if you want extra crunch.
BBQ shrimp $12USD
Oh my kingdom for an endless plate of this barbecued shrimp! I had heard that this was good but didn't count on it being this good. Seasoned with a medley of dried herbs, garlic and oil the serving consists of five juicy, enormous shrimp and a half loaf of bread. Dunking the bread into the seasoned oil becomes addictive and I have to pull myself away from it.
Brushing off our crumbs, we head to the next destination. At ACME oyster company, the key is to beat the queue. This was sage advice given to us by another hotel guest who had spent the last week eating her way around New Orleans.
When we walk past the red neon lit restaurant we notice the absence of a queue so we nab ourselves a table before the rush. Acme has been open since 1910 and is always busy with people - it's often seen down the street from a distance by the queues. It's freezing cold inside, a perhaps appreciated antidote to the muggy conditions outside and I watch as a petite woman gets up, pats her stomach and smiles at me. Her expression reads "You'll see what I mean."
The room is complete with black and white checkered tablecloths. There is of course the obligatory televisions playing American football in the background as well as numerous neon signs saying "jambalaya", "gumbo" and "waitress sometimes available".
1/2 dozen chargrilled oysters $11.50USD
Although we're both not overly fond of cooked oysters the waiter convinces us to try them as they're the house specialty. We're not disappointed, in fact they remind me of escargot in garlic butter. Here, they're served with a garlicky cheese butter with a strong hint of thyme and they're superbly moreish.
Peacemaker mix and split po boy $13.99USD
The "Peacemaker" po boy is made up of cornmeal crusted shrimp and oysters in a lightly crusty bun with some coleslaw and salad. I'm glad that we're sharing one because I can't imagine polishing off a whole one. They're on the bready side and I prefer less bread but the filling is plentiful with fresh, crunchy seafood.
Hush puppies $2.49USD
I've heard about Hugh Puppies for so long but never actually tried one. Legend has it that the term hush puppy was a term used in the Civil War when the Confederate soldiers used to throw these at the dogs of the Yankee soldiers to quieten them down. They are crunchy golden, the shape of a teardrop with a seafood and cornmeal flavour to them. There are two extra pats of butter but we didn't need those, they are good as is.
Our tummies need a small break so we stroll around the streets in New Orleans's French Quarter. Shops sell oyster serving plates and a large range of Tabasco sauces.
The buildings still retain their French flair but the pavements still have telltale signs of disrepair from Hurricane Katrina - sometimes a paving stone might be missing so watching steps is necessary.
We stop in at Bottom of the Cup where Belinda wants to try a psychic reading. I am talked into having one with Lettie Lee who is a gentle and humourous psychic who delivers her proclamations with good naturedness and a seriousness where necessary.
Readings are $30 for a 10 minute reading and $60 for a 30 minute reading and each reading is recorded and a CD furnished to the customer (or emailed as an MP3 file if desired).
Lettie Lee
I'm buoyed by the reading - it seems the following twelve months will be excellent. However we did hear another girl complain about a different psychic and insist on having Lettie Lee read her instead.
Our next port of call is Napoleon House and Bar, said to have the locals' favourite muffuletta sandwich. These Italian style sandwiches are bread rolls stuffed with a olive, caper salad mix and a range of deli meats. Here at Napoleon House they serve them warm so that the bread is toasted and the cheese melted.
Named Napoleon House after the French General, it was a safe haven for Napoleon offered by the then Mayor of New Orleans Nicolas Girod. Sadly Napoleon never made it there.
It is a magnificent building, steeped in time with some quirky touches. There is graffiti on the walls and vintage paintings and photographs. Classical music always plays here and they're also known for their Pimm's cup cocktail as well as a muffeletta.
Pimm's cup $6.50USD
The Pimm's Cup is refreshing and very drinkable indeed. It's Pimm's combined with lemonade, lemon lime soda and cucumber as a garnish. It's just the thing to take the edge off the heat.
Muffuletta (half) $7.50USD
Said to feed one person I think it could actually feed two. The muffeletta is enormous and barely fits into my mouth. The celery in the olive mix is strong, perhaps too strong for me and the mix of meats and cheese are mild in comparison to the tangy olive mix. I can see why these are better served warm though, cold it would be much heavier.
In the search for something sweet we unwittingly stumble upon one of the best desserts alongside a rather haunted setting. Muriel's is a heart stoppingly beautiful restaurant located on Chartres Street in Jackson Square.
It also happens to be haunted.
The story goes that it used to be a private residence owned by Antoine Lepardi Jourdan. He lost the property in a gambling match and hung himself upstairs. Employees have claimed to have encountered Antoine over the years.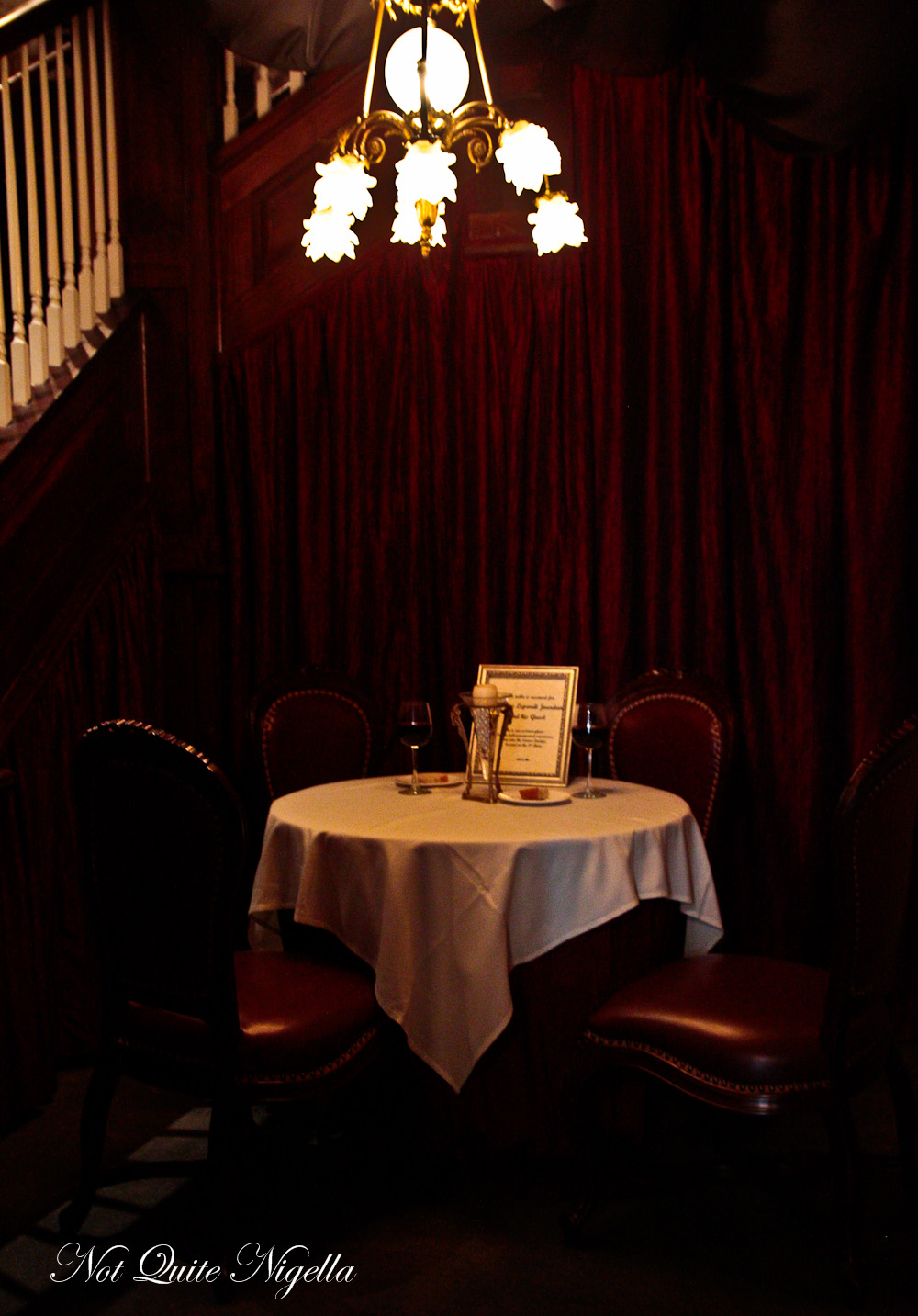 To appease his soul, every day they set some bread and wine at a table downstairs for him and his guest. Our bartender claims to experience a swimming or disorienting sensation at times, as if she were on a boat when she goes past Antoine's table to the seance room, a gloriously decked out room shaded pink and red.
Pain perdu $8USD
If they wanted to appease Antoine, all they need to do it put out a serving of Muriel's famous Louisiana bread and butter pudding or pain perdu. It is a thick square of pudding, opulent with a rich buttered rum sauce and studded with chopped candied pecans. The pudding is soft and the syrup sweet, aromatic and crunchy with pecans. There's no pudding better than this and we tried a few!
Up soon, part 2 of our eating extravaganza through New Orleans...
So tell me Dear Reader, have you ever been to New Orleans? Which dish appealed to you the most from this post? And when you travel, do you ever just wander around or do you have a "hit list" of where to go?
All meals in this post were independently paid for.
Want to see the other road trip posts? Here they are!
Road Trip USA: Phoenix to Albuquerque
Road Trip USA - A Breaking Bad Pilgrimage to Albuquerque
Road Trip USA - Quirky Albuquerque, New Mexico
USA Road Trip: New Mexico to San Antonio, Texas
USA Road Trip: Spicy San Antonio, Texas!
Road Trip USA - A Pilgrimage To Lockhart, The BBQ Capital of Texas
Road trip USA - Hoedown in Houston
Road Trip USA - Turning Cajun in Lafayette, Louisiana
Deanie's
841 Iberville St, New Orleans, LA 70112, United States
Phone:+1 504-581-1316
Open 7 days 11:00 am - 10:00 pm (until 11pm Friday and Saturday)
www.deanies.com
ACME Oyster House
724 Iberville St, New Orleans, LA 70130, United States
Phone:+1 504-522-5973
Open 7 days 11:00 am - 10:00 pm (until 11pm Friday and Saturday)
http://www.acmeoyster.com/
Bottom of the Cup
327 Chartres St, New Orleans, LA 70130, United States
Phone:+1 800-729-7148
Open 7 days 10am-6pm
http://www.bottomofthecup.com/
Napoleon House
500 Chartres Street, New Orleans, LA 70130, United States
Phone:+1 504-524-9752 Monday: 11am-5:30pm; Tuesday to Thursday: 11am-10pm; Friday to Saturday: 11am-11pm
http://www.napoleonhouse.com/menu1.html
Muriel's
801 Chartres St, New Orleans, LA 70116, United States
Phone:+1 504-568-1885
Open 7 days 11:30 am - 2:30 pm, 5:00-10:30 pm
http://www.muriels.com/