I've often toyed with the idea of including a "diva moment" as part of my hotel reviews. This would involve ringing the concierge and asking if I could have an elephant at short notice. I think their reaction could tell a lot about a hotel's "can do" attitude (or perhaps their sense of humour).
One advantage about checking into a hotel in Beverly Hills like the SLS is that even eccentric requests are just fine because, well the clientele are really quite specific and fussy. I arrive late that evening and it's almost midnight. There's a crowd outside of well dressed people and to get to the lobby you do what you do in LA-just follow the red carpet.
Service is perky and chirpy even at this hour and even in my jetlagged fugue I can't help but check out the decor. Designed by Philippe Starck, there are whimsical details at every turn. I realise that I should really brush up on my celebrity knowledge as apparently the hotel is a good place for celebrity sightings.
Riding up to the seventh floor in the elevator I was a bit concerned because there was so much activity in the lobby and I thought that my room might be noisy. It turns out that it's fine, my room 724 is on the top floor and there's no extraneous noise.
My "Pure" level room is 402 square feet with a large king bed in the centre. The design is luxurious with plenty of whites, chrome and mirrors and being a Starck designed hotel, there are curious touches to explore.
I'm a little like Alice in jetlagged Wonderland as I groggily explore things, picking them up and turning them over trying to ignore the fact that it's almost 5am at my former destination. I'd swear that a bunny might round the corner at any moment when I look at the custom designed Starck furniture.
This wall features complimentary gifts to take home including a kaleidoscope, fan, dice and bath salts (although ironically, there's no bath!).
There's a welcoming snack on the table which is marcona almonds, an olive medley and some star anise poached Turkish apricots which like Alice I greedily tuck into. I try and ignore the time telling me to go to sleep.
The mini bar is comprehensive with a range of saints (healthy) vs sinners (indulgent) snacks on offer including truffle salt popcorn, enormous choc malt balls and other designer nibblies-they're not too badly priced at $3-$10 all things considering. The working desk is behind the bed although this is a little tight and I find myself butting the chair against the mirror constantly.
The bathroom vanity is stocked on the left with Eve Lom products-these can be purchased and on the right are the complimentary products including shower gel, shampoo, conditioner, body lotion, loofah, cotton tips, cotton balls and shower cap. There are plenty of towels on the display.
There's a knock on the door-is it the bunny? No it's the porter with the luggage and he proceeds to tell me about the features of the room. I hadn't noticed that there wasn't a television but it turns out that it is reflected in the enormous mirror facing the bed. There are also cables to hook up your laptop to.
There are also other little features that I missed when I was fixated on the apricots. Things like the iPod dock, extra lights, the bar set up behind the hidden cupboards, a safe and air purifier. There is also a complimentary BMW to drop you off within two miles of the hotel (although it is in high demand and most of the time, we found that it wasn't available) and pressing of up to five garments during the stay. Internet is $14.95 a day to connect up to three devices.
Things aren't entirely smooth and when I request my usual things (lemon, straws and fresh milk for tea) the porter is very eager to write them down but nothing materialises. Also for all of its details, there is actually nowhere in the room to put your luggage on except on the floor.
By now it's getting too late so I hop in the shower, unplug the iPod dock as it's a little too bright at night and go to sleep. The next morning I awake early and order my tea from in room dining. It's $17USD for the above plus tax and I ask for extra tea and a kettle so that I can make it myself. The wrong tea is brought, a Chinese tea rather than Earl Grey and they are apologetic and bring the right one quickly.
Venturing out, I begin my Beverly Hills experience (the housewife one, hopefully not the Pretty Woman one) and pass the famous Badgely Mischka boutique where Julia Roberts was famously snubbed. Yes, I am a little obsessed with that scene and the ensuing revenge scene ("Big mistake, HUGE!") and quote it so many times assuming that people know what I'm talking about.
Before anything can be done, I need to fix my hair and make it Beverly Hills ready. I'm scheduled for a blow out at Blo a salon along South Beverly Drive, about a ten minute taxi ride from the hotel. At Blo, you can have a tailor made hairstyle or choose from a range of strictly LA styles like "The Red Carpet" which is a straight blow with big volume curls at the end, the "Holly Would" or the tousled bed head "Pillow Talk."
I decide on the Red Carpet and my stylist washes my hair twice, checks whether my hair holds a curl and that I'm okay with product and then proceeds to blow my hair dry to Real Housewife standards. It's phenomenal value at $35 for about 45 minute's work and I leave feeling bouncy and styled.
Now that I have my hair in place I stroll along South Beverly and pass Rodeo Drive. A lot of people say that they don't walk in LA and it's true for long distances as it is so sprawling but there are plenty of people walking down the streets in Beverly Hills. It's about a 15 minute walk to my next destination. Rodeo Drive is that famous shopping strip full of designer labels.
There are plenty of the usual Louis Vuitton, Valentino, Chanel etc as well as Bijan, the Beverly Hills brand where you need to make a booking to enter (I can imagine there are perhaps some Pretty Woman moments had in there if you don't!). Outside sits a multi million dollar car. Rodeo Drive is mostly busy with tourists taking photos rather than shoppers.
My stop for lunch with Belinda is none other than the restaurant of Real Housewife of Beverly Hills star Lisa Vanderpump, Villa Blanca. Regular readers know that I'm rather obsessed with the Beverly Hills franchise of Real Housewives much to Mr NQN's chagrin and the restaurant of the only British born housewife features extensively on the television show.
From the outside it resembles a wedding marquee with tented awnings and all white decor. There's plenty of people watching opportunities outside but it's very warm, unseasonably so this autumn so we take a seat inside.
On the show it is much whiter, airier and larger than it is in real life. The displays of fragrant flowers are extravagant and stunning. The staff are friendly and seat us at a large table.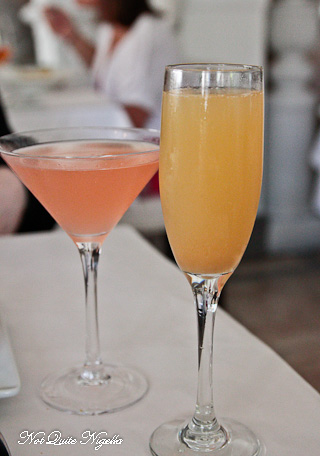 Come 1pm the restaurant is busy with diners, mostly women. Some are camera wielding tourists like us but many look like locals. Belinda and I start with a cocktail because it seems like the fitting thing to do. Mine is a bellini $14 and Belinda's is a Villa Crystal Breeze ($12).
Bread comes out with an olive tapenade and it's crusty with a soft inner and the tapenade gets our tastebuds going. We ponder the menu and we go with the waitress's recommendation of the most popular dishes although once we ordered and the restaurant filled, we noted that pretty much everyone else had a chopped salad! Ahh my first Beverly Hills housewife fail! Even my new hair can't save me...
We both enjoy the ahi tuna tartare cut into spearable chunks with avocado, green onion and sesame. On top were three discs of truffle salted crisps.
Like lobster tacos, the lobster crisps were topped with lobster meat in a crisp shell. The lobster itself is quite dry and we wish that there more avocado or mayonnaise or even lemon to add some moisture to it.
The Villa Blanca burger is absolutely delicious. The fillet is so juicy and thick and it comes with cheese grilled on top and a side of salad leaves and some very sweet onions and ketchup. And yep I ate my whole half. Housewife fail #2. I start to feel sorry for the real housewives that are missing out on burgers...
Now this was an interesting pizza. Cheeseless because I guess cheese adds calories and this would be an option for the dairy intolerant too. It's a crispy crunchy pizza base topped with what tastes like the sauce from banh mi rolls, fresh slices of tuna and salmon sashimi and avocado. It's actually not bad at all once you get your head around the fact that it's the polar opposite of a Napoletana style pizza texture which is all gooey and soft. We feel bad that we can't finish it and they offer to box it up for us.
During lunch, the TMZ bus stops by outside regularly no doubt pointing out the restaurant's status at housewife fodder!
Do people even have dessert here? Well we did although I think that we were the only ones. The cheesecake looks like a wedge of edam cheese but it's has limoncello syrup on top rather than baked into the cheesecake and strawberries and whipped cream on the side. The cheesecake is smooth and creamy and not overly sweet but I wish that there was more limoncello flavouring to it as you only get it on the areas where the syrup is poured.
The Tres leches panna cotta is really quite firm, like a jelly or jello as they call it here. It's served with a grainy dulce de leche and a little sauce.
As we leave, we watch as a homeless man peers into a garbage bin and takes out a drink that someone has left and drinks it. We wish we had taken that pizza to go to give to him. Despite what appears on the surface, there sadly are down and outs in Beverly Hills...
A few doors down the street is Lisa's sometime frenemy Kyle Richards' store Kyle by Alene Too.
So where does a housewife go to dinner? Well some dine at Bazaar by Jose Andres, a popular Top Chef judge. The concept is a very LA one - like a nightclub, restaurant, boutique and foodie wonderland in one. The restaurant area is buzzy with plenty of people including families but also groups. The chefs cook in two open kitchens in full view of everyone.
Everything is theatrical and made for maximum drama. And because it is Beverly Hills, there is a water menu too for the discerning water drinker. The cocktails include the liquid nitrogen Caipirinha.
This is made at the table with a portable trolley where a bartender mixes and pounds while a cloud of chilled liquid nitrogen cloud disperses telling you that your drink is almost ready. It's strong certainly, a bit too strong for me as is Belinda's Liquid Cherry Manhattan which has a spherified liquid cherry at the bottom.
The menu is divided into two sections, a modern tapas menu and a traditional tapas menu. The former has a lot of seafood selections as well as molecular gastronomy techniques while the traditional section has a good section of jamon and cheese and other dishes that you might be familiar with.
We loved these little "cups" of thinly sliced jicama filled with a flavoursome, creamy mix of guacamole. We had no idea that jicama could be used as a substitute for a small flour tortilla too therefore making it low carb. So Beverly Hills!
Resembling a length of bamboo, the ceviche came out next. We both marvelled at the thinly sliced avocado wrapped about the soft cubes of ceviche and topped with crispy crouton crumbs.
This was one of my favourite dishes. What resembles a caprese is actually not as it seems. On the bottom is a basil pesto and sitting atop this were mozzarella spheres with a liquid mozzarella filling and "impregnated tomatoes." They didn't quite explain what they were impregnated with but the whole dish was texturally interesting as well as full of flavour.
These are said to be quite popular and the sweet small soft buns are filled with avocado and sea urchin which gives the buns a lot of sweetness. The king crab filling has pickled cucumber to give it some acidity and they have a good ratio of bun to filling.
This was another favourite, the mussels singing with flavour. They're so small and tender but the spicy, tomato based sauce is made for dipping bread in. "Mussels remind me of ladyparts!" Belinda chimes in. I snort with laughter. Beverly Hills housewife fail #3. Never snort with laughter.
Suddenly they put a shoe down on our table and we both do a double take. A shoe? A shoe filled with croquettes? The croquettes were crunchy on the outside but filled with a mild centre of chicken and bechamel. I don't think it was the best dish to follow the mussels above as the flavour was so mild in comparison. But there is a silver lining and that is that you can buy the shoes at the gift store...to put your croquettes in of course ;)
All hail the Brussels sprout! No longer will you be banished when the next generation of kids eat them like this. The Brussels sprouts are served leaf by leaf with lemon puree, apricots, grapes and lemon air. There appears to be a lot of "air" on the menu in various forms (more on that later) and in this case, it means foam.
I must admit that I've never seen baby Japanese peaches before but they're tiny and green and served peeled. Each little orb is sweet and succulent and it is served here with two lobes of Di Stefano burrata, hazelnuts, hazelnut puree and arugula.
Now was the time to employ the emergency stomach. Not a dessert stomach but the emergency third stomach. Because this version of the Philly Cheesesteak is the most popular item on the menu and we can see why. It's "air" bread which really means a hollow bread with paper thin layers, much like a pita is as soon as it is made. It is filled with melted cheddar cheese and draped across the top is thinly sliced marbled wagyu beef. If I could have fit in more I would have immediately ordered more.
So what about dessert? Well sweets are had in an adjoining "Patisserie" where an indulgent display of goodies beckons. Glass displays of jewellery and gifts catch our eye. We take a seat in the boutique and patisserie and look over the menu. On the left hand side are the petit fours like chocolates, ten types of cookies, tarts, pastries and candy while on the right are more elaborate desserts.
The cocktail is a dessert in itself. A Chocolate praline martini, it is rich and chocolatey with a cloud of toasted meringue on top and a chocolate sugar rim we both adore this.
The nitro floating island is meringue coconut and the floating part is really more that it is resting on pieces of banana and a passionfruit sauce. Although tropical I did prefer the cocktail to the dessert.
A quick visit to the patisserie display makes me drool for some petit fours and we try the Earl Grey truffle which is aromatic with bergamot. The salted caramel square is sheathed in edible cellophane and the passionfruit pate de fruit is sweet with a medium passionfruit flavour. My favourite was the pecan pie cookie-not really a cookie it was more a small round friand that tasted just like pecan pie.
Although that would make it Beverly Hills housewife fail #4 when I finished all of them! ;)
So tell me Dear Reader, would you like to be a real housewife of Beverly Hills? And do you buy things from the mini bar?
NQN visited LA as a guest of the Los Angeles Tourism and Convention Board
SLS Hotel
465 S La Cienega Blvd, Los Angeles, CA 90048, United States Phone:+1 310-247-0400
Blo Beverly Hills
252 S Beverly Dr, Beverly Hills, CA 90212, United States Phone:+1 310-270-4256
Villa Blanca
9601 Brighton Way, Beverly Hills, CA, United States Phone:+1 310-859-7600
Bazaar by José Andres
465 S La Cienega Blvd, Los Angeles, CA 90048, United States Phone:+1 310-246-5555