Want something wholesome and delicious for the weekend? These banana and oatmeal hot cakes are made with ricotta giving them a light and fluffy texture. Serve them with banana slices and a jug of maple syrup. Better still the batter is made in about a minute and needs no resting!
This recipe is adapted from one by my blogging friend Marissa from Pinch and Swirl. As soon as I saw them I earmarked them for when I had some extra bananas that needed using up. The other appeal was that I was curious to see how the oats would fare in place of flour.
Mornings need to be easy for me on the weekend. I am not a naturally early riser and I still work out every morning. I've become a bit addicted to it which I never thought I'd say but one major benefit is being able to easily buy clothes and know that you can fit in them without having to buy two sizes.
I recently made an order for a dress that I had been coveting for the longest time. It was a long green dress that had sold out as soon as it came out. I would occasionally check back on the page and then one day they had my size back in! I bought it immediately and then waited the two weeks for it to arrive from America (it was meant to be 3 days but oh well).
As soon as I took it out of the bag, the smell hit me. Body odour, of the highest and stinkiest order. Although it had a tag (but seriously, clothes can be worn if you tuck a tag in), someone had clearly worn it. Either that or they had the worst case of body odour in the world and trying a dress on imparted a stench that you could not get rid of. I was surprised that Revolve (a huge US online store) had packed it up and sent it off because the smell was so strong. I sent them an email asking them about it.
They told me that the dress was sold out so I had two options.
I could do was return it for a refund
I could get it dry cleaned and they would reimburse me once I sent them the receipt-but the catch was once I got it dry cleaned I couldn't return it.
At this point I was so smitten by the dress that I went for option 2. They threw in a small discount code for my next purchase although I doubt I'd ever order from Revolve again!
But back to more palatable matters. These hot cakes or pancakes are just so wholesome it was a pleasure to eat them. The oatmeal does mean that the first two I made caught a little on my pan. You do need to make sure that your pan is hot and well greased to cook these. But they were so deliciously good that these will be my go-to weekend hot cake. After a round of exercise of course. Hmm now I'm wondering if perhaps someone exercised in the dress?
So tell me Dear Reader, do you start your weekend mornings off early? And have you ever received an item that was clearly worn or used? What happened?
DID YOU MAKE THIS RECIPE? Share your creations by tagging @notquitenigella on Instagram with the hashtag #notquitenigella
Wholesome Ricotta Banana Oatmeal Hot Cakes
Adapted from Marissa at Pinch And Swirl
Preparation time: 10 minutes
Cooking time: 20 minutes
2 cups old fashioned rolled oats
3 teaspoons baking powder
1/4 teaspoon fine sea salt
1/2 cup milk
1/2 cup ricotta
1 large ripe banana
2 large eggs
3 tablespoons cinnamon sugar
1 teaspoon vanilla extract
Butter and oil for frying
Honey or maple syrup for serving
Banana, sliced to serve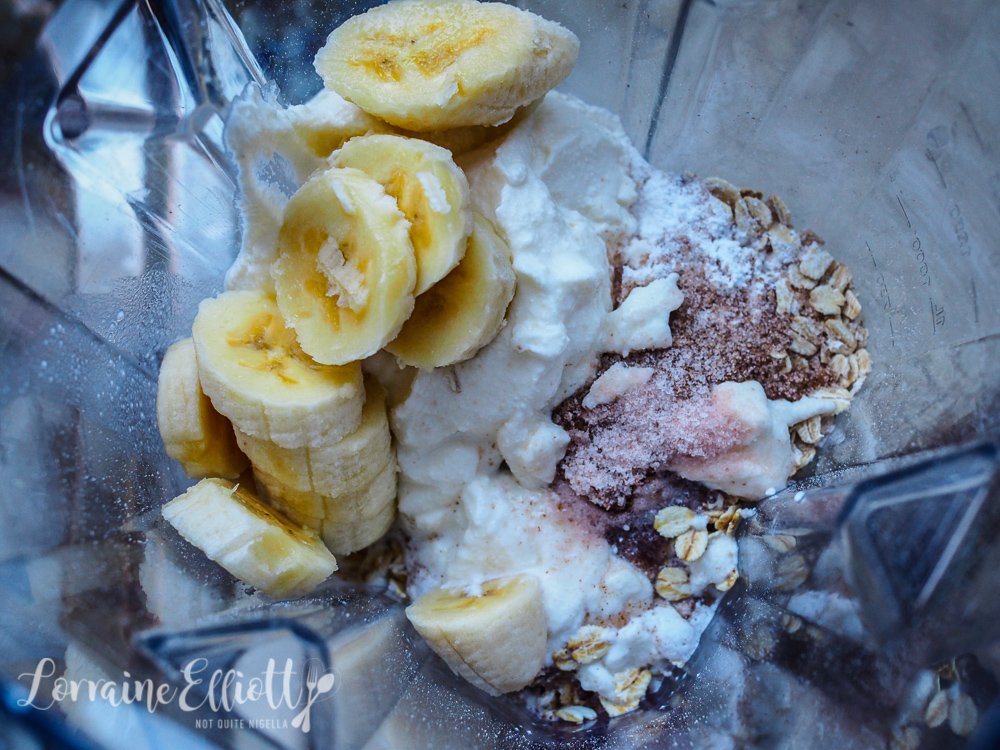 Step 1 - Blend all the ingredients in a blender until smooth. Heat a non stick frypan until hot and add butter and oil. Take a 1/2 cup measure and make pancake rounds. These can be a little delicate when turning but after two not so great ones, I got the hang of these. Serve with butter, syrup and slices of fresh banana.