This Portokalopita or Greek filo cake is absolutely delicious. Made of layers of filo pastry crushed up and mixed with a yogurt batter it bakes to become cake-like. It is then drenched in a gorgeous blood orange syrup. Be ready for a tidal wave of praise when you serve this!
This Portokalopita is a reader recipe from a lovely reader Stephen. It was Stephen's partner Shayne who originally contacted me asking me if I could sign a copy of my book for Stephen. He was so nice and just wanted to give him a birthday that he would remember. He suggested Stephen's recipe for Portokalopita because whenever he brings it to work it gets rave reviews. And now that I've tried it, I can completely concur.
After he received his book Stephen was kind enough to email me and share his Portokalopita recipe and tips with me. He explained that it is important to bake each layer of filo individually to get it crisp, otherwise it becomes stodgy. And his other tip was to add Cointreau which is rather inspired.
Stephen also suggested pouring a glass of wine when doing this. His original recipe uses regular oranges but I wanted to make use of the blood oranges that are in season. It is so delicious and reminds me a bit of my other favourite Greek dessert Patsavoura. Once you take a bite, you cannot stop at one.
Speaking of putting things in your mouth, there was a bit of a foot in mouth situation recently between friends. I went out to dinner with two friends (who shall remain anonymous ;) ). They had once dated and by that I mean that it was literally one date. They both realised that there was no sexual chemistry but they remained as friends as they both had similar interests and had hung out as friends a few times. She's very social and he is from Melbourne so it's always good to meet new people when you move cities.
They were talking about Tinder and Bumble when I arrived. She now has a boyfriend but he is still single and she was doing a talk on dating and social media so she was quizzing him about which app was better and what his experiences were like on it. We got to talking about people's tastes. It's funny, you see I have a hundred hurdles but they are more open minded and I think that it's just lucky that I'm not on Tinder or Bumble or I'd be very alone.
Anyway he said that the whole swiping process was interesting but he never swipes on very hot or stunning women because his feeling is why would they swipe for him (he's a nice looking guy with confidence issues). He is just looking for a 5 to 7 out of 10 and that's his perfect woman. But stunning beauties? No thanks.
"Um whaaaat? Excuuuse me?" asked my other friend. I think we had both forgotten that they had matched together and that he was effectively calling her average looking. Horrified, I have to admit my face went over all Chrissy Teigen at the Golden Globes for the bollocking that he was about to endure.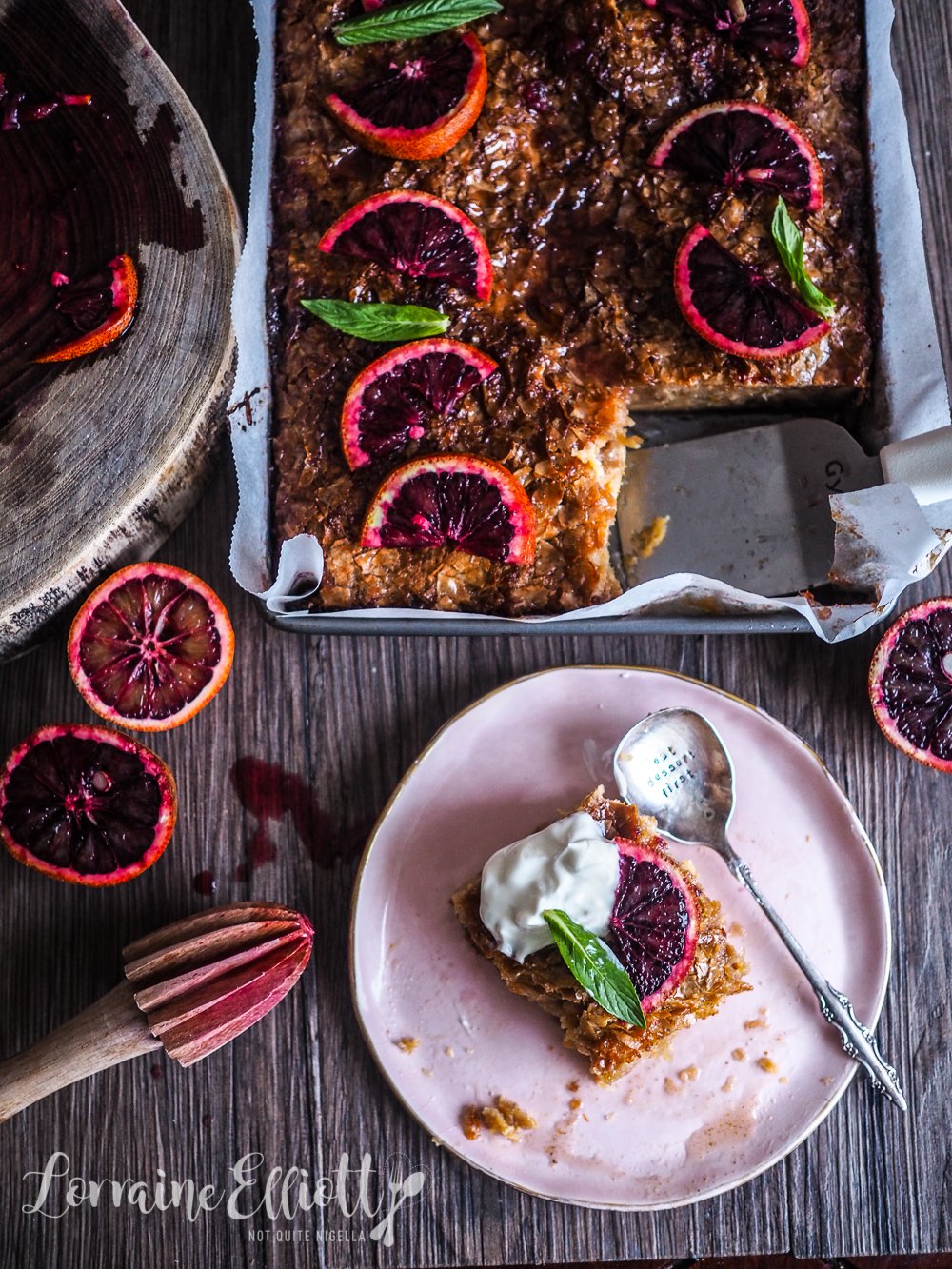 I tried to help the situation. "So ummm happy hour is almost over, who wants a drink?" I asked. And then I pointed out the paintings on the walls while he took a deep breath and finished his entire beer in one go and picked up a new one immediately. I think he was biding his time trying to think what to say.
All he could do was croak out in a weak voice, "That was a new rule. I only started it after we met...".
So tell me Dear Reader, what is the recipe or dish that gets you the most compliments? And do you often put your foot in your mouth? What level out of 10 would you swipe right for?
DID YOU MAKE THIS RECIPE? Share your creations by tagging @notquitenigella on Instagram with the hashtag #notquitenigella
Portokalopita
Adapted from a Dear Reader recipe
Preparation time: 30 minutes
Cooking time:
375g/13ozs. filo pastry
300ml/10.6flozs orange or blood orange juice
Zest of 2 oranges or blood oranges
200g/7ozs. Greek yogurt
180ml/6flozs. oil (I used a blood orange olive oil)
100g/3.5ozs. caster or superfine sugar
5 eggs, at room temperature
2 teaspoons baking powder
1 teaspoon vanilla
For syrup
350ml/12.4ozs caster or superfine sugar
350ml/12.4flozs water
Zest and juice of 1 orange or blood orange
1 teaspoon ground cinnamon
1 sliced blood orange to decorate
2 tablespoons Cointreau
Step 1 - First make the syrup as you want this to be cold when you use it. Place the sugar, water, zest, juice and cinnamon in a small saucepan and bring to a boil and simmer with the lid off for 10 minutes. Add in Cointreau.
Step 2 - Preheat oven to 180C/350F and have three or four trays ready (no need to line them). Bake the filo sheets one at a time. They'll take 8-9 minutes to become light golden. You want to crush them up once they're baked but try not to get tiny smithereens. You can do this step a day or two ahead of time and keep them in airtight containers.
Step 3 - Line a 30x20cm rectangular baking tray with 1 inch sides. In a bowl whisk the juice, zest, yogurt, oil, sugar, eggs, baking powder and vanilla together and then add in the crushed filo and mix until filo is soaked. Pour into the prepared tin and bake for 35 minutes.
Step 4 - Poke holes with a thin skewer in the hot cake and pour cold syrup over the hot cake. Decorate with blood orange segments.