Changing seasons can often lead to feeling malaise or unwell. If you're feeling a bit blah or lethargic, go easy on yourself with this nutritious, wholesome congee or rice porridge. This is one made with four grains to add to it nutritiousness. It is as delicious as it is easy (set and forget in the pressure cooker, instant pot or stove top) and is versatile as you can eat it by itself or pair it with a variety of toppings!
This past week's bout of rain and cold weather has been playing a bit of havoc with my system. I'd wake up some days with a sore throat (a precursor to a cold or flu) and I'd be gargling sore throat medicine to stave it off. And for once, I didn't feel like going out-all I wanted to do was curl up in bed and read. It was as if my body refused to believe that this was spring and was refusing to go out until it was warm.
I bought a pack of congee from the Asian grocery store and ate it on the night that I felt the worst. I bought this one because it looked interesting and had rice and millet as well as black soybeans giving it a slight purple tinge. And the messages came thick and fast from people on IG stories. Many loved congee and to be honest I thought it was just an Asian thing but most of the people who were messaging me about it weren't Asian. They asked about the congee itself and after the 4th person asked me about it, I decided to make a version for the blog.
Congee by itself can be bland and this bought one was. But once I added some "fixins" it was delicious. I started with some leftover sauce from some Thai style chicken wings that I made. It was made with fish sauce, chillies, garlic and sugar (honestly it is SO good even though it might sound very strong!). Then I crumbled the remains of some salted egg chips - you can use any sort of chips but I had some salted egg fish skin chip crumbs and a reader told me that they are delicious over rice.
You may have heard about salted egg chips. Over the past year or so, a few people had asked me if I had tried them. They originally come from Singapore and are made by a brand called Irvin's. The most popular flavour is the salted egg fish skin chips (yes!!). Unfortunately it isn't easy to buy Irvin's in Australia although there is a black market for them. If you look on sites like gumtree, people sell them for $30 a bag.
When Ivy's husband Ryan was staying in Singapore for a few nights on his way to Europe, I asked him if he would mind picking some up. I figured the worst that he could say was "No I am too busy with work stuff to entertain your food obsessions." But luckily he agreed and asked one of the assistants at the firm where he could buy them from. She took him to the nearest store through a labyrinthian maze of tunnels and he bought me a bag of each of the flavours available.
There were three types: salted egg fish skin, hot bomb salted egg potato chips and cassava chips. Salted egg is like the parmesan of Asia. It imparts a delicious umami flavour plus an interesting tongue coating texture. They are also very, very rich so you can only have a bit at a time and they are also quite addictive.
When Ryan handed the bag over to me, he said that they were the best travelled and most coddled chips in the world and needed their own travel blog. Indeed they had been to London and Germany and he made sure to build a tent in his suitcase to avoid the chips being crushed! And whatever little crumbs there were at the bottom were added on top to this congee. Another reader recommended them on rice and they are fantastic served sprinkled atop sushi rice.
I promise that this congee is loaded with flavour especially with that fantastic sauce. But you can keep it mild and nursery soft if you like. Just keep this on hand for any time you need a soothing, wholesome meal!
So tell me Dear Reader, do you like congee? Do you tend to get sick with the change of seasons? What is your go to dish when you're lacking energy?
DID YOU MAKE THIS RECIPE? Share your creations by tagging @notquitenigella on Instagram with the hashtag #notquitenigella
Four Grain Congee Rice Porridge
An Original Recipe by Lorraine Elliott
Preparation time: 15 minutes
Cooking time: 25 minutes to 1 hour 30 minutes (depending on method of cooking)
1/4 cup sushi rice
1/4 cup glutinous rice
1/4 cup millet
1/4 cup tapioca pearls
1/8 cup dried mung beans
8 cups stock (chicken or vegetable)
1 inch piece of ginger, peeled and sliced
1.5 cups purple sweet potato, cubed
1/2 cup shelled edamame beans
1/2 cup corn kernels
Sauce
1/2 cup fish sauce
1/2 cup sugar
2-3 chillies (depending on taste)
4 garlic cloves, peeled and chopped
1/4 cup water
Toppings
Chopped scallions
Fried shallots
Egg omelette
Salted egg chips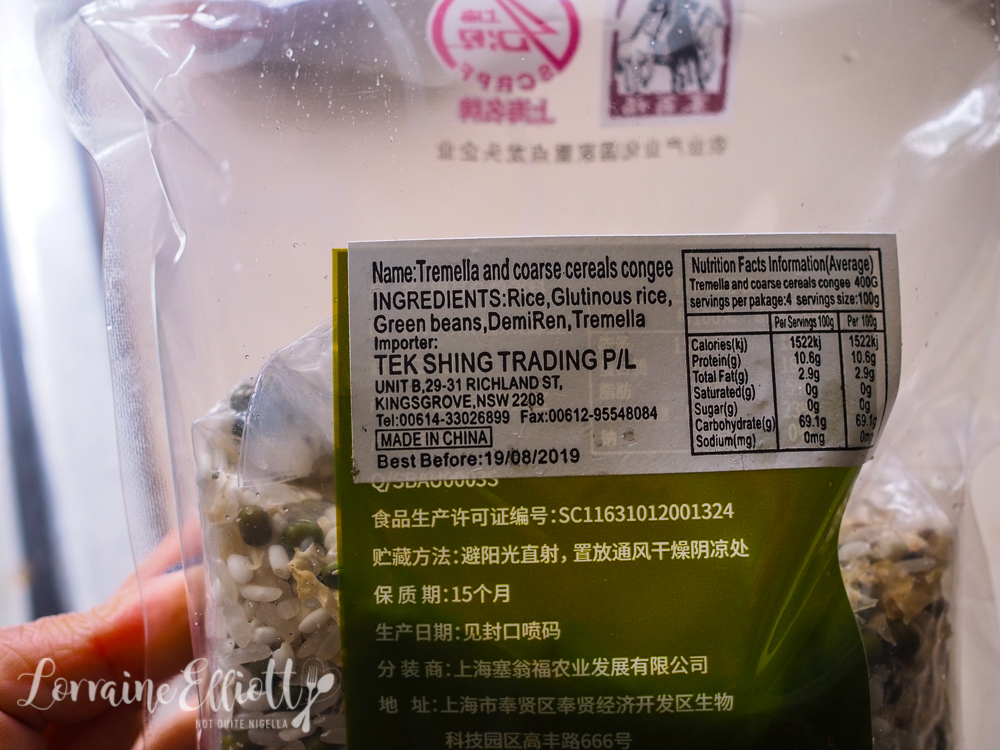 Note: you can use all sorts of grains and seeds-brown rice mixed with black rice, quinoa or sushi rice. A mix is best. I actually bought a mix of white rice, glutinous rice and dried mung beans.
Step 1 - Rinse the rices, tapioca and mung beans until the water runs clear and place the rice, millet and stock in a large pot or a pressure cooker/instant pot and bring to a simmer. For the pressure cooker/instant pot cook on medium heat for 20 minutes. For a stovetop cook for 1 hour 15 minutes. Add in the ginger, sweet potato, edamame and corn and cook for 6 minutes in the pressure cooker/instant pot or 15 minutes on the stovetop.
Step 2 - Meanwhile make the sauce by combining all of the ingredients except for the water and bringing to a boil and simmer with the lid off until it is reduced by a third. Add in the water. Serve with this sauce and whatever toppings you like.