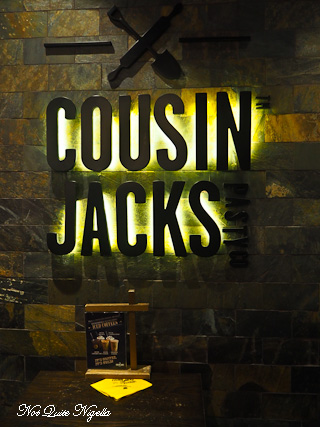 *With cold weather comes the need and want for warming pastries. And did you know a little store in Bondi Junction makes hand made Cornish pasties with both sweet and savoury fillings? The history of the Cornish pastie is also an interesting one involving creatures that warned miners of cave-ins. They would be rewarded with a pastie crust! *
So we've all heard about ghosts, but have you heard about something called a Knocker? A knocker is a leprechaun-like creature that lives in mines. Miners are superstitious people, and rightly so. Legend has it that the knockers would forewarn miners about any cave-ins by making a knocking sound. In return, the miners would leave behind the pastry crusts from their pasties for them the devour.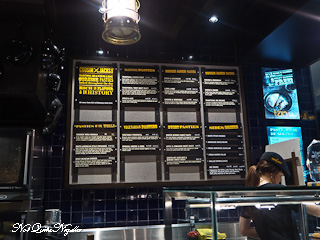 Pasties were originally developed in Cornwall in the South of England as early as the 1200's as food for miners. Their hands were so covered in grime and soot that the pastry merely provided a vehicle and cover for the filling. They would hold onto the crimped crust eating the rest. Today, above ground eaters eat pasties crust and all.
The store in Bondi Junction is really more a takeaway store with a few tables to eat in. Owner Mark Beford migrated to Sydney in 2004. He says, "For many years the idea grew in my mind that freshly baked Cornish Pasties could be a firm favourite in the minds and the stomachs of Australians just like they are all over the UK, especially as Aussies love their Pies! Unlike a pie, a Cornish Pasty is all about real pieces of meat and healthy vegetables you can see, cooked slowly over an hour to let all the flavours and juices combine in its distinctive hand held shaped pastry." Later this month they will open up another branch in the CBD's Martin Place. The name Cousin Jack's is a tribute to the nickname bestowed to the Cornish who migrated to Australia.
Even late in the afternoon there is a good range of pasties left as they are baked throughout the day. They have a deal where if you buy four pasties you get two sweet pasties for free and a drink for $1 extra. Mr NQN is famished so we go for this trying the most popular, traditional and a vegetarian one plus pork and apple for good measure.
They are still warm and we cut them in half and bite into them. The first is the pork and apple and it's packed full of meat and apple. The pastry is flakey and crisp which is good and the filling is substantial. You can also order a side of baked wedges - these are okay and although they've heated them I find them a bit dry even with the garlic aioli and I wouldn't order them again.
We next try the chicken and mushroom and this is the most popular pastie. Indeed we overheard many people ordering these as we sit eating. It has plenty of creamy sauce, lots of tender chicken breast and pieces of mushroom. It's my favourite out of all of them.
Next is a traditional Cornish pasty. They were out of the 'Oggy, Oggy, Oggy' which is like a Bedfordshire clanger with savoury and sweet both in one. When the pasties would be finished baking the wives would often yell down 'Oggy, Oggy, Oggy' into the mine shafts to let them miners know that they were ready. The traditional Cornish pasty has diced potato, swede, onion and diced skirt steak. It's not bad but I think some curry powder or spices would do well with this as it reminds me of curry puffs. But of course this is the traditional one whose recipe was handed down by generations and curry wasn't part of the recipe.
The last savoury pastie is a spinach, cheese and corn. This too like the rest is filled to the brim with soft, flavoursome filling. This is Mr NQN's favourite and I also like the smooth, creamy filling with pops of corn kernels.
They warm up the sweet pasties for us and they're quite a different proposition. The pastry on this is buttery and short - delightfully so in fact. We try two of them: a mixed berry and a white chocolate, raspberry and macadamia, both dusted in icing sugar. The mixed berry has a nice tart filling but it's the white chocolate, raspberry and macadamia that I adore with its sweet filling and short crust.
So tell me Dear Reader, are you superstitious? Would you believe in the knockers? And do you heat your pastries before eating them? Is there a filling that appealed to you?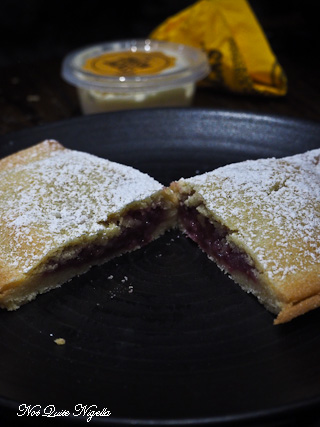 This meal was independently paid for.
Cousin Jack's
5/175 Oxford St, Bondi Junction NSW 2022
Phone:(02) 8096 4304
http://cousinjackspastyco.com/