With summer coming to a close you may have more green tomatoes than you know what to do with as green tomatoes pop up in garden beds and at markets! Of course there's the classic fried green tomato but there's so much more to do with them.
From an amazing green tomato ketchup, green tomato & feta salad, a BLHT (BLT with Halloumi!) using green tomatoes and a creamy green tomato soup you may find yourself seeking out green tomatoes!
Green tomatoes have a lovely crisp texture although they aren't sweet like ripe, red tomatoes. I found that pairing them with sweet flavours goes well but they're surprisingly versatile.
I made these recipes on a weekend when I was home alone and had a bucket of these green tomatoes to play with. We bought them from a greengrocer and I got a bit too excited when I saw them. And I am such a nerd that the idea of spending a whole day playing with green tomatoes was what I considered fun.
Green tomato and feta salad
Mr NQN was doing a windsurfing camp that weekend. He asked me if I wanted to come but the invitation came with some hesitation. Neither of us want to see me camping quite honestly. I don't want to do it, nor does Mr NQN want to have to deal with me when I complain that my creature comforts are missing. It's better that I am comfortable and away from tents.
Green tomato ketchup
He went off to do his windsurfing, proudly getting blisters on his hands like trophies. As for me, I had m ideal weekend alone. I made some recipes with green tomatoes, ate dumplings and salad and drank kombucha and by 8pm I was settled into bed and I finished my book ("Bad Blood" by John Carreyrou about the Theranos scandal, you've got to read it, it's outrageous and compelling).
B.L.H.G.T. (Bacon, lettuce, halloumi & green tomato)
The next morning I woke early. "I survived without being murdered!" I messaged him which was quite honestly my main concern. I asked him if I would have enjoyed the camping and his answer came swiftly and with certainty. "Absolutely not, you would have hated it," he said. I agreed, I'd much rather be experimenting green tomatoes...
So tell me Dear Reader, what is your idea of a great weekend alone? Have you ever tried green tomatoes? Which recipe appealed to you the most of the four? And have you read Bad Blood?
Roasted green tomato and pea soup
DID YOU MAKE THIS RECIPE? Share your creations by tagging @notquitenigella on Instagram with the hashtag #notquitenigella
Green Tomato & Feta Salad
All Original Recipes by Lorraine Elliott
Preparation time: 10 minutes
Cooking time: 0 minutes
Serves 1 or 2 as a side dish
2 large green tomatoes
75g/2.7ozs. feta cheese, cubed
Small handful of rocket
3 tablespoons extra virgin olive oil
2 tablespoons raspberry vinegar (or a similar sweet fruit vinegar)
1 tablespoon honey
1 teaspoon mustard
Step 1 - Cut the tomatoes into thin slices and then fan out in a bowl alternating with feta and rocket. In a small bowl or a jug whisk the oil, vinegar, honey and mustard together until emulsified. Pour over the tomatoes. Season with salt and pepper.
Green Tomato Ketchup
Double, triple or quadruple or more this recipe because it is delicious and once you've got one lot cooking you may as well start bottling this stuff it's that good.
Preparation time: 15 minutes
Cooking time: 2 hours
1 tablespoon oil
2 onions, peeled and diced
8 green tomatoes, chopped into small pieces
200ml/7flozs. white vinegar
180g/6ozs. white sugar
1 teaspoon celery seeds (or to taste)
1 teaspoon ground cloves (or to taste)
Salt to taste
Step 1 - Heat the oil in a saucepan and saute the onions on medium heat until soft. Add the tomatoes, vinegar, sugar, celery seeds and cloves and bring to a boil.
Step 2 - Simmer on low heat with the lid on for 1.5 hours. Once the tomatoes are soft, remove the lid, turn the heat to medium and allow the liquid to reduce and then use a stick blender to blend to a smooth consistency. Taste for salt - I just added a little to bring out the flavour.
Green Tomato BLT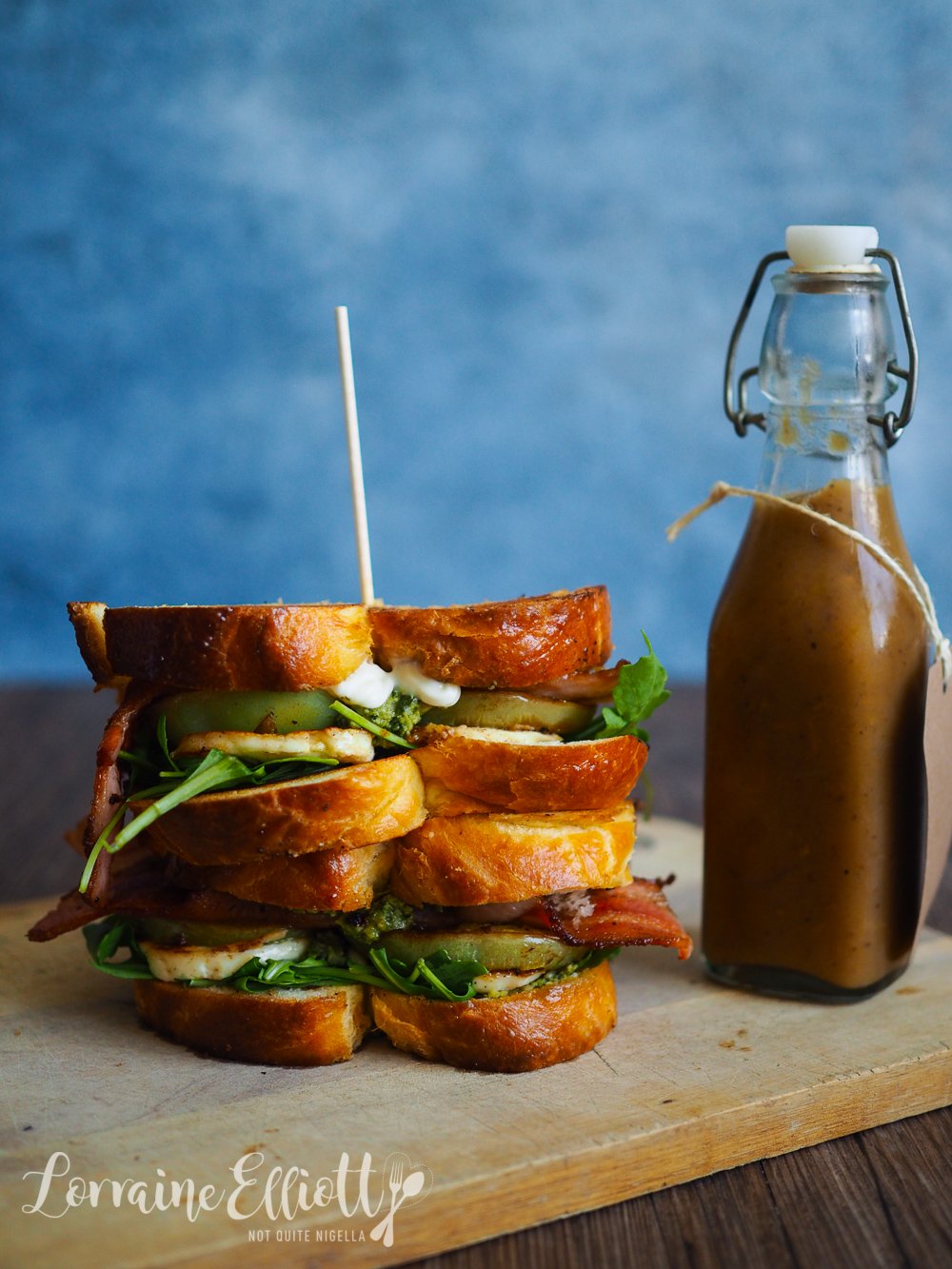 Preparation time: 5 minutes
Cooking time: 10 minutes
Serves 2
3 tablespoons butter
4 slices brioche bread (I used my home made tangzhong brioche)
4 rashers streaky bacon
4 slices halloumi cheese
4 slices green tomato
small handful rocket
2 tablespoons pesto
Aioli to taste
Step 1 - Butter the outside of the brioche and set aside. Fry the bacon until crispy and remove from the pan. Add the halloumi and green tomatoes and fry until done. Scrape the base of the frypan and then take the brioche slices butter side down and fry until golden.
Step 2 - Take one piece of bread and add some rocket. Layer green tomato slices, halloumi and bacon adding pesto and aioli to taste. Place other slice of brioche on top and serve.
Roasted Cream of Green Tomato & Pea Soup
Preparation time: 10 minutes
Cooking time: 40 minutes
Serves 2
2 tablespoons oil
1 onion, quartered
4 cloves garlic, peeled
4 green tomatoes, cut into segments
1.5 cups chicken stock
1.5 cup frozen green peas
1/4 cup cream
75g/2.7ozs. feta, crumbled
Salt and pepper for seasoning
Step 1 - Preheat oven to 180C/350F and line a baking tray with parchment. Place the onion, garlic and green tomatoes on the tray and drizzle with oil. Roast for 30 minutes.
Step 2 - Place the chicken stock and peas onto boil and add the roasted vegetables. Simmer for 10 minutes and then blitz using an immersion or stick blender. Add cream and feta and season to taste.