Our intrepid and hungry squad set out this past weekend to travel across Sydney in search of the best sausage roll on offer. Buoyed by childhood memories and a craving for this classic Australian snack we pitted old skool against the new breed of sausage rolls. What emerged was surprising to say the least!
My life of crime began and really ended when I was 10 years old. It was all due to a sausage roll. When I was small, my grandmother came to live with my family. I was about 10 years old and she had a drawer with a cup full of change. Swimming amongst the litter of silver coins were shiny gold $1 coins. Back then $1 could make you king for a day at the school canteen. You could literally afford everything that your little stomach desired. That morning I was desperate for a sausage roll so I slipped a $1 coin into my pocket and bought a sausage roll, tomato sauce, a Razz frozen drink and a packet of chips.
That evening I was in trouble and got a stern talking to. It turned out that my grandmother knew exactly how much change was in that container. A part of me however thought that it was a suitable cost for the bliss of eating a sausage roll. Since then sausage rolls have always held a lure.
After our search for Sydney's best meat pie which was Viggo's choice, it seemed only natural that we would do its counterpart, the sausage roll. While there are many different fillings in pies, sausage rolls tend to have less variety. The pork sausage roll is the classic with minced pork sausage, seasoning, onion and garlic wrapped with a pastry outer and dipped in ketchup or tomato sauce. But we were wondering has the sausage roll evolved from being a lunchtime school canteen treat? We'd only be too happy to find out!
There were five of us: Belinda, Louise, Mr NQN, Viggo and me. We were armed with Louise's trusty Esky, knife, paper towels, wet towels and our own sauce. Because Australia is a country where you have to pay for sauce (American friends have been surprised at this). And then there was the list, that all important list. There were two types of places: old skool classic shops that made sausage rolls along with vanilla slices, jam slices and finger buns or the new skool places that used more heady combinations of spices and flavours, often in a buttery puff pastry. Which would fare best?
Adriano Zumbo, Rozelle
"It's the perfect day for a sausage roll," says Belinda looking up at the sky and the rain clouds. Make no mistake, this squad would do this in the height of summer they are so committed to these challenges but the coat shrugging weather during Sydney's early spring is more conducive to sausage roll consumption.
I am terrible with names but food is another matter. I can remember one day when I met up with Catty at Zumbo in Manly and we had one of his sausage rolls. It was a buttery specimen - large and full of fragrant meat and buttery pastry. The pastry was so buttery that it soaked through the bag. Things have changed somewhat it seems. The pastry while still buttery is more in line with other sausage rolls. The flavour combos at Zumbo however are always unusual and today is no exception.
Pork, nduja, Earl Grey tea and lemon sausage roll $4.50
We resist the urge to try adding the hamburger pie to our order and stick to our mission: sausage rolls. There are two flavours here: a pork, nduja (Calabrian spicy sausage spread), Earl Grey tea and lemon. That's right. But as strange as the combo sounds, it really works even with a sprinkling of Earl Grey tea on top. The meat has a good texture to it which I like too rather than being finely minced.
African spiced lamb sausage roll $4.50
The African spiced lamb is also good but I think after the unusual but gorgeous combination of the pork above it's a bit less exciting. Most of us bar Louise prefer the pork but she is a big lamb fan and she comments that she prefers this one but the walnuts on top are a creative and delicious touch. She says, "That was yum, the lemon in the pork was subtle and the lamb was not lamby, I would go back again as they were well balanced." Viggo comments, "Really tasty meat, just the right amount of pastry. I usually don't like lamb, but could easily eat a whole load of these lamb sausage rolls."
The lovely staff hand around boards of macarons to all the customers sitting down in the cafe which gives us a nice sugar rush for the task ahead. As we get up to leave, the puns start from Mr NQN and Viggo. "Let's roll!" proclaims Viggo to much groaning.
Total score pork sausage roll: 42.5/50
Total score lamb sausage roll: 39/50
Drummoyne Bakehouse Cafe, Drummoyne
The route that we are taking for the sausage rolls is a circular one and this is perhaps our easiest challenge to date. We get into the cars and head for Drummoyne to the Drummoyne Bakehouse Cafe which sits next to a popular fish and chips store.
"I've been there so many times but have never noticed this place," says Belinda as we walk up to it. It has been operating for 20 years and is doing a busy trade this morning. The display has a lot of variety of old skool treats and we coo over the green frog cupcakes, fruit tarts and so much more. We also decide that if a place does sell vanilla slices, we will try one.
Sausage roll and chicken and corn roll
The meat filling is a little looser than other places and there aren't any fancy spices or combinations here. Which isn't a bad thing at all. Mr NQN's comment is short and sweet, "Old school and I like it." Louise says, "The pastry was typical old school sausage roll where you're luck to have any left on the roll after you try to eat it. the meat was consistent through out. The vanilla slice's pastry was really well cooked and crunchy."
I didn't mind the chicken and corn roll although it was a bit drier than the sausage roll as it had less filling. Viggo isn't as much of a fan although the overall score for both rolls was the same. He said, "Fairly standard tasting sausage rolls - pastry a bit too flaky - pork was nice, though a little oniony, not a fan of the chicken. Custard in vanilla slice was too much like whipped cream, taste was good though."
Vanilla slice
We are divided about the vanilla slice. While I love the crisp pastry, I feel like the custard didn't have enough vanilla nor the icing enough passionfruit so it was mostly just sweet. But Belinda likes it, "Old skool. Love that you can get a frog cupcake here! Vanilla slice was beautimous."
Total score pork sausage roll: 33/50
Total score lamb sausage roll: 33/50
Vanilla slice average score: 28.5/50
Summer Hill Village Patisserie, Summer Hill
I have to confess something. I rang up and reserved a sausage roll here. In fact to make sure that we got sausage rolls at a lot of places we reserved them and nobody thought that it was strange or batted an eyelid in surprise. This is one of Belinda's favourite haunts whenever she needs to bring cakes into work meetings.
Pork sausage roll $3.60
We take the esky out in the town square by the fountain while a seagull cruises past us several times perhaps eyeing the potential spoils. This sausage roll is very much the sausage roll that you got at your school canteen as a child. It has finely minced pork sausage, onion and garlic with a solid sausage centre and thick pastry. And I'm smitten. I want the entire thing. I may have pushed the score up on this purely for the nostalgia factor.
Vanilla slice
We had high hopes for the vanilla slice but alas the pastry was soggy and the custard a tad gluey in texture. It's also hard to eat with the thick blanket of icing sugar on top. Viggo says, "Lacked flavour, pastry also too thick, and too much icing sugar, I looked like I had a coke habit after eating it." It's true, he really did plus he was all sugared up...
Total score pork sausage roll: 35.5/50
Vanilla slice total score: 25/50
Strawberry Fields Patisserie, Dulwich Hill
We take a seat outside Strawberry Fields Patisserie in Dulwich Hill and it isn't long before discussion turns serious. We've been cutting each sausage roll into five pieces which leaves two ends and three inside slices. I'm an inside slice person like I am with hot cross buns. I like the pieces right in the centre without any edges to them so that it is entirely soft and fluffy. This leads into a discussion about who is an end or centre person. Belinda and Viggo are end people while Louise and I are inside people with Mr NQN slightly leaning towards being a centre person.
Belinda explains, "I'm desperate for the end bit but I don't want to appear desperate because I'm a bit of a people pleaser so if I like the people about around me then I want them to be happy. But if I'm with a table with people I hate then I'm like b***h don't touch my end."
I ask her, "Would you cut a b***h for the end?" (okay I've been watching a lot of Orange Is The New Black).
"Yes," she answers seriously. She too has been watching OITNB.
Beef sausage roll $5
Which brings us to the sausage rolls here. They tell us that they've just come out of the oven which makes us very happy indeed. They're $5 which is interesting as we would have expected them to be more expensive at say Zumbo. I'm usually a bigger fan of pork than I am beef, especially in sausage rolls but I love the beef here with the yellow mustard seeds. The pork is also good with a generous amount of fennel seeds. Viggo is smitten, "This is what I'm talking about, excellent filling, superb pastry, just the right thickness. Loved both, just the way I remember from when I was a kid."
Pork sausage roll $5
Louise is similarly enamoured, "The mustard in the beef gave it a mustard and beef flavour... kind of roast beef roll. pastry crispy and not too thick," while Belinda, still on the subject of the ends says, "Mustard seeds a welcome addition definitely sets them apart. Loved the crispy ends."
Total score pork sausage roll: 43/50
Total score beef sausage roll: 41.75/50
Bourke Street Bakery, Marrickville
When we told friends about this challenge most of them mentioned the Bourke Street Bakery sausage roll - either the pork and fennel or the lamb and harissa one. It's that well known. So we feel like we have to try both as well as the vegetarian option. It's a good stop to refuel with drinks as well.
Pork and fennel sausage roll $4.80
The pork and fennel is a classic but I have to admit that that lamb and harissa is my favourite with the spices, almonds and sweet aspect to it. The eggplant, chickpea, feta and spinach is popular with Belinda (she is chickpea obsessed) but I'm not such a big fan but this is really because I had it after the stellar lamb sausage roll.
Lamb and harissa sausage roll $4.80
Viggo was a huge fan of their pies from the meat pie challenge and is similarly impressed by the sausage rolls saying, "Excellent pastry, crispy, yet hardly any crumbs - that lamb and harrisa is my favorite non-traditional roll so far." Even Mr NQN who doesn't like lamb says, "Some nice flavours in the lamb and vegetarian rolls." However he isn't as taken with the pear and vanilla iced tea saying that it "tastes like soap" (it's the Earl Grey tea).
Vegetarian sausage roll $4.80
Total score pork sausage roll: 39.25/50
Total score lamb sausage roll: 44/50
Total score vegetarian sausage roll: 39.75/50
Black Star Pastry, Rosebery
The crowds and queue at Black Star Pastry's biggest store are long and move rather slowly. Which gives you time to peek into the pastry cabinet and choose what you want. The chalkboard says "Sold out" next to the sausage roll but Louise patiently waits in the queue to ask them if there are any coming out. There is good news: they will be out of the oven in five minutes!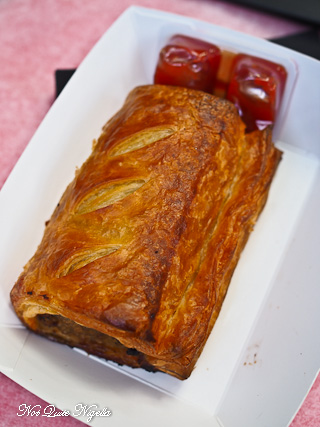 As there isn't any space in the cafe we take the sausage roll back to the car. It has a buttery puff pastry outer and cutting into it we see there is a colourful mix of vegetables. It actually reminds me of when I make healthy sausage rolls for Mr NQN where there are loads of vegetables. Louise says, "Lots of vegetables in the mix,can taste the celery, pastry was nice, but not that crisp."
While it was a very pretty sausage roll, alas the filling didn't get many fans. Viggo said, "Nice pastry, not a fan of overly oniony filling. Technically speaking it was quite good, but I don't really liked the flavour," while Mr NQN found that, "Looked sensational though the filling didn't do the outside justice." Belinda however loves the pastry rating it 10.
Total score pork sausage roll: 36.25/50
Lorraine's Patisserie, Wynyard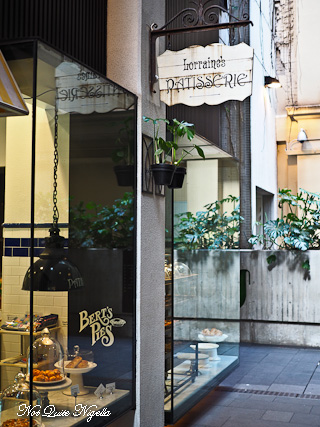 There's a bit of a hiccup as we find out that one place on the list doesn't make sausage rolls any more so we reroute our plans. We pick up a sausage roll from Lorraine's Patisserie near Wynyard but with nowhere to park we decide to pick up the next couple of sausage rolls from The Rocks and try them all at once when we can sit down.
Lorraine's Patisserie sells Bert's pies and sausage rolls. It's a good sausage roll although comparatively small in size. All round it's a good sausage roll with Louise saying, "Fresh and flavoursome, nice vegetables inside" and Viggo, "Tasty filling, good pastry." I thought that it might have too much of a carrot flavour as I could see that there was a lot in there but it wasn't and the fennel seeds sprinkled on top were a nice addition.
Total score pork sausage roll: 37.75/50
Baker's Oven, The Rocks
When Louise finds a park at the Rocks which is busy with the markets, there is a little struggle with parking. "We've got the sausage roll sweats!" says Belinda and it's true. While we were walking to La Renaissance, I suddenly remembered an old fashioned cake shop with slices and cakes in the window so we decided to stop by there and try a sausage roll and a vanilla slice. It's not cheap here with the total being $11.50 for a sausage roll and vanilla slice.
Pork sausage roll
Alas the sausage roll gets a resounding thumbs down from everyone. I can't eat more than my initial bite and it tastes of filler rather than meat. They did say that they aren't made on the premises and that they are bought in but most of this is binned.
Vanilla slice
But then there is the vanilla slice. And although it looks a little worse for wear, it's delicious. The passionfruit icing is fantastic as is the crisp pastry and creamy vanilla custard inside. It's my favourite vanilla slice of the day and like the sausage roll at Summer Hill, it's pure nostalgia - but nostalgia where the item tastes as good as you remember it and not a shadow of its former self, dulled my memories and surpassed by better since.
Viggo sums it up, "Vanilla slice great, worst sausage roll ever."
Total score pork sausage roll: 8/50
Vanilla slice total score: 25/50
La Renaissance, The Rocks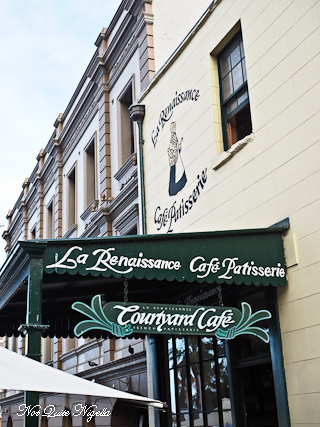 We're in our last stretch and there are two types of sausage rolls here. We had wanted to take these to the harbour but Mr NQN's knee hurts so we decide to sit down at their courtyard cafe. This causes a bit of a kerfuffle as we hadn't paid the eating in price which we were happy to do but wait staff continually remind us to do so.
The sausage rolls aren't bad. I prefer the pork, fennel and bacon over the pork and veal. Belinda says, "Lovely buttery pastry. Tasty innards" while the service issue does seem to have dampened comments. Mr NQN says, "Good food. waiter attitude...".
The vanilla slice or mille feuille is excellent with the custard rich and silky while the pastry is wonderfully crisp. It's a gorgeous French classic pastry done perfectly.
Total score pork, fennel and bacon sausage roll: 38/50
Total score pork and veal sausage roll: 36.5/50
Vanilla slice total score: 43/50
Pie Face, Kings Cross
We had intended to stop by The Butler in Potts Point for a sausage roll but at 4pm on a Saturday it was absolutely packed with people with not a single space to perch on and they don't do sausage rolls to take away. But as we were in possession of a four hour car park (a rarity in the area) we decided to look for a bar or somewhere to stop and rest our feet. Viggo suggested Pie Face because we had liked their pies in the meat pie challenge. And given how sore my feet were I was only too happy to stop and plonk my bottom on a stool.
Beef sausage roll $3.95
There are no pork sausage rolls, only beef and when we take the sausage rolls to the table the pastry looks very oily. Still we are surprised when we bite into them. The pastry is crispy and the fillings excellent. Lamb is not usually my first choice of meat but the lamb and rosemary was moreish (which is saying a lot considering how much we had eaten).
Lamb sausage roll $3.95
Belinda says, "Surprisingly good sausage roll. Loved the lamb and Rosemary version. Love the pastry as well. Can't beat the Kings Cross vibe." All of us comment on the oily pastry but Viggo adds, "Nice pastry, filling was a little more fatty, compared to the other places."
Total score beef sausage roll: 37/50
Total score lamb and rosemary sausage roll: 37.5/50
Wild Rover, Surry Hills
The Irish pub Wild Rover is our second last place and we sit down to some cocktails and allow our stomach a respite from sausage rolls while we cool our jets. We take a seat upstairs and order a round of cocktails, cider and beer. After an hour or so, we order the two sausage rolls on offer.
The lamb sausage roll is juicy and reminds me of a sausage roll that I might make at home. Mr NQN drolly points out the sign that says, "Home made sausage rolls." Viggo says, "Mmm, home made for real. The pastry was really good, crunchy and not too flaky. The meat was rich and flavoursome, and not too fatty, a joy to eat." Belinda says, "Tastes like your nan made the sausage rolls. Homely."
Total score lamb sausage roll: 33.75/50
Total score vegetable sausage roll: 33.5/50
Bennelong, Circular Quay
On a high we reach the final destination: Bennelong where the Cured and Cultured Bar serves up two comfort food classics alongside a bar menu designed to share. Belinda and I had previously tried the truffle cheese toastie and sausage roll but we just had to include this high end version.
Driving around the loop to the carpark at 8:30pm a woman tries to flag us down for a lift. I suspect she might be sausage roll drunk too. It's busy this Saturday evening at Bennelong and the Opera House and we take a seat at the bar and wait for a free table. It's usually advisable to book the bar as it is very popular.
An Evening with Butterworth $23
Not surprisingly we are all craving vegetables and salad and we order a celebratory round of drinks (mine is a dessert cocktail called An Evening With Butterworth) as well as lemony nuts and Mount Zero olives.
Raw Mooloolaba yellow fin tuna $28
We start with the tuna, slices of luscious, perfectly seasoned tuna that melt in the mouth. They're accompanied with the tiniest mushrooms, soy, pickled white radish and sesame oil. And as much as we love sausage rolls, it's so, so nice to have something of an entirely different texture across your tastebuds.
Roasted carrot salad $24
Louise spots the roasted carrot salad and we order that too. It's a simple sounding salad but done very well. With almonds, sherry caramel, feta, amaranth and roasted and pickled shaved carrots it has sweetness from the carrots and sherry caramel yet still a refreshing quality to it.
Holy Goat La Luna Salad $24
Again on the subject of salads, we order the goats cheese salad with a round of Holy Goat goat's cheese with broad beans, fennel, pickled apple and sea parsley. It's rich and fresh at the same time.
And of course we ordered a toastie. For more on that see this post.
And then the sausage roll arrives. Filled with suckling pig and made to order (it requires a 20 minute wait) it is served sliced up with black garlic aioli on top. Viggo is in raptures giving it 10 for the filling and 9 for the pastry, "The filling reminded me of frikadeller (Danish meatballs) - pork and just enough spices to tickle the tastebuds - a hint of 5 spice makes it perfect. The pastry was excellent."
Suckling pig sausage roll $24
Mr NQN says, "I'm torn, it was a good dish but not really a sausage roll dish." It's extraordinarily rich and definitely needs to be shared and I don't know if anyone could eat a whole thing. And yes I'm that person that wonders if a house made tomato sauce would be good on it to give it acidity and sweetness (but I didn't ask for any). Louise chimes in that the filling reminds her of rillettes more than the mince filling. Belinda adds, "Stunning way to finish our challenge. This is living."
Total score suckling pig sausage roll: 40.5/50
The night ends with us ordering a round of their spectacular desserts and Belinda playing the Joan Jett song, "I love rock and roll" on her phone while superimposing her own sausage roll lyrics. And when we get the bill we dissolve into fits of laughter as my cocktail is shortened to "An Evening With Butt". Honestly it should be illegal to have such a good time!
So tell me Dear Reader, what are your thoughts on sausage rolls? If you had to do a challenge on any one food what would you choose? And are you a end or middle person for sausage rolls? How about hot cross buns?
So what did our intrepid group think?
Belinda:
I remember sitting in the back seat of the car as kids singing along to Joan Jett's 'I love rock n roll' and adding our own verse "I love sausage rolls, two meat pies and a Prima baby!" Ahhh the 70's.
Another food adventure this time the good old Aussie sausage roll. My aversion to meat pies always steered me towards this school canteen staple topped with a squiggle of tomato sauce of course.
I have some definite preferences when it comes to the perfect sausage roll. I love firm meaty innards and buttery pastry with the ends being baked a little on the too far side, for the extra crunchiness.
My favourites of the day were the mustard seed filled version from Strawberry Fields with perfect crispy pastry ends. The lamb and harissa sausage roll from Bourke Street Bakery was amazing as always and a little bit fancy.
For orgasmic pastry though Black Star Pastry wins hands down with a perfect 10.
A perfect addition to the day was sampling vanilla slices. Calling us from behind the glass cake displays. A highlight was the offering from Bakers Oven with its fat pudgy guts spilling out over its pastry skirts. In the words of Honey Boo Boo's mama June "Beautimous!"
My heart though belongs to the delicious vanilla slice from La Renaissance Patisserie. Simply stunning. Will get back for that tasty morsel ASAP!
Lorraine:
A couple of years ago I bought a Bubble O' Bill because it was my favourite ice cream as a child (two desserts for the price of one, clearly I cared about value back then). And when I unwrapped him I was disappointed. I think he was missing an eye and his nose was in the wrong place but he also looked like a monster. Not only did he look nothing like he used to (hey we all age but ice creams should be exempt from mortals) but he tasted terrible. Did I only like it because I hadn't yet eaten the spectrum of food?
I was a bit worried that doing a challenge based on a childhood favourite would be like eating a whole lot of Bubble O' Bills. What I found was that nostalgia plays a huge part and food memory is just as strong as any other sort. When I bit into the sausage roll in Summer Hill I was suddenly in the playground savouring my sausage roll. Not even the persistent pest seagull could pierce the bubble I was in.
I will put my hand up right now and say that this was my idea of heaven and if anyone has ever wanted to replicate any of our food challenges, I'd really recommend starting with sausage rolls because it is easy, relatively cheap (excluding the last stop) and with a leisurely pace.
At the end of the challenge we wondered out loud whether we'd be doing this when we were in our 80's. We thought that we might be doing a modified food challenges consisting of just 1 or 2 stops in total with a long nap in between. But hey as long as we're still doing it, I'll be happy.
Louise:
Well we've come to the end of another epic food run and I'm exhausted but we made it.
My relationship with sausage rolls has always been a bit love and hate. I usually hate them, they are always the last thing I will pick, I would really prefer to go hungry and they love to give me heartburn.
In my minds eye I saw a day stretching away with place after place packed with long tubes of meat and sawdust wrapped in thick dry pastry and was feeling a little unmotivated...but boy was I surprised.
There was some absolutely amazing and some were the stuff of nightmares. I found that I like real sausage like meat with distinct meat and spices and a thin puff pastry surround. Lamb was a surprise and I'd definitely have those again.
Funny enough this is the first challenge that I've not hankered for the food afterwards but I did have its poor cousin the sausage sandwich at the medieval fair.
Mr NQN:
Growing up as a vegetarian the first meat I ate was a sausage roll and I liked it. Not because it had meat, rather I liked the flavours.
While I'm struggling to convince the group to do a challenge of my choosing (see the meat pie challenge story), at least this one was a food I do enjoy. Nice flavours wrapped in a thin pastry and easy to eat.
I discovered with this challenge that I'm really quite a fan of old school sausage rolls. The more modern takes are ok although when there is nothing wrong to start with, it makes it more challenging to improve.
As anticipated I didn't really rate many of the lamb rolls since it's not really a meat that I often enjoy.
This was the easiest challenge we've done. No food drunkenness, easy sharing and only small portions. I should mention that sharing vanilla slices is close to impossible (the insides go everywhere) though I wish more places had them.
Viggo:
Sausage rolls are delicious meat-based cylindrical concoctions encased in crispy pastry - a good sausage roll will have a well balanced flavour base, often made up of pork, fennel and various spices and herbs, the pastry will be crispy, but won't flake too much as you bite into the sausage roll, and it will have a good short-crust-like consistency.
On our adventure we encountered a few almost perfect examples, and a few examples that could best be described in basketball parlance as "air balls". The best traditional (pork) sausage roll was from Strawberry Fields, their pork and fennel was just excellent, with a perfect pastry.
The best sausage roll overall for me was the lamb roll from Bourke St. Bakery, the taste and texture of the meat was superb, and the pastry spot on. The highlight of the day was the finish at Bennelong - the sausage roll meat there reminded me of my mother's Frikadeller, and the garlic aioli really made it a superb dish. Some of the guys mentioned they wanted tomato sauce with it, but I think that would drown out the subtlety of the flavours that make the dish so great. Of course it is hard to compare a $24 dish to the $5-6 sausage rolls, but it really was a great interpretation on what is quintessentially Australian street food.
Adriano Zumbo Patissier
114 Terry St, Rozelle NSW 2039 (plus other locations)
Ph: +61 1800 858 611
Drummoyne Bakehouse Cafe
150 Lyons Rd, Drummoyne NSW 2047
Ph: +61 (02) 9719 1118
Summer Hill Village Patisserie
32 Lackey Street, Summer Hill NSW 2130 7am-5pm
Ph: +61 (02) 9798 6844
Strawberry Fields Patisserie
2/420 New Canterbury Rd, Dulwich Hill NSW 2203 8am-4pm
Ph: +61 (02) 8021 2294
Bourke Street Bakery
2 Mitchell St, Marrickville NSW 2204 7am-3pm
Ph: +61 (02) 9569 3225
Black Star Pastry
85/113 Dunning Ave, Rosebery NSW 2018 (plus other locations)
Ph: +61 (02) 9557 8656
Lorraine's Patisserie
Palings Lane, off 320 George St, Sydney NSW 2000 9am-5pm
Ph: +61 (02) 9254 8009
The Baker's Oven
121 George St, The Rocks NSW 2000
Ph: +61 (02) 9247 9978
La Renaissance
47 Argyle St, The Rocks NSW 2000
Ph: +61 (02) 9241 4878
Pie Face
82-94 Darlinghurst Rd, Potts Point NSW 2011
Ph: +61 (02) 9360 9461
The Wild Rover
75 Campbell St, Surry Hills NSW 2010 4pm-12pm
Ph: +61 (02) 9280 2235
Bennelong Cured & Cultured Bar
Sydney Opera House, Bennelong Point, Sydney NSW 2000
Ph: +61 9240 8000