Ahhh poke. It's the perfect summer food and it's no coincidence that our friends in Hawaii invented this wonderfully fresh dish. Cubes of sashimi grade fish are tossed with a delicious soy and sesame seed sauce with limu or ogo seaweed. These additions bring out the flavour of the fish and the luscious texture and yet it is surprisingly simple. But given its simple makeup, we found that the poke in Sydney varies wildly.
In Hawaii they serve poke differently than they do in Australia. If you're a seafood lover the sight of a poke selection is like stumbling along food nirvana. There can be a dozen pokes to choose from. It can also be elevated into a fine dining dish at some restaurants too.
The classic poke (prounounced poh-kay and never with an "é") is ahi poke or tuna poke. But there is also lobster poke, mussel poke, hamachi poke, king crab poke, prawn poke and abalone poke. Poke means chopped so the seafood is chopped into bite sized pieces. There are a range of sauces from spicy to tangy but it's generally simple fare with the fresh fish being the main star. Poke is also usually casual takeaway fare, for a light meal after a day at the beach.
In Australia the serving is padded out with salad, probably as a way of making it an all in one meal bowl but also probably to extend out the expensive ingredients. A poke bowl in Australia averages around $18 but a tub of the same size of poke fish is much more reasonably priced.
One of my favourite Hawaiian locals is blogger Melissa Chang who says, "Poke is traditionally served by itself. Over time, though, people here in Hawaii put it on salads and bowls of rice as well, so that diners can get it on the go or just served a different way. I think what you're seeing is an adaption of a trend that is going on around the United States. Poke, for some reason, doesn't taste the same anywhere else except in Hawaii! Everyone says that. It's probably due to the ingredients, especially the seaweed (limu or ogo) that we often use." She then adds, "It's not getting 100% positive response, though. I mean, I'm okay with the variations, when eaten here in Hawaii. I never eat poke anywhere else."
So there we were, six of us and we were blessed with perfect poke weather (if there is such a thing). It was an ideal 27C/80.6F day with a cool breeze. Mr NQN and I picked up JY aka the Black Widow and her boyfriend Ben and made our way over to our first stop in Manly to meet up with Louise and Viggo. "We brought our own water!" exclaimed JY patting her watermelon shaped cooler bag and Ben also studied up on poke before the challenge. Let the poke games began!
Showbox Coffee Roasters, Manly
Starting at a coffee roasters was no coincidence as you want to ease into a food challenge day. We arrive in Manly where Showbox Coffee Roasters has a large queue outside waiting for a table.
No matter, it's just a wait of five minutes before we take a seat. It's a very cute cafe with a mix of healthy and regular food. There is one poke bowl dish on the menu which we order along with drinks from a cold brew coffee to a raw cacao almond milk smoothie and a drinking vinegar.
The poke on offer is a colourful Venice Beach poke bowl with wasabi soy tuna sashimi cubes, wild rice salad, wakame, pickled ginger, avocado, egg and macadamia. We dig in and it's a fresh, tasty combination highlighted with ginger and the egg gives it a breakfasty feel.
However there isn't much tuna in this with everyone but one mentioning how they would have liked more fish. I only got two pieces of fish in my first forkful and what was left was a lot of salad. Still it was a well balanced bowl in terms of flavours if not poke. JY said, "Double the fish would be excellent, ginger kick was nice, always a fan of the avocado mash. Could definitely eat a whole bowl but would ask for extra fish. "
Tuna score: 6.83 Tuna sauce and salad score: 6.33 Average score: 6.58
Salmon & Bear, Zetland
It's a drive back across the bridge to visit Salmon and Bear where there are four types of poke available. Truthfully I had tried their salmon poke and I think I must have hit the kitchen on an off day because the rice was quite wet but we're excited to see a poke special of albacore tuna on salad with crunchy noodles.
We take a seat outside in the cool breeze and decide what to order before going inside to order and pay. We have chosen the salmon poke and the tuna special.
The salmon is made up of raw cubed salmon in a soy and sesame dressing served with corn salsa and avocado on coconut basmati rice. The rice isn't as wet like it was, but we're all not sure that basmati rice is right for a poke bowl (which spurs discussions later about rice types because we're all food nerds). Ben says, "Slightly bland, I love rice but didn't love this, very clean flavour though," while Louise felt, "We needed to squeeze the lemon on. Rice was nice but will pick noodles over rice."
This is the special poke which is seared albacore tuna cubes marinated in soy and sesame and topped with Sriracha mayo on a crispy noodle and red cabbage salad. This was a definite favourite and hopefully this becomes a permanent item because the crunch, flavour and variety is great. There is also a good amount of tuna poke on this too and the whole dish feels like much better value and more generous than the previous one. There is also a nice tingle of chilli in it too. JY says, "I love the albacore. Generous fish portions and the crunchy noodles gave a great texture! Lighter than with rice, had the feel of a Vietnamese salad."
"Let's bounce!" says Mr NQN. "I'm going to roll," says Viggo.
Tuna Fish score: 7.67 Tuna Sauce and salad score: 8.08 Average score: 7.88
Salmon Fish score: 6.67 Salmon Sauce and salad score: 6.33 Average score: 6.50
Love Poke, Coogee
We have high hopes for Love Poke. It is after all a poke specialist and the menu tells the story of the owners bringing their love of poke from Hawaii back to Australia. There is also a range of non poke Hawaiian items like kalua pork, huli huli chicken and shrimp truck shrimp with rice and in the dessert cabinet is a chocolate and haupia (coconut pudding) pie.
It's a lovely looking eatery and one staff member is very friendly and happy to explain things to us. We order three types of poke because we feel a bit spoilt for choice as well as a slice of the haupia and chocolate pie.
There are two sizes for poke bowls: a peckish (1 scoop) and a hungry one (2 scoops poke) and you get a side salad with the poke from a range of edamame, zucchini salad, coleslaw etc. The "Go Nuts" is ahi tuna with shoyu sauce topped with roasted macadamia nuts and toasted sesame seeds comes with black rice and we choose to have a seaweed salad with this. I'm not a huge fan of nuts in poke but it is the favourite mainly because people like seaweed salad which really dominates the flavour. The peckish bowl seems quite small for the price too and the tuna attracts a $2 supplement. It doesn't feel like great value compared to the others.
We asked for the three most popular pokes and two of these were white fish based. White fish can be much milder tasting and sometimes bland. The "Ono King" is made up kingfish, sesame oil, seaweed and sea salt and is paired with green beans. Ben says, "Tasty fish, but not very generous, sauce suited the fish but would have loved a little more flavour."
The "Coconut Delight" is cured white fish with coconut milk and citrus combined with seasonal vegetables. This reminds me of kokoda in Fiji without the chilli and onion. JY says, "I like raw rather than cooked fish in poke. I had one piece that was well seasoned and the other not so much! Also the coconut flavour didn't come through very well." The edamame beans in the shell don't really lend themselves to a poke bowl either as you can't toss the ingredients together and they're best eaten separately. And it was an almost unanimous comment from everyone that the black rice doesn't really fit the whole poke experience. And white fish for many is quite bland compared to tuna and salmon.
However there is a big thumbs up for the chocolate haupia pie!
Ahi Tuna Fish score: 7.17 Tuna Sauce and salad score: 7.50 Average score: 7.33
Ono King Fish score: 6.00 Ono King Sauce and salad score: 5.50 Average score: 5.75
Coconut Delight Fish score: 6.75 Coconut Delight Sauce and salad score: 6.17 Average score: 6.46
FishBowl, Surry Hills
Faced with the idea of trying to park at Bondi Beach on a sunny Summer's Saturday we headed instead to the newer branch of Fishbowl in Surry Hills. FishBowl allows people to build their own poke bowl or you can choose from their preset combinations which we decide to do. There's a large pink neon "sashimi" sign on one wall and they call themselves a sashimi bar.
We go with classic salmon (The OG) and tuna (Green Room) having discussed the our preferences of certain rice types and white fish with poke. Here there is a choice of rice: we choose the Japanese kombu rice along with glass noodles.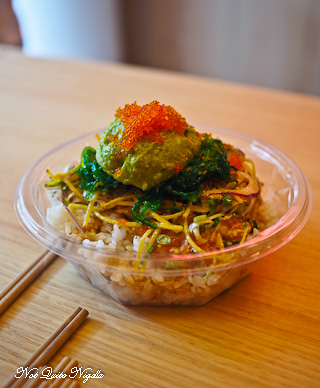 We start with the salmon and it's a great combination of flavours and textures. The Japanese rice is perfect for a poke bowl as it soaks up flavours and is easy to pick up with a bit of the rest of the bowl. Looking back on the receipt I'm not sure why we were charged 50 cents for the seaweed salad as that comes with it. Nevertheless it is a tasty bowl and I'm a fan as I love sesame, avocado and tobiko (flying fish roe) although Viggo isn't as much of a fan saying, "Fish was very roughly cut, sizes were inconsistent" and Mr NQN saying, "OK but not exciting."
The tuna Green Room poke is tuna, coriander, cucumber, tobiko, wasabi peas and wasabi ponzu dressing on glass noodles. This is a salad for when the weather gets very hot and more evokes other Asian cuisines with glass noodles salads. Still it is a hit and there is a nice crunch from tobiko and sesame seeds.
Salmon Fish score: 7.42 Salmon Sauce and salad score: 7.67 Average score: 7.54
Tuna Fish score: 7.75 Tuna Sauce and salad score: 8.08 Average score: 7.92
Sake Jnr, Sydney CBD
We head back into the city to try Sake Jnr which is located in the Westfields Sydney food court. It's a casual takeaway version of the restaurant Sake. Although not strictly a poke place they do have sashimi grade salmon and tuna and you can make up your own poke bowls. So I guess the combinations are our fault if we don't like them!
There are five choices to make for each bowl that you order. Start with a base then choose protein, vegetables, sauce, garnish and toppings. But all of it is spread out in front of you to choose from visually. And the man behind the counter is really lovely letting us choose lots of things although most of the vegetables are really more suited to the other non raw proteins as they're hot, cooked vegetables. And when we enquire about the iced teas he gives us samples (the passionfruit green tea is delicious).
The oddness of the salmon bowl is probably from our choosing. We chose bao buns as our base which are sort of interesting but really not the best idea as seen in comments from me, Ben, JY and Louise. Our vegetable is charred corn and a Japanese salad dressing designed for the salmon chirashi as well as pickled ginger and scallions. Mr NQN likes it saying, "Quite liked this one. Nicely balanced."
The pther base we chose is said to be udon rice noodle sticks which is strange and confusing because udon is not a rice noodle, it's a wheat based noodle. In fact it isn't udon at all but Korean Tteokbokki which I feel they should be clearer on. Still it makes for a filling, chewy base for the tuna bowl and our addition of shelled edamame, ginger and spring onion. Louise says, "Flavours were not as distinct as at other places, not such a fan of the Korean rice cake, I suppose I feel with raw fish it should be a cool side such as cold rice or noodles" while Mr NQN said, "Unique additions which was good to see". JY and Ben loved the Tteokbokki and peeled edamame.
By now we have two places to go and the talk in the car becomes slightly strange. Around 4pm at every challenge we start to go a bit loopy and turn into toddlers crying for a nap or a rest. And talk turns to fetishising other foods. "I want a burger," I say with a guttural moan. "I want something fried," says JY "Or pizza!" "Pizza..." we say excitedly.
Tuna Fish score: 7.08 Tuna Sauce and salad score: 7.33 Average score: 7.21
Salmon Fish score: 7.67 Salmon Sauce and salad score: 6.42 Average score: 7.04
Kobe Jones, King Street Wharf
None of us have been to Kobe Jones in years. It was the restaurant to go to when it first opened over a decade ago and it's still standing with pretty much the same menu as then too. The crowd here is mainly made up of tourists especially at this hour.
It's also cocktail hour so cocktails are ordered while all the talk of other food has JY and I hankering for food over cocktails (crazy I know!). We order cocktails, some crab croquettes, the number 1 special and the seafood poke which at $32 is the most expensive poke of the day.
When it comes out in a small glass our eyes widen. Mostly made up of seaweed the fish is distinctly fishy in aroma whereas none of the sashimi salmon has been in any of the other places. Viggo finds salmon bone in his and won't eat more than a bite quipping, "This was a really Hokey poke."
Louise who doesn't eat a lot of fish isn't a fan too because she dislikes the fishy aroma of cooked fish saying, " I'm struggling as I don't like fishy fish, I wouldn't go back for this.". Girlfriend and boyfriend JY and Ben had similar comments that the fish wasn't great as well as commenting on the tiny portion size. To me it felt like cubed fish mixed with inexpensive seaweed salad without a lot of effort to make a good poke. It did provide a bit of comic relief though. Although for $32 it was a costly one.
Salmon Fish score: 4.25 Salmon Sauce and salad score: 4.92 Average score: 4.58
Sokyo, Pyrmont
We decide to make the 15 minute walk to Pyrmont from King Street Wharf which will hopefully invigorate out appetite- not that this challenge has been a difficult one at all. In fact we feel eager and raring to go still which is nice.
We arrive a little early for our booking at the upmarket Japanese restaurant Sokyo so we relax in the foyer of The Darling hotel until they call us. There is one poke dish here which we order along with a range of goodies from venison tataki to bbq wagyu sushi, crispy rice and salmon belly nigiri.
At a price of $22 we do a double take especially after the tiny $32 poke salad at Kobe Jones. "Wow that's reasonable," I say especially since the poke dishes were around that price at takeaway places or cafes. Sokyo's poke has cubes of salmon, tuna and kingfish and it comes with a wonderful spicy poke sauce. This is Hawaiian poke served like Hawaiian poke with just the fish and no salad adornments. The scores are high for this and we are relieved that we finally found a taste of Hawaii in Sydney!
We share some other plates, mostly things that don't resemble fish or rice or salad and then share a dessert remarking about how we could still eat with this challenge and that we don't feel weighed down or full. This was definitely the easiest challenge to date with a clear favourite!
Salmon Fish score: 9.00 Salmon Sauce and salad score: 8.50 Average score: 8.75
So tell me Dear Reader, have you tried poke? Do you think you would like it? And do you and your friends discuss food at length?
Hearing From Our Pokers:
Ben:
"I had never had a poke before so what better than by tasting twelve over seven venues in one day. Not as great was doing the challenge in the first week of my post-Christmas diet. It was fitting to start at Showbox Coffee for a breakfast poke. Hats off for the egg but where was the fish? Great wild rice salad, but was it actually a poke? Next was Salmon and Bear and the biggest surprise of the lot. Sweet, sour, spicy, texture - the tuna had it all and was my runner up for the day.
Our third venue was Love Poke, the only official poke joint so my expectations were high. Being greeted with an 'Aloha' walking in was great but it was sadly downhill from there. The poke was a big disappointment in a bowl guest starring whole unpeeled edamame. Fishbowl in Surry Hills was the next surprise hit and I loved the great flavour/texture combo of seaweed, wasabi, noodles and sesame. Sake Junior coincided with the classic NQN challenge 4:30pm calorie crash so I didn't remember much of what I ate except that it was the most interesting of the lot.
The penultimate restaurant was Kobe Jones and it gets a 10/10 for both nostalgia and comic relief. Their poke was a $32 masterpiece of discount seaweed and salmon offcuts served in tiny shot glass accompanied by the Chinese cusses of the head chef in the distance.
We ended at Sokyo and it was amazing. Their poke (technically a sashimi salad but who cares when it's this good) was wonderfully flavourful with tomatos and cucumber and perfect salmon. The best compliment I can give it is that I wanted the Gojima burger next door before that poke but I didn't need one after.
My first overall observation about the challenge was that poke has also seemed to fall for the Sydney food-scene curse of over-engineering dishes. Poke, from what I understand, is meant to be only fish in sauce. Sydney's chefs disagreed. Sometimes it worked, like Salmon and Bear's use of crunchy noodle or Sake Jnr's heroic doppoki option but just as often a letdown, like Sake Jnr's villainous bao bun option and Love Poke's black rice.
My second observation was that after all that fish and rice I think I'll sign myself up for the fruit salad challenge that Mr NQN has been advocating for.
JY:
Before going on the poke challenge, I had only ever tried one poke - the Salmon and Bear poke bowl with salmon, corn salsa and avocado on coconut basmati rice. Reminding me somewhat of one of my other fav dishes, hwedupbap, I figured I was a fan and this led to my belief that poke was actually always served bowl style, and wasn't a reference to the actual fish itself until NQN informed me otherwise on the morning of our challenge!
So this was good to know before we began our visit of 6 places in a day. The experiences for me ranged from delightful service but unfortunately not the most lively of fish or portion sizes (Love Poke) - which I attribute to Love Poke being the only venue to serve pre-mixed poke, to an odd nightclub feel and awkward veiny fish offcuts at Kobe Jones (although the No 1 is still as good as it was 10 years ago), and some class acts at Salmon and Bear with its new seared albacore tuna on crunchy noodles, Fish Bowl in Surry Hills with fresh juicy salmon and a fun noodle base, and of course Sokyo which can do no wrong in the context of fish.
The conundrum of choosing a base was also crucial - we saw a range from black rice, crunchy wheat noodles, soft noodles, coconut basmati rice, bao buns, ddokboki and kombu rice. For a base, my personal favourites were the crunchy wheat noodles (the contrasting texture kills it), and the kombu rice (so damn fluffy!!).
Ultimately, these would be my top picks: Salmon and Bear's seared albacore poke (I'm previously a huge fan of their salmon burger and fries), and Fish Bowl (would love to try their other combos as all of the options to mix into the bowl looked super fresh).
Lorraine:
It's amazing that it has taken so long for poke to really make it in Australia. People love sashimi and it's just another step further but I'm really glad that we are seeing more poke places.
I kind of feel that something as simple and delicious as poke should be easy to do. But the reality is that the poke varied enormously. I love Hawaiian style poke, just the fish and none of the other distractions but I understand it is our adaption of it in Australia to put it in a bowl and you can get some great salad poke bowls like the albacore tuna at Salmon and Bear which is summer on a plates.
But overall some places were disappointing. Meagre servings, smelly fish and just not the real deal. Perhaps that happens whenever a new food is introduced to a country and you end up with some not so great versions and then eventually more get up to speed. I was very relieved when we ended up with a great poke and that was Sokyo's salad which was just like what you would get in Hawaii.
We felt great after this challenge. There weren't any meat sweats or delirium (haha I'm really selling the idea of a challenge aren't I?) but as always it's lots of fun eating with food loving friends who will chat about the merits of certain types of rice and the best type of fish in a poke.
Louise:
Communication has been a bit funny between Viggo and I lately. I suppose after, gosh knows how many years together, we both think that the other knows what's going on and what we are thinking, so...Viggo had let me know we were have Poke dinner with Mr NQN and Lorraine, I assumed (yeah yeah I know) that it was going to be one meal till he emailed me the list the night before which came as a surprise as I didn't know that it was a challenge or that there was so many places to eat raw fish that's not sushi.
As usual, the first meal was one of the best, beautifully cut fish, nicely seasoned and complimentary sides, I would have been happy to just have the whole bowl for breakfast. Viggo, the Scandi, likes his toast and cereal where I'm happy to have noodles or rice anything that isn't cereal but on this occasion he was happy to have it too, which is great because it's just down the road.
I thought Poke was more like ceviche, where the fish is cooked in an acid such as lemon or lime juice, but it's not, it's in a sauce which gives it a more subtle flavour, but the fish needs to be super fresh. If not, you will know and I was surprised that we came out of one restaurant without being ill later.
The best Poke had something of crunch, like nuts, to offset the soft texture of the fish, rice and sides and were subtle and well balanced, the others were just tired, over marinaded, or flavourless. And please, if you're going to supply edamame please shell them, it's messy and not all the pleasant in your Poke.
Mr NQN:
I remember on our trip to Hawaii a couple of years ago how Lorraine was adamant we had to go to a little shop on Kauai which apparently did the best Poke - something I'd never heard of. Long story short, it was well worth the visit and we gorged ourselves on delicious Poke for next to nothing.
I haven't really heard much about Poke here though apparently it is gaining a foothold and so off we went to see what we could find. Sadly, they were nothing like the Poke we had in Hawaii - there was one exception which was our final stop. Nearly all of the Poke places we tried here had decided that they'd put a bit of fish in amongst a ton of other stuff (rice, salad etc.). Some of them were actually nice though not what I was expecting and I found that I'd get side-tracked by the additions.
The standout for me was absolutely the final place we tried - Sokyo. None of trying to hide things amongst salad, just excellent fish with a good Poke sauce.
I should mention that this was a rather easy challenge from an eating perspective. A small number of locations combined with healthy, fresh (mostly) food with smallish serving sizes made the eating side of things easy.
Viggo:
I'd never had Poke before, so it's not something I'd typically look to order, and after completing this challenge, I came away with mixed feelings. The day started well, with a very nice Poke bowl at Showbox in Manly - the flavours were well balanced, with a good amount of seasoning that brought out the best of all the ingredients.
As we visited many more places, we experienced quite a varied selection of Poke bowls, (the one at Sake Jr was interesting, with Bao), however the quality and flavours also varied greatly - some had issues with the seasoning - making the taste quite bland, and others had issues with the amount and quality of the fish.
Despite the varying quality of Poke, the day was still great fun and enjoyable, as we had great company. Overall, I might consider trying Poke again, though it may not be my first choice - based on where we experienced below par quality Poke, I think I'll find it hard to predict where the good ones are.