Looking for Sydney's best pork ribs? How about a day spent eating ribs at 10 rib places all over Sydney? That was the challenge set to my intrepid group of friends. Strap on your bibs and get your wet wipes out. It's going to get messy in here as we sample Sydney's sauciest pork ribs!
It was the perfect Saturday for a pork rib challenge and all I could think about was enormous racks of juicy pork ribs. The weather was cooler than the previous day that had everyone bleating about summer (myself included). On the menu for us would be a whole rack of pork ribs at every stop plus whatever side they came with.
Because this pork rib challenge was the most expensive one to date (we've done everything from bahn mi to pizza) Belinda suggested that we all pool in some money to a kitty and she would act at treasurer and pay all the bills. It ended up costing around $150 a person for a whole day's worth of eating (around 12 hours) and that included drinks and cocktails at some places.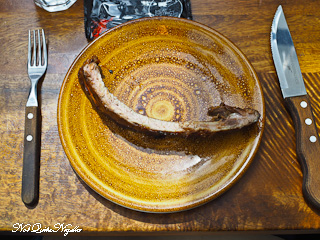 Like the Schnitzel challenge we worried about taking up space in busy restaurants so we explained what we were doing giving them the opportunity to give the table to someone else. All but one place wasn't that busy especially at the times that we visited so this wasn't an issue but we made sure to eat quickly and go. Most places were very curious to see what we thought of the challenge and how they had gone amongst the others and what the other ribs were like.
What makes this an easy challenge to do (if you are thinking of your own) is that most restaurants are open all day which means that it is easy to do a challenge of your own! And what ended up being a surprise was how everyone felt at the end of the challenge (I won't spoil the surprise).
I have to note that this is probably the only food challenge that Mr NQN hasn't been able to gristle over. Even though he has been asking us to do a fruit salad challenge (yet none of us want to do one except for Viggo), he also adores pork ribs.
So without further ado allow me to present you with the list of 10 of Sydney's best pork rib restaurants in order of visiting!
1. Manly Grill, Manly
Our first stop is at Manly Grill on South Steyne in Manly. While everyone around us is tucking into delicious smelling breakfasts, bacon, pancakes and maple syrup we are ordering ribs. Yes Dear Reader, if you get a hankering for ribs at 10:00am you can make your way to Manly Grill. When we explain our mission, they are very curious and ask for the details on where they can read up. You've got to love the friendly laid back vibe of the Northern Beaches.
Our ribs come out saucy and sweet. It's an enormous rack of glistening ribs and the dark sauce is basted thickly all over it. Some take the knife and fork to them while others use their hands and there are wet wipes provided too.
We always seem to start challenges on a very solid offering and this is no exception. Louise says, "the sauce is more Asian Peking/sweet and sour than smokey BBQ" which is true, it's a sweet, sticky sauce with a good meaty rib. Viggo prefers his ribs smokey but he still enjoys these as does Mr NQN and the rest of us.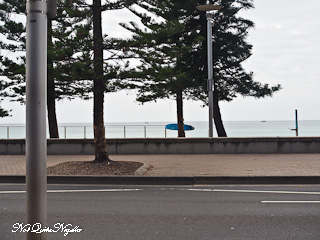 We dip a super crunchy and golden French fry into the sauce. "Ribs and coffee for breakfast. I'm living the life," says Belinda.
Wet Wipe Rating: 7.1 out of 10.
Sauce: 6.7 Meat 7.6 Sides 7
2. Barbuto, Narrabeen
Louise and Viggo are in their car and Belinda, Mr NQN and I are in ours and we are on our way to our second stop of the day. It's just over 20 minute's drive to Barbuto in Narrabeen. It's still early, around 11:45am and we are still tempted with cocktails or at least the illusion of one with a mocktail. At Barbuto they're also curious about our challenge and chat to us about the ribs as one waiter is from the U.S.
We have figured out by now to order the ribs straight away because our itinerary is tight. A lot of places have rib combos but we want to focus on pork ribs. You can order two sizes: 650 grams or 1 kg. We have no idea what is a full rack of ribs so we order the 1 kilo.
They bring us the wet wipes that you cover with water and they swell up. Belinda jokes that they are mints and offers one to everyone. On a dare she pops one into her mouth and drinks some water. "You can't take me anywhere," she says.
It turns out that these are baby back ribs as opposed to full sized pork ribs and we end up with two racks of these. These come with a side of coleslaw and fries. The meat on baby back ribs is different, it's very soft but not mushy and the sauce is smokey with a hint of spicy.
Belinda loves the smokiness of the meat while Viggo finds "sauce was not too sweet, though a little "thinner" than I'd expect." While I love baby back ribs, it is a matter of personal preference and Mr NQN prefers the bigger ribs. I like the slaw too, it's not too heavy in dressing (not that I don't love mayo) but given how rich the ribs are, it's nice to have something crunchy and light.
Wet Wipe Rating: 7.46 out of 10.
Sauce: 7.8 Meat 7.6 Sides 7
3. Meat District Co., King Street Wharf
It's a 45 minute drive across Sydney as google maps takes us to Chatswood to avoid Saturday traffic and we arrive at Darling Harbour's King Street Wharf for our first of three Darling Harbour stops.
The Meat District Company is a two level restaurant with a sun dappled area for eating facing the water. Belinda orders a ginger margarita with pieces of vanilla bean and it's pretty fab. The theme here is meat cleavers and people seem to be ordering a lot of burgers and hot dogs. Service is fine if a little inattentive. An additional set of cutlery and plates doesn't arrive.
The ribs arrive and we all agree that they aren't as soft as the other two that we tried. They're firmer and chewier. I also felt that the baste didn't penetrate the meat as much, perhaps less marinating time but if you love the flavour of pork over sauce these might be for you. Louise said, "Ribs needed longer cooking as they were a little tough and the flavor didn't come through clearly. It was a little bland. Chips were good. But not enough sauce to dip into the baste on top." Belinda liked the smokiness of the sauce but felt that "Meat was dry not fall away tender," while Scandi twins Viggo and Mr NQN deemed them quite dry and bony.
"Look at that table, look at all the meat they left on that one bone!" says a woman from another table staring at the single bone that we've left. If only she knew how much we had eaten!
Wet Wipe Rating: 5.6 out of 10.
Sauce: 6.7 Meat 5.8 Sides 4.3
4. I'm Angus, Cockle Bay Wharf
I'm Angus is part of the Nick's seafood restaurant chain and it's a very large restaurant on Cockle Bay Wharf. Now these ribs divided people by gender. Belinda and I hadn't had a great experience at Nick's but that was many, many years ago so we didn't know what they would be like. But they end up being some of our favourite ribs.
What I liked was in this rack of ribs was that there were so many different pieces or types of meat. There were "burnt ends" which reminded Belinda and I of our time in Texas and there was white bone, regular ribs, a bit of everything. For Belinda, they were, "Succulent meat great smoky flavour. A nice surprise."
Louise also liked them describing them as "Tender fall of bone ribs with lots of sauce smeared on top not all over, slight five spice flavour, slightly smokey. Small bones lots of meat." But for Viggo and Mr NQN they didn't like the meat itself and the overall score was evened out by the contrast of scores of the girls vs boys. The sauce is a tequila barbecue based sauce which prompts Belinda and I to make plans to marinate ribs in tequila and have a Mexican night.
Wet Wipe Rating: 6.9 out of 10.
Sauce: 7.4 Meat 7.1 Sides 6.2
5. Hurricane's, Darling Harbour
No mention of ribs in Sydney can really pass without mentioning Hurricane's. The South African chain is what most people think of when they think of pork ribs in Sydney.
The Darling Harbour restaurant is a very simple looking restaurant, not fancy by any means and there is a strict 90 minute limit for eating in case you get mesmerized by the harbour view. Belinda, Viggo and I go to the nearby candy store where Belinda buys Mr NQN some "Fruit Salad" lollies. "Here's your fruit salad," she says sliding across four lollies.
I take the appearance of the Purple Rain cocktail as a sign (I LOVE PRINCE!) and order one of these. It looks perfectly the part but it's very, very sweet and flavoured with Violette syrup.
What Hurricane's does is very saucy ribs. The fries are soft (sad face)and the ribs have a very tangy and very secret sauce. Viggo is a fan saying, "Lovely baste, meat was tender, if slightly dry". Louise said, "Chips felt like they were made a while ago and were sitting in a bay to be dished out, ribs a little tough and bland, plenty of sauce to go around, all sides coated." Belinda served these to ultimate sledge "These are basic ribs." We have enjoyed Hurricane's ribs in the past so maybe it was an off day.
They will place the bibs on you if you want (I'd recommend it after dropping a rib on my lap and then the floor the last time we ate here-oops!).
Wet Wipe Rating: 6.3 out of 10.
Sauce: 7.4 Meat 6.6 Sides 5
6. Meat & Wine Company, Circular Quay
We always try and end off our challenges on a fancy or high end note. And I'll be honest I had no idea what the Meat & Wine Company was such a gorgeous place because as soon as I walk in I wish we had finished it here. The atmosphere is straight from a Dallas steakhouse like Nick and Sam's. It's a different world from the other rib places that we've visited.
We are given the option of cloth bibs which I take up as I'm wearing one of my favourite dresses. The prices despite the lovely atmosphere are very reasonable. They bring our finger bowls which is a change from the wet wipes and we settle into our comfortable leather booth wishing that this was our last stop.
The pork ribs here end up getting high marks all round and comments like, "Really nice smokey sauce not overpowering, sauce on all sides. Crisp fluffy chips. Great atmosphere and service," from Louise. It's also the only place that gets scores of 9. Belinda describes them as, "The Lady Gaga of ribs." The ribs are great but you know what is also great? Really good service, a nice atmosphere and a comfortable leather booth to sink into.
Wet Wipe Rating: 8.36 out of 10.
Sauce: 8.6 Meat 8.6 Sides 7.9
We are headed East next. "I need to take my underwear off," moans Belinda from the back seat. I don't have the heart to tell anyone that I felt full after the second place!
Around 4-5pm on every one of these challenges, we need a little break so we stop by Ciccone and Sons for some gelato.
7. Ribs & Burgers, Zetland
Up until now most of the ribs had been around the $59 mark. But at Ribs & Burgers in Zetland it's a different proposition. You order and pay at the counter and take a number.
There are no wet wipes, rather there is a sink and liquid soap to use. Ribs are much cheaper here too and they are doing a lot of takeaway orders and home delivery it seems. There are three types of pork ribs: pork riblets, pork St Louis and baby racks and we go for the last option for consistency.
I wasn't such a fan of the sauce but the fries were very crunchy and moreish. The sauce wasn't everyone's favourite with it scoring much lower than the meat itself which was quite tender. The colelsaw is good to provide a bit of a contrast (this was extra but we figured that the ribs were inexpensive). Mr NQN said, "Loved the coleslaw. sauce wasn't great though happy with the ribs."
There's a guy next to us watching a movie on his phone with earphone and enjoying a whole rack of ribs to himself. "Living the dream," I think to myself.
Wet Wipe Rating: 5.83 out of 10.
Sauce: 4.6 Meat 6.3 Sides 6.6
8. Kelly's Bondi Junction
I have to admit that I've never really been to Westfields Bondi Junction at night except for late night shopping so I had no idea that it was such a popular place to dine. The nearby proximity to the movies means that it is teeming with people this Saturday night. And Kelly's is busy. Belinda and I look at each other and she says, "This might be a problem" (getting a table).
But after we explain our rib challenge the woman says, "Oh you just want to order ribs? No problems!" and she passes this info onto our friendly waiter who asks us about our challenge. He asks if we would like some of their complimentary bread. By this stage I'm salivating at anything that doesn't look like a rib and it arrives, soft and warm with a square of butter. I bite into it gratefully and go for three pieces.
The ribs come on a bed of crispy onions with golden fries-I love the crispy onions I have to say. The ribs are good, safe numbers. There isn't a lot of sauce on these compared to some others, this is more a baste on top. Most enjoyed this as a good, decent rib offering. Viggo says, "Good meat, sauce was nicely balanced, though I prefer it slightly more smoky," while Mr NQN said, "I quite enjoyed this. A good balance". The garlic sauce is a bit unusual, not what we were expecting although I can't help but dip everything in this. And Louise loves the surprise view of the harbour from up this high, "Great view can I come for New Years Eve."
Wet Wipe Rating: 7.3 out of 10.
Sauce: 7.2 Meat 7.4 Sides 7.3
9. Trinity Bar, Surry Hills
Belinda is threatening to cut the elastic from her underwear, "Only two more stops!" I remind her. Our second last stop is at Trinity Bar in Surry Hills. Downstairs is busy but they are accommodating and friendly and we go upstairs.
We're all thirsty so sparkling waters are ordered and we wait for our ribs to arrive. Everyone is having trouble finding parking-Mr NQN dropped me and Belinda off and he still isn't here after the ribs have arrived and his phone is dead. "I think I've lost my husband," I say and I'm picturing him curled up asleep on the back seat of our car dreaming of ribs. He had woken up at 5am for a cycling race that morning and had warned us of his impending nap.
The ribs are two racks of baby back ribs with a baked potato and Asian slaw. The slaw has no dressing at all which is perhaps just an error as it is very dry but we all love the baked potato with sour cream. The ribs with a sprinkling of chives on top has the spiciest sauce that we've come across and we like the fact that it was very well priced and a complete meal. The sauce has the aroma of liquid smoke and the meat is quite firm on the bone. Viggo finds the meat slightly overcooked and that does make the meat a bit tougher. And when I get back from the bathroom I find Mr NQN sitting down and hoeing into the ribs.
Wet Wipe Rating: 6.43 out of 10.
Sauce: 7 Meat 6 Sides 6.3
10. Pancakes at the Rocks, Circular Quay
It's our last stop of the evening at Pancakes At The Rocks. We left it til last as they are open 24 hours and we weren't sure how we would go for timing. Before we started the challenge Belinda had said, "I hope we're eating ribs at 2am."
"There's no queue!" we exclaim recalling decades ago when we had visited as teens. Do they even still queue here? It's one of those slightly odd places, we are a bit amazed that it is still open after all these years and tonight there's a bride and groom at one table which causes us to do a double take. We have so many questions for them!
There's no wait as we slide into a booth. The lights are bright here, so bright we're squinting which prompts me to put on some sunglasses and Louise to sing "I wear my sunglasses at night." We are high on porky goodness so the surrealness of the lighting and the fact that we feel like we're in a police interrogation room on a tv show adds to our confusion.
"I need to eat something apart from ribs," I say. Because I made out with that baked potato like it was Joel Kinnaman. I think I just needed something different.
We order the ribs and some crepes. "I looove crepes," I say salivating over the picture and stroking it.
The ribs arrive with a (dressed) salad and curly wedges. Louise sums it up with a "There's a reason why it's called Pancakes at the Rocks and not ribs at the rocks....but the crepes were not a hit either." Viggo adds, "Quite disappointed in the pancakes, they were dry and uninspiring. Rib sauce was tasty but lacking in quantity." Mr NQN was a bit more positive, "Ribs had good smokey though lacking much sauce. Enjoyed the curly chips."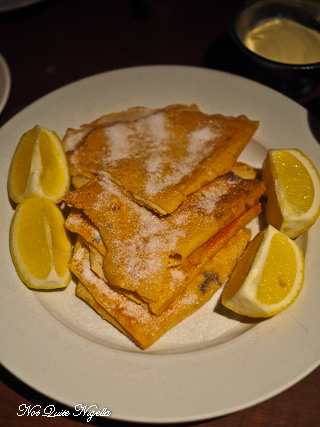 And as for the crepes, they get a thumbs down. They're missing the tender quality of fresh crepes. The cream cheese ultimate crepe is better than the Lemontyne ones and has a retro appeal to it.
And Belinda leaves with some advice for the mood setters of Pancakes, "Don't take an ugly date here the monstrous lighting is the thing of nightmares." We check the time, it's 10:43pm and it has been 12 hours of rib eating goodness!
Wet Wipe Rating: 4.76 out of 10. Sauce: 4.9 Meat 5.6 Sides 5.8 Crepes 3.8
The Meaty Aftermath
Belinda
I usually don't like gnawing meat off bones, it's always been one of my 'issues'. I was willing of course to put this quirk of mine to the side for our rib challenge. Eating ribs with a knife and fork is doable right?
Starting the day off by having a breakfast of ribs and fries is my idea of heaven. The offering from Manly Grill was a great version to kick us off. The sauce had a sweeter Asian inspired flavour that was a good foil for the porkiness of the meat.
My favourite ribs were surprisingly from I'm Angus. I usually avoid Darling Harbour however would be keen to go back as these ribs were tender, smoky and I kept going back to dip the crunchy steak chips in the sauce.
I also was a fan of Barbuto's baby back ribs with a delicious smoky fall off the bone texture. Great setting as well coming up to Summer and friendly service.
If you're looking for a date night to impress your significant other you can't go past the rockstar version of this simple fare at 'The Meat and Wine Co". I gave these ribs the moniker "Lady Gaga". Rich and Flashy!
My least favourite was the version from Ribs and Burgers. This seemed a salty bland version that was not too my taste. I did like their version of coleslaw with crispy onions though.
Louise
Half way through the challenges, you usually find me sitting in my car wondering how I'm going to survive the next half of the venues. Usually all I can smell is the chosen food, I'm feeling coated with sauce or filling and I'm feeling sort of well, under the weather. Funny enough this time I'm not, no meat sweats, no drunkenness (food drunk not alcohol drunk) no dragging of my feet and the day if flying past.
On this day I woke up and I'd forgotten that i was going on the challenge, until i got to the kitchen for breakfast and Viggo said, "Are you ready to go? We're meeting NQN and Mr NQN just down the road."
This time there was no need to pack the usual kit of knife, wet wipes and board as were off to have ribs and with hope, most will just fall off the bone.
There is a great range of places from your family to the more up market restaurants but the thing is ribs are expensive, by far the most costly challenge we've done.
Ive always liked ribs, if they are on the menu they are usually the choice for the night, Viggo on the other hand is a steak person so has probably different priorities to me. I like my ribs melty, not too smokey and well sauced but not overly sauced. I don't want ribs that are roasted/baked with someone just smearing the sauce over the top at the last moment, please give it some time to marinade through.
I found most places the ribs were good, I'd go back, the main difference being the sauces. There are a couple that I wouldn't go back to where the meat wasn't cooked long enough or the sauce just didn't taste right. The sides are the usual chips most of the time, some were just well um how do I say this politely, not so good but then again the focus is ribs. My highlight was to find some really good places that are not to far from me, ill definitely be going back.
My low light, there is a bit of salt, not only in the sauces but obviously the chips, I ended up drinking heaps of water to counter act this.
Lorraine
Every time I do one of these challenges I think I should pare back the list because it is always too long but then...Perhaps I'll remember for next time. Probably not.
What surprised me after this challenge was two things: ribs vary enormously from place to place from the type of rib to the sauce and smoke level. Generally in Australia we tend to like our ribs saucy. But there are ribs to suit every taste. I like really soft ribs that fall off the bone easily and I like to eat them with my hands (although your hands do tend to smell afterwards).
The other thing that surprised me was that we didn't feel seedy after the challenge. Usually we feel a bit food hungover at the end of the night but we both slept like babies that night and didn't wake up parched as sometimes happens with these challenges.
Mr NQN
I found doing a ribs challenge to be a lot easier than many other challenges. Firstly, it is a lot of ribs, though if you're just having a rib or two at each place then it isn't as crazy as it sounds. Secondly, I thought most of the restaurants would be less than pleased at us for just ordering a rack of ribs. Every restaurant was cool with what we were doing. I think ordering drinks also helped.
While driving to our starting location Belinda and Lorraine were discussing how eating fruit was a punishment and they'd never want to do a fruit salad challenge. I think I may have figured out why. Belinda bought me some fruit salad lollies near one of our stops. They were revolting. I could not discern any fruit in the fruit salad lollies and I should have asked for a refund for the false advertising. Clearly they've never actually had a good fruit salad.
I was impressed at how much the ribs varied from place to place. For me The Meat & Wine Co was the standout. The 3 places we tried around Darling Harbour (King st Wharf, Cockle Bay Wharf and Darling Harbour) were easily my least favourite. And I'm still puzzled by the mixed reactions to the ribs at I'm Angus.
Viggo
The ribs challenge was something I'd really looked forward to - I'm a big pork fan, and I knew we were in for a treat. Juicy, succulent, flavoursome, salty, sweet and smoky are all words that when they appear in the same sentence, a special kind of magic for your taste buds is in order.
We started off strongly with tasty, yet slightly sweeter than I prefer flavours on the northern beaches, then visited the city, where flavours seemed more smokey overall, (and we, IMHO, had the standout ribs of the day) - and finally in the East part of the city, the flavours were slightly more spicy than the other areas.
For me, this challenge was one of the more enjoyable - the weather wasn't too hot, and I didn't feel the usual food overload that is typically experienced during the challenges - I guess there really isn't such a thing as too many ribs.
So tell me Dear Reader, where do you think does the best ribs? And what do you look for in pork ribs? Would you do a challenge like this and if so, how many places would you try in the one day? And would you wear a bib if offered one? And what happened to the extra ribs? Louise and Viggo's cats got a treat!
All of the food in this post was independently paid for.
Manly Grill Steak & Seafood
31/30 S Steyne, Manly NSW 2095
Phone: (02) 9977 0997
Barbuto
5/16 Ocean St, Narrabeen NSW 2101
Phone:(02) 9970 6171
Meat District Co.
King Street Wharf R3/11 Lime St, Sydney NSW 2000
Phone:(02) 9299 9762
I'm Angus Steakhouse
The Promenade, Cockle Bay Wharf, Sydney NSW 2000
Phone: 1300 989 989
Hurricane's
Darling Harbour Harbourside Shopping Centre
433-436 Darling Dr, Sydney NSW 2000
Phone: (02) 9211 2210
Meat & Wine Company
Shop 12 Lobby The Intercontinental Hotel
117 Macquarie St, Sydney NSW 2000
Ribs & Burgers
Tenancy 1 APEX Building, 6 Defries Avenue, Zetland NSW 2017
(02) 9697 0888 11am-10pm
No Bookings
Kelly's Bar and Grill
Bondi Junction Westfields Level 6, 500 Oxford Street, Bondi Junction NSW 2022
(02) 9389 8288
Trinity Bar
505 Crown St, Surry Hills NSW 2010
(02) 9319 6802
Pancakes On The Rocks
4 Hickson Rd, The Rocks, NSW
(02) 9247 6371
Open 24 hours