As soon as I saw this Hawaiian butter mochi cake I knew I had to make it. It is ludicrously easy; everything is whisked in one bowl and then poured into a baking tin. What results is a gorgeously gooey, sticky butter mochi cake. I added one final flourish, a sweet but zesty passionfruit icing on top. And everyone that has tried this cake has raved about it! And Dear Reader, this is a pushy recipe!
I first saw this cake on my Hawaiian friend Cat's Instagram and I was struck by the texture of it. It looked so unique and then I saw how easy it was and I knew that it was a no brainer. I had to make it. Plus I love the chewy texture of Mochi and it goes without saying that if you don't, then you may not love this cake. However if you do love Mochi this cake is for you. I love mochi so much that I named my darling little dog after it.
Mochi has now crossed over the rainbow bridge four months ago now. Mr NQN has been urging me to look at adopting another dog. He needs it as much as I do. So a couple of weekends ago we went to see a couple of dogs that we wanted to adopt. He wants a young one, I want a senior one and we compromised with getting two.
There was an 11 year old Maltese and a 6 year old Pom mix. There was one slight hitch: I might be allergic to the pom mix. Dogs like maltese, poodles and pomeranians are generally fine for me but I'm allergic to high shedding dogs so we wanted to meet these two boys to see if I would react to them. We drove to the Hunter Valley on the Sunday.
"Do we need a signal of some sort if you want to keep the dog or not?" Mr NQN asked me while we were driving.
"Do you mean like a safe word? What if I say 'banana'?" I asked before thinking about it. "It might be a bit weird if I suddenly blurt out 'banana'".
Both dogs Rusty and Joey were both sweet as pie. The foster carer had around 8 dogs at her house including her own plus some fosters but we played with the two in the front garden. They were sweet, playful and spirited and loved back rubs (all dogs do really) but I could feel the allergies starting. The pom mix shed a lot of fur. I looked down at my tights and they were covered with a layer of fur.
Mr NQN continued to pat the pom mix while I stood a bit further away. Then I saw something out of the corner of my eye. Thinking it was the foster carer's child I looked up at the curtain that was pulled aside. Looking out at us was an adorable black and white shihtzu who was looking at us. "That's Peanuts," she said smiling. Peanuts was a foster dog that she had decided to keep as he has a heart condition.
By now, it was obvious that I had an allergy to Rusty and so did Mr NQN who had started sniffling. So with sadness we had to bid them goodbye. At least we knew that at least with the foster carer they'd be looked after well until someone adopted them and they'd never be tossed out.
When she brought the two dogs back in the house her giant mastiff escaped and came bounding out to say hello. The friendly giant weighed more than I did, and he bounded up on me, bowled me over and I sat on the ground being licked. Then following him was tiny Peanuts. The tiny shihtzu jumped straight into my lap and looked up at me and licked me with his tiny tongue. Of course Peanuts wasn't for adoption but it gave me hope that one day I would find my own Peanuts!
So tell me Dear Reader, do you like that chewy mochi texture? Have you ever tried this cake? Do you have any animal allergies?
DID YOU MAKE THIS RECIPE? Share your creations by tagging @notquitenigella on Instagram with the hashtag #notquitenigella
Passionfruit Mochi Butter Cake
An Original Recipe by Lorraine Elliott
Preparation time: 15 minutes
Cooking time: 1 hour
2 cups caster or superfine sugar
4 eggs, at room temperature
1 teaspoon vanilla
450g/1lb glutinous rice flour
2 teaspoons baking powder
500ml/17.6flozs. coconut cream
350ml/12.3ozs. milk
115g/1 stick butter, melted
Passionfruit icing
3 tablespoons passionfruit pulp
1 cup icing or powdered sugar, sifted
30g/1oz. butter
Note: the icing is best when the cake is served fresh rather than the next day. The cake does have to be heated up briefly the next day so the icing does melt. Store the cake in the fridge.
Step 1 - Line the base and sides of a 20x20 (8inch) pan and preheat oven to 180C/350F. Whisk the rice flour and baking powder together in a small bowl. Then in a large bowl whisk the sugar and eggs together for 1 minute. Add the vanilla and flour mixture then add the coconut milk and milk in 2-3 lots. Add melted butter and mix until smooth. Pour into the prepared tin and bake for 55-65 minutes or until set in the centre. Cool in the tin.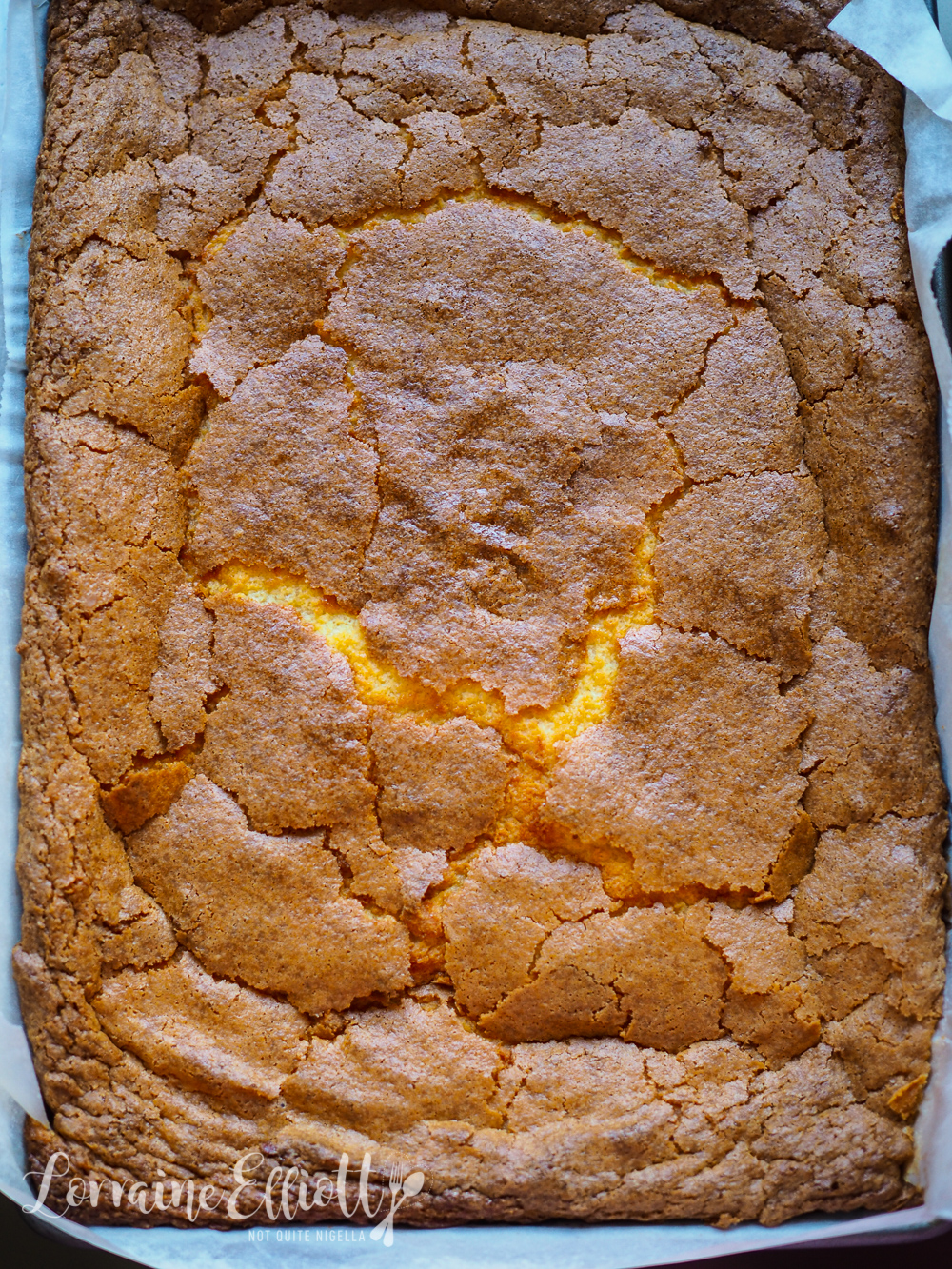 Step 2 - Make the icing. Place the passionfruit, icing sugar and butter in a microwave proof bowl and microwave on 50% power for 30 seconds. Whisk the icing together until smooth and then spread over the cake. Allow to set. Cut into squares. The cake should be kept in the fridge and then the cake warmed up (20 seconds in microwave will do).