One of the hottest table in Lisbon is at an unassuming Portuguese restaurant in the Alfama district. Even on a Monday night, crowds of eager diners queue up outside Taberna Sal Grosso for their chance to eat at one of Lisbon's best restaurants.
It wasn't a great start to our time in Lisbon. We had arrived late one afternoon to the city from Guia. The noise and business was slightly jarring to our mellowed sensibilities. We checked into our hotel, the VIP Grand Lisboa and entered our suite. It's a comfortable room to stay in with plenty of space, a nice change from our tiny quarters in the Algarve and I relish the space and spread out my things and have a long bath in anticipation of that evening's activities.
Lisbon, we were warned had hills, enormous hills to climb giving your quads a work out. And having traversed many of the hills in the Barrio Alta district (well worth a walk in itself) we came upon our destination, a restaurant that I had pencilled in our plans.
"What? I'm not going in there. It looks like a bunch of wankers," said Mr NQN bluntly. I couldn't argue, it did look like a bunch of posers and as he pointed out, if we saw the same scene in Sydney we'd refuse to go in. And as it was, he was point blank refusing the make another step, something he has never done.
Ginja in chocolate cup €1.50
We regrouped at Pastelaria de Batalha, had a cup of Ginja bitter cherry liqueur in a chocolate cup and a fabulous pasteis de nata before we consulted my list.
Taberna Sal Grosso was on the list. The problem was its notorious difficulty to get a table. There is only one way to get a table here and it's by booking on facebook. Except that I had already sent them a message and they hadn't replied.
"Let's just try it," he said and I figured he couldn't get upset if we couldn't get in. We hopped on a train to Santa Apolon and took the 2 minute walk to Taberna Sal Grosso.
You can spot the crowd. Taberna Sal Grosso opens at 8pm and there we all were. Many of us waiting eagerly for the doors to open. And there were only 30 seats. People with a booking got in first. Others were told to come back at 9:30pm while others made bookings for other nights. I overheard a woman saying that she would wait.
The gentleman allocating seats was nice, unlike some in the position, he wasn't power tripping and he tells us that all bookings have a 15 minute grace period before their tables are given away. We strike up a conversation with a British girl who had tried to come here once before and it was full. We peeked inside and there were three tables free and three groups of us waiting. I eye all groups coming towards the restaurant with a "Noooo!" vibe much like when you're on a plane with an empty seat and a person walks down the aisle and you just hope they're not going to sit next to you.
Right on time, after 15 minutes he comes back out and gives us the good news, we've all got a table. "Everyone's happy!" he says. He introduces himself to each table, his name is Jack and he is the owner and he recommends that each couple orders three dishes. The menu is on the board and changes regularly. Prices are incredibly reasonable. Most dishes are around €8 and a half litre of good wine is €8 and sparking water €1.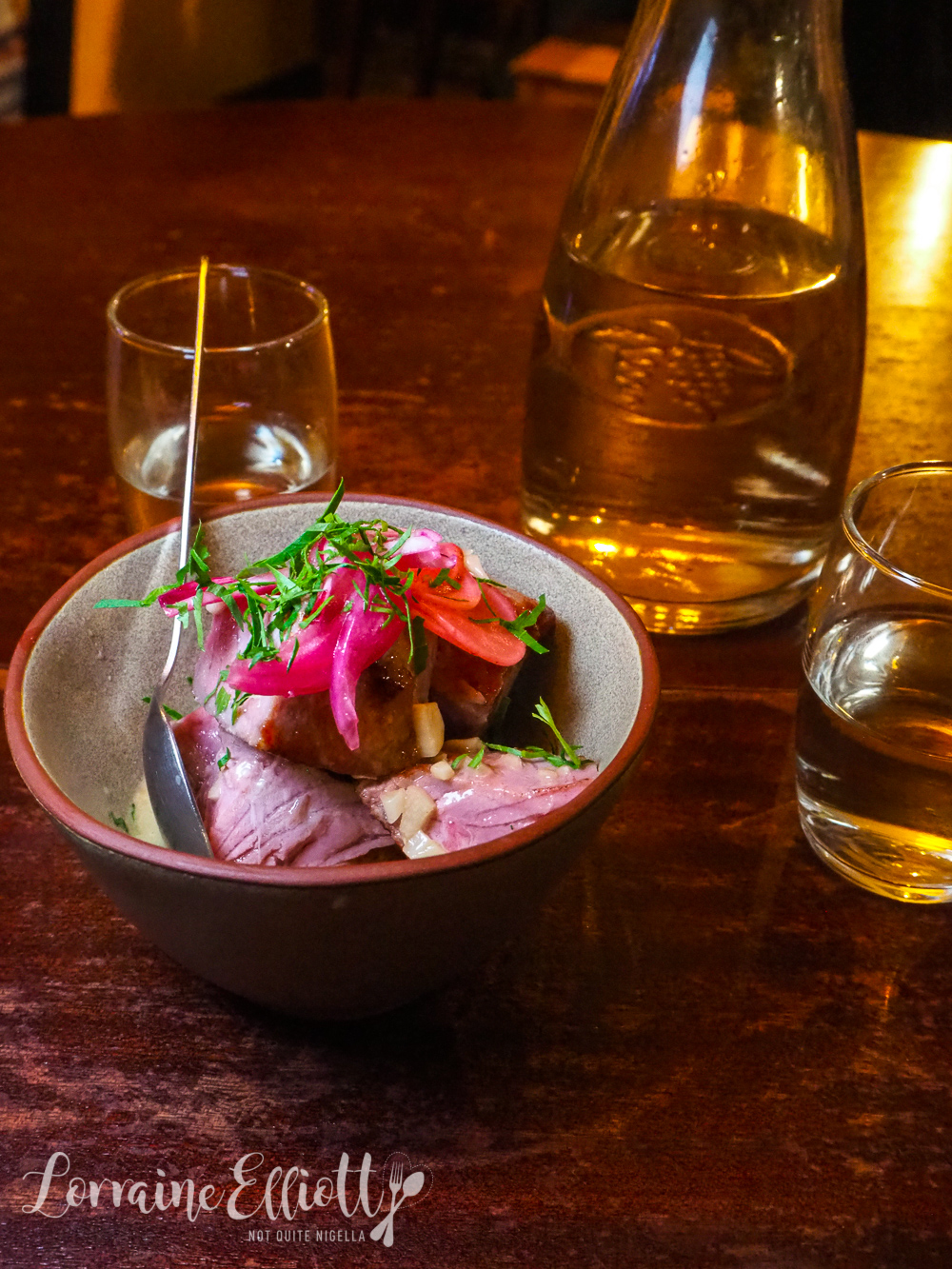 Pica Pau Atun €8.50
Jack takes the orders and Mr NQN chooses the seared, diced tuna. Pica Pau is named after the beak of a woodpecker as they're served with toothpicks and here the tuna is diced in large chunks, seared on the outside but pink inside with butter and finished with a white wine sauce with pickled onions. It's utterly delicious and I want to recreate this at home.
Raia Alhada €8.50
Raia Alhada is stingray cooked in the style of Olhao, on the southern side of the Algarve. Here it is cooked simply with potatoes and garlic, olive oil, vinegar and coriander. It is also one of my favourite courses as I love stingray. There are bones but they're soft enough to easily eat and the mild, creamy potatoes provide a mild backdrop to the stingray.
Pasteis de Bachalau €7.50
I don't think one could come to Portugal and not have bachalau, the dried cod fish that is a national obsession. These cakes are crispy on the outside and light on the inside and come with a fish roe that adds so much to these fish cakes.
Fish roe
Cabidela de Frango €8
The last dish (although really we were so full and Jack was right, three dishes would have been perfect) is the blood chicken rice or Cabidela de Frango. It has the blood from the chicken with tomato, garlic and vinegar to finish it off as well as a generous amount of black pepper although vinegar is the dominant flavour that also saves this dish from becoming too rich. The carolina rice gives the rice stew a lovely sheen to it and it's one of those wintry dishes that you yearn for and it is also sometimes made with rabbit.
Beer Pudding €3.50
It's dessert time and there are three desserts on offer: beer pudding, undercooked sponge and a whole baked apple. We go for the beer pudding. it comes out as a glossy, jellied pudding and while it definitely has a hint of beer to it, it's more a gorgeous, smooth, glossy caramel jelly pudding, dense with texture and mouthfeel.
Pão de Ló €3.50
Buoyed by our love of the beer pudding I quickly talk Mr NQN into trying the undercooked sponge or Pão de Ló. It comes out in a wax collar with a slick of fantastic olive oil and salt on top. And I don't know why I haven't added olive oil and salt to a sponge before but I definitely will from now on. It's a tremendously tasty dessert, sort of life affirming in that simple things are the best and that travel expands your ideas and perspective on things. Or maybe I'm just drunk on the liqueurs that they've passed out afterwards. When we order dessert Jack brings a bottle of Ginja to our table with two shot glasses. "Don't forget to share that with your neighbours," he says.
Everyone is talking to each other, it's that sort of place. We swap our Ginja for Amêndoa Amarga, an almond liqueur. Then Jack carries a large dispenser full of a mysterious sweet mint liqueur around to us and slides it on the table.
"What's that?" asks Mr NQN. "Can't tell," says Jack smiling. Similarly when another table gets a bottle steeped with what looks like hundreds of chillies he describes that as "a disaster."
There is one way that I had heard Sal Grosso described: "Great food, nice people" and that is exactly the words I would use. It's unpretentious, small, intimate and friendly. And the food is worth the queue.
Where we stayed
The VIP Grand Lisboa is a well priced 5 star hotel in the Campo Pequeno area. It is close to the Campo Pequeno subway station and the suites are spacious with comfortable beds and there is a separate sitting area.
The suites have a good sized bathroom with a double headed shower and a bath combo. Wifi is provided and there is also a spa, fitness centre and pool.
So tell me Dear Reader, do you like to have bookings when you go out for dinner when overseas or do you chance it? Have you ever refused to go into a place after seeing it?
The meal was independently paid for. NQN and Mr NQN were guests of the VIP Grand Lisboa.
Taberna Sal Grosso
Calçada do Forte 22, 1100-256 Lisboa, Portugal
Open 7 days 12:30–3pm, 8–11pm
Phone: +351 21 598 2212
facebook.com/tabernaSalGrosso/
VIP Grand Lisboa
Avenida 5 de Outubro 197, 1050-054 Lisboa, Portugal
Phone: +351 21 043 5000
viphotels.com/en/Hotels/Vip-Grand-Lisboa/About-Hotel.aspx