Portuguese Custard tarts are available worldwide but to really try the best in the world (and there's very little debate about it once you try one), you need to pay a visit to Lisbon. The most famous place to buy them is Pastéis de Belém on Rue de Belém. We got to see these tarts being made and taste a fresh, warm one out of the oven!
Maria Dulce (whose last name means sweet) says confidently, "If you didn't try Pastéis de Belém here, you haven't tried it." The store that churns out anything from 20,000-40,000 Portuguese custard tarts a day is one of Belém's main drawcards. So much so that their custard tarts are not called Pasteis de Nata but Pastéis de Belém. Sounds confusing? If you buy a Pastél (singular for tart) de Belém it means that it was made here but anywhere else it is a Pastél de Nata.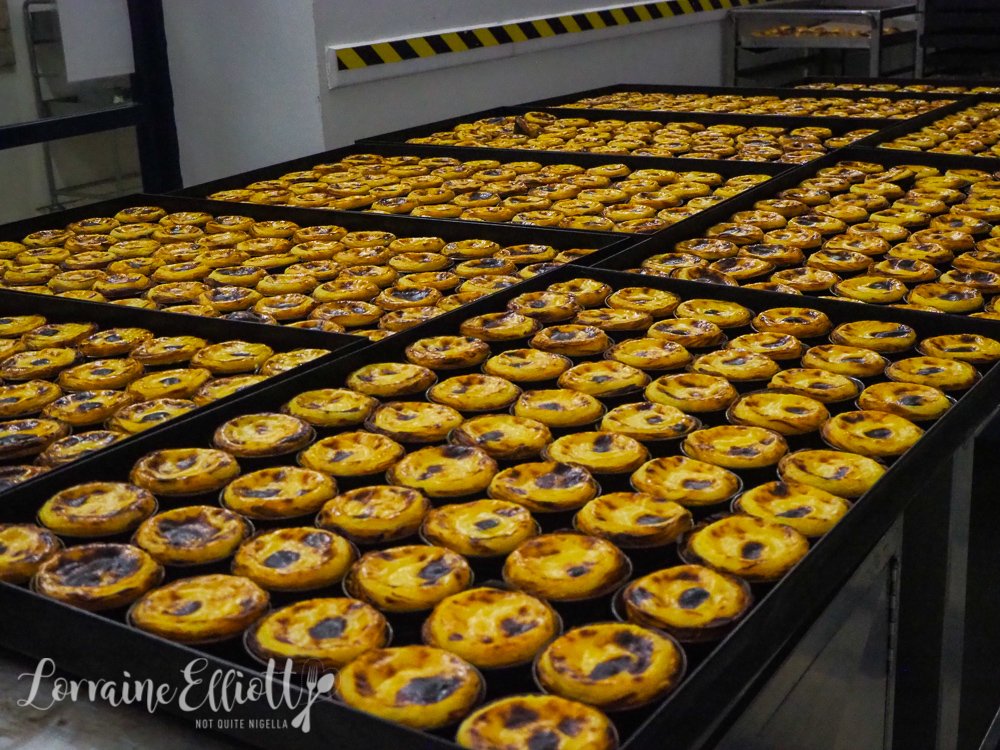 The story goes that the Mosteiro dos Jerónimos (the Heironymite Monastery) nearby began to fall out of influence due to the 1820 liberal revolution where all convents and monasteries in Portugal were shut down. As a result they needed to sell house made goods to support themselves. The monastery always seemed to have lots of leftover egg yolks as they use the egg whites to starch clothing and as a result many Portuguese sweets use egg yolks.
Other sweets and cakes
These were sold at a sugar refinery next to the shop that stands there today. The owner bought the monk's recipe for the Pastéis de Belém. At first his shop was more a general store but what started as 10 tarts a day rapidly expanded to 20, then 40, and now the queues snake around the building. Nowadays it is a family owned and managed business run by Miguel Clarinha and his cousin Penelope whose family took over the business in the early 20th Century.
We get to go behind the scenes and watch these tarts being made. The actual recipe for this starts in the "Oficina do Segredo", a secret room of which only three people have access. These three people know the actual recipe and have signed confidentiality agreements. They start by preparing the ingredients for everyone to work with.
The base is puff pastry shaped into large butter covered logs. They pull the dough long like a snake and cut off small pieces. These are then added to individual round trays where a team of only women shape them giving them the exact right thinness-not too thick, not too thin. I ask Maria about only using women who she says that it is known that women have the right touch for puff pastry i.e. cool hands.
One tray of five large puff pastry logs makes enough for 16 trays of tarts. The women work together quickly pressing the dough into the base and before long a whole tray of pastry is ready. This is then refrigerated before going into the filling room.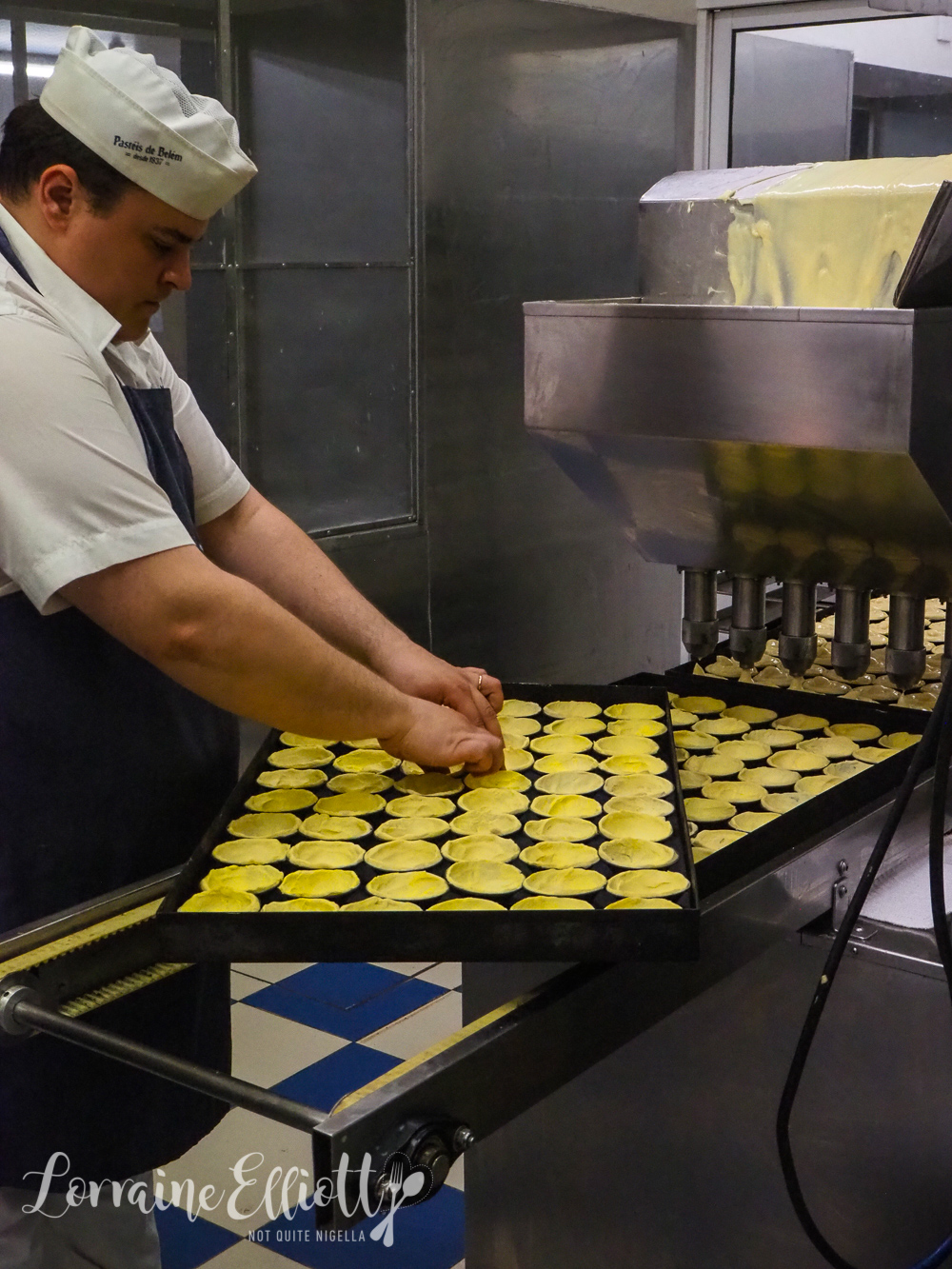 Filling room
This is the only mechanised aspect while the rest of the tarts are done by hand. A man repositions the tart trays so that they sit squarely so that they can be filled with pastry cream from a custard dispenser. Giant vats of pastry cream sit waiting to be poured into the dispenser.
Vats of pastry cream
The pastry cream is made in enormous vats, enough to fill hundreds of tarts. The machine dispenses the exact amount of custard into each tart. These are then baked throughout the day at 300°C/572°F so that the tarts are always warm.
Warm and puffy from the oven
So that brings us to the crowd who are on the other side of the glass looking in seeing the trays and trays of pastéis de Belem being brought out. There is a way to beat the queue and that's the eat these tarts in. The long queue that snakes outside is for the takeaway tarts.
Watch how Pastéis de Belem are made
Crispy tart bases
We take a seat in one of the rooms. "Would you like two tarts each or one?" the waitress says. We try and err on the side of modesty so we ask for one each, plus a cup of hot chocolate and a coffee.
She brings out the tarts a minute later. They're very warm to the touch. I sink my teeth in and the pastry is thin and shatters on my clothes and on the table. The wobby, smooth custard hit the palate and it's all I can do to moan and roll my eyes in pleasure. There is no custard tart like a freshly baked Pastéis de Belém. For its part the hot chocolate is also wonderfully thick, bittersweet and rich; it seems to be mostly chocolate with a bit of milk added to it.
The Pastéis de Belém is so good that before we finish the first one, we decide that we have to have another. We ask the waitress if we can have another one and she smiles. She knew that already.
So tell me Dear Reader, have you ever been here to try a Pastéis de Belem? Would you visit here if you were visiting Lisbon?
NQN and Mr NQN visited the bakery thanks to Visit Lisboa but all opinions remain her own.
Antiga Confeitaria de Belém
R. de Belém 84-92, 1300-085 Lisboa
Open 7 days 8AM–11PM
Phone: 21 363 74
pasteisdebelem.pt/
While You're in Belém..
If you're looking for somewhere to eat around the Belém area, there are plenty of tourist traps, Italian restaurants and pizzerias. Down a small lane just a minute's walk from the famous Pasteis de Nata is Enoteca de Belem, a tiny 17 seater wine bar and eatery. Tip: book ahead for lunch or dinner if you can and when you get there order the bread because food does come out slowly. We waited almost an hour to receive our food and we were the second table seated.
Tell them what you want in a wine and they'll bring out a couple of tastes, mostly Portuguese wines and you can choose which one you prefer. Mains are around E22 but are sizeable.
The food is quite good, perhaps not worth a special trip but if you're looking for somewhere with decent food around the Belem area, this little enoteca is your best bet.
Near Belém : LX Factory
During our visit to Lisbon we had rain pretty much every day which was a bit of a mood killer. So we headed to where a lot of people do on such a day and that is LX factory. It is a converted space where a number of retailers have set up shops and eateries. It's such a gloriously colourful space and Mr NQN quips that it has hipster certification. If you want to buy a range of designer chocolate salami, visit an incredible bookstore complete with a Kinetic installation, get a tattoo, take an Instagram shot or buy some of Portugal's most beautifully merchandised tinned seafood at Conserveira de Lisboa (yes really) then LX factory is definitely worth a wander.