Sigiriya is a 4 hour drive from Colombo and has one of Sri Lanka's most important cultural icons and what some call the eighth wonder of the world: Sigiriya or Lion Rock. Pair that with Water Garden, a truly stunning hotel made of lakes and water features and you've got a must visit stop in Sri Lanka!
I once had an argument with a friend of a former friend, neither whom I liked very much. There were three of us talking after dinner; they were both drunk and I was sober. Trudy took issue to something I said, that I liked to travel with someone rather than alone. "You should travel by yourself!" she cried slurring and aggressive.
I tried explaining that I do, it's just that it's nicer with someone but she had made her mind to hate me. Trying to reason with a drunk person (or two) is like trying to reason with a toddler - an argument devoid of logic. And really I do prefer to be with someone else, if only to turn to them when I see something spectacular and say, "Did you see that? Isn't that amazing?" Like how I feel when I see Sigiriya Rock.
Sigiriya Rock or Lion's Rock dates back to 477C.E. The rock fortress was built in the 5th century. Every year thousands climb Sigiriya Rock and its 12,000 steps. The best time to do this is in the morning. But if you're looking to get photos of the Sigiriya Rock the best vantage point is at nearby Pidurangala Rock.
The climbs for both are completely different. Sigiriya Rock is all stairs with lots of people while Pidurangala Rock is all craggy, uneven bush walking but with less people. It can take anything from 20 minutes to 1.5 hours and it is not an easy walk despite what some say (even with all my HIIT and Pilates it was HARD). At one stage a few metres before we arrived at the top I crawled along my stomach and hoisted myself up using my hands.
Once you reach the top, the view is spectacular. There is blue sky and vivid greens bestowed upon the rock by recent monsoon rains and these contrast with the peachy orange of Sigiriya Rock. My guide Priyantha, an in-house naturalist from the Water Garden has brought binoculars and I watch people climbing Sigiriya's steps on the side in a single file.
On top of Pidurangala Rock there's a group of schoolkids that want to talk and say hello and dogs bask in the mid morning sun. A group of young Sri Lankan men take the hike up with ease wearing thongs while tourists sweat, pause and puff. On our way down the tourists stop and ask us, "How much further is it?" their eyes pleading for us to tell them that it is close. I break the bad news to them that they've got more than half way to go and that it gets more difficult the higher you climb. But everyone does it because the view is so beautiful.
And a hotel to match the beautiful Sigirya Rock? The Water Garden is a 33 acre oasis in the cultural triangle that also includes Anuradhapura and Polonnaruwa.
Turn down a road, and enormous gates swing open to reveal a dream come to life. Kingfishers, peacocks and cormorants are just some of the birds to call this area home.
Sigiriya Rock was also the inspiration for the Water Garden Hotel designed by leading Sri Lankan architect Channa Dasswate. You can see Sigiriya Rock in the distance, your eye drawn there by a carefully placed path. A smiling, stylish woman wearing a sari hands me a bunch of lotus flowers and welcomes me. The staff here are without exception incredible and seem invested in making sure that each guest feels special.
The hotel is constructed unlike any other. Made up of lakes and water streams it features a modern day water harvesting design. The lush greenery is so vivid and if you time your arrival for sunset (a purely serendipitous accident) the salmon pinks, greens and blue skies will have you checking that your camera isn't on a hyperreal setting.
There are three types of villas among the 30. It starts with a deluxe villa, then a superior villa with a plunge pool and a duplex villa for families. I'm staying in Villa #17 a superior villa named Aralu after the medicinal fruit tree.
It's an enormous villa. I enter into the living room where there are comfortable couches, tea, coffee and house baked coconut blondies and ginger cookies waiting for me.
Further in is the bedroom furnished in neutrals and greens. The bed is shrouded in netting and the bed linen and pillows are soft and perfect to nestle in for a great night's sleep. If you're a nature enthusiast, there are binoculars to do some bird watching. I watch a white crane take flight in front of the large picture windows (this will become a common sight).
The bathroom has a standalone tub, two sinks, two shower heads and wonderful amenities. The body lotion smells of fragrant cinnamon and I wonder why more lotions aren't perfumed with this evocative scent.
Outside is the plunge pool although this is quite open so it's not ideal for skinny dipping unless you want to scandalise your neighbours. As I get into the pool a peacock strolls past my villa.
Internet is free and generally fast although the speed does waver a little. There are books on wildlife and the property borders two national parks where elephants roam free. In fact the hotel doesn't recommend guests venture out at night because elephants roam the streets. Lucky thing that the food is very good here.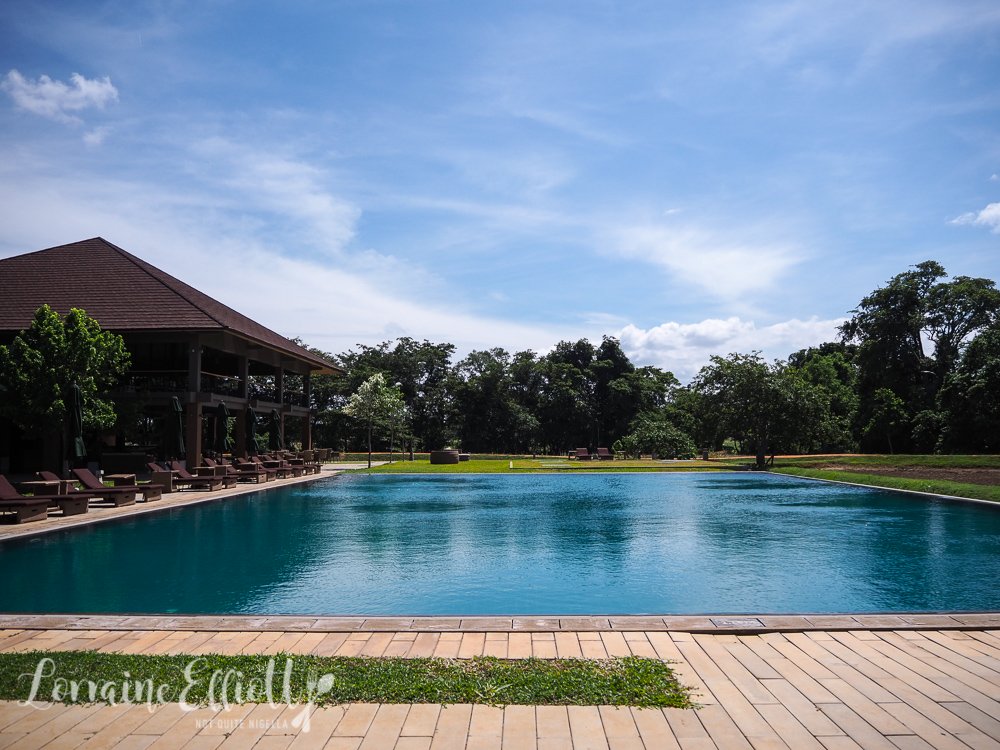 There are two restaurants on site at the Water Garden: a first floor bar as well as the main restaurant. I start with a cocktail containing Arrack, a Sri Lankan spirit made using coconuts. In a cocktail its fierceness is tempered by passionfruit, lime juice and soda. I am told that if you drink a certain type of Arrack called "Extra special" you will wake up without a hangover. "You will wake up like a flower," they tell me. I tuck into the bread basket.
The restaurant serves both Western style cuisine and Sri Lankan specialties which I gravitate towards. I try a sampler of some of the Sri Lankan dishes. Rice and curry is a common dish here and a favourite in the villages.
Black Pork Curry
The curry here happens to be a crab curry that is rich and deeply spiced and doesn't hold back on heat. There is also a black pork curry from the coastal town of Negombo that is delicious.
Hot Butter Cuttlefish
There's also the tender hot butter cuttlefish cooked with butter, white onions, three colours of capsicums and a chilli paste.
Beef Smore
And there's Beef Smore which comes from the Dutch Burgher community in Sri Lanka. This is a pot roasted fillet of local beef in island spices and coconut cream. Because it is local beef it can be a bit firmer and less fatty than imported beef but the flavours are fantastic.
The accompaniments to these foods are a range of sambols from a coconut or pol sambol, onion or seeni sambol, katta or chilli and onion sambol, dahl, kiri hodi (a delicious coconut milk condiment) and achar pickles. These allow you to season your food to your taste and I dip, spoon and scoop all of them to my heart's content, each bite tasting different than the next.
Watalappam
Dessert is Watalappam, a pudding made with coconut milk, jaggery, cashew nuts and eggs, similar to a crème caramel or flan.
One of my favourite features of the Water Garden hotel is the anytime breakfast. They feel that guests are on holiday and should relax and not worry about making it to breakfast by a particular time. That means whatever time of the day, you can have breakfast whether it be in your villa or in the restaurant. One morning I try an in-room breakfast with a generous sampler of Sri Lankan dishes. There are also Western breakfast dishes like eggs benedict, waffles and pancakes if you prefer.
I start with hoppers (plain and egg), string hoppers, pol roti (coconut stuffed flat bread) and kiri bith (delicious coconut cream rice shaped in diamonds) with chicken curry, dahl and a range of sambols. This is paired with a fruit platter, cheese plate with a generous selection of cheeses and a fresh watermelon juice!
The next day I try the cinnamon French toast. I ask for some kithul syrup and buffalo curd. It's a very generous serve but the kithul syrup and creamy, tangy curd are delicious together with the spongey cinnamon scented French toast.
Chances are you'll probably want to recreate some of the food as it is so tasty and the hotel also holds cooking classes in their kitchen where guests can learn how to make Sri Lankan dishes. A popular class is where students learn how to make 5 curries from scratch in 30 minutes. Sous Chef Sudeera Dissanyake shows me how to make a fast prawn curry with just a few ingredients. Before I know it, it is done (and I'll share the recipe with you).
I also learn how to make hoppers using a yeasted rice flour dough. This needs to be fermented at room temperature for 8 hours or overnight before coconut is added. The batter is ready to be used when it is bubbly and the texture runny and liquid. Hoppers can be filled with egg, cheese or plain or they can even be sweet including a treacle hopper using treacle from the Kithul tree where jaggery comes from.
Testing the pan for the correct heat
To see if the hopper pan is ready Chef Sudeera raises the curved pan to his ear-he does this because the ear is so sensitive to heat. He also explains that the hallmark of a good hopper is one that rises high to the edges of the pan with a crispy edge and a spongy centre.
Making a sweet hopper with kithul treacle
He also shows me how to make pittu which they eat at breakfast and dinner with curries. It is made using rice flour and coconut and is steamed in a bamboo or metal pittu mold.
Then chef Nilan Nilendra shows me how to make hot buttered squid, one of the most delicious Sri Lankan dishes. The base is a chilli paste made with prawn heads, onion, garlic and a host of other ingredients also including tomato sauce.
The result is a highly flavoured paste that crosses Sri Lankan, Thai and Chinese dishes. Butter is added to the rice floured coated and deep fried squid strips and then some of the chilli paste.
After the cooking class you sit down to eat all of the delicious food that you've made followed by dessert.
Bibikkan
The dessert is a sweet baked cake made with jaggery and coconut cake served with extra syrup to make it super moist. The perfect sweet ending.
So tell me Dear Reader, would you prefer a more ordered but popular climb with stairs or would go for the less populated but more difficult climb? Do you like travelling alone or with someone?
Pidurangala Rock Tips:
Want to climb Pidurangala Rock? Make sure to wear comfortable clothing - shorts and sneakers are ideal. The best time is earlier on in the day as it can get very warm later on.
This is not a hike for anyone with any issues walking as it gets very challenging, especially in the last section. And once you reach the top it is windy so literally hold onto your hats (the climb itself isn't windy at all).
Bring water-it can take anything from 20 minutes to 1.5 hours. Also bring a camera or phone because it is truly spectacular up there.
A photo of Sigiriya Rock from the road
If climbing neither Sigiriya or Pidurangala rocks appeals to you, you can also get a respectable photo of Sigiriya from a car stop too although it will obviously be from below.
Drones are banned but you can apparently book heli or charter flights to get that aerial view
NQN stayed at Water Garden as their guest but all opinions remain her own.
Water Garden
Indigaswewa, Sigiriya 21000, Sri Lanka
Phone: +94 664 933 000
watergardensigiriya.com/