Credit: Sanjaya N Jayarathne
One of the most iconic ways to travel Sri Lanka is via train. There's no more famous train journey here than the blue train from Kandy south towards Ella. There you'll find incredible views as the train climbs high to tea country and once you disembark, have afternoon tea, naturally!
The advice came from a friend who had travelled to Sri Lanka. "The train from Kandy is a MUST DO," she said to me. I started researching the train trip and I rapidly realised that she was absolutely right.
Credit: Sanjaya N Jayarathne
The Kandy to Ella train is well known among visitors and locals - the latter mainly because it's the local train that they commute to work with and by visitors because of the views. Most visitors choose to take the blue train because it is more photogenic.
At 8:47am the blue train arrives and I get on with a local guide and photographer Sanjaya. We have seats in the second class section because while first class is air conditioned, second class allows you to open up the windows so you can get great photos of the view outside. My leg of the journey is just under 4 hours long from Kandy to Nanu Oya station.
Within a few minutes of the train leaving, the food sellers start to walk through the carriages. "Roti!" "Wada!" they shout while carrying big baskets full of food. I'm peckish and I'm always up for a distraction and I try the "Short eats" aka vegetable roll, a crumbed roll filled with a flavoursome vegetable mixture, a samosa triangle with the same filling but in a triangular shape and a triangular grilled roti filled with vegetables.
The first hour of the train ride is an interesting small glimpse into the lives of the people that live in the houses along the train tracks.
The train stops frequently at stations, dogs appear to serve as station mascots and urban life gradually gives away to views. I next buy three round short eats or snacks and they're given in a bag made of taped exercise book paper.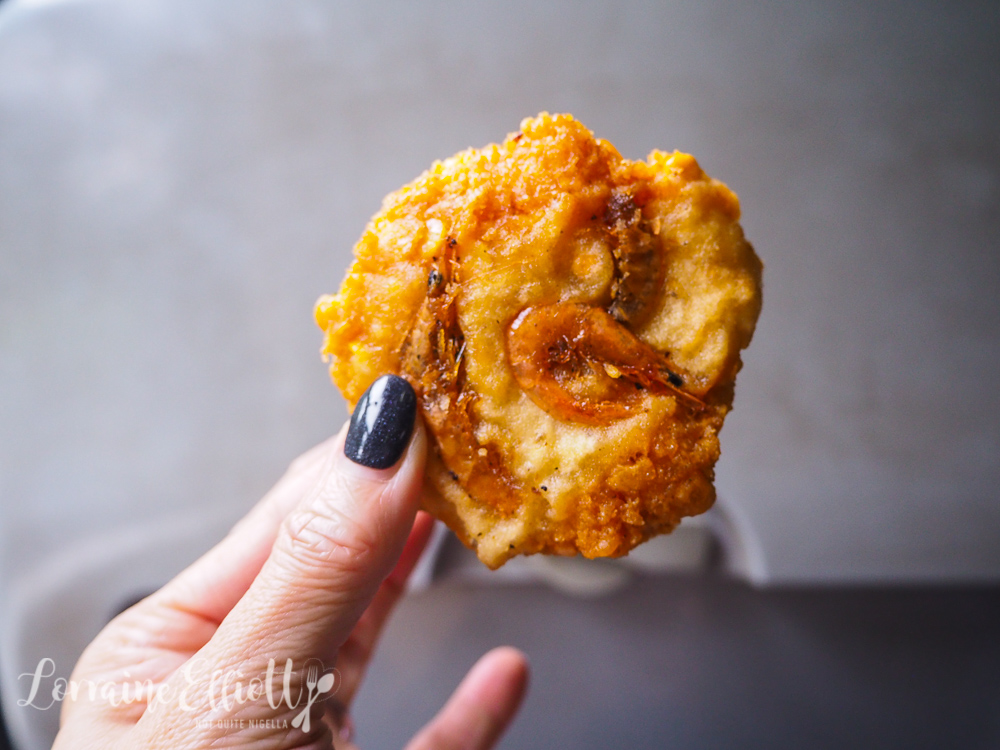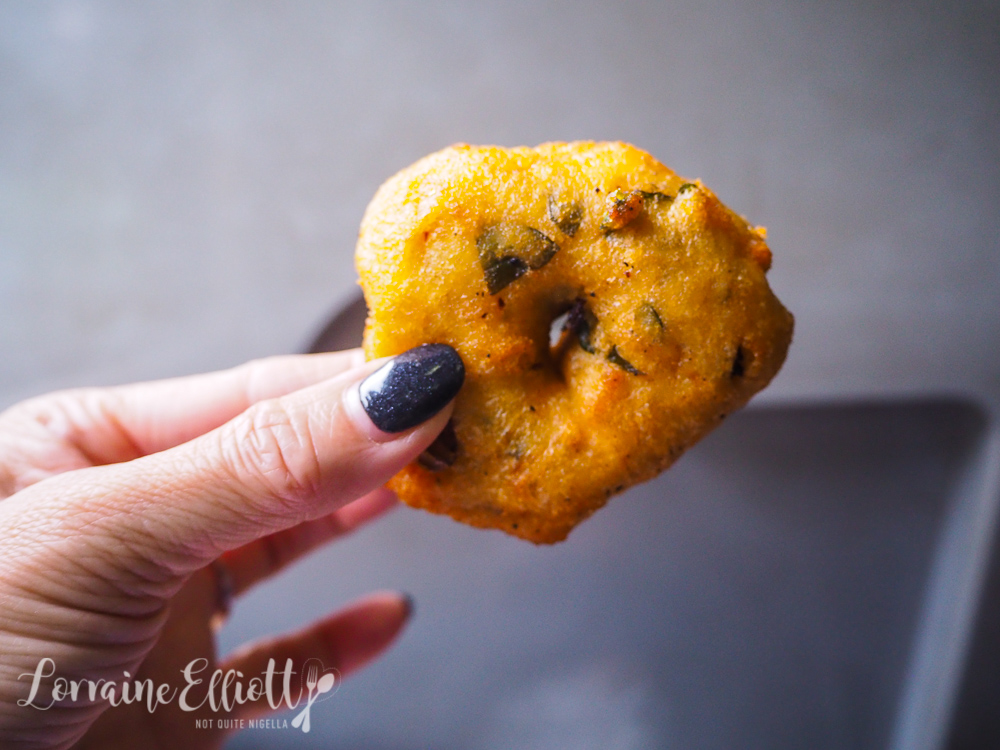 A wadai cake is topped with prawns and there's also a plain one as well as a Ulundu donut patty. Sanjaya my photographer guide explains that this is best split horizontally and filled with sambol.
He points out the Mahaweli River in the near distance, the longest river in Sri Lanka. Everyone gets up, camera in hand and takes photos. There's no feeling self conscious because the moment you stick your head out the window (and be careful, look towards where you are heading at a few points) you'll see everyone else doing the same.
Whether it is to get a feeling of the wind in their hair or to get a photo, everyone loves this ride. It's exhilarating and the view from both sides is spectacular.
Credit: Sanjaya N Jayarathne
There is much debate about which side is best for photos. At times the left hand side is better, other times the right hand side. What's nice is that everyone is nice about moving and letting people take photos in their seat if need be.
One and a quarter hours in, tea bushes start to appear and these morph into the spectacular tea terraces, resplendent in green because we are in monsoon season. I see women dotted in the distance wearing bright colours picking the tea. At the lower tea land they produce Watawala tea powder which is a popular every day tea. The high grown tea is used for loose leaf tea.
A vendor offers us a taste of warm roasted peanuts with fried curry leaves and chilli salt.
I buy some banana chewing gum and a nut candy and some fresh mangosteen as the season has just started (at tourist prices but they are magnificent specimens). Then I snack on roasted spiced chickpeas in a tiny bag. Tea is sold along with soft drinks.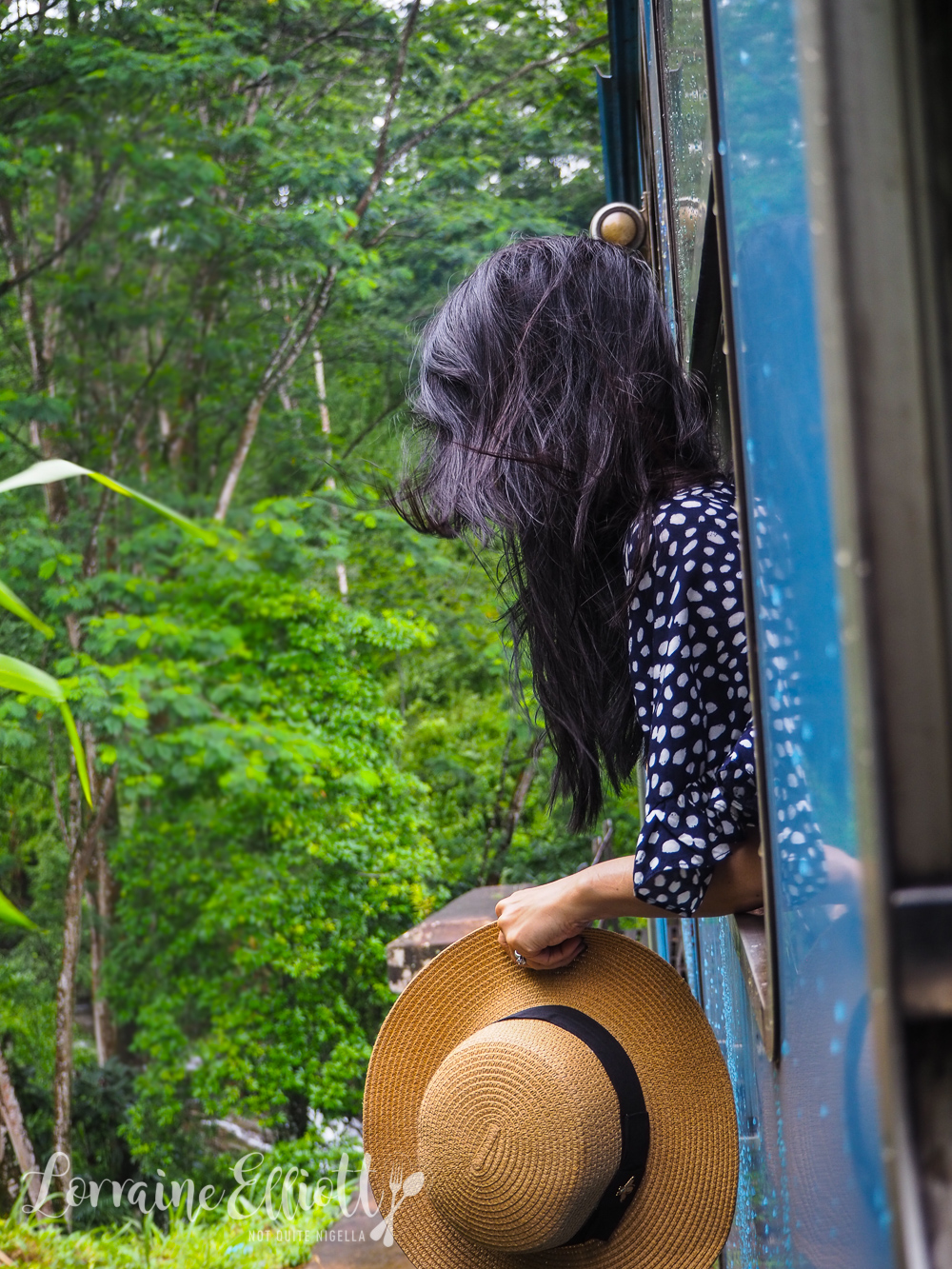 Credit: Sanjaya N Jayarathne
Sanjaya eggs me on to get that iconic hanging off the rails photo. By now the rain has stopped (I flat out refused to do it while it was raining and the rails were slippery).
Credit: Sanjaya N Jayarathne
I decide to give it a go when the train is travelling at very slow speed which it does at times. A young Sri Lankan couple hold hands smiling at each other hanging out the window. There's no camera in sight, they just want to look out at the view together.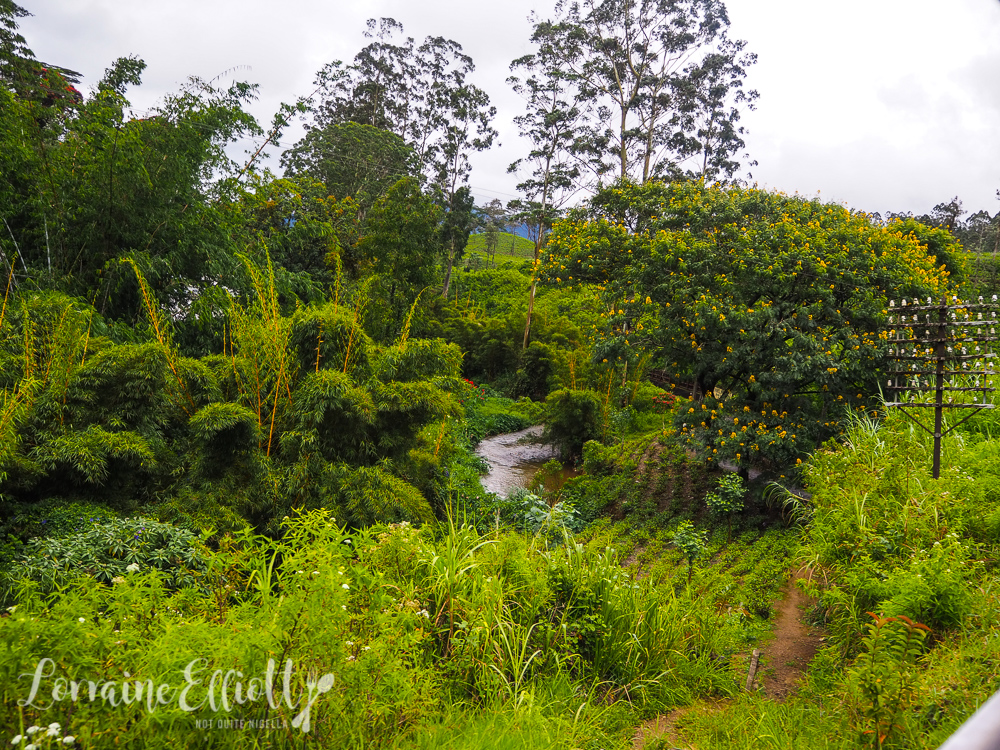 In the last hour we spot St Clair waterfall and the Great Western mountain shrouded in mist. They call this a "cloud forest" and apparently makes for atmospheric forest treks.
We finally reach Nanu Oya. Many passengers disembark here and there's a flurry of pick ups and vans. Our van driver collects us and takes us to the 20 minute drive to Nuwara Eliya, an English style town with an adorable red and white post office. We pass Hollywood-style large capital letter signs showing tea plantation names on the terraces. The town has a golf club and turf club with small horses.
Our stop is the Jetwing St Andrews Hotel for afternoon tea as we are in tea country after all. The afternoon tea is served from 1:30pm onwards which is exactly when we arrive. We take a seat outside and order the afternoon tea which is a very reason 1250LKR/$10AUD per person. Service is friendly and accommodating and they store my bags for me.
The tiered stand arrives along with the tea. It's a three tier stand with a top layer of a delicious vegetable tart served warm. There is a chicken slider which is also good and I also really enjoy the toasted sandwich triangles with cheese, onion and tomato which sounds like a plain combination but absolutely works.
There is a scone served with cream and three types of jam: berry, pineapple chilli and an unexpectedly savoury chilli jam (perhaps that is meant for the savouries).
The cakes and cookies are generously portioned. There's an éclair, a chequerboard triangle cake with buttercream, four cookies and meringues. And of course cups and cups of tea. Naturally.
Tips For Catching the Kandy Train:
There are three trains that travel from Kandy to Ella. The first one is at 8:47am, then 11:10am and these typically are both blue trains. The classic red train (the historical but less popular train for photos) leaves at 12:30pm.
Your best bet is to buy tickets when you arrive in Sri Lanka which you can do from any train station. You can buy tickets online but these tend to be the first class seats only. For the best photos however, second and third class are best because you can open the windows whereas the first class windows are small and cannot be opened. The main advantage to first class is that it is air conditioned but really, once you open up a window you get the same effect as the train climbs to higher altitude and the weather gets chillier.
Don't worry if you don't get a reserved seat. Many people get off within the first half dozen stops and seats become available. However this may not be the case on the weekends when the train is more popular.
The train is easiest if you have a light amount of luggage but you can bring your bags and store them above the seats (my extra large bag even fit there). Others send their luggage onto Nanu Oya where a driver will pick them up so that they can enjoy the experience without the hassle of bags. The drive only takes 2.5 hours so the driver will reach there before the train.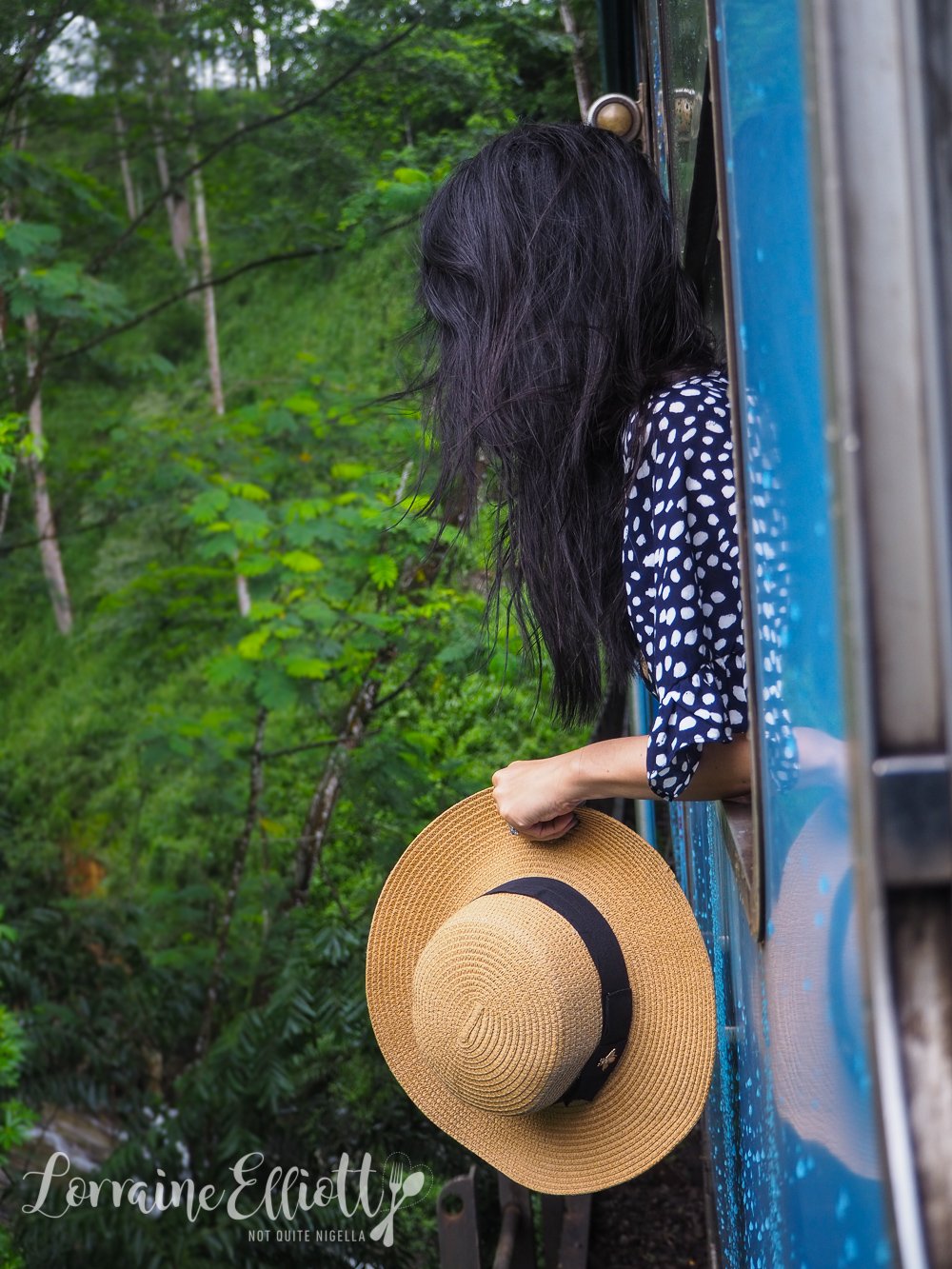 Credit: Sanjaya N Jayarathne
The hill region of Sri Lanka is much colder than other areas. Temperatures reach as low as 9°C/48.2°F at night and up to 22°C/71.6°F during the day.
Lastly, just do it. It's superb and every bit as beautiful as you would hope.
So tell me Dear Reader, do you like train rides? Is there a particularly memorable train journey that you've undertaken?