My series on Sri Lanka comes to a delicious end with this 24 hour itinerary. This itinerary is if you've only got short time in Colombo and you want to eat and sleep well. Start with a genuine farmer's market (where you're likely to be the only tourist), a well made coffee or brunch and sample short eats, eat at Park Mews, take a look at one of the world's most beautiful mosques and finish with a delicious meal!
I'm back in Colombo for one night at the end of my 9 night trip in Sri Lanka and I'm staying at the new Maniumpathy in the centre of Colombo. Located on Kynsey road it is also a "Wallawwa" or ancestral home. This building dates back at least 150 years and is a fifth generation property owned by the Hallock family. Maniumpathy is the word for "villa from Manipay".
The family originally came from Jaffna in the North and the patriarch was a doctor who at the end of each month gave his salary to his wife who successfully invested it in property. They sent their three children to Edinburgh to study medicine and the family still has roots in the medical field. The home was then passed onto the females of the house and used as a dowry.
There are 8 rooms here including a master suite, family house, ultra suites and deluxe suites. I'm staying in an ultra suite called Ranee, named after one of the women that lived there. Ranee also means Queen in Sri Lankan. All rooms are named after the matriarchs in the family.
It's a luxuriously chic room with pale green walls, pink and red floral furnishings and antique reproduction furniture. The king sized bed is very comfortable.
There's also an adjacent pink day bed with windows on each side to read by. A butler brings me tea service with lovely crisp, buttery cookies. If ever you wanted to live out the fantasy of being a queen, it would be here.
The mini bar has complimentary soda and still water and cassava crisps. The bathroom is expansive with dual marble sinks, Manor House concepts toiletries (shampoo, shower gel and body lotion) and a separate shower and the piece de resistance: a claw foot tub that will have you soaking your worries away.
Or you can take a seat on the lounge on the spacious balcony overlooking the hotel pool and read and relax. There is also a bluetooth speaker as well to play music, something I often miss when I am travelling.
Breakfast is a treat and mixes Western and Sri Lankan food. For the Sri Lankan breakfast you do need to order this the night before so that they can ferment the hopper batter.
There's a choice of juices and I order a carrot, beetroot and apple juice but bypass the bread basket and fruit plate (I've got a big day of eating ahead) and tuck into my cheese hoppers. I love the coconut creamy vegetable curry and it also comes with a choice of chicken or fish curry and dahl as well as kottu sambol with onion and chilli that adds a nice pep of flavour to the hoppers.
Soon after breakfast Chaminda from Maniumpathy comes by to take me to a nearby farmer's market. The night before every Sunday, farmers travel from up to 200kms away to sell their produce.
A lot of food available here is only available at these markets and not in supermarkets so it is a great way to try some less well known Sri Lankan items. The market is vegetarian and with the exception of a milk and curd seller, it is vegan too.
I'm the only non Sri Lankan there and people are friendly and happy to chat about what they are selling. Outside is a vendor selling wooden tools to make string hoppers, bamboo pittu molds, basket to steam string hoppers on and coconut ladles.
Further in are the spices-Sri Lanka was known as the spice island and their spices are wonderful. A vendor sells buffalo curd set in a traditional clay pot. Next to him a vendor sells clay pots to make curry in.
Another woman has a stall selling three types of Sri Lankan porridge: one sweet, one with curry leaves and one who sago-all of the signs are in Sri Lankan and Chaminda translates and explains everything.
He shops here every Sunday and today he buys some Halapa, sweet millet filled half moons wrapped in kenda leaves. He shows me fruit like Ambarella, which is a sour fruit that resembles a small avocado. I ask him about an item called Dodol that is a gelatinous jaggery and rice flour fudge and the vendor kindly gives us some to try.
Chaminda points out Gal Siyambala or velvet tamarind which is like a type of tiny tamarind that is rarely found. It's tiny and sweet sour with a seed the size of a pumpkin seed.
One of his favourite stands sells Walithalaea cakes that are like a textured rice flour slice with a smoky flavour from being cooked in a wood oven.
I love the Mun ata kwun that reminds me of a Chinese sweet-indeed inside is a sweet filling made using green gram or green mung beans that are battered and deep fried.
He shows me Aasmi, a rice flour cake that looks made up of noodles and is topped with jaggery caramel ribbons. These are apparently difficult to make and are usually served at weddings and celebrations.
There are plenty of leafy greens as Sri Lankans loves to eat these. Among the green is the long vegetable called Kohila which is light orange in colour. It grows in water and has a fibrous texture.
At a nearby stand they sell these as fritters along with manioc and jackfruit fritters. The kohila balls are delicious and remind me of Dutch frikkadeller and the fibrous texture reminds me of a fish or pulled pork. Veganism is becoming popular so they are making new ways to serve vegetables.
My last purchase is a small packet of Kithul flour. You can use it in the same way that you use cornflour to thicken up liquids and sauces. Chaminda explains that it is also a cooling food so if you were to serve up a hot food (like tuna) then you would make dessert with kithul flour to balance the hot and cool.
Afterwards my guide Oshada picks me up from the hotel for a day's touring and eating. We start with a coffee at nearby Cafe Kumbuk. You would have to know that it was there as you drive down a nondescript small street and a blink and you miss it entrance. There's a gentleman directing traffic to the popular brunch spot that is also said to have some of the best coffee in Colombo.
Certainly the menu sounds like it could be at home in Australia if not for the small Sri Lankan twists like pakora avo benny or a tropical granola bowl. Leave a bit of time if you're ordering tea if its freshly brewed. I didn't love the turmeric tea because it said it was brewed with milky coconut but came out as a clear tea but the iced latte was great.
Then we head out for a quick bite for a post breakfast brunch. VCO Cafe is part of the Dutch Berghur Union and there you'll find a great range of "short eats" or little baked goodies.
They're known for their bacon and egg pie, a comforting little puff pastry goody with minced bacon and half a boiled egg. The prawn puff has a creamy prawn sauce inside.
There are also vegetable fritters and beef cakes but the puffs are the pick especially as they're served warm. And if you want something more substantial the Lamphrais, one of my favourite Sri Lankan dishes influenced by the Dutch which is like a biryani in a banana leaf parcel with lots of sambols, vegetables and meat.
But be warned, it is busy there and there seems to be no sort of order as to how a queue forms. People may push in in front of you to get their short eats.
Next we head out towards the Pettah area, a busy main road where the Jami Ul-Alfar mosque stands. It is a stunningly beautiful mosque with its striking red and white facade.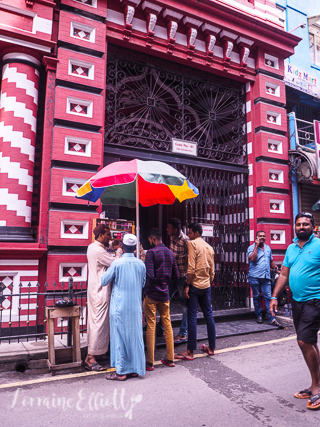 They also invite people to come in and take a look and ask questions and will loan you a garment to wear. It's definitely worth a look inside. The reason for the unique red and white colour combination lies in the dome. The dome was designed to be resemble a pomegranate in shape and colour.
My last meal in Colombo is at the Park Mews precinct. It's a small but colourful area that has a collection of restaurants and a bakery and event space. The alleyway is decked out in colourful bespoke shining stars and at the end lies Monsoon.
The food at Monsoon is Asian with a focus on Malaysian, Thai, Vietnamese, Indonesian and Singaporean flavours which are popular in Sri Lanka.
I start with a mango sticky rice cocktail. This is a blend of vodka, rum, mango, lime juice and vanilla syrup and while there isn't sticky rice involved in the preparation it tastes like a delicious spiked mango smoothie.
One of my favourite entrees is the chicken satay. It comes as 5 skewers of tender chicken satay threaded on bamboo skewers with a spicy peanut sauce, rice cubes and chunks of cucumber. The sauce has got a good depth of flavour to it.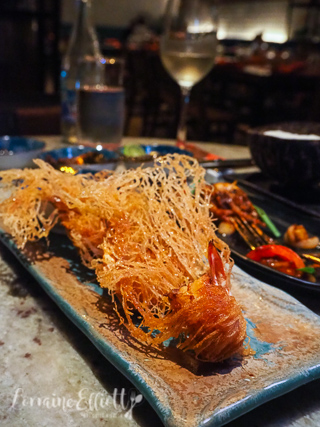 If you like your prawns super crunchy then the goong sarong comes wrapped in crispy vermicelli noodles at great length. On the side is a sweet spicy chilli sauce.
I wouldn't have normally ordered the tofu but this came as a recommendation from someone that I met on the trip and I have to say that it is delicious. There are crispy tofu squares cooked with onion, tomato and black pepper sauce. It's a vegetarian dish that is packed with flavour.
The Kam Heong prawns have a tasty coating and a really moreish sauce to them. I have to stop myself at eating too many.
I was tossing up between noodles or rice but went with the rice because I was curious to see what the laksa fried rice might be. It's a fried rice with prawns, chicken and eggs and it is served with a little jug of laksa sauce. It's such a clever idea that I want to replicate at home, especially as Mr NQN finds fried rice too dry.
I haven't had much pork on this trip and so I honed in on the glazed pork ribs. These are super soft with plenty of soft white bone and a luscious toasted sesame and golden crispy garlic. Honestly if we hadn't ordered so much I would have had two of them they are that moreish. There's no time for dessert as I am headed to the airport for my flight home in a few hours and I savour the flavours of the spices on my lips.
So tell me Dear Reader, have you ever been to Sri Lanka? What are your top destinations to travel to, once we can travel overseas again?
NQN was a guest of the Maniumpathy Hotel and Monsoon but the remainder was independently paid for. All opinions remain her own.
Maniumpathy
129 Kynsey Rd, Colombo 00700, Sri Lanka
Phone: +94 112 696 988
maniumpathy.com/
Cafe Kumbuk
3/1 Thambiah Avenue, Independence Ave, Colombo 00700, Sri Lanka
Open 8am-6pm Tuesday to Sunday (closed Mondays)
VOC Cafe
Dutch Burgher Union, Thunmulla, Sri Lanka
Open 7 days 11am–10:30pm
Phone: +94 112 584 511
thedutchburgherunion.org/voc-cafe/
Monsoon
50/2 Park St, Mews 00200, Sri Lanka
Sunday to Thursday 12–10:30pm
Friday & Saturday 12–11pm
Phone: +94 112 302 449