Welcome to Armchair Traveller, where we travel and dream about travelling afar from the comfort of our own homes. I am sharing travel stories because we all need a distraction from COVID-19. Please stay safe, stay home and stay healthy x
Find out the best places to eat in Galle with a food tour of Galle's food scene with chef and local hotelier Henrietta Cottam of Why House. We find this scenic town's best coffee, breakfast, cheapest cup of tea and eat modern Sri Lankan food!
Coffee and Breakfast at Skinny Tom's
"This is my absolute favourite flat white," says Henrietta when we pull up at Skinny Tom's. Located near Unawatuna beach down a long strip popular with backpackers Skinny Tom's is the cafe run by New Zealander David Thompson and Brit Malcolm Skinner.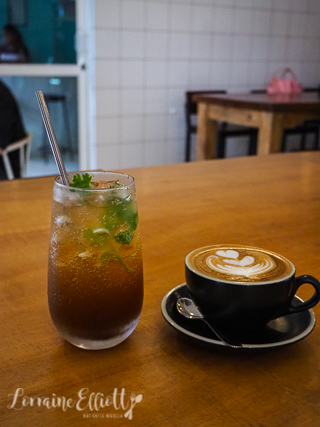 David and Malcolm started off with Bedspace doing dinners three times a week. Now it has expanded to Skinny Tom's and a thrice weekly pop up bakery.
At Skinny Tom's you can order a chia bowl or you can also order their fusion take on hoppers with either a bacon and egg hopper, spicy beef hopper or my order of the eggs benedict hopper, the latter being my choice. It's an egg hopper base with a nice runny yolk, smoked salmon (or bacon or halloumi), hollandaise and spinach. It's a filling breakfast but an utterly delicious take on eggs benedict.
Skinny Tom's: 147 Dewala Road, Unawatuna 90800, Sri Lanka. Open 7 days, 7:30am–6pm. Phone: +94 912 250 662.
Galle Fish Market
We head back towards Galle Fort where we stop at a fish market situated along the beach. You can choose from a range of freshly caught fish with the sand crunching between your toes.
There's fresh crab, sea crab, lobster, prawns and a range of local sprats, seer fish and yellowfin tuna sold here. We watch as they bring a large stingray in for display. The displays are rather beautiful too. One little injured cat gets a sprat as a treat for behaving.
Galle Fish Market: along Galle Beach, Galle 80000, Sri Lanka
Vegetable Market
Our next stop is at the vegetable market. It's a little quiet as the big day here is Wednesday and it's a Saturday but there are plenty of vegetables from wing beans, snake gourds and enormous squash.
There is also some fruit and one seller gives us a sample of honey mango which has a distinct citrusy sour element to it as well as honey mango which is divine.
Galle Vegetable Market: Main Street, Galle 80000, Sri Lanka
Cup Of Tea At The Army Barracks
Back within the walls of Fort Galle, Henrietta points out the army barracks. "That's the cheapest cup of tea in Sri Lanka," she says.
I stop for a cup of tea and it's made using malt powder and is milky, malty and absolutely delicious. They don't do takeaway drinks here. You take a proper cup and sip it and take a seat or stand on the green and just take a breather.
Isle of Gelato
Henrietta then shows me her favourite gelato store. There is no shortage of gelato stores in Galle Fort but Isle of Gelato is owned by a Sri Lankan couple and is made using Sri Lankan product.
The pistachio is a stand-out as it tastes of real pistachio-this is made using 100% pure Sicilian pistachios. The lychee, rose and raspberry is also divine as well as the award winning Puttalam Sea Salt and Caramel with its distinct hit of salt.
Isle of Gelato: 60a Pedlar St, Galle 80000, Sri Lanka Open 7 days 10am–10pm. Phone: +94 77 791 6178
Sahana Coolspot For Rice And Curry and Short Eats
For a tasty cheap eat on the way back to the hotel we stop by Sahana Coolspot on the highway for a tasty plate of rice and curry. Located along the beach with sit down tables it is all about Sri Lankan food for locals.
This meal is 250Rupees or around $2AUD and is both filling, tasty and spicy. Just because I am somewhat obsessed with short eats (those tasty little snacky morsels to eat on the go) I also buy a fish short eat that is still warm and is crispy good.
Sahana Coolspot: No.74 A, Main Street, Galle 80000, Sri Lanka. +94 91 4 933403
Modern Sri Lankan Food and Where To Stay: Why House
Why House is located around 20 minutes outside of the Galle Fort area in Talpe. Henrietta is the manager at Why House and she is a Cordon Bleu trained chef who has made Sri Lanka her home for the last few years.
The three acre property located along what they informally call "Millionaire's Row" is home to a garden full of tropical plants and her beloved and affectionate dogs Tigger and sausage dog Nigella or "Gelly".
It is a family friendly hotel as well as couples friendly (there's no kid's pool and it looks just like an adults only resort). I sip a freshly made rhubarb and ginger soda and Gelly and Tigger clamour for attention. It was named Why House because an apprentice kept asking the architect "Why?" all the time.
I'm in a Garden Bungalow that Henrietta has switched me to because she knows I'm going to be using a desk and like a large bed and the main house is being refurbished. Many of the rooms can interconnect so families can take up large spaces or the whole property. The property can take up to 26 people.
I'm shown to my room and Henrietta asks if I'd like a piece of cake and tea sent to my room. I make it a policy to never refuse cake and at 4:30pm on the dot there's a knock at my door and they bring in some tea and a slice of deliciously moist pineapple upside down syrup cake.
The king sized bed is comfortable with good quality sheets and bedding giving me a great night's sleep (although don't be alarmed if you hear something on your roof in the middle of the night, it's a peacock). Wifi is free although it can be a bit temperamental at times.
The bathroom has a well stocked amenity basket and if you need anything else you can let them know. While there is a television in the room there are no tea or coffee making facilities nor a telephone. Instead guests are directed to avail themselves of the many bells that are located around the property to summon assistance.
Guests can either have room only, half board or full board. Every day Henrietta discusses what a guest would like to eat and tonight I am trying their take on modern Sri Lankan cooking.
Henrietta designed this menu so that guests can taste the flavours of Sri Lanka but the cuisine is lightened up to suit the warm climate. I start with an arrack sour flavoured with maraschino with house made potato crisps.
The first item is a petite cup of dahl soup, a smooth, soup with all the flavours of dahl but without the heaviness of the lentils. It's remarkable how the flavours are all there without the actual lentils being served and it is delicious.
The next course is a version of a string hopper where the hopper has been dried and then deep fried and topped with a delicious banana chutney and buffalo curd. The banana chutney is particular is delightful and the hopper is crunchy and moreish.
The next course are the mains. There's freshly made kottu roti made up of chopped up roti with vegetables and meat made to the heat intensity you would like.
This is paired with three dishes: a chicken liver curry which is divine; a local village prawn fry made with coconut oil that is also very tasty and a snake gourd salad, refreshing and designed to complement the other dishes. It's hard to not go for seconds of everything.
Dessert is a choice of either a coconut crème caramel or a sticky date pudding. I try a bit of both, the coconut crème caramel smooth and delicious and a touch firmer than a traditional crème caramel.
The sticky date pudding however is my favourite, made with jaggery and coconut cream. You pour both sauces on your slice of cake and the sauces meld together. The jaggery or treacle is wonderful in this pudding and the cake itself is light and spongy. It's a perfectly sweet note on which to end my visit in Galle.
So tell me Dear Reader, do you like visiting markets when you're overseas or in a new destination? Do you ever just sit back with a cup of tea or coffee and relax?
NQN was a guest of Why House but all opinions remain her own.
Why House
Mihiripenna Road, Unawatuna, Sri Lanka
Phone: +94 912 227 599
whyhousesrilanka.com/