When I was in Sri Lanka, I was determined to find street food, but not just any kind. I was after the more adventurous kind. After much internet sleuthing, I found a street food area that sounded perfect. Hulftsdorp near Colombo 12 is for those that want their street food authentic. If you want to pull up a stool next to a local and be the only tourist there, then plan a visit to Hulftsdorp!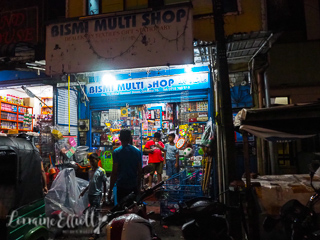 It's Saturday around 5:30pm when I arrive at Hulftsdorp. The area literally means "Hulft's town" and is named after Dutchman Gerard Pieterszoon Hulft, who was killed while besieging Colombo.
I've just met my Colombo guide Oshada who was suggested to me by a Dear Reader. She warned me that he wasn't really a foodie so I made sure to read up on the food myself. But as soon as we start walking he starts explaining the food to me.
The Hulfstdorp area has a large Muslim population and near the start is the Muhiyideen Jumma Masjid mosque. The area is busy with tuk tuks and street carts and there plenty of smoke from the charcoal grills of vendors.
We start at Hotel Rasik. In Sri Lanka a hotel is actually a place to eat, rather than accommodation. At Hotel Rasik there are large trays of curries of chicken liver, cuttlefish, beef tendon, goat brains, prawns and tuna fish roe.
There is also grilled chicken pieces too if you're a less adventurous eater. They bring a large plate of naan, roti and egg roti-you simply pay for the bread that you eat.
My favourite curries out of all of them are the chicken liver, cuttlefish and goat brain curries. The prawn is nice and the only one I didn't go for was the beef tendon is chewy and fatty.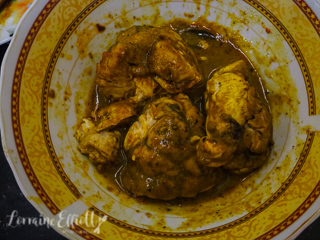 Service is friendly and Oshada has a friendly chat to them. "They will charge us a fair price I think," he says and for this feast plus 2 drinks is 2050LKR or $17AUD with plenty of leftovers for Oshada to take home.
We walk past other stalls and one sells a Sri Lankan version of a club sandwich; I'm tempted to see what it's like but there's a lot more stalls to visit. There are jelly and custard cups and fresh fruit drinks.
One shop catches my eye for both the name: "Najla Soup Cafe" and for the large queue outside. A man is ladling soup out of a large pot. I peek inside the pot. It's a clear beef and vegetable soup.
"Do you want to try some?" asks Oshada and I nod eagerly. They ladle up a serving for me and gesture for me to sit down.
I try it and it's rich, full of beef bones with barley, carrot, onion and other vegetables. When we go to pay they say that it is free which is such a lovely and kind gesture.
There are endless stalls selling string hoppers, hoppers and pittu as well as roti breads. There's one stand where the ghee roti are being freshly flipped before being filled with chicken or beef.
I order one of each in a small size at 50LKR each ($0.35AUD) and sit down. Both roti are fantastic-piping hot, fresh and unbelievably moreish. I can't decide which one I like more but I do decide that I want more roti like this in my life!
Next we check out some other sweets next to a couple of stalls selling tea and dessert. There are coconut pancakes, coconut balls, string hoppers and hoppers and I try a kavum or a rice flour fritter made with kithul treacle usually served at celebrations.
This is also a place to buy spices, chicken or even a machine to grate your coconuts fresh. You pay 50SLR or $0.35AUD for the coconut and a little extra to have them grate it for you so that you don't have to do it at home.
We stop by and try a triangle of Ada sponge cake. This is like a jaffle mold but filled with a brown sugar sponge cake inside which is fresh and light.
I first saw the chicken stand from the flames that leapt high into the air. The man standing in front of the charcoal looks like he suffers no fools and with one portion of chicken, salad and 2 roti at 250SLR or $2 why would he.
There's a family of six enjoying their chicken dinner at another table while two kittens snake around their legs hoping to catch a morsel or two.
There are no forks here, you use your hands and rip apart the roti and fold it to break off a piece of the piping hot, blistered chicken whose meat has been scored so that it is easy to tear off. Grab a bit of apple salad on the side and you've got yourself one of the tastiest meals you could eat (even without that ridiculously cheap price tag I suspect this would have queues).
Just as we're about to head to the car, I spot a store that has some snacks. There's one ring shaped snack and a pink snack. The pink snack is a pappadum soaked in pink coloured honey for a tasty sweet snack.
The other one is like a savoury snack made with chickpea or udu flour that is crunchy and spicy. When we go to pay they smile and shake their head. "No charge," they say smiling shyly.
So tell me Dear Reader, do you like street food? Would this be your sort of street food? What sounded the tastiest to you?
These meals were independently paid for.
Hulfstdorp Street Food
Located at Abdul Hameed Street, Colombo 12. The main action happens near Abdul Hameed Street-if you add that to your google maps it should take you to the beginning of the street. Otherwise, add Aluthkade police station and it will take you to the other end.