Galle Lighthouse
Welcome to Armchair Traveller, where we travel and dream about travel from the comfort of our own homes. I am still sharing travel stories because we all need a distraction but given the current situation with COVID-19, I am by no means encouraging travel during this time. Please stay safe, stay home and stay healthy :)
The southern Sri Lankan city of Galle holds many sights. I'm off to the main area of Galle town today with me and my bags in a tuk tuk and a rather eccentric driver who also acts as a bit of a tour guide. While driving, pointing out sights and answering the phone he steers expertly around pot holes. I make it to Galle Fort or the Dutch Fort. This is what Galle is mostly known for and the ancient city was a walled defence fort made of granite and coral and is a UNESCO heritage site.
Galle Fort is a timeline of the Portuguese, Dutch and British colonisation. This fort was first built by the Portuguese in 1588 and was then fortified by the Dutch from 1649 with reconstruction work done by the Sri Lankans. The fort stayed intact even during the Boxing Day tsunami while the town of Galle was devastated. Without the fort, the damage would have been much more extensive.
Nowadays within the walls of the fort lies several upmarket hotels, restaurants and shops. The shopping is touristic in style with plenty of jewellery, flowy garments, tea shops and even products made from elephant dung. Tuk tuk drivers honk and ask if you need rides, offering guided tours of the area. One of the most picturesque stops is at the Galle Lighthouse right at the south east tip at Point Utrecht next to the Meeran Mosque (see first pic).
Monsoon rains hit as I am walking, steam rising from the streets and as the rain looks like it isn't going to let up, it's perfect time for lunch. A popular place to eat in Galle is the Church Street Social at the Fort Bazaar, a Teardrop Hotel. It is one of the four upmarket hotels within the actual fort.
Service is excellent and it's a place that travellers go to relax and refresh from Galle's steamy heat. I watch as groups take away king coconuts and the hotel itself has a contemporary look to it combined with light pastel greens.
Thambili or king coconut
I start with a king coconut or thambili to soothe my brow while I nibble on the breads that they've brought out with a delicious corn dip. There is focaccia as well as breadsticks and other breads but I try the focaccia not wanting to fill up too much.
The menu is international-there's Moroccan food, pizza, sandwiches, wraps and steaks. Flip over the menu and there's a cute drawing of the Galle Fort area showing you the sights allowing you to get acquainted with the town while you wait for your food.
Tuna Sashimi 1150LKR/$9.44AUD
The tuna sashimi is delicious and comes with a seasoned soy sauce mixed with a pomegranate, caper and olive salad that matches it perfectly.
Black Pork Curry 2200LKR/$18AUD plus bowl of cashew nut curry
Then try a curry whether it be a creamy, milk coconut based cashew nut curry or a stronger curry of black pork. These come with the range of eggplant moju, pennywort salad, cucumber and tomato salad, mango chutney and dahl.
Chilled mango and papaya crumble 650LKR/$5.34
If you have any room left (and portions are generous so you may not) try the tropical "crumble" served chilled with a layer of vanilla anglaise and a shortbread crumble layered with papaya and mango compote.
Baked Ginger and Lime Cheesecake 850LKR/$6.98AUD
Or the baked ginger and lime cheesecake with a delicious biscuit base and a topping or Nurawa Eliya strawberry compote on top!
Another popular place in Poonie's Kitchen, around 2 minutes walk from Fort Bazaar on Pedlar street. It's housed inside a colourful clothing boutique selling Sri Lankan salts, oils and other culinary products. British born Jo Eden set up Poonie's Kitchen first as a clothing store. "It's food for the soul" she says and she is inspired by a lot of Australian chefs and influencers. It was named after her late friend Poonie who used to rent the property but passed away a few years ago.
Salad Thali 1500LKR/$12.32AUD
They're known for their colourful, healthy food and I try the salad thali, made up of 8 different types of salad. It's vegetarian (although the beetroot yogurt dip prevents it from being vegan) and it's actually delicious as well as eye catchingly colourful. There's a savoury watermelon salad, carrot salad, bean salad, sprout salad, lettuce and avocado salad, potato salad, daikon salad and cucumber salad.
My first night's stay is at the Kahanda Kanda hotel. The name references the village of Kahanda and Kanda means hill or mountain in Sinhala. Kahanda means yellow moon.
I'm greeted with a flower lei and shown to the open plan sitting room. A cold wet towel and a cranberry juice takes the heat off everything.
I'm then shown to my room the Tamarind room. There are may different types of rooms, some with plunge pools, some with baths. This room is a plantation villa and is 80 square metres.
It's nicely furnished and very photogenic and evokes the style of someone's home with antique hairbrushes and trinkets. That's no mistake, the owner is George Cooper, a British interior designer.
The hotel was originally his own private villas and there are touches like books in the rooms with personalised inscriptions from his relatives.
The room opens up to the bathroom with dual sinks and dual shower heads. The bed is a king-size wrought iron four poster bed with Egyptian cotton sheets.
The bed is extremely comfortable although my sleep is interrupted by a loud crash in the middle of the night (origin unknown), an errant phone call at 2am and the alarm clock going off at 6:30am (set by the previous occupant I presume).
The verandah is spacious and overlooks the tea gardens below. Internet is fast and free and I spend the first hour writing on the day bed before being called to my first appointment- a Sri Lankan cooking class.
In this class I'll get to learn how to make three curries all in the space of just over an hour. I am taken to a traditional mud hut lined with traditional Sri Lankan cooking tools from rice washing baskets, strainers to spice containers.
Chef Prasad Danushka the hotel's executive chef will show me how to make the curries (which I will later eat for dinner). Guests can learn how to make Sri Lankan or Thai dishes.
We start with a dahl which is superb. I did get the recipes in a little cookbook but they differed from what we did so I would recommend taking notes.
We then move onto a spicy Sri Lankan chicken curry which is a dark orange colour from the turmeric and chilli powder. And then we make one of my favourite dishes: eggplant moju. This starts with thin Japanese eggplant slices that are deep fried and then cooked with tiny shallots, green chilli and spices.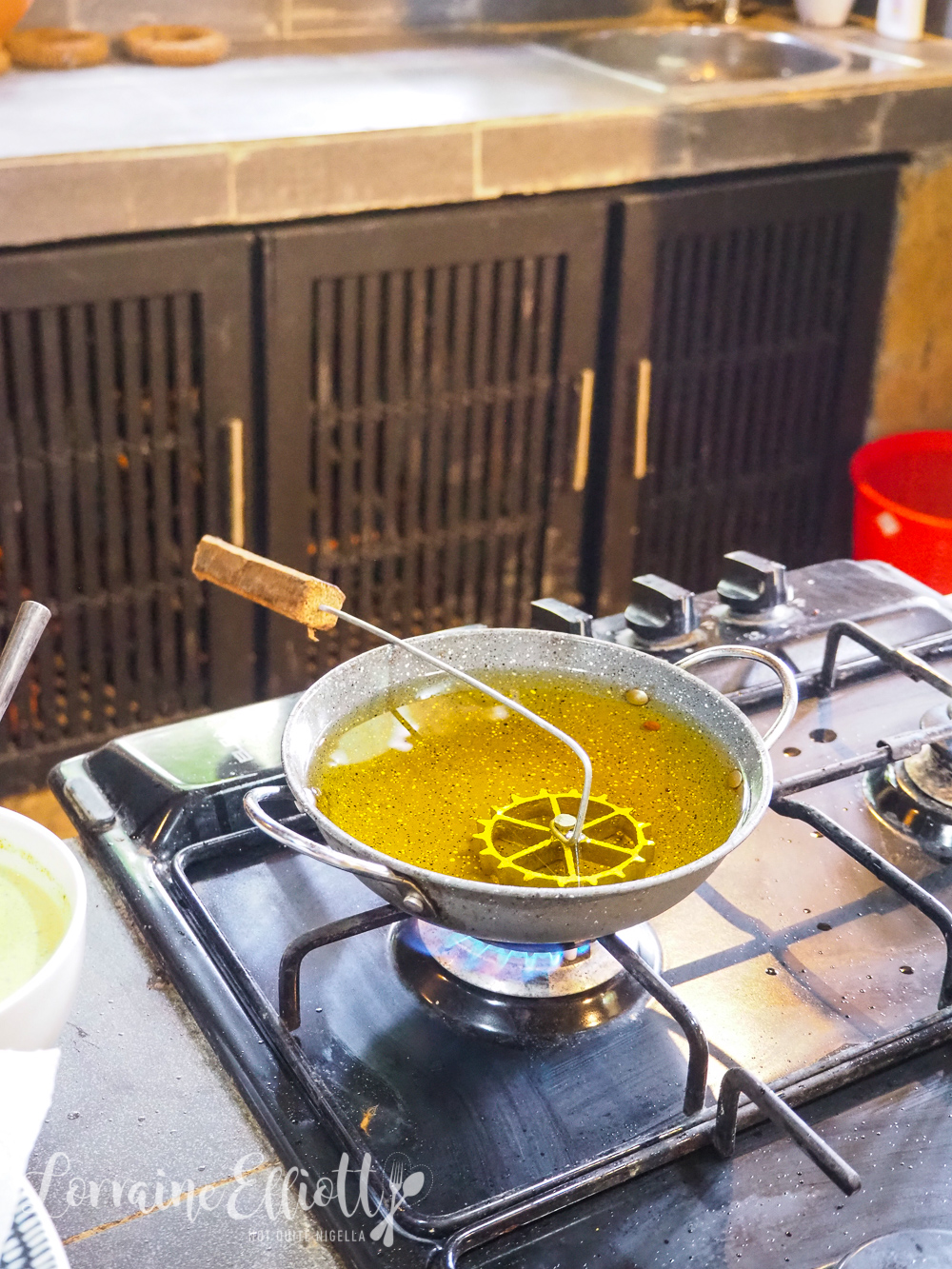 Heating up the kokki mold in the boiling oil
And a special treat is when chef Prasad shows me how to make Kokki, a crunchy snack made with a batter of coconut milk, rice flour, turmeric and curry leaves.
Dipping the hot mold into the batter
They heat up the molds in the boiling oil before dipping them into the batter and deep frying them. They cook quickly and he pokes the snack out with a metal skewer. These are the sort of treats that you get at parties and they're wonderfully crunchy and tasty.
A little while later I'm sitting at the restaurant overlooking the greenery below and sipping on a KK signature cocktail made with dark rum, lime, passionfruit juice and crushed ice and watching the sun go down.
The curries that I made are brought out along with an extra prawn curry which has a rich coconut gravy. The dahl is fantastic and my favourite although they're all good. They accompany these with pappadums, mango chutney and lime pickle.
And for dessert? Passionfruit tart with a wonderfully creamy, wobbly passionfruit custard, crisp base and a scoop of vanilla ice cream.
Breakfast the next morning starts with a pot of tea with chunks of jaggery. Then there are hoppers-both string hoppers and cheese hoppers. There's a bit of a miscommunication and egg hoppers arrive but this is quickly rectified.
You do need to pre order a Sri Lankan breakfast the night before so that they can make the hopper batter that ferments overnight. This comes with eggplant moju, chicken curry and a dahl as well as papaya juice. With that I'm off to my next stop in Galle!
So tell me Dear Reader, where do you think you'll travel to first once we are free to travel again?
NQN was a guest of Church Street Social and Kahanda Kanda but all opinions remain her own. Other meals were independently paid for.
Church Street Social
Fort Bazaar Hotel, 26 Church St, Galle 80000, Sri Lanka
Open 7 days 7am–10pm
Phone: +94 77 007 2597
Poonie's Kitchen
3 Pedlar St, Galle 80000, Sri Lanka
Monday to Thursday, Saturday 10am–5pm
Friday Open 24 hours
Sunday Closed
Phone: +94 912 226 349
Kahanda Kanda
Habaraduwa Dikkumbura Rd, Sri Lanka
Phone: +94 914 943 700
kahandakanda.com