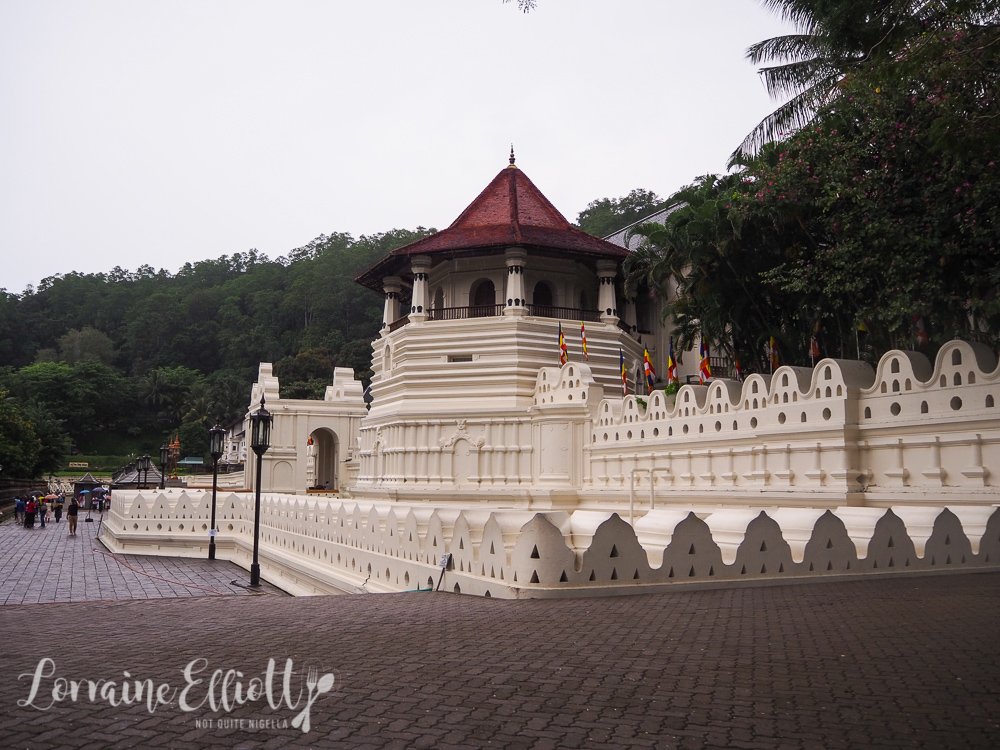 Kandy in the centre of Sri Lanka with its sweet moniker is most famous for the Temple of the Tooth as well as being the second largest city in Sri Lanka. People make the pilgrimage there to pay their respects to the buddha's tooth.
The drive from Sigiriya is "not long" as I'm coming to believe is a popular refrain. While other people in Sydney are aghast at a 30 minute drive to go out to dinner, not long in Sri Lanka can mean anything upwards of 4 hours, all depending on traffic.
It's a curvy drive from Sigiriya in the centre of Sri Lanka to Kandy and my stomach does mini leaps, grateful for the light breakfast of toast with kithul (treacle) and buffalo curd (yogurt). We stop by a king coconut stand where I buy a freshly opened coconut. The seller takes a machete to it, it spurts coconut water on my driver Priyantha's car.
"You're washing my car" he says laughing. The coconut is enormous, the juice sweetish and full of liquid. I get back into the car and we continue driving. Towns pass in a blur, there's the busy town of Matale where shops and people converge. It's just after 1pm and the school children spill out of school in their crisp whites.
We drive through the next town Akurana which is a predominantly Muslim town. Women in cream headscarves and brown dresses. Shops sell beef, bric a brac and clothing.
After 3 hours we reach Kandy. The original name for Kandy was Senkadagalapura and Kandy was a name that was given during its colonial past. It's an UNESCO heritage city and this means that it's well preserved but roads and traffic don't quite meet the demands of this growing, populous city. After the calm tranquillity of Sigiriya, it's jarring to see snarls of traffic, beeping horns and google maps is rendered virtually useless in its time predictions.
My first stop is lunch at the Empire Cafe, housed in an original Colonial building with beautiful green and pink hues. The cafe is located on the bottom level and there is also accommodation above. Vintage posters and postcards line the walls and service is lovely and deferential.
The menu at Kandy House is a mix of Sri Lankan and Western. You can order a salad, burgers or a wrap or you can also get rice and curry.
Empire Classic rice and Curry 650LK/$5.32AUD
The Empire classic rice and curry comes with a choice of chicken or fish curry (or you can get three vegetarian curries). It comes with rice, pappadums, pol (coconut) sambol, eggplant moju and mango chutney. The fish is tender but my heart is stolen by the eggplant or brinjal moju with the soft, sticky pieces of eggplant.
Breakfast Roti 590LKR/$4.83AUD
I'm drawn to the breakfast roti which is a grilled roti with a bacon and onion jam, fried egg and melted cheese with a side salad. It's a delightful combination and a tasty twist on a breakfast roll. I want the entire thing but I've saved room for dessert.
Coconut Ice Cream with pineapple, peanut brittle and kithul treacle 750LKR/$6.14AUD
The ice cream sundae is three scoops of coconut ice cream with cubed pineapple, chunks of nut brittle and a kithul treacle sauce. The kithul tree is what they make jaggery sugar from and it's found in place of or as well as sugar at breakfast.
Quadruple Chocolate Cake 485LKR/$3.97AUD
The quadruple chocolate cake is like a warm brownie with nuts and a drizzle of chocolate sauce on top.
The weather in Kandy is different from Sigiriya which tends to be drier. It's raining when we leave the café to walk by the Temple of the Tooth. It contains one of Buddha's actual teeth although this isn't on display. This is located alongside Kandy Lake also known as Kiri Muhuda or the Sea of Milk, built in 1807 by King Sri Wickrama Rajasinghe.
My next stop is my hotel for the evening. The Kandy House is said to be the best hotel in the area. It's further away from the main part of Kandy in Gunnepanna, around 20 minutes drive from the centre of Kandy (although this does depend on traffic, my driver telling me that gridlock ensues after 4pm).
The Kandy House is an ancestral manor house or a wallawwa originally built in 1804. It was renovated by Channa Daswatte to remain as true to the original house owned by the last Chief Minister of the Kandyan Kingdom Ratwatte Adigar.
The rain beats down in fat droplets as I arrive. My butler offers me a fresh passionfruit juice and a cool towel and my bags are quickly taken to my room to the left of the main entrance.
There are two types of rooms here: deluxe and ultra. Mine is the wickedly seductive Red Spot Duke ultra room themed in vivid reds and woods with a four poster bed.
The bathroom is equally as striking with a metal look and a concrete tub. The shower is especially good. It's spacious and has twin sinks and antique furniture.
Outside is one of its best features (including the butler service). That is the private verandah area at the side of the room. In fact that is where you can eat lunch or your dinner in private which is just what the plan is for tonight.
There is no internet in the rooms although there is in the butterfly bar area and there is no mini bar or coffee or tea making facilities.
Beetroot rasam soup
Dinner is a Sri Lankan feast that starts with a delightful spicy beetroot rasam soup. Pi Fernandez, who does the Marketing for Manor House Concepts who own Kandy House explains that rasam soup is a comforting soup that you would eat at home when you are under the weather. This is very good and it's hard to stop filling up on this soup.
Sri Lankan Vegetable curry with brown and basmati rice
Pi and I both have a selection of Sri Lankan curries to share. On one side are the curries that include sweet potato, drumstick (a fascinating vegetable where you split the baton horizontally and scrape out the filling), long bean curry, eggplant moju as well as fried banana and peanut salad, fried lotus root sambol, pennywort or gotakolu sambol and coconut sambol.
They're all so tasty and yet distinctly individual too but it's hard to pick a favourite. Perhaps it's the eggplant moju curry that I adore so much with its sweet and sticky finish.
Vanilla and Mango Panna Cotta
And for dessert, a glass of vanilla and mango panna cotta is both divinely tropical and yet not too sweet striking the perfect balance between fruity and creamy.
I draw a bath and soak in the tub before retiring to the bed for a good night's sleep. I have an early morning the next day and am somewhat fortunately (really through design rather than chance), still on Sydney time. Precisely on the dot of the time requested, my butler brings me a pot of tea with chunks of jaggery.
I've already put in my breakfast order and for once it isn't hoppers but a Sri Lankan omelette made with egg whites, onions and spices and it has so much flavour to it.
I also try the breakfast power smoothie bowl with fruit and an utterly delicious home made granola. It puts me in perfect stead for the next trip of my journey, the famous blue train from Kandy to Ella as the tuk tuk hurtles towards Kandy station in the light rain.
So tell me Dear Reader, have you ever visited Kandy? What is your favourite room colour?
NQN was a guest of Manor Hotel Concepts (Empire Cafe and Kandy House) but all opinions remain her own.
The Empire Cafe
Temple St, Kandy, Sri Lanka
Open 7 days 8:30am–8:30pm
Phone: +94 812 239 870
The Kandy House
Amunugama Waluwa, Gunnepana, Kandy 20270, Sri Lanka
Phone: +94 814 921 394
thekandyhouse.com/