Camellia Hills is a tranquil retreat high above the hills in Sri Lanka's tea country. It is where you want to go and relax and enjoy nature and escape the heat or complexities of life. From hypnotic views, wonderful food, tea factory visits to the pleasures of staying at this 5 bedroom bungalow tea estate, this serene retreat overlooking a lake will mesmerise.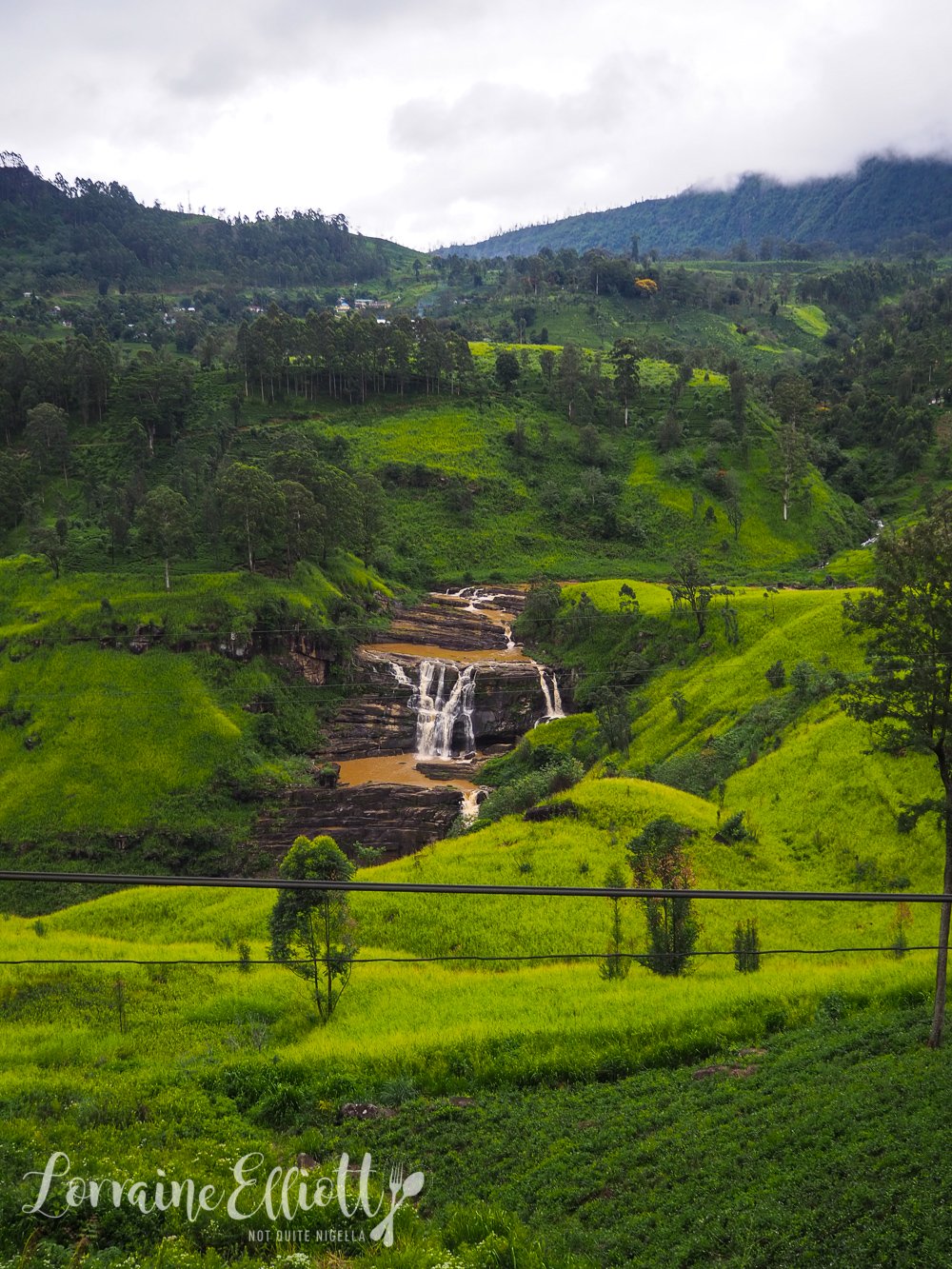 Please note: I am still sharing travel stories but given the current situation with COVID-19, I am by no means encouraging travel during this time.
Some say that the road to paradise is paved with curves. And when driving to Camellia Hills from Nurawa Eliya there are curves a plenty. The car snakes down the curving road lined with pink fringed angel trumpeter flowers and numerous identical looking light brown dogs run up the side of the road.
On the right is the mist covered Great Western Mountain and if you look closely you can see the classic red train makes its slow way back to Kandy. Passing through Hatton is a mass of umbrellas, fat drops of rain and peak hour chaos and after three hours of driving from Nurawa Eliya station we reach Dick Oya and turn off into a steeply curving road.
My driver stops and asks if I'd like to take a photo of the view outside. The view of the jade green lake bordered by tea terraces of Golden Tea Valley is stunning. Three kilometres of winding road past green tea, black tea, coffee plantations and camellia bushes will get you to paradise: Camellia Hills.
I'm greeted with a gentle, warm smile and am shown to the sitting area with that spectacular view below. "Since you're in tea country, would you like to start with a cup of tea?" Nuwan the hotel manager says to me.
He and his all gentleman team treat guests with deference. He pours me a cup of tea and serves me some crisp, house baked chocolate chip cookies. I could sit here on the terrace drinking up that view all afternoon.
Camellia Hills has just 5 bedrooms and was formerly the Dunkeld Estate established in 1875 by L. Kelly. The weather is markedly cooler here and many like to visit the area when the weather turns too humid and hot.
My room is the corner lake view room called the Osbourne named after the Osbourne tea plantation in the distance (there are either lake view or camellia view rooms on offer).
It's a stunning room designed to make the most of the view. As I write this I am staring out into the water below, concentration waning to my task at hand.
There's a four poster netted bed that is very comfortable with soft pillows and smooth sheets and a thin comforter for the cooler night temperatures. A tea service sits opposite offering four different types of teas similar to the other Teardrop hotel property The Wallawwa in Colombo. A safe, slippers and robes are in the cupboard. There isn't a television (not that I ever turn them on) but there is decently fast and free wifi.
The bathroom is huge with a standalone tub, shower and dual sinks. The toiletries are scented with floral scents as befits the name.
My butler Dimithur takes my order for dinner - each night guests are invited to gather at the fireplace, sip a gin and tonic and let the butler know what they'd like for dinner. Guests can have either half board or full board depending on what they plan to do during the day. At 6pm as the sun is setting I take a seat in the sitting room. A bread basket and butter is brought out and there are four different types of bread: one white loaf, one wholemeal loaf, a millet roti and a plain roti. I particularly like the millet roti with its wholesome and slightly sweet flavour.
Charred watermelon, feta, red onion and cashew nut salad
My entree is a salad which I've missed during my travels as I usually have salad every day. This has charred watermelon triangles with a side salad of greens, crumbled feta, red onion and cashew nuts with manioc chips that have a similar texture to potato or cassava.
Pan Fried Tuna Steak
I also really enjoy the pan fried tuna steak with a garlic, chilli and lime rice, sautéed black mustard greens and a red pepper achcharu (like a Malay pickle) and lemon cream sauce. It's very tasty especially with the sauces and the tuna is seared on the outside and pink inside as ordered.
Carrot and ginger cake
They explain that high country carrots are a feature of the area and indeed we had driven past many street-side stalls selling huge carrots that look like they came straight out of Peter Rabbit. So I had to order the carrot and ginger cake with coconut foam and a smashed peanut brittle on the side. The cake comes out warm and is so light and moist with carrot with the slightest hint of ginger. And to cap off the night, I ease into a warm bath.
The next morning I rise early, the sun streaming through the gaps in the curtains. I let them know my breakfast order and spend time pottering around my room. There's one other guest that I'm yet to see.
My breakfast is set in front of the view. That splendid view that never gets old. The breakfast comes with a fruit plate, breads and jams as well as a choice of main. The jams are particularly good and the watermelon jam is full of fruit as well as a nice hint of spices. There's also a delicious wood apple jam, marmalade and Marmite.
My main is the hoppers because I'm making the most of breakfast hoppers while I can. These are crispy edged and I ask for the plain one with cheese (I had it in Toongabbie and it was divine). There's also an egg hopper and it is served with seeni sambol (caramelised onion sambol) and luna miris onion and tomato condiment and they're both delicious and don't hold back on the chilli.
The rain sways from gentle to strong with a thick layer of mist on the lake so the next few hours are spent reading, watching television and wandering around the house which is perfectly fine by me. In fact I am in heaven as I love hotels so much. I'm not so much a homebody but a hotelbody.
Then it's time for lunch which is a mouth watering collection of several curries and rice. Curry and rice is a big thing in Sri Lanka and is served with accompaniments. There is a coconut rice and divine beetroot coconut curry which is my favourite (and they've kindly given me a recipe for and I've shared here), eggplant moju which is stir fried eggplant all deliciously sweet and sticky.
For something refreshing there's a gotukula or pennywort salad with shredded pennywort, lime juice, onion and coconut. There's also a mild flavoured dahl, salted potato cubes, bean curry and a sour fish curry too. Everything is served in coconut shells with coconut shell ladles here as the Teardrop Hotels are moving away from using ceramics to more recycled, sustainable items. I scrape the coconut shells clean of the eggplant moju and the beetroot curry. Dessert is kithul treacle and buffalo curd yogurt.
Camellia Hills offers a range of excursions and none so fitting as a tea factory tour. The Bogawantalawa plantation or Norwood Estate is located about 35 minutes from Camellia Hills and it is busy with industry when I arrive. Tea is a 24 hour business and I watch workers haul sacks of freshly picked tea leaves from the trucks. A man inside the factory carries a sheet of paper topped with leaves and examines them under the fluorescent light patting and sifting it with his fingers to test the tea leaves for quality.
They take me on a tour of the factory. All of the tea is grown on the 20 hectare estate and 800 workers are employed by this factory. Each tea picker must pick 16 kilos of leaves a day to earn their 750 rupees a day (approximately $6AUD).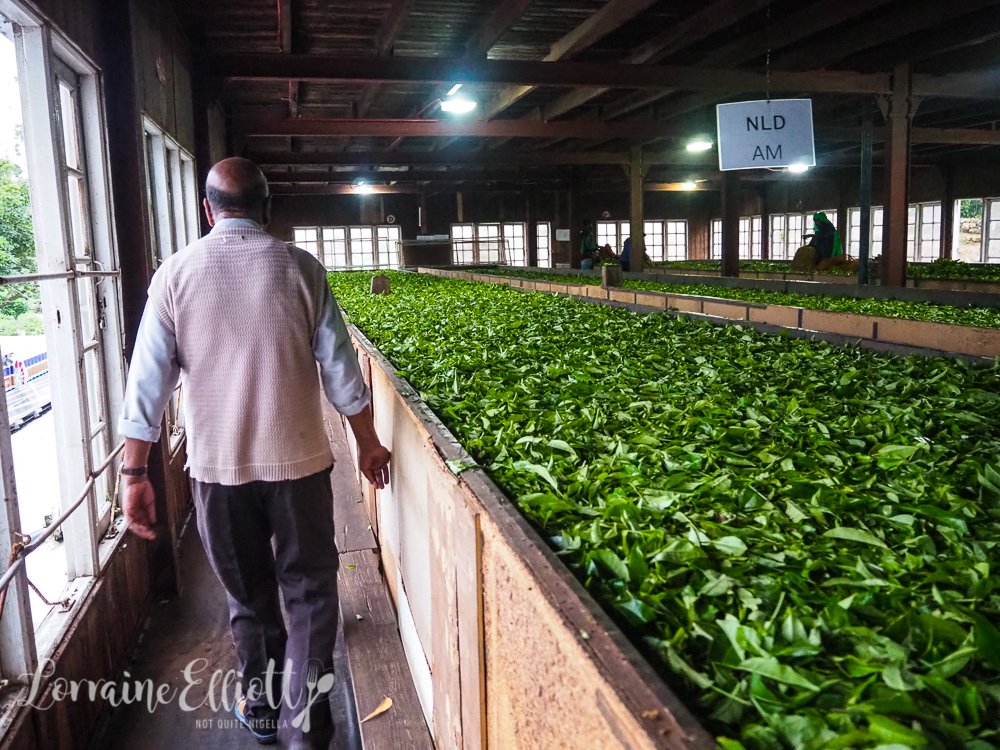 They collect the tea leaves three times a day: at 9.30am, 1 pm and 3.30pm where it is separated into the time of day and collected in enormous, long troughs. Here the leaves will lose around half of their moisture in a process called "withering". This will allow the stalks to bend without snapping. The layer of leaves is thick but there is cold air pushing upwards cooling and drying them out from underneath.
Rolling machine
From there the leaves are taken to the rolling room where a pressure blade made of wood and brass rolls the leaves for 20 minutes. The room smells like cut grass. The leaves then curl up and they are then taken to other machines to roll them up even tighter and tighter twisting the leaves to make them very small.
Roll breaker
Then they are moved to Roll breaker with a mesh divider that sorts out the small and large particles. From there they are laid out on the fermenting bed in a layer 3 inches thick. The leaves will turn from a green colour to a copper coloured over a period of about 3 hours.
The tea leaves are then taken to the dryer room or the firing room where they are baked at 300F, 260F and 190F as the final temperature before being sorted in the grading room. This process is automatically done by a machine before the tea is stored in steel lined wooden bins designed to keep the moisture out. The company uses 2 brokers to sell the tea who also check the tea for quality. Every Wednesday there is a tea auction in Colombo where the tea is sold. Once it has a buyer they will ship it off immediately to that buyer from the factory.
He shows me the final product: pekoe tea with the largest leaves, BOP or Broken off Pekoe with smaller leaves and Dust which is super fine particles. The dust is so strong that it can't be drunk without milk and sugar.
I taste the different types of tea and the dust is so strong and tannic while the pekoe is smoother and milder. He explains the tea tasting process which is identical to wine or olive oil tasting where you aspirate it across your palate and then spit into a spitoon.
And what better way to conclude your visit to a tea factory than with afternoon tea back at Camellia Hills! They serve an afternoon tea with a Sri Lankan flavour to it. The savouries include a ambulthiyal fish wrapped in chapati which is tangy and sour, a chicken and onion sandwich (my favourite), uludu wadi lentil patty split and filled with a coconut and tomato chutney. Sweets include a jelly like delicious coconut and jaggery fudge and sweet semolina bars.
The next morning, I draw back the curtains and sunshine streams in. It's a glorious sunny day. Breakfast is on the balcony where I try the berry granola with buffalo curd or yogurt, a cheese hopper with the fiery lunu miris and seeni sambol and a fruit plate. It seems a shame to have to leave this slice of heaven, high above the ground.
So tell me Dear Reader, are you a hotelbody as in you just like to stay in your hotel room at times? Are you a tea drinker and if so, what sort of tea do you drink?
NQN was a guest of Camellia Hills but all opinions remain her own.
Camellia Hills
Camellia Hills, Dunkeld Estate, Dick oya 22000, Sri Lanka
Phone: +94 77 363 8381
teardrop-hotels.com/camellia-hills/