State Bird Provisions was one of the restaurants that I was recommended on my last visit to San Francisco but I was unable to secure a table. It seems fortunate that a few years later, once the hype has died down and we get a second wind after another dinner that they have a table available!
State Bird Provisions has a cute concept: yum cha or dim sum style of food that isn't dim sum, rather Asian in style served either a la carte or via trolley.
There are two menus: a seasonal menu and a daily specials menu. For a one Michelin starred restaurant, prices are very reasonable. The restaurant decor is warm woods and there are booths as well as regular tables. It's not formal or stiff at all, it's firmly a casual foodie's destination.
The trolley items are more daily specials which are brought around or you can order the regular menu with the servers. The food is modern American or really modern San Franciscan with Asian touches. It is run by wife and husband chef team Nicole Krasinski and Stuart Brioza.
Sunchokes on cheese fondue $7USD
Laura lets Kat and I choose. The first item to come out are the sunchokes or Jerusalem artichokes on a Wagon Wheel cheese fondue. They're dehydrated which gives them more of a potato-like texture inside while they're crisp on the outside. They come bathed in a sticky sweet and salty soy based glaze and taste almost meaty because of the texture and sauce. They are also utterly delicious.
Sourdough, sauerkraut, pecorino and ricotta pancakes $7USD
We are recommended the sourdough pancakes (there's actually a whole pancake menu which I totally appreciate) and these are delightfully spongey little bites with sauerkraut, pecorino and ricotta with a spiced salt on the side.
Hog Island Sweetwater oysters with kohlrabi kraut & sesame $3USD each
There are also fresh Hog Island Tomales Bay sweetwater oysters with shaved kohlrabi sauerkraut and togarashi oil. While they're nice the kohlrabi sauerkraut does overwhelm the oyster so that you don't taste the oyster much, just the kohlrabi kraut.
Guinea hen dumpling with aromatic broth $3USD each
One of my favourite bites is the guinea hen dumpling with lemon broth and star anise. The dumpling skin is a bit thicker but the inside filling is coarse textured guinea hen meat. The broth is flavoured with lemon and star anise and is wonderfully warming.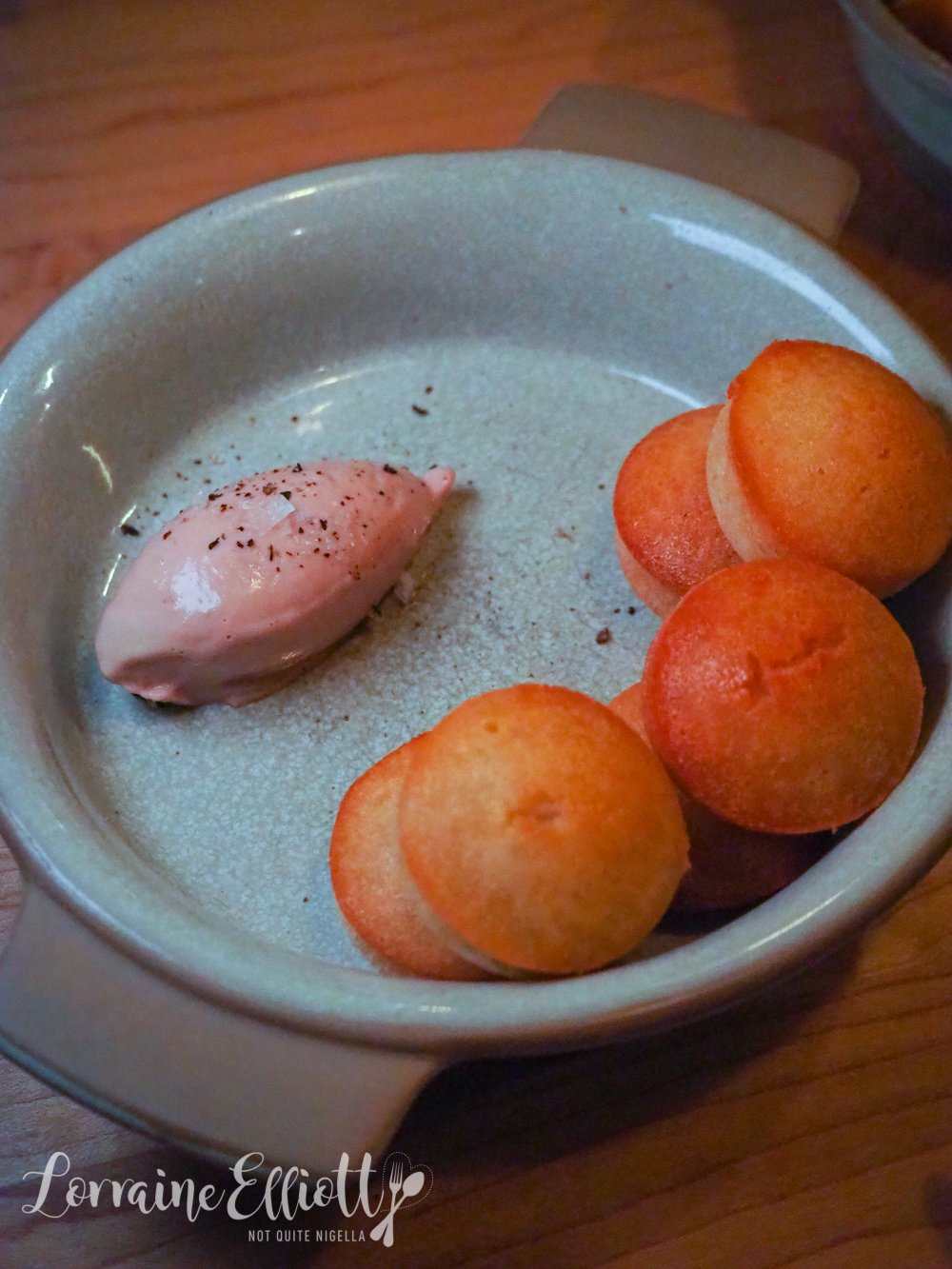 Duck liver mousse with almond biscuit $8USD
There is also duck liver mousse with almond biscuits that are sweet and more like madeleines with a very light almond flavour to them. The smooth duck liver goes surprisingly well with the little cakes.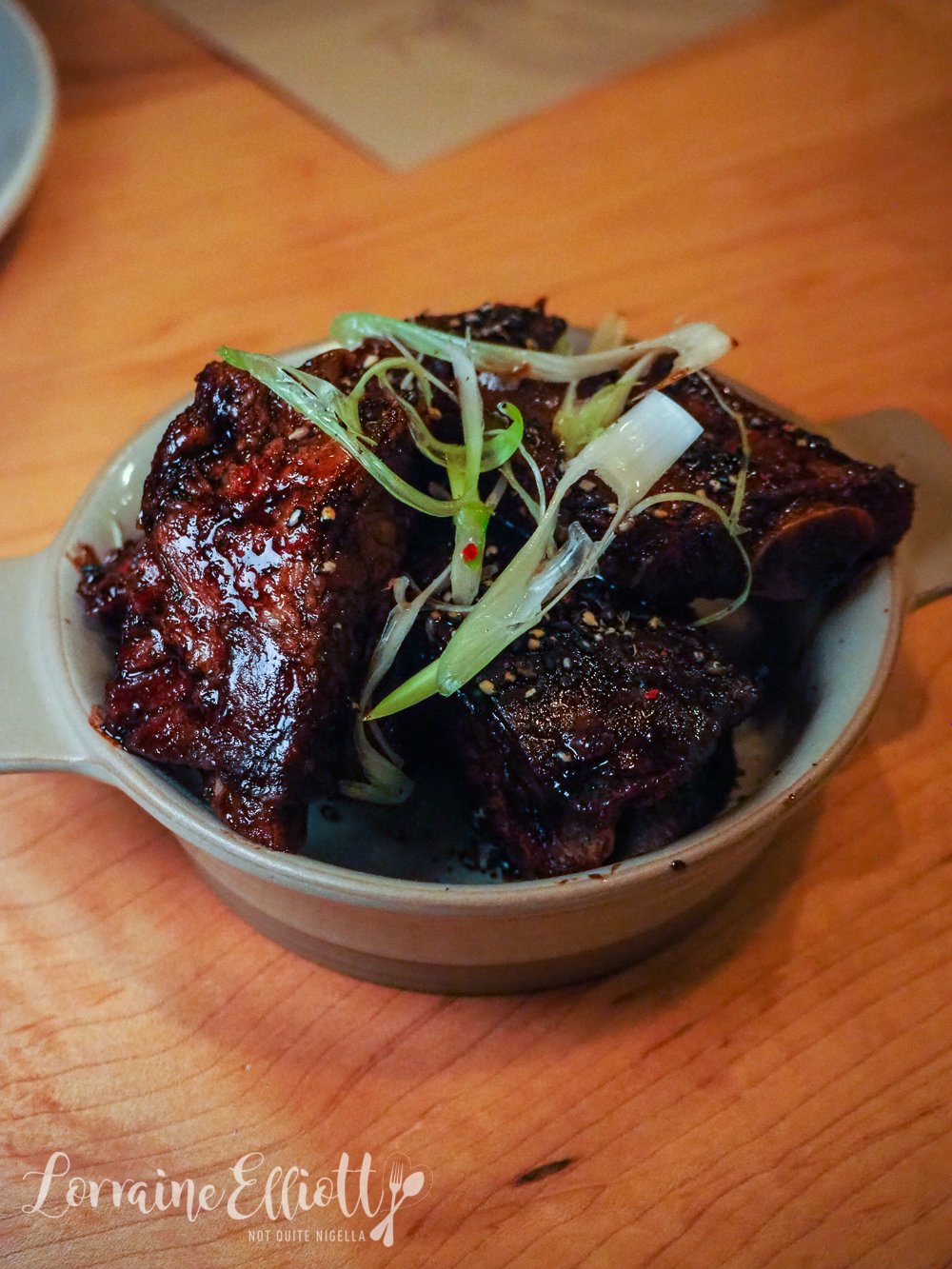 Pork ribs with black bean sauce & black garlic $11USD
The dainty little pork ribs are dry fried in a black bean sauce with black garlic and are meaty, sweet and intense.
Garlic bread with burrata $11USD
We also enjoy the fried sourdough garlic bread with torn burrata on top and a 7 pepper blend. In the blend there are 5 types of pepper as well as roasted shallots and a madras curry mix although these are quite light in flavour.
Smoked Trout Chip and Dip $12USD
We also try some smoked trout pate with chunks of avocado, creamy ravigote sauce and a tomato salsa that comes with a side of potato chip crackers. It's delicious and reminds me of something I'd make at home.
CA state bird with provisions $16USD
The signature dish is the deep fried quail brined in butter milk and lemon for 24 hours. The quail is actually California's official state bird so named for its adaptability and hardiness. This is served with lemon herb sauce ranch dressing. It's tasty and delicate although I have to say that the other dishes were a bit more wowing with interesting combinations of ingredients.
Persimmon with kinako and black sesame $6USD
Take the persimmon for example. I usually like soft persimmon but these crisp persimmon segments come with kinako which is a nutty soybean powder and black sesame. It's a simple but winning combination.
Squash mochi with miso, pepitas & Atika cheese $24USD
Another favourite is the squash mochi made with glutinous rice flour and served with miso, pepitas and Atika cheese (a goat and sheep's cheese by Cowgirl Creamery). This is quite a large serving but well worth it and perfect for sharing.
Olive oil panna cotta, roasted strawberries, poached Asian pear and spiced balsamic $12USD
It's time for dessert and I was curious to try the olive oil panna cotta where the olive oil is within the panna cotta itself. It's not particularly apparent although this is a gorgeous dessert with a spiced balsamic sauce (which I want to do a version of at home). The roasted strawberries are gorgeous as is the fruit although the strawberries really make this a delicious dessert.
Butterscotch ice Cream Sandwich $12USD
The ice cream sandwich comes all ready to share with a gingersnap macaron biscuit, chocolate fudge sauce and tart cherries with the butterscotch ice cream filling. The perfect end to a fantastic meal.
So tell me Dear Reader, would you like the food here? Do you ever go for a second dinner?
This meal was independently paid for.
State Bird Provisions
1529 Fillmore St, San Francisco, CA 94115, United States
Monday to Thursday, Sunday 5:30–10pm
Friday & Saturday 5:30–11pm
statebirdsf.com
Phone: +1 415-795-1272