Eat your way around the Mission District, one of the most vibrant districts of San Francisco where Mexican meets modern day San Francisco! Come along as I try five of the area's most iconic foods!
Nothing gets me springing out of bed faster than the promise of food. Today our Avital food tour starts at the Women's Building, a mural covered building on 18th Street in the Mission. It is here that we will partake of the Mission food tour with 4 stops at different eateries in the Mission with four matching drinks. The theme of this tour is nostalgia and art of reinvention.
Our guide Haley explains that the Mission was first area colonised by the Spanish and was used for farming and agriculture because it is flatter than much of San Francisco. After the Spanish then followed immigrants from Italy, Ireland, Germany, Poland and then Central and South America.
The Mission food scene started in the 1970's when George Phan opened up one of the first fine dining Vietnamese restaurants called the Slanted Door and other followed attracted by the area's low rent. The Slanted Door restaurant continues to this day and still draws queues. We start walking on Valencia street, one of the longest stretches of small businesses. Valencia is more gentrified while Mission Street remains less so with a mix of business types.
Craftsman and Wolves
Our first stop is Craftsman and Wolves a few minutes walk away. The owner William Werner originally worked as lifeguard but found a passion for pastry after visiting Japan and France. He was inspired by the Japanese artistic expression and that they made their own rules where they didn't have to sell or make anything that they didn't want to.
The Rebel Within
Craftsman & Wolves are most famous for one item: the Rebel Within, a sausage muffin hiding a surprise runny centered boiled egg inside. The egg is reliably always runny on the inside and Haley tells us it is achieved by boiling the egg for 6 minutes, then putting it in a water bath. The batter is piped around and on the base of the muffin tin and then the muffin is baked. It is delicious and I've tried to recreate this after trying it the last time I was here but to no avail.
For research purposes we also buy a few other items. Everyone's favourite dessert is the pumpkin cheesecake. Made for Halloween it is cheesecake shaped as three pumpkins on a sable biscuit base with tea cream. It doesn't come cheap however at $24USD. The espresso dulce de leche is also delicious.
Mission Cheese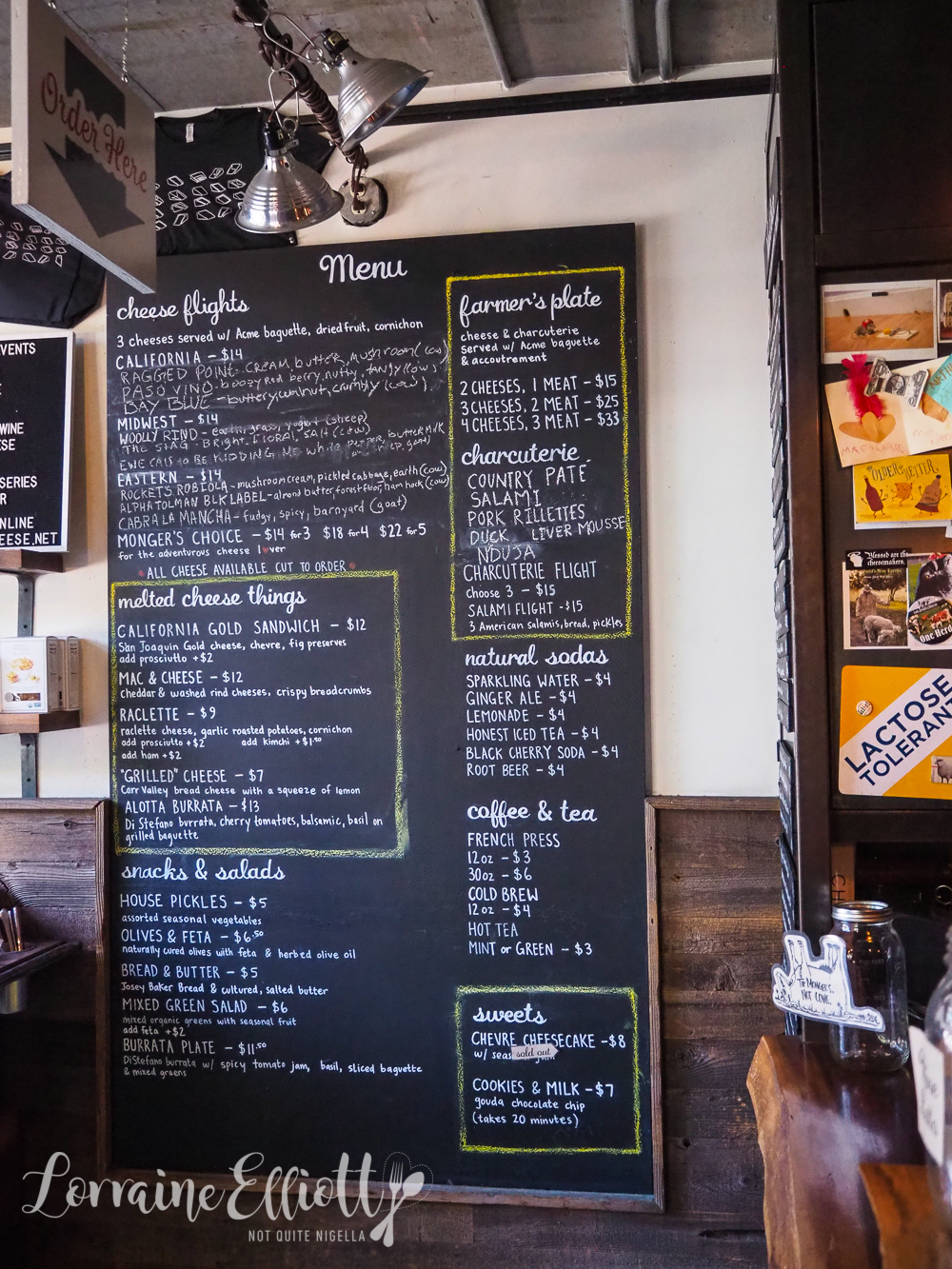 Our next stop is at Mission Cheese where owner Sarah Dvorak pivoted from her job as a corporate sales manager at Gap to the world of food. She originally trained as a chef but didn't enjoy it and found joy arranging cheese platters. She started her cheese journey with a book called "The Atlas of American Artisan Cheese," and undertook a road trip across America learning how to make cows, goats and sheep cheese. The store focuses exclusively on American cheeses.
The first cheese is handed out and Giancarlo asks us which type of cheese we think it is. It's not as yellow as a cow's milk cheese so I think it's a sheep's but he tells us it is a goat's milk cheese. It is so unlike other goat's cheeses without that distinct goaty aroma to it. The La Clare goats cheese is a raw, unpasteurised cheese aged for 12-14 months.
Then we try a Mountaineer Virginia alpine style cheese which is yellower which gives it away as a cow's milk cheese. This is because cows can't process beta carotene so the orange colour shows up in the cheese. The third is a sheep's cheese cheddar style that is good although my favourite is the first cheese.
Gracias Madre
Our third stop is for Mexican-the Mission was historically a Mexican area although our stop involves Mexican with a twist. It's all vegan. Gracias Madre follows the principles of nature's 3 sisters: corn provides the stalk, beans nitrogen and squash shade and they have their own farm called Bee Love where many of the ingredients are grown.
We are trying a vegan taco made with a crunchy masa taco shell filled with roasted pumpkin and topped with cashew cream. There are also roasted potatoes with a spicy mayonnaise. It's nice enough but not overly flavoursome and it's the only stop where I don't really enjoy the food which is a shame because I think everyone was hoping for one of the amazing burritos that the area is known for.
Bi-Rite Creamery
Our final stop is a sweet one. Bi-Rite started as an upmarket grocery store. Wanting to expand into other things founders Kris Hoogerhyde and Anne Walker realised that they couldn't complete with Tartine. Instead they made organic ice cream.
We are having a scoop of ice cream-usually the salted caramel is the most popular but we try some other flavours before deciding on our favourites. Mine is surprisingly a vegan flavour strawberry and coconut. I love its slightly more tart flavour and it has a consistency like frozen yogurt. I also like the coffee with generous chunks of toffee.
West Of Pecos
We bid Haley goodbye but our itch for Mexican food is still not scratched. We stop by West of Pecos on Valencia Street to have some tacos. But not just any tacos.
West of Pecos are known for their puffy tacos. This is a spongey, deep fried taco with a range of toppings. We try one of each and there's Crispy Carnitas with tomatillo, pickled red onion and lime crema.
Beef lovers can try a bbq beef brisket with green chilli queso and scallions (my favourite) and vegetarians also have the Impossible puffy taco with impossible "meat", cashew crema, lettuce and pico de gallo. And with that bite, our hunger for tacos was fixed!
So tell me Dear Reader, do you ever get an urge to eat something and you won't rest until you eat it? Was there one stop that caught your eye?
NQN was a guest of the San Francisco Travel Association but all opinions remain her own. The meal at West of Pecos was independently paid for.
Mission District Food Tour
avitaltours.com/san-francisco/tour/mission-district-food-tour/
West Of Pecos
550 Valencia St, San Francisco, CA 94110, United States
Monday to Thursday 5–10pm
Friday 12–11pm
Saturday 10:30am–11pm
Sunday 10:30am–9:30pm
Phone: +1 415-252-7000