Tartine is one of San Francisco's biggest food success stories. Started in 2002 the owners Elisabeth Prueitt and Chad Robertson both won James Beard awards as pastry chef of the year and they turn out pastries and breads including their signature Morning Bun.
Please note that this story was written before the start of the COVID pandemic but the businesses featured are still in operation.
San Francisco's sourdough bread is famous-in fact there is a particular strain of bacteria said to be responsible for the signature sour flavour of San Francisco bread (named L. sanfranciscensis, no less) and San Franciscans love their bread with a fierce loyalty. Ironically Elisabeth Prueitt, co-owner of Tartine is a coeliac.
We arrive early one Sunday morning at Tartine Manufactory. It's a square building in the middle of a light industrial area. The line has already formed outside with people waiting for a table (and the line will continue after we leave at 10am).
I watch a man take out loaves of risen dough from the metal shelves. He removes the flour coated sacks and the conveyor belt and then moves the dough into the Italian oven.
Slashing the loaves
The dough going into the oven
"That oven cost $100k but it also cost $80k in shipping," he tells me as he notices me looking at their ovens. It allows them to increase the amount of sourdough production and they make 600 loaves a day here. You can also watch the bakers doing their thing from behind the glass walls.
It's a light filled, airy spot with simple but tasty breakfasts. Adjacent to the eat in café there is a section where people can buy the bread and pastry to go. At 9am there is an already depleted display.
"Where are the morning buns?" I say out loud as I scan the display looking for their most famous pastry. "I heard them telling someone they were out," says another customer to me, overhearing the conversation. Indeed they are.
Morning bun-less we take a seat at our table and our food arrives shortly later. Slices of country white sourdough come brushed with oil and lightly toasted-either plain or with za'atar. They bring this out with a pot of spiced quince jam that is gorgeously aromatic and not too sweet. We pair these with Bloody and Virgin Marys that are strong in celery salt.
Coddled eggs are served with a blanket of fresh chives. The yolks are gooey and I spread some onto my plain toast. Heaven.
Coddled Eggs $16USD
Smoked Salmon Tartine $15USD per serve
We are trying two types of tartines this morning and the first is a savoury one with smoked salmon, pickled onions, cream cheese and Meyer lemon zest. This is delicious, wholesome and simple.
Seasonal Tartine $12USD per serve
The other tartine is the fuyu persimmon tartine with almond butter, chopped roasted almonds, orange and a nice hit of anise from fresh tarragon. I love the use of persimmons on toast, a fruit I usually eat plain.
The pastries are next: there's a chocolate babka pastry that has bitter chocolate. I think I'd like more sweetness or butter to this. While I really like the bread, the pastries are best taken home and then heated up.
Seasonal Fruit Muffin $5.25USD
The gluten free muffin is tasty and wholesome with almond flour, seasonal fruit and walnut crumble.
Seasonal Jam Bun $5USD
The jam topped custard brioche round is nice, sort of like a donut crossed with a brioche with the sugar sprinkle.
Savoury Scone $5.25USD
Out of the four pastries I like the cheese and chilli scone the best. It has pickled fresno chillies, white cheddar and chives.
Morning bun $4.25USD
As we get up to leave we hear the good news-they have morning buns! The morning buns are what Tartine is most famous for and has inspired a legion of copycats. I do remember them slightly differently. I remember a gooey-er bottom but I still feel like a victor having nabbed one of these.
So tell me Dear Reader, where is your favourite bakery in the world? And what is your favourite type of bread?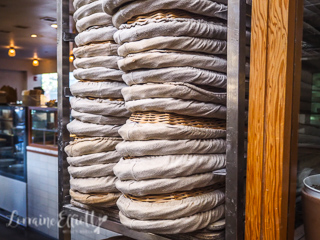 NQN was a guest of Tartine Manufactory and San Francisco Travel Association but all opinions remain her own.
Tartine Manufactory
595 Alabama St, San Francisco, CA 94110, United States
Open 7 days 8am–10pm
tartinemanufactory.com
Phone: +1 415-757-0007