Social Hideout cafe calls themselves "Sydney's prettiest cafe" and is an unashamedly Instagram friendly eatery. It's all about the 'gram and there are opportunities for taking photos of yourself or your food should you wish. The food is colourful, drinks are served in miniature gold baths topped with pashmak and hundreds and thousands.
I'm so glad that I haven't brought selfie hating Nina to Social Hideout. You see while the menu has healthy options, I think the slew of people lining up to take selfies would trigger her greatly and cause her excessive eye rolling. And you know I'm not a hater of Instagram friendly places-I did go to the Museum of Ice Cream in San Francisco and had a great time.
There's obviously no issues taking photos in a cafe that greets you "Hey gorgeous, let us seat you". You can choose from a large indoor space or an outdoor one. A large print of Audrey Hepburn lines one wall for a large share table and inside there's a ceiling of faux wisteria. At the back well there's a neon sign where people are busy taking pics.
Iced Taro Bath tub $9.95
Okay so I was talking bath tubs. I only ordered one because I succumbed to FOMO as I saw another girl order one. The bath tub is a drinking vessel that delivers an oversized iced drink. You can order it either as an iced red velvet, iced matcha, iced taro, iced coffee, iced mocha, bubblegum or chocolate. We go for the iced taro and it is sweet and creamy with a top layer of whipped cream and hundreds and thousands. Yes it is odd drinking from a bath and it's best picked up with both hands.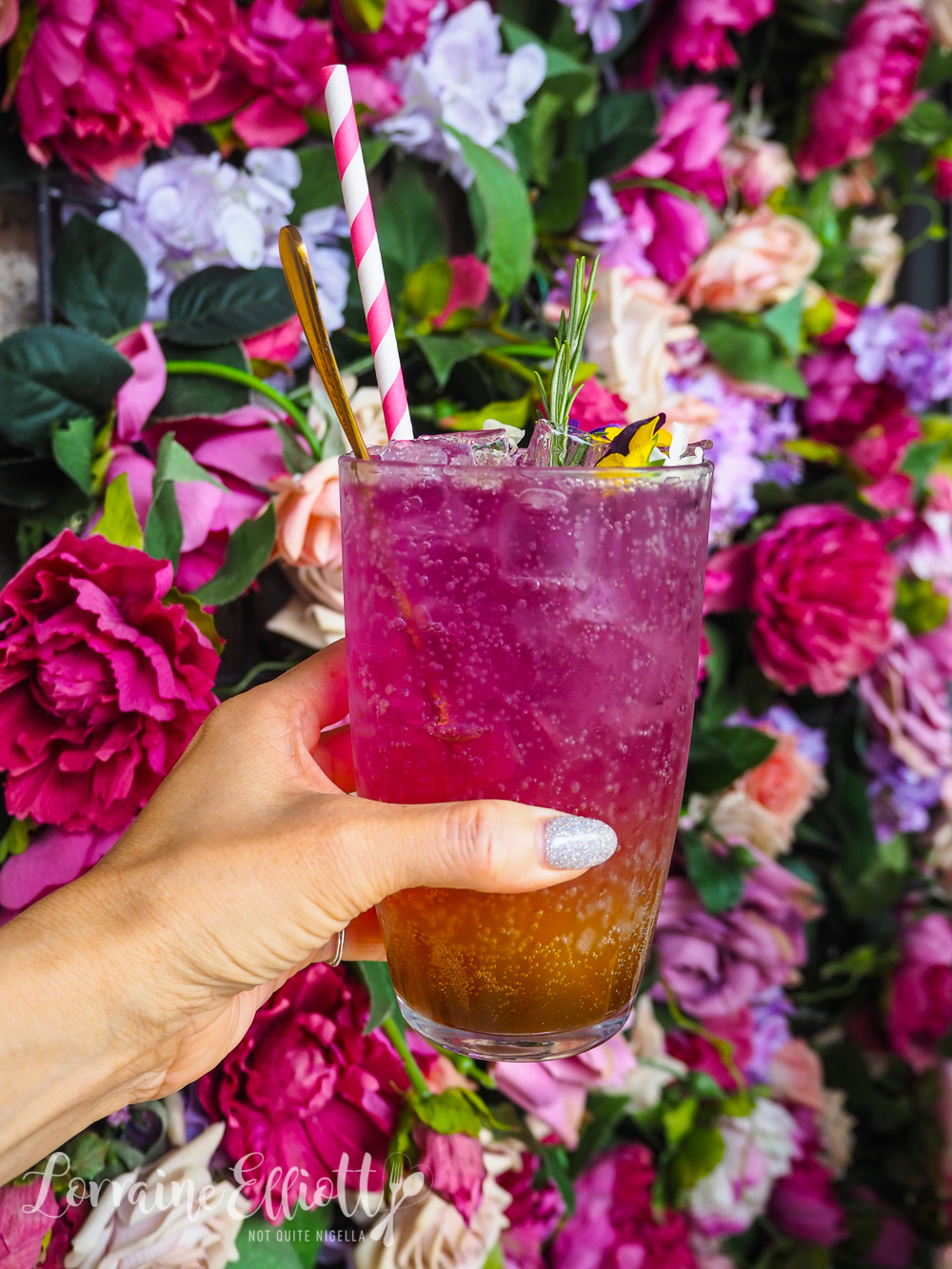 Audrey's Butterfly Flower Wisteria $9.50
The butterfly flower wisteria is a pretty three layered sherbet soda, distinctly more tart that the latte above but I love that it isn't overly sweet.
Steamed Bun Sliders $19.90
We decided to share a couple of main dishes and the menu is kind of crazy to normal - for example you can get things like noodles served inside a mini watermelon which is a combination I would have never have thought of. The sliders come as either a fox face or a Minion depending on the day and today it is a fox. It's a beef patty with a little bit of American cheese, a spread of beetroot relish and beetroot mayonnaise on a steamed bun. It's ok but a bit dry inside especially as there isn't much salad to it nor cheese. While they're cute I don't think I'd order these again.
Taro Fruit Granola $19.90
I make granola yogurt for Mr NQN every morning and he loves the stuff so I figured he would enjoy the taro fruity granola. The taro is in the centre as a taro panna cotta. The granola is made up of oatmeal, almonds, pecans, macadamias and served as a round of granola with mixed berries, fresh mango cubes, passion fruit pulp and a little jug of coconut avocado yogurt which is a little odd. It isn't as fresh or crunchy as you might a granola to be and it's a bit more dessert than breakfast.
So tell me Dear Reader, would you visit a place to take selfies? What is the most unusual drinking vessel you have seen?
This meal was independently paid for.
Social Hideout
Shop 4/5/25-33 Allen St, Waterloo NSW 2017
Monday to Friday 7am–3pm
Weekends 8am-3pm
socialhideout.com.au/