Sometimes you want a really good meal in friendly surroundings where you know what you'll get and there are no fancy surprises. And when Alyson suggested her favourite local neighbourhood restaurant Bar Zini I knew that I would get some hearty Italian fare and I quickly saw why this unassuming little bar was one of her favourites.
Are you someone that always feels the chill? I am and Autumn has truly set in in Sydney. While I watch leaves fall outside as we sit al fresco at Bar Zini on Pyrmont's Harris Street, I'm still buoyed by the fact that we don't need coats and I'm feeling perfectly warm.
It's Thursday night and Harris Street in Pyrmont is relatively quiet. Many of the day businesses have closed and I'm meeting Alyson and Geraldine at Bar Zini, one of Alyson's favourite neighbourhood restaurants. She lives nearby and sometimes she sits at the bar and has a glass of wine and a meal. This evening we're seated outside because of the warm evening. It's very busy with customers and Alyson surveys them with a knowing eye, "These are mostly locals" she says in her Scottish lilt. She introduces me to chef and owner Damian Krigstein who is in the kitchen tonight.
Gerladine and Alyson order martinis while I go for a cocktail of the day with Hendrick's Gin, fresh cucumber and apple press and mint. It's very refreshing and with just the right amount of sweetness and freshness.
The dinner menu changes every day and it's a good mix of fresh and warming which seems just right for this weather. We take some recommendations from the friendly staff. The entrees arrive together and as we are sharing this necessitates a bit of reshuffling.
Burrata with roast cherry tomatoes, basil and toasted pine nuts $21
I don't know anyone that doesn't swoon at burrata and we are no different. There isn't so much cream in the centre but there's a little that mixes and melds with the sweet roasted cherry tomatoes. On top there's a chiffonade of basil and crunchy pine nuts. It's such a gorgeous dish and I would recommend ordering it with a side of bread that comes warm to mop up the juices. I've never been able to leave juice alone...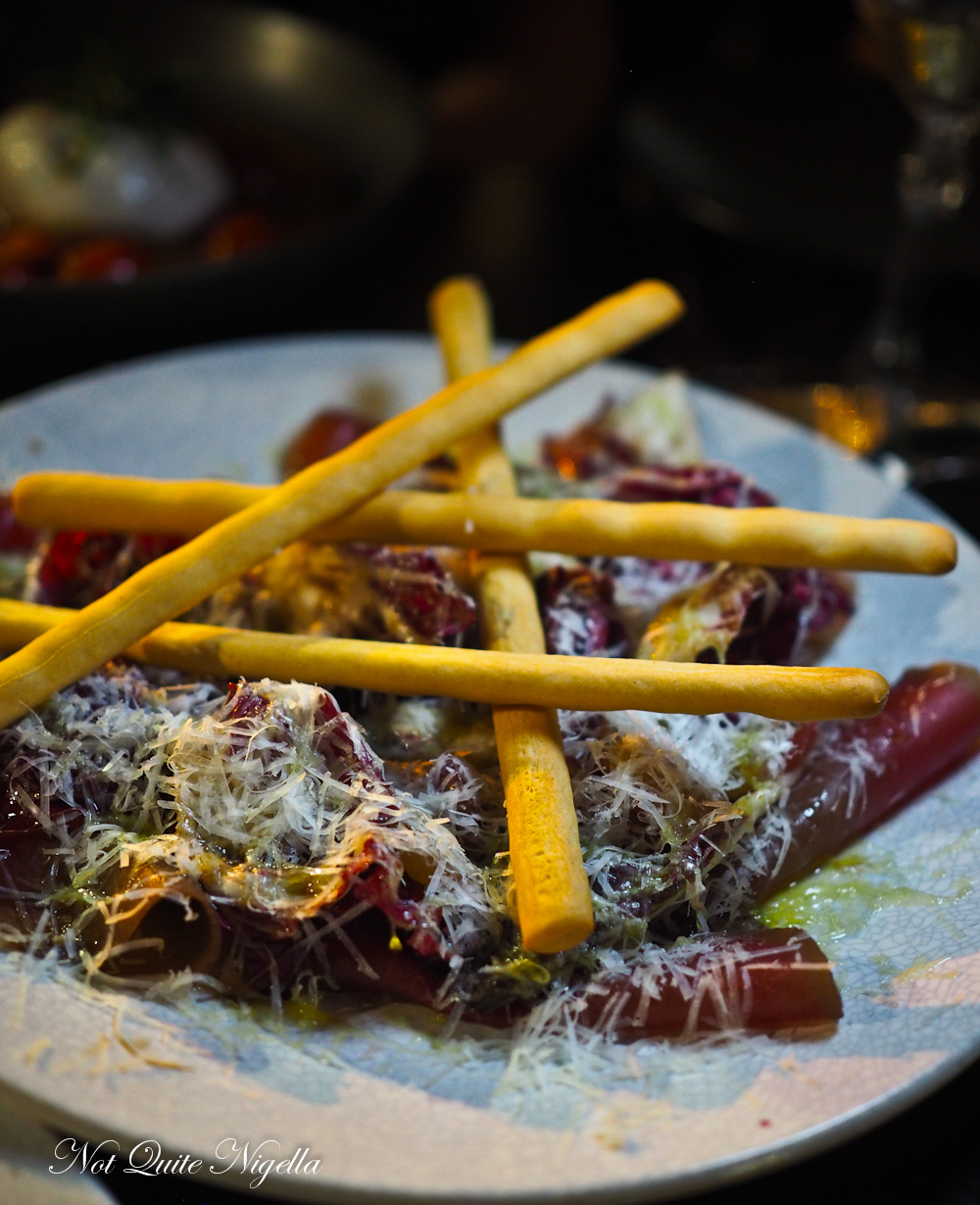 Bresaola with radicchio, red grapes, pecorino and grissini $21
The entree sizes are very generous and I end up having three serves of this. Served in perfect proportions, the radicchio's bitterness is tempered with the halved red grapes and blanketed with pecorino. The bresaola and grissini complete this dish perfectly. I have plans to make something like this at home.
Salmon crudo with beetroot, fennel, horseradish and pomegranate $22
The salmon crudo has a punchy freshness from horseradish and pomegranate to counter the richness of the other two entrees. There are large leaves of cured salmon with beetroot and finely shaved fennel on top.
Rigatoni with lamb and red wine ragu and ricotta salata $28
Our two mains arrive steaming hot and although we had eaten a lot we tuck in after some photos. I love the fat rigatoni tubes with a minced lamb and red wine ragu and topped with finely shaved ricotta salata like Mount Etna. It's rich but not over the top with a judicious balance of flavours. And I have three helpings. Oops.
Fettucine cacciatore with chicken, peppers, Sicilian olives and white wine $28
Geraldine is a big fan of the fettucino cacciatore with soft chicken, peppers, Sicilian olives and white wine. It's an enormous serve (this is a bit of a theme here) but I really prefer the rigatoni out of the two.
Vanilla and coffee panna cotta with fig and Earl Grey jam and hazelnut biscotti $14
There's one dessert and we decide to share. It's a wobbly, gorgeous coffee panna cotta with a side of stewed figs and Earl Grey jam and a round of hazelnut biscotti. It, like the rest of the menu is generously portioned and we have trouble finishing it between the three of us. The tables around us seem to be in no hurry and we watch people sit back and chat for hours.
So tell me Dear Reader, do you feel the chill more than others? And do you order bread to mop up sauces?
Bar Zini
78 Harris St. Pyrmont NSW 2009 Phone (02) 9660 5718
Sunday closed
Monday to Friday 7:00am - 3:00pm
Saturday 8:00am - 10:00pm
http://barzini.com.au/