I have a confession to make. Although it has barely turned December, I've been in the Christmas spirit for a few weeks now. This has manifested itself in the desire to see friends and toast the Christmas season, much to the neglect of essential things like work and housework and well, everything else. #FAIL.
When Belinda suggested that we try a weekend lunch at LuMi in Pyrmont, I was more than happy to make the most of Summer and the sunshine soaked piers of Pyrmont. Open since September 2014, LuMi occupies the space vacated by Ripples. It resembles a glass fronted box with a view of the boats bobbing up and down on the harbour.
The name LuMi refers to lights - from the globes that hang from the ceiling to the desk lamps and floor lamps. It is also the combined name of the chef Federico Zanellato twin daughters Luna and Mia. He is the former head chef at Ormeggio at The Spit in Mosman. Today's lunch service has about eight tables with some larger tables.
Seasonal Scroppino $18
During the week the degustation is an very reasonable $49 per person for four courses and on Sundays it is $89 for 8 course with an additional $80 for matched wines. We watch as they prepare the food in the open kitchen crowding over dishes as if they were operating on them. Belinda sips a refreshing Seasonal Scroppino cocktail made with blood orange sorbet whisked with Prosecco.
A few bites arrive all at once. First they set down a plate of three bites - there's a thin cheddar sable biscuit topped with grated macadamia with a centre of pickled Lombardo chilli. Next is a potato and rosemary focaccia and thirdly there is a deep fried rice paper cracker dusted liberally in fine salt - it's a bit too salty for us but the other bites are good.
Italian Chawanmushi
The Italian chawanmushi is their take on the classic Japanese chawanmushi but instead of using dashi they use parmesan. It's a silky custard but the parmesan is a strong and makes this less delicate than Japanese chawanmushi which is all softy softly in texture and flavour. On top are enoki mushrooms and porcini powder.
Sand Crab
There's a bit of confusion as the person that brings the food tells us that this is spanner crab from Queensland but the menu and another staff member says that it is sand crab. Nevertheless it's a delicate, mild flavoured dish with a centre of Queensland crab hand picked in the restaurant with pieces of Jerusalem artichoke in a creamy emulsion. It is topped with powdered oyster and puffed rice. The crab pieces are buttery soft inside the lightly crunchy outer.
Spelt Ravioli
The spelt ravioli comes out as four semi translucent discs with amber liquid inside. This is the pumpkin and burnt butter filling that explodes gently in the mouth. I don't want to get inappropriate but yes it was damn good and it felt a bit sexy too. There is also Avruga caviar and sea urchin and pumpkin seeds and chives on top but these are really adjuncts to really good ravioli and aren't strictly needed.
Stinging Nettle Chitarra
Chitarra means "guitar" in Italian and chitarra is a long pasta made when pasta dough is pressed against cutters that resemble guitar strings. This is flavoured with stinging nettle, dressed with mussel cream and topped with crispy pork and fennel pollen. This is salty and tastes completely "of the sea" and it is strong in flavour and intense. It could be too much for some that prefer less rich flavours.
Eggplant
The next dish is the eggplant and alas although we both love eggplant, and nasu dengaku, the Japanese grilled eggplant and miso dish we didn't go for this. It was just a bit too salty and too intense although it was very pretty. The top was intensely salty while the bottom was quite watery.
Pig Jowl
If we were indifferent to the eggplant, it was the opposite reaction to the pork jowl. Shrouded in a wilted leaf we lift it up to reveal a slice of melting Kurubuta pork jowl and crunchy buckwheat, a paper thin slice of apple and celeriac puree. Not a speck goes back to the kitchen and it's a dish that I keep thinking about even later that night along with the ravioli.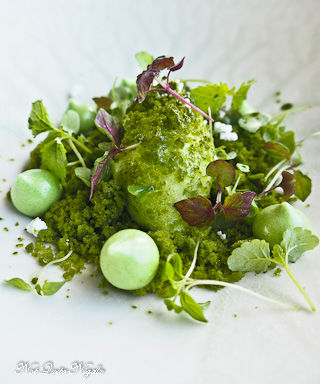 Evergreen
By the time the elaborate palate cleanser arrives, we are very full and the verdant "Evergreen" barely gets a look in. It's very fresh, almost too refreshing with a full punch of herbs from sorrel sorbet, basil and lemon granita, mint meringue, shiso jelly, parsley salt and bicarbonate soda fizz.
Milk Ice Cream
Our last course is the milk ice cream and it is an exercise in lightness, a contrast to the richness of the savoury dishes beforehand. There is a delicate flyaway citrus zabaglione that is like the lightest whisper of a kiss, two mouth watering macerated sour cherries, a milk crumble for crunch, a salted caramel base and a milk ice cream that brings all of these elements together. Make that three dishes that I can't stop thinking about...
So tell me Dear Reader, are you in the Christmas spirit already? How many courses can you usually eat before you get too full? Do you prefer degustations or a la carte?
This meal was independently paid for
LuMi Dining ##
56 Pirrama Rd Pyrmont, NSW 2009
Tel: +61 (02) 9571 1999
Open Thursday to Sunday 12pm-2:30pm, Wednesday to Sunday 6-10pm
http://www.lumidining.com/LuMi/index.html