I had heard the warnings while I was overseas basking in the Northern Hemisphere midsummer's sun: that it was freezing cold in Sydney. Even the normally quiet Mr NQN was complaining about the cold. So when my sometime vegetarian friend Laura asked where we could go out for dinner the Italian restaurant Sagra was the first thing that came to mind. Located on Stanley Street in Darlinghurst it's a local's favourite with a daily changing menu. Sagra means rural harvest in Italian.
"I've been here before," says Laura looking around. "But I went with people that had a terrible palate," she continues. She explained that it was with work colleagues that were fussy eaters and even Laura with her semi vegetarian palate tore out her hair at their fussiness.
But sometimes Laura's open mindedness is tested and it's when we order the smoked trout crostini and a liver pate arrives that she takes a deep breath. "This is not smoked trout," I tell her warning her. "That's okay," she says trying it and eating it. It's a full flavoured starter of rich pate on a piece of bread. I also have a lamb croquette with chilli aioli to the side which I really enjoy. The lamb is soft and the outside is golden crunchy and I love anything with chilli in it.
To drink Laura and I order a chilli negroni and a rosemary lemonade. The lemonade is strong in lemon and rosemary and is quite sweet as is the chilli negroni. I usually am not a negroni drinker because I find them a bit too strong but this has a nice sweetness to it. We order it medium spicy and it has a really nice kick to it. I think ordering it as hot would actually be too hot for us.
The dishes start arriving one by one and we are sharing. The buffalo mozzarella is milky and mild and given pops of flavours from the shaved bottarga on top. I wish we had saved some of the bread for this and perhaps this would have been better before the pate (although we didn't know that we were getting pate, we thought we were getting smoked trout).
The pumpkin gnocchi is soft and tastes like it is made out of chestnut flour too. There are small pieces of sweet chestnut, savoy cabbage and shavings of fontina cheese on top. It's a Wintery comforting dish. The pasta dishes are quite small too but they're sizeable enough to have as a main if you aren't too hungry.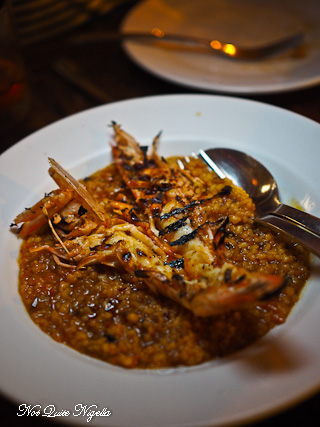 Our favourite dish is the braised fregola with chargrilled prawns and chilli. There's a strong flavour of anise in this which wasn't mentioned but we both like this flavour. This is a dish with personality while the gnocchi was a bit timid in flavour.
Every time I catch up with Laura she is on a "Hetox" or "Manopause" and yes again she has sworn off men for a while. We discuss finding "unicorns" like Mr NQN. Those lovely men that are sweet, handsome and don't play games. I tell her not to give up because unicorns do exist (although I've only met a few).
They bring out the braised beef cheek along with the side dish. The beef cheek is a replacement for the lamb shoulder and I'm fine with that because I love beef cheek that much more. It's so soft and I have to take a little snapchat video of Laura prying it apart with a fork and spoon, the gelatinous flesh glistening as she pulls it apart. The beef cheeks are perfectly seasoned and luscious and come with cabbage, chestnuts and celeriac puree. A perfect winter warmer.
Although Laura wasn't such a fan of this, I was. The Brussels sprouts are fried layer by layer so that they are very crisp and almost like a chip. They are paired with mild chilli and a bit of mint. They go very well with the beef cheek too. Laura noticed one thing too: while the dishes on the website are served on beautiful plates, in the restaurant they're served on regular crockery.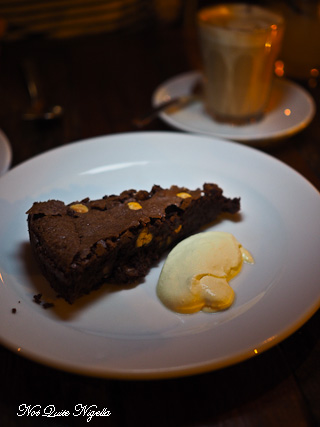 The gianduja cake is a chocolate hazelnut cake, rich and dense in texture with plenty of whole hazelnuts that prompts Laura to admire its "nuttage." It's good for what it is and it comes with mascarpone on the side although I would say that this is more a classic dessert than something inventive. Not that there's anything wrong with that of course.
But it's the gelatos that have won our heart, even on this cool evening. The salted caramel gelato is good but the roasted pistachio is our favourite with chunks of whole roasted pistachios throughout it.
When we look around, we realise that at 9:30pm we are the last in the restaurant and that it is the cue to leave. The bill is about $170 for both of us so it isn't inexpensive. I bid Laura goodbye with well wishes to find her unicorn!
So tell me Dear Reader, do you believe in unicorns? And is there anything that you won't eat?
This meal was independently paid for.
Sagra
62 Stanley St, Darlinghurst NSW 2010
Phone:(02) 8307 0430
http://sagrasydney.com.au/