Hand on my heart Dear Reader, this oregano chicken is not the prettiest looking dish but it delivers taste in spades with the simplest flavour palette ever. Originally an Oaxacan Mexican dish served with potatoes, I switched the potatoes for rice (more on that later) and it was so tasty and easy that I would call this a pushy recipe!
This recipe came about in a roundabout way and bears little resemblance to the original recipe. When I started to cook this I thought it was a disaster. I have an issue with a lot of cookbooks where things just don't work out and they don't look anything like they do in the picture.
This is from the Oaxaca cookbook by Bricia Lopez of La Guelaguetza restaurant. I don't know what made me mark this recipe. Dried oregano is one of my least favourite herbs.
To me dried oregano seems dusty and the aroma isn't anything special and it reminds me of being a kid (I hated my childhood) and people sprinkling it on bad pizzas and lasagne. I swear that when I smell it, everything looks retro faded and yellow. Sure enough when I went to fish it out of the very back of my spice cupboard the tiny bottle was 99% full.
I made the dish and when the 45 minutes was up and the water was supposed to have evaporated there was still plenty of water there. I didn't have any time to waste-I had a busy Saturday and so I decided to add rice instead of potatoes to absorb the liquid. I actually prefer rice to potatoes most of the time (maybe it's genetics).
The instructions said to stir the chicken constantly, but the chicken at this stage was so soft that it broke up, the tiny bones popping up between rice grains. It was quite frankly a hot mess and looked like a chicken graveyard. "This is the last time I use this cookbook," I muttered to myself (note: I talk to myself a lot, it throws Mr NQN when he works from home and this is why I can never go back to work at an office).
Back to the chicken. I took a spoon and tried some. My goodness it was divine. Perhaps it was the whole head of garlic or perhaps it was the herbs and spices (oregano, black pepper and cumin), none of which I would have necessarily used together. I also added more lime juice at the end. But I looked down at it and it looked so woeful I thought "Nobody is going to want to make this." I did end up putting this under the grill as a bit of an experiment and to give the chicken colour-this is up to you Dear Reader if you make it and want to do this step. I loved it as it added crispiness and it toasted the herbs and spices so they came to life.
So that's the sort of roundabout story of this not very sexy looking oregano chicken. I really hope that some of you will give this a go because it is a wonderful chicken dish that isn't anything like any other chicken dish I've tried.
So tell me Dear Reader, do you have a least favourite spice that you don't use very much? And do you prefer rice or potatoes? And do you talk to yourself much?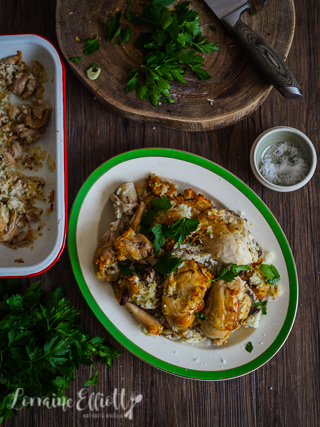 Did you make this recipe?
Share your creations by tagging @notquitenigella on Instagram with the hashtag #notquitenigella
Oregano Chicken Bake
An Original Recipe by Lorraine Elliott
Preparation time: 10 minutes
Cooking time: 55 minutes
1.8kg/4lb. chicken, cut into 8 or 10 pieces (ask the butcher to do this)
2 tablespoons lime juice
1 tablespoon salt
1 cup rice
1 head garlic, cloves separated and peeled
3-4 tablespoons dried oregano
1 teaspoon black peppercorns
1 teaspoon cumin seeds
1/2 teaspoon salt
2 tablespoons oil
3 tablespoons lime juice
Step 1 - Marinate the chicken pieces with the salt and lime juice for 10 minutes. Heat a large pot with 2 cups of water and place the chicken pieces in the water and simmer gently for 45 minutes with the lid off.
Adding the rice into the stock
Step 2 - Rinse the rice until water runs clear and add this making sure that the grains are submerged in the stock and place the lid on and let the rice steam for 15 minutes.
Step 3 - In the meantime, place the garlic, oregano, peppercorns, cumin seeds, salt in a mortar and pestle and bash away until you get a paste. Add to the pot - the water should have evaporated by now and stir to coat the chicken and rice with the garlic mixture and cook for a further 5 minutes or so softening the garlic. Drizzle with oil and lime juice.
Step 4 - Optional: place the chicken and rice under a grill to crisp up the chicken and rice.