One of the most beautiful cinemas is the OpenAir cinema set to the backdrop of Sydney Harbour at Mrs Macquarie's Chair. There's a range of premiere movies and pre-releases and this year there's an upmarket food offering. The Lounge is a collaboration between Biota's James Viles and The Fresh Collective. Diners can choose between a pre-movie 2 course meal for $70 or a 3 course for $85 and enjoy the film from premium seating.
This is the first OpenAir collaboration between the chef and The Fresh Collective and diners must pre-book their tables. At 6pm they open the main gates. Entry to the lounge gets you in the shorter VIP pass holder queue where helpful volunteers direct you to the blue and white striped umbrella right at the northern end of the precinct where The Lounge is located. Next to this is the separate Croser bar which is a collaboration with A1 Canteen. A $20 entry fee will get you a glass of sparkling wine and you can order snacks and drinks there.
We start with glasses of crisp Croser sparkling rosé. The menu has some additional appetiser and side items apart from the starters, mains and dessert. We can't resist these and add a few to our order. On the menu there are plenty of gluten free options, one vegan main and one vegetarian entree. Service is really lovely and accommodating from all of the staff.
The Sydney rock oysters have a sweet native pepper vinaigrette and plenty of chives on top. I could have easily ordered a dozen of these to have with the rosé and been very happy sitting by the harbour.
My other favourite snack is the cured tuna with poor man's orange or grapefruit dressing on deep fried toast rounds. This reminds me of prawn toast with the deep fried toast discs and the cured tuna topping is creamy and fresh.
Mr NQN prefers the taramsalata topped with roe and dill with triangles of grilled potato bread and French radishes. I prefer my taramasalata a bit more salty but I do like the creamy, light texture.
Our starters arrive at the same time as our appetisers which necessitates a bit of juggling. The sashimi kingfish belly is topped with shaved yellow watermelon and drizzled with nori oil. The kingfish belly us my favourite cut of kingfish for sashimi. I actually prefer it without the yellow watermelon on top as I like to taste the luscious texture of the kingfish by itself.
A sizeable starter (and really, unless you have an enormous appetite, serving sizes are very generous and you could definitely do 2 courses and be very satisfied) the Tasmanian octopus is perfectly charred and tender and is served with garlic aioli and a native XO sauce. The XO sauce is made by drying out some of the octopus which is then ground into a powder and mixed with native pepper, pancetta, chili and garlic to form an XO sauce.
The duck breast is served already sliced with a lilli pilli sauce and plump blossom capers. The lilli pillies add a lightly tangy element, much like in the same way that plum sauce goes well with duck and Mr NQN makes fast work of this dish. The duck however doesn't come with any sides so our waitress asks if we wanted to add a side dish.
It is a toss up between the photogenic and fresh shaved heirloom radish salad with citrus slaw or the creamed potato with burnt butter. Gluttony won my Dear Reader especially because I am a fiend for burnt butter. It's so very creamy and moreish.
By now my gluttony is catching up to me and I can't finish the beef try as I want to because it is so tender and luscious. It comes with crispy smashed potatoes and a delightful wild garlic bearnaise which is quite light rather than heavy handed on the garlic.
Have I mentioned how much I like honey? We go through bottles of the stuff and it was a no brainer to order the burnt honey tart. It isn't as sweet as I had expected. The honey flavour is light on this and it has a slightly grainy texture from gellan gum (a plant based alternative to gelatin). The cream on top is unsweetened and it comes in a crisp chocolate tart shell.
When they set this dessert down I do a double take. It's big enough for two. It's a bit scoop of fruity whipped dark chocolate and a scoop of coffee sorbet underneath thick sheets of chocolate biscuit. Truthfully I think I would have liked thinner chocolate biscuits but the thicker ones add to the substantialness of the dessert.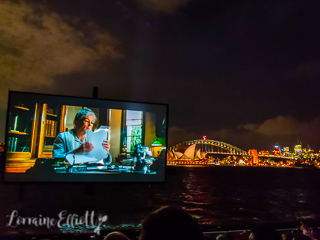 Just after 8pm we make our way to the section where we are directed to our seats. The movie we've chosen is Radioactive, the story of Marie Curie with Rosamund Pike in the title role. It's an interesting movie, not my favourite in terms of style or pacing (at times it feels really rushed) but Marie Curie's story is fascinating. I didn't watch the ending (although we all know how it ends generally speaking as it is a biopic) because in the last few minutes, the heavens open and there's a wild thunderstorm!
So tell me Dear Reader, have you been to the OpenAir cinema? Do you like outdoor cinemas and if so, do you have a favourite one? Would you stick around to watch the end if there's a storm?
NQN and Mr NQN were guests of The Fresh Collective but all opinions remain her own.
Westpac OpenAir Cinema
westpacopenair.com.au/dining