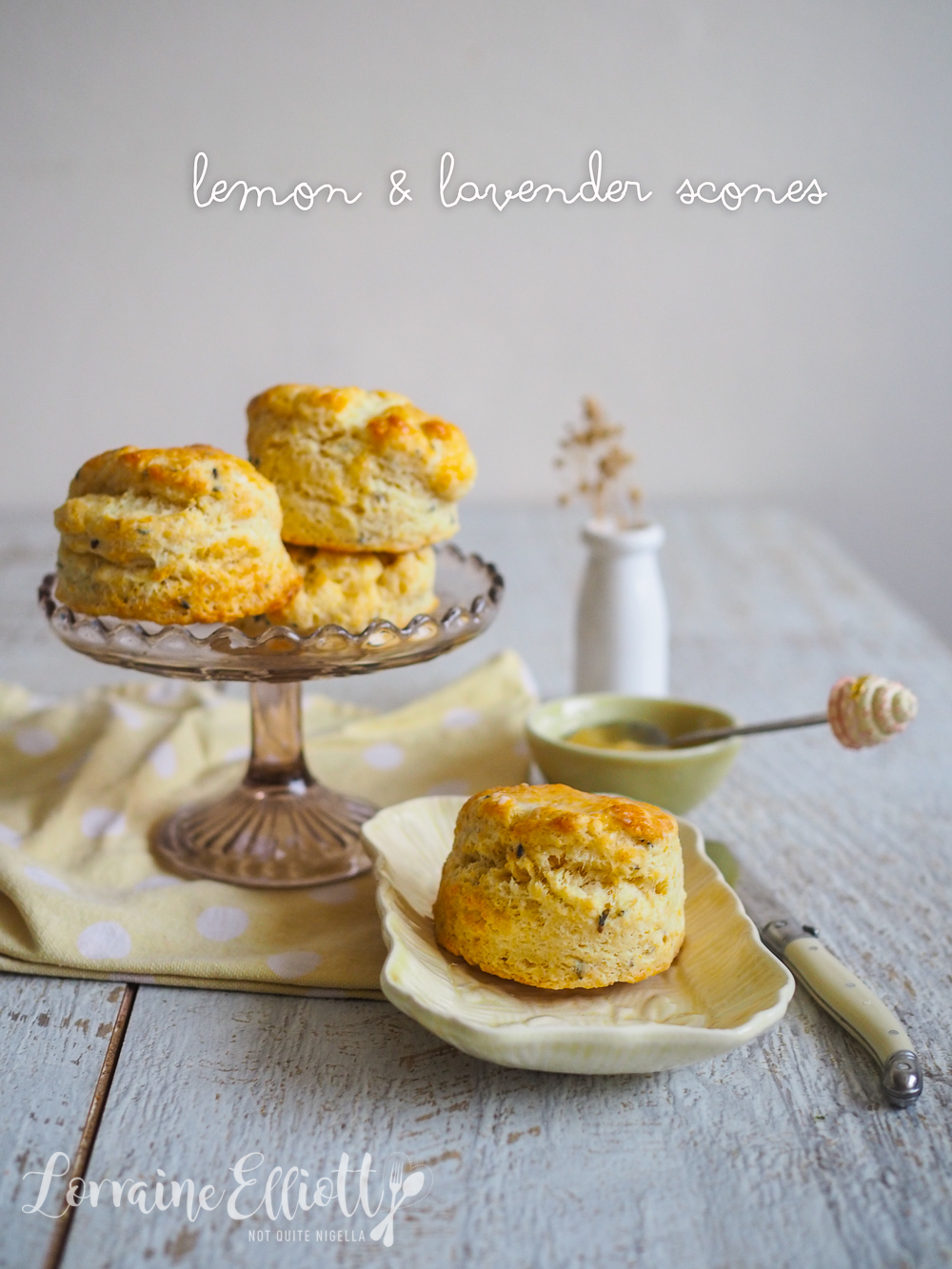 These buttermilk scones are light, tender and flakey and utterly moreish. I'd almost be tempted to give these a money back guarantee if I could! Scones are a classic Mother's Day treat and these lemon and lavender scones are simple but rather special. This recipe for scones produces a small batch of scones - four perfect scones with around 5 minutes prep. I also share my tips for turning out the most amazingly light scones!
I decided to make a small batch scone recipe because everyone seems to want to bake but we may not want to make a large batch of scones. Scones are best eaten on the day that they are made-soon after coming out of the oven is actually ideal. This makes four scones only but of course you can easily double or triple this if you want to make them for sharing.
Scones are best when the scone is crumbly and short in texture. Although the scones have a few more ingredients than say a 3 ingredient lemonade scone recipe I promise that they're worth the effort.
Tips For Making Perfect scones:
1 - Always use cold ingredients. For example: cold butter, cold flour, cold milk. Cold butter is crucial as this helps the scone rise. Ideally, cut the butter up into cubes and then pop it in the freezer taking them out just before using (this is imperative if the weather is warm).
2 - Check that your baking powder (or your self raising flour) has not expired. This is the major leavening agent in your scones.
3 - Measure your flour with a scale.
4 - Be careful when using wet fruit in your scone as this can affect the texture. Try dried fruit or freeze your fruit before adding it to the dough.
5 - If you have hot hands (like me) use a food processor to mix in the butter with the flour which helps to keep everything cold. If you have cold hands then you can mix in the butter by hand. Always add in the buttermilk by hand though because if you overmix the liquid to the flour, this activates the gluten and makes your scones tough.
6 - Handle your scone dough as little as possible. Mixing it until it comes together is perfect. Try not to reroll the scone dough too much too. The re-rolled scone dough never rises as high as the original ones. That's why cutting them in squares or wedges (American style scones) can often work.
7 - When you cut your scones, the dough should still be cold to the touch.
8 - IMPORTANT Do not twist the cutter when cutting scones. You want scones that rise up vertically and twisting the cutter twists the scone making it rise unevenly.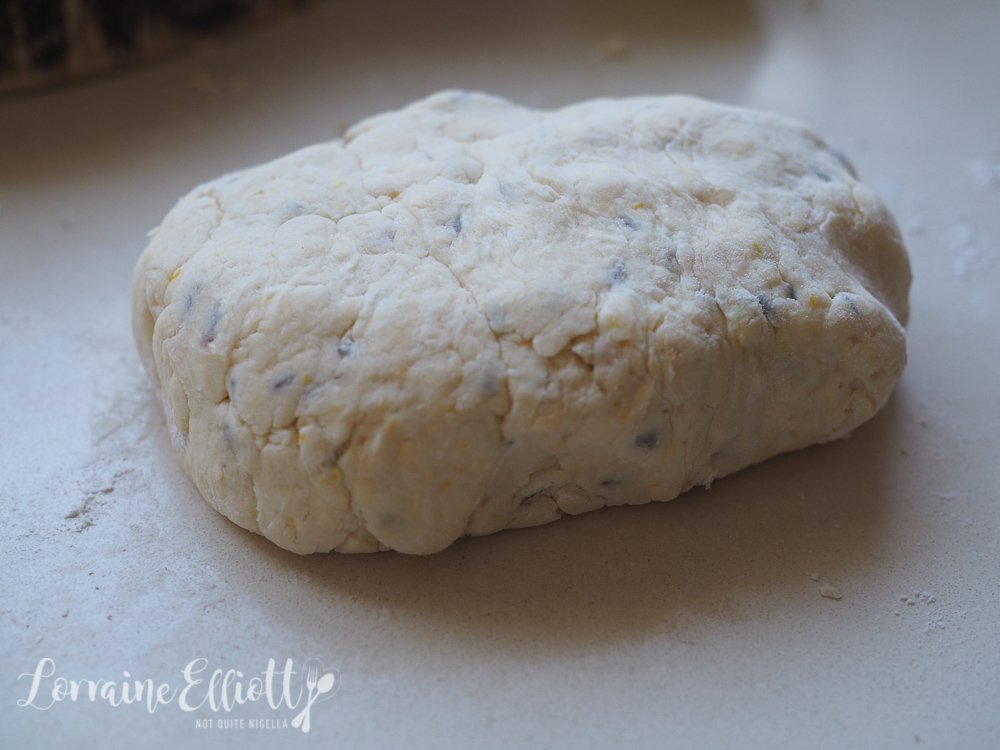 9 - Don't let your scone dough sit around. Bake your scones as soon as you've cut the rounds and egg washed them. This is because there are two types of baking powder: 1. single acting baking powder where there is only one release of gas (when it comes into contact with liquid) or 2. double acting baking powder (where gas is released with liquid contact and also when it goes into the oven). If you're not sure which baking powder you have, just bake it straight away. Some Australian brands don't say whether they're single or double acting while American ones do tend to state this.
10 - Be careful with brushing with egg wash. Only brush the tops and don't drip the egg on the sides as this can inhibit the rise.
11 - Make sure that your oven is preheated before starting to make your scones.
12 - Buttermilk makes for tender baked goods. The acidity in buttermilk breaks down the gluten strands so that they are softer.
13 - Don't have buttermilk? Add 2-3 tablespoons of lemon juice to regular milk to curdle it.
14 - A 6cm/2.4inch round cutter is the perfect scone size. Mini scones tend to be quite hard and lack the soft, light centre.
15 - Do not microwave scones to reheat them, reheat them in oven at 185C/365F for 5 minutes.
Having said that, once you've got these tips to hand, scones are wonderful because they're immediately rewarding as they don't take long and are such a nice treat.
Don't have lavender? You can make lemon and vanilla scones or you can make these as classic plain vanilla scones. You can also try combinations like orange and cinnamon or add sultanas to your scone to make a fruited scone. Any sort of dried fruit also works.
I ADORE scones so I have lots of scone recipes. My favourite ones are the Rose Turkish Delight scones; Orange & Cranberry Scones; Rosemary, Lemon and Golden Syrup Scones; Date & Ginger Scones or these Savoury Pumpkin, Cheese & Rosemary Scones!. If you miss afternoon tea at The Tea Room in the QVB they've kindly shared their QVB Tea Room scone recipe with me here. Or if you're feeling ambitious and up to a challenge, try this Raspberry & White Chocolate Scone Cake!
Mother's Day this year will be a strange sort of event, unlike other years. Even if you can't visit your mother, you can always leave her a batch of these.
I realised how little our world has become lately. That amplifies feelings and makes trivial things larger. Like when they say that travel broadens your mind and makes your realise that you're just a tiny part of the world, this whole Coronavirus situation does the opposite. Mr NQN and I had a conversation exchange the other day that made me laugh. Mainly because I realised how boring we had become.
It was a beautifully sunny Saturday morning and it was time to do the laundry. Usually I put it in the washing machine and Mr NQN hangs it up. He usually needs reminding about this. And now that it's getting cold he can't leave it until the afternoon otherwise the clothes won't dry in time.
"Can you take the laundry out? Your favourite clothesline is going to be taken soon," I told him looking out the kitchen window while making breakfast. We have common clotheslines in our apartment block and there aren't quite enough for everyone.
"It's taken," he said coming up behind me and staring out our dining room window and the washing lines below.
This prompted a discussion about our favourite clotheslines and the pros and cons of each clothesline that lasted 5 minutes before I decided that we had become the most boring couple having the least scintillating conversation ever!
So tell me Dear Reader, do you have things like a favourite clothesline about trivialities like this? Do you bake scones very often?
DID YOU MAKE THIS RECIPE? Share your creations by tagging @notquitenigella on Instagram with the hashtag #notquitenigella
Lemon & Lavender Buttermilk Scones
Rated 5.0 out of 5 by 10 readers
An Original Recipe by Lorraine Elliott
Preparation time: 5 minutes
Cooking time: 15 minutes
Makes 4 scones
120g/1 cup/4ozs. plain all purpose flour plus extra to roll
2 teaspoons baking powder
1/4 teaspoon cream of tartar
Fat pinch salt
60g/2.1ozs. cold butter, cubed
Zest of 1 lemon
1 teaspoon dried edible lavender
90ml/3flozs. buttermilk*
Clotted cream and lemon curd to serve
To make buttermilk, add 1 tablespoon lemon juice to 75ml or 2.7flozs milk
Step 1 - Preheat oven to 200C/400F and line a baking tray with parchment. Place the flour, baking powder, cream of tartar, salt and butter in a food processor and process until fine.
Step 2 - Empty the mixture into a bowl and add the lemon zest and dried lavender and mix. Add the buttermilk and stir to make a cohesive dough. Flour a surface and press until around an inch thick. Cut out with a floured 6cm/2.3inch round cutter dipping the cutter into flour before each time you cut it or you can cut them into squares. When you cut them make sure not to twist the cutter, press down and up. Place on the prepared tray and bake for 15 minutes. Serve with lemon curd and cream.