Scottish potato scones or tattie scones are one of the tastiest and easiest things to make with mashed potato. Eat them plain or top them with this delicious fresh corn salad and leaves of smoked salmon and you'll be so glad you made it! This is a pushy recipe Dear Reader!
Every time I eat a potato scone I wonder why it has been so long between potato scones. They're so delicious and make for a great breakfast or brunch and can easily transition into a lunch or dinner (because really, aren't breakfast items great any time of the day?). They're also fabulous to use up leftover mashed potato.
I don't know how authentic this recipe is. The potato scones I've seen don't have as much herbage as mine do or as much spring onion. In fact they are usually bereft of greenery. I think I really Australianised them with the salad and smoked salmon-I would have added avocado to it too if my avocadoes were ripe (I was mid avocado rotation as I had been away).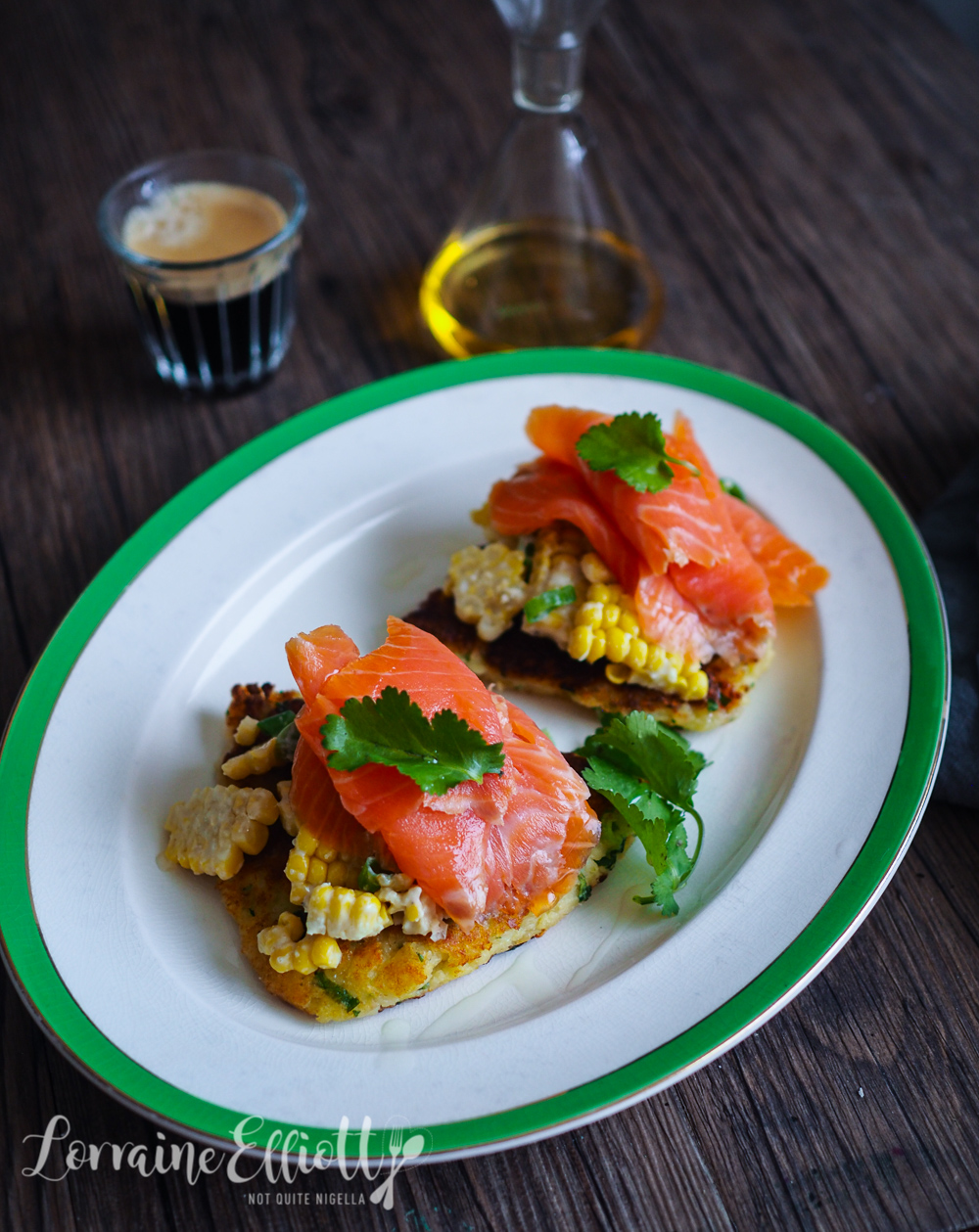 Speaking of authentic, or in this case inauthentic, Ivy and I recently went to a Mexican taco place because tacos are her favourite food in the world. It was at a pub and there wasn't a great deal written about it apart from a blog that had raved about the food there.
We sat down in the outdoor area filled with murals of cacti and Mexican food. I took a bite of the fish taco and it was nice but it went rapidly downhill from there. The beef in the sandwich was so dry that it tasted of absolutely nothing. We were convinced a similar result could be achieved by chopping up cardboard. The raw kingfish was intensely fishy which is a very bad sign for raw fish but the worst dish was the nachos.
I had read that the owner felt like he wanted to do authentic Mexican food i.e. not Tex Mex so I was surprised to see nachos on the menu. Nachos is a dish for some debate. It was created in Northern Mexico but for the American palate which is why it is considered Tex Mex food. In fact the inventor maître d' named Ignacio Anaya created it for US military wives at the Victory Club in Piedras Negras, Mexico, near Fort Duncan. Back then it was simple-crispy chips topped with longhorn cheese and a slice of jalapeno.
The nachos here had just a layer of melted tasty cheese and guacamole on top of the corn chips and that dry mince. The overall thing was dry and crunchy, none of that melty gooeyness. It needed sour cream and maybe some salsa on it because it was hard to get down. "I'm going to ask for some sour cream because this is dry AF," I said to Ivy.
I asked the chef behind the counter for sour cream and he gave me a pained, disdainful look. "We don't DO sour cream," he said imperiously. "But it's very dry," I said to him feeling like Elaine from Seinfeld explaining about pretzels. "Sorry," he said in a very unsorry way.
"You also don't do authentic Mexican food dude," I muttered under my breath as I walked away. We left the nachos behind, actually most of the food behind and vowed never to come back to this inauthentic "authentic" Mexican place!
So tell me Dear Reader, do you mind if food is inauthentic or adapted? Have you ever tried potato scones?
DID YOU MAKE THIS RECIPE? Share your creations by tagging @notquitenigella on Instagram with the hashtag #notquitenigella
Scottish Potato Scones & Salmon
An Original Recipe by Lorraine Elliott
Preparation time: 20 minutes
Cooking time: 15 minutes
Serves 4 people
500g/1.1lbs potatoes, mashed
80g/3ozs. plain flour
2 sticks green spring onions
1/2 cup grated cheese
1/4 cup chopped fresh herbs (parsley, coriander or dill whatever you like)
50g/1.7ozs. butter, softened
1 teaspoon baking powder
1 teaspoon salt to season
Oil for frying
Fresh Corn Salad
2 cobs corn, kernels removed
1/3 cup sour cream or cream
3 tablespoons pickled jalapenos, chopped
1-2 tablespoons lime juice
1/2 chopped green spring onion
1 teaspoon garlic powder
1 teaspoon onion powder
1 tablespoon feta, crumbled (optional, I just had a bit of feta left over)
300-400g/10.6-14ozs smoked salmon
Step 1 - Make the corn salad first so that it is ready to plate up. Mix the sour cream with the jalapenos, lime juice, spring onion, garlic and onion powder and feta if using. Toss with the corn and set aside.
Step 2 - Mix the mashed potatoes, flour, spring onions, cheese, herbs, butter, baking powder and salt together to form a dough. Line a surface with parchment and shape into a ball and then spread out with your hands-about the thickness of a thick American pancake (not soufflé pancake). Cut into eight wedges.
Step 3 - Heat a frypan onto medium heat (6 out of 10 where 10 is the hottest) and add oil. Fry the wedges until dark golden on each side. Place two wedges on each plate, top with corn salad and smoked salmon pieces and garnish with fresh herbs.